Tales of the Arabian Nights Translite | Ben Heck and Eric Priepke Back at Spooky | TPN Discuss Rules Designers | Poll of the Week | Teaser Pinball Movie | Nick Baldridge's New P3 Game | Pinball Sucker Shots | Installing Art Blades

Tales of the Arabian Nights Alternate Translite by Brian Allen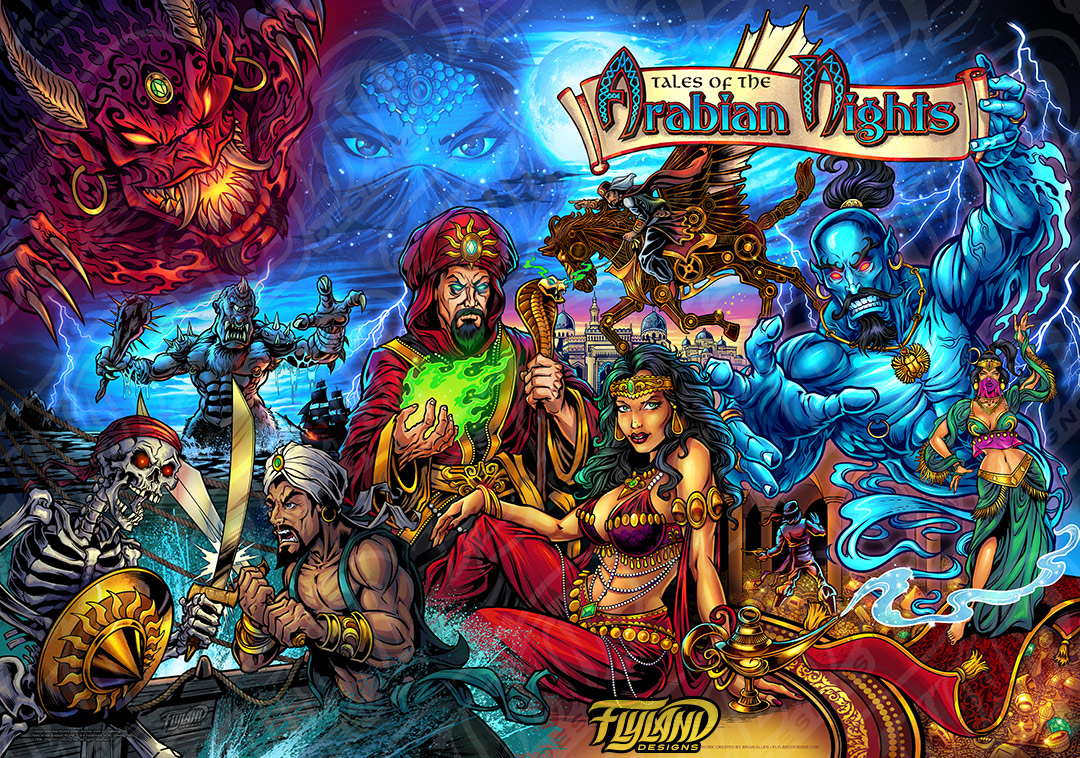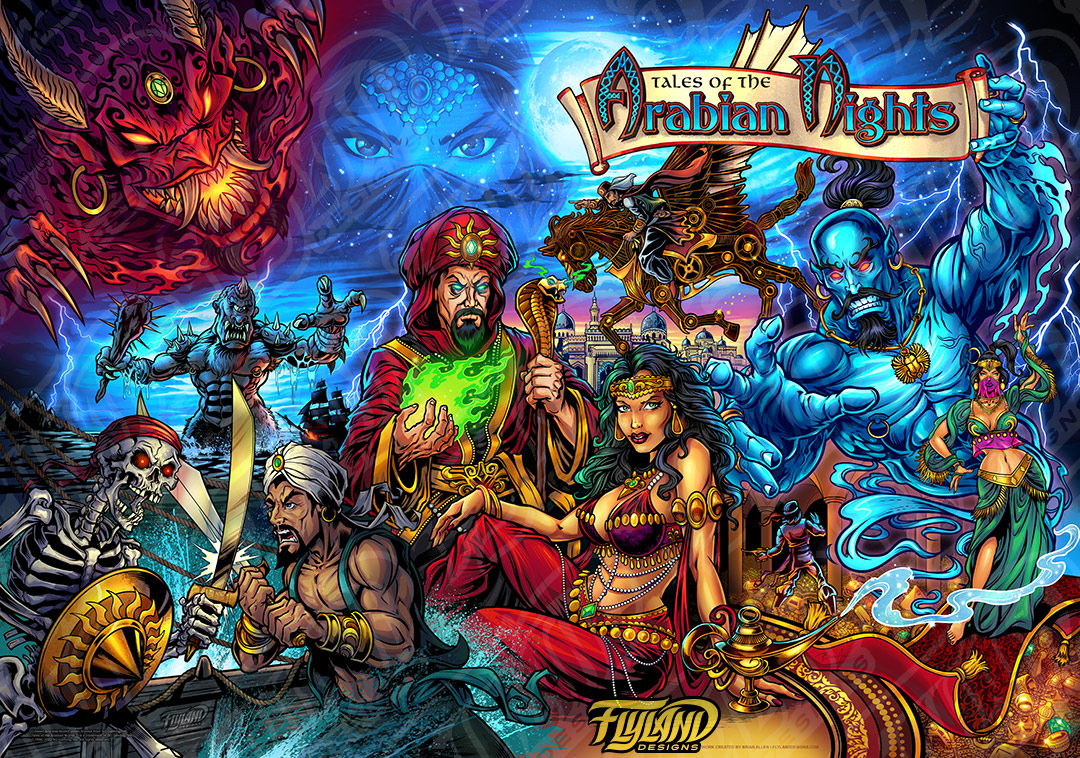 Brian Allen from Flyland Designs has created amazing alternate translite art for Tales of the Arabian Nights. Allen has already made some beautiful translites and art blades for other popular games like Attack From Mars, Medieval Madness, White Water, and Fish Tales, but I really think his TOTAN is his best work yet. There is something mesmerizing about those eyes in the night sky as well as the detail to the stories from One Thousand and One Nights. He also created some art blades to go along with the translite using colors and themes that fit the playfield perfectly. Check out the details in the image gallery below.
I dug into the Tales of the Arabian Nights (a collection of Middle Eastern folk takes called One Thousand and One Nights) a bit more and tried to add more details from the stories. The Flying Horse from the Squire's Tale was actually described as a brass, mechanical horse, so I thought it would be really fun to draw it with gears and pulleys, and mechanical wings. I added an evil red Ifrit (or Jinn) in the upper right-hand corner because I'm fascinated by them. I also drew Sinbad fighting an animated skeleton warrior, and a giant cyclops attacking their ship (inspired by Harryhausen's 7th Voyage of Sinbad).

Easter egg: If you look very closely at the mountains of treasure in the Genie's cave, I hid a few nods to other classic Williams titles.

For the Limited Edition Art Prints, I tried a new special effect: Spot UV Gloss. It creates a really cool embossed, laminated effect on a lot of the details (such as metal, jewelry, energy effects, and fire in the artwork.

Brian Allen – Flyland Designs
Go get yours before they sell out!
---
Ben Heck and Eric Priepke Go Back to Spooky Pinball
Spooky Pinball has announced the return of Ben Heck and Eric Priepke. Ben Heck helped Spooky get started with his design and coding on America's Most Haunted and Eric Priepke was on software for Rick and Morty. Ben Heck has caused some drama for Spooky in the past only because he tends to speak his mind but he should be an asset to their focus on improving reliability.
---
The Pinball Network Discuss Rules Designers
Several of the TPN shows, The Pinball Show and TPN After Hours, discuss rules designers. They focused on which games they believed are the best coded by each of the separate rules designers. Check out their shows/podcasts to help you determine your favorite designer in our poll below.
---
Last Week's Poll Results
---
Teaser of Roger Sharpe Pinball Movie
---
Nick Baldridge Working on a New Game for the P3 – Drained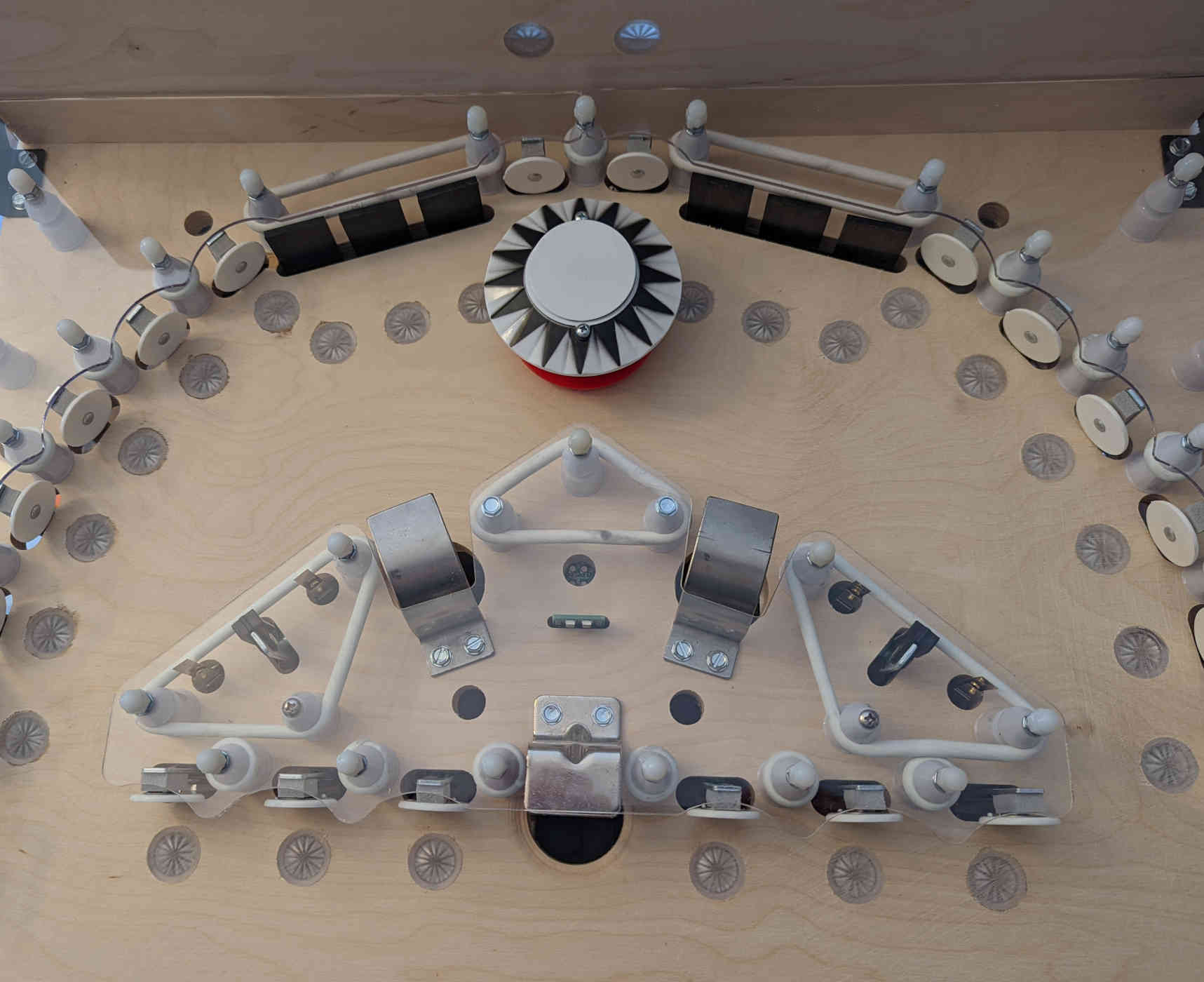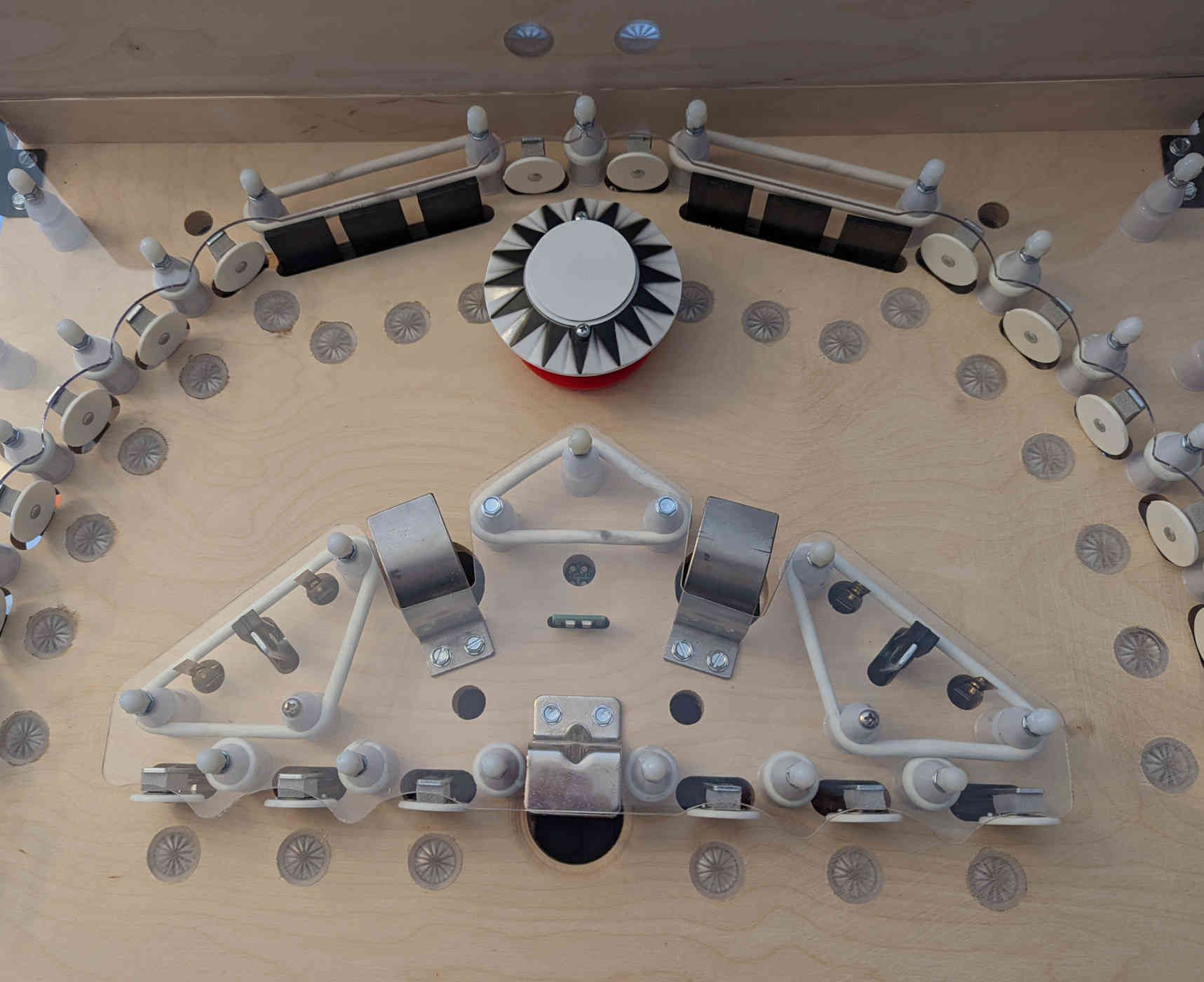 Nick Baldridge, who has already created several games for the P3 platform for existing playfield modules, is now working on a new vampire themed game with a new playfield module. The module design is a play on classic games with a twist on the gobble hole, which never really gained any popularity.
He is still in development on the module and code but he is looking to provide this commercially through P3. Adding more 3rd party games to the P3 system will continue to add more and more value to the platform.
The player is tasked with hitting the two targets that directly flank the gobble hole to start a battle mode. Each adversary has its own set of targets to complete to trigger the final phase of the battle. Hitting the gobble hole at this point will provide the best end-of-ball awards.
---
Pinball Help – Pinball Philosophy: Sucker Shots
Pinball Help gives a great description of what a sucker shot is and some methodology in how to deal with them.


Pinball Shenanigans makes installing art blades look easy. They do really add to the world under glass.

Make sure to check out the Latest Games and Rumors page.
Contact will@thisweekinpinball.com for any questions or tips.
Disclaimer: Any articles, interviews, or mentions of pinball manufacturers or pinball products is NOT an endorsement.