Jersey Jack #Patience | George Gomez Interview | Challenges for Lord of the Rings Vault | New Code: TMNT and Elvira | Streaming Battle with Joe Katz | Hot Wheels Stream with Dave Brennen | Pin Stadium Launches NEO!
---
— This Week's Top 5 Stories —
1. Jersey Jack Pinball on Slash's Birthday: #Patience
Our friends at Jersey Jack Pinball wished Slash – the lead guitarist for Guns N' Roses – a happy birthday last week with an interesting hashtag – check it out:
#PATIENCE
Looking forward to the next release from JJP and we'll be patient waiting for GNR!
#NOTSAYINJUSTSAYIN
---
Last Week's Poll Results
---
2. The Super Awesome Pinball Show: George Gomez Interview
Our friends at The Super Awesome Pinball Show interviewed the one and only George Gomez last week! Here are just a few highlights:
On what it means to be the Chief Creative Officer at Stern Pinball:
Gomez: So all of the company's products are essentially my responsibility in terms of – everybody on the executive team has a responsibility and mine happens to be the product…the only thing that reports up to me is product development. So I've got about 50 men and women in the studio. And then of course at the top of group, the one and only Mr. Gary Stern as the CEO and his partner Dave Peterson who handles a lot of the company strategy stuff. So my piece of it is the games themselves and everything it takes to make them, the accessories. Anything that is a new product or a new product initiative is basically my responsibility. So it means interacting with all the teams, it means interacting with the licensing guys on the licenses, it means giving direction to all the different things and weighing in on what we should and shouldn't do…at the executive level, in terms of stuff we should develop, how we should go about it, what would be a cool new thing, all that kind of stuff, so it is really kind of fun…
On Iron Maiden and if it has mass market appeal, and international sales:
Gomez: The very core product that drives and funds the company are what we call the cornerstone games. Cornerstone games – we do three big titles a year. They are intended to be as mass market a title as we can probably do. There are times when we don't go as mass market with a title, for example, Iron Maiden. Which was very successful for us, but when we talk about that title, we talk about how does this title resonate in the United States. And that voice…really resonated in Europe, and up until COVID, 40% of our product, maybe more, was exported product. So you can't discount the voice from Europe in terms of what they want as a product. And you can't discount the international voice. The Australians buy a tremendous amount of games and they have a vision about what they want. And so – [they're] our customers, we listen to that voice…there are a lot of things that we think about.
On challenges of a possible LOTR Remake:
Gomez: So the challenge with some of those older products is – that game lives on…I think it is two generations of hardware ago. And some of those parts have gone "end of life". Meaning that you can buy 50 here and 30 there…but you can't buy big quantities of some of those electronics – the chips – that make up that make up that old Whitestar system…now that doesn't mean we can't port the game to one of our current modern systems, and there has been a lot of conversation about that…we love vaults.
George also talks about being a lead designer on pinball machines, talks about the three cornerstone pinball machines Stern releases and how they approach those, the Pro/Prem/LE model, the niche markets, talks about Batman '66 and Deadpool, the satisfaction of being the Chief Creative Officer as opposed to designing pinball machines, talks about the new protocols with COVID with manufacturing, talks about Stern being backlogged with manufacturing, talks about the Stern schedule, talks about how toppers factor in to their business model and how toppers should extend the experience of their games, talks about reading feedback on forums and dealing with criticism, talks about other pinball manufacturers, talks about The Pin products, talks about Vault games and why Stern loves them, talks about the improvements you can find in Vaults, licensing with Vaults, the possibly of vaulting old school Stern games or toppers, getting machines online, how far out Stern plans machines, things that are similar on his designs and what he thinks about when designing machines, and much more more.
Check out the full episode here!!
---
3. Stern Pinball: New Code for TMNT and Elvira
Last week our friends Stern Pinball released new code for both Elvira and TMNT – check it out:
The new Teenage Mutant Ninja Turtles includes a new option to play the Wizard mode instead of a normal game!
---
4. Buffalo Pinball: Streaming Battle on The Hobbit with Joe Katz
Our friends at Buffalo Pinball were joined by Joe Katz to do a battle on The Hobbit! Eric Meunier was the commentator during this battle and picked the challenges. As you watch it turns into pretty good tutorial on the game as well – check it out!!
---
5. Hot Wheels Pinball Stream: turbografx7 with Dave Brennen
Dave Brennen, Technical Services Manager at American Pinball, joined the Turbografx7 stream last week to stream Hot Wheels – check out the stream here!!
---
BREAKING: Our friends at Pin Stadium are launching a brand new product today called NEO!! There are many new features with this product which we'll cover below, but one of the biggest new features is an incredible light diffusing technology known as BLUR, which eliminates dots and stripes reflections that you used to see on ramps and plastics – check it out!
Q&A about NEO with Scott at Pin Stadium
Q: What is the name of the new product?
A: NEO is the product that is launching today and these are the new Holy Grail models of the Pin Stadium lineup.
Q: Can you tell us why you chose NEO and what it means?
A: The true definition of the word means "new" and "modified", which is of course very fitting for what it's going to allow customers to do with it's new features, functions, and natural factory appearance.
Q: Pin Stadium is already a great "mod", can you tell us what this will do that is "new"?
A: The Pin Stadium product line has been constantly improving and evolving with very valuable input from pinball collectors all around the world. Following the tradition of meeting the needs of these feature requests, there have been many additional products that have been created to accommodate those desires. However it was time to take the benefits of all of these and offer a product that combines them into one, and that's NEO.
Q: Does NEO have any additional features or functions to offer?
A: Yes, massive changes and some really desirable features that are sure to impress. One of the biggest features is that the lighting has been completely redesigned to offer a new and improved version of our light diffusing technology known as BLUR. This is a colored (RGB) Photon Merger which takes the design of the ever popular Omega product which diffuses the white light spectrum for a soft even smooth light. This eliminates dots and stripes reflections of the lights on ramps and plastics. However NEO not only does the white spectrum but also blends the colored lights too which is unheard of until now. This has been on the dream features list for our customers for some time now.
Q: What other features are built into the new product?
A: I mentioned that we have adopted functions from other product lines and another big hit is our Hyperbeam product that launched at the beginning of the year. They improve the brightness and light output power of the colored portion of the lights to provide very deep spectrum rich colors. The result is an elevated visual impact that boost the playfield artwork to incredible levels. NEO has those built into the GI and stepped them up even another notch to Hyperbeam Plus+.
Q: Have you made any other improvements?
A: It also has new high performance Wifi chip that is re-engineered and running new firmware which allows for new views, interfaces, and granular controls inside of the Pin Stadium app. These gives collectors the ability to dial the light colors in with precision and while also providing all spectrums of Warm White, Cool White, Sunlight White, and Diamond White. Due to the power capability of this product it comes with special Neo Plasma power supply to properly deliver the results that are sure to impress.
Q: The Fusions are your flagship product, so how does this affect that offering?
A: Excellent question!! Yes there is a now a NEO Fusion which also has the BLUR Photon Merger diffuser built into the lights. This allows the Fusions to still be our top performing product as they always have been. As many know the Fusions not only offer the benefits of amazing app controllable playfield illumination like the other Pin Stadium products, but they also include an additional set of lights (known as Orion's Belt) embedded into the light bars. These are dedicated to being a WiFi controllable flasher system which provides a very impressive light show with dazzling visual effects.
Q: When will the NEO Pin Stadium and NEO Fusions be available and ship?
A: As of today they are live on our website and we prepared ahead of time knowing that this would be the biggest product release we have made to date. So with that said they are in stock and will ship out immediate with no wait.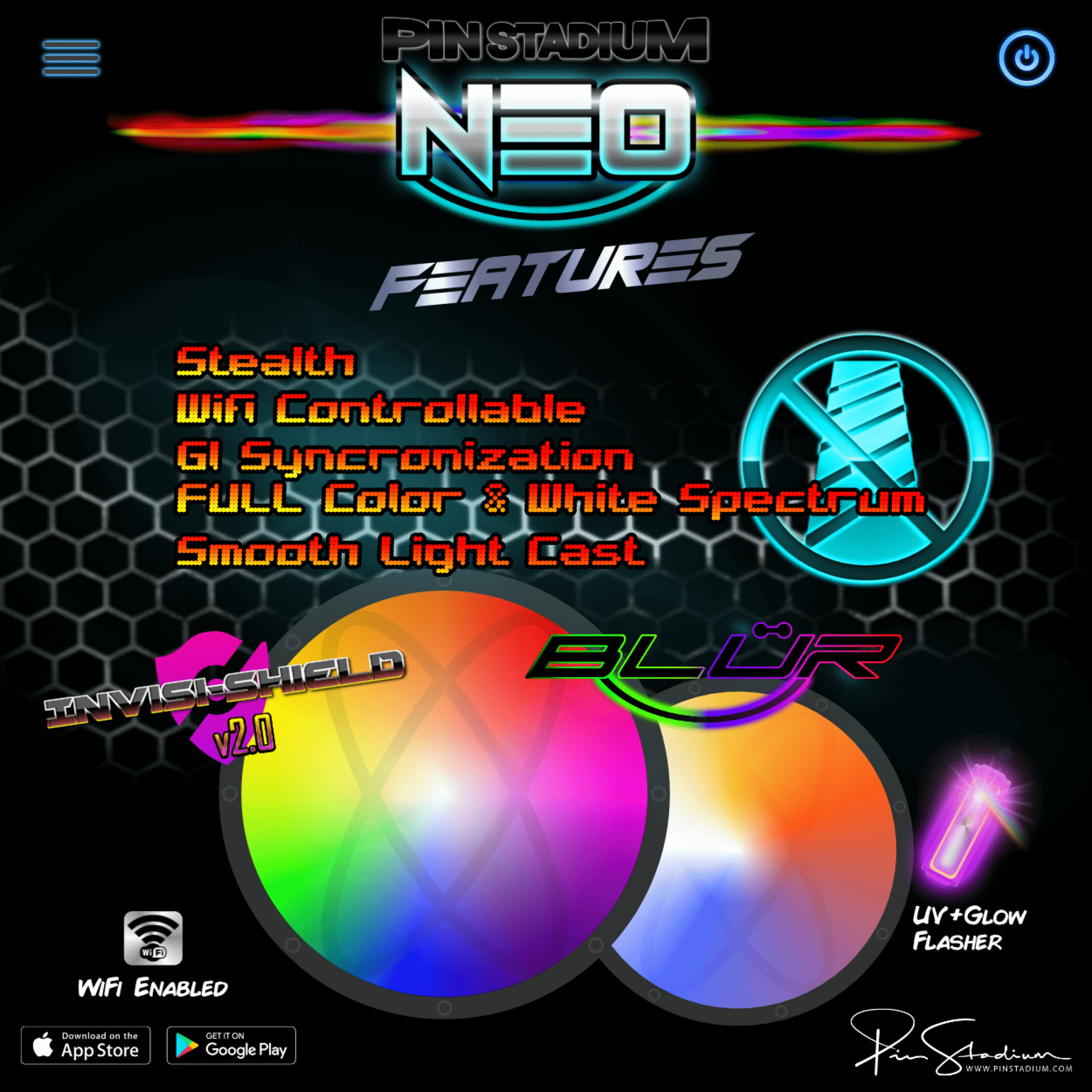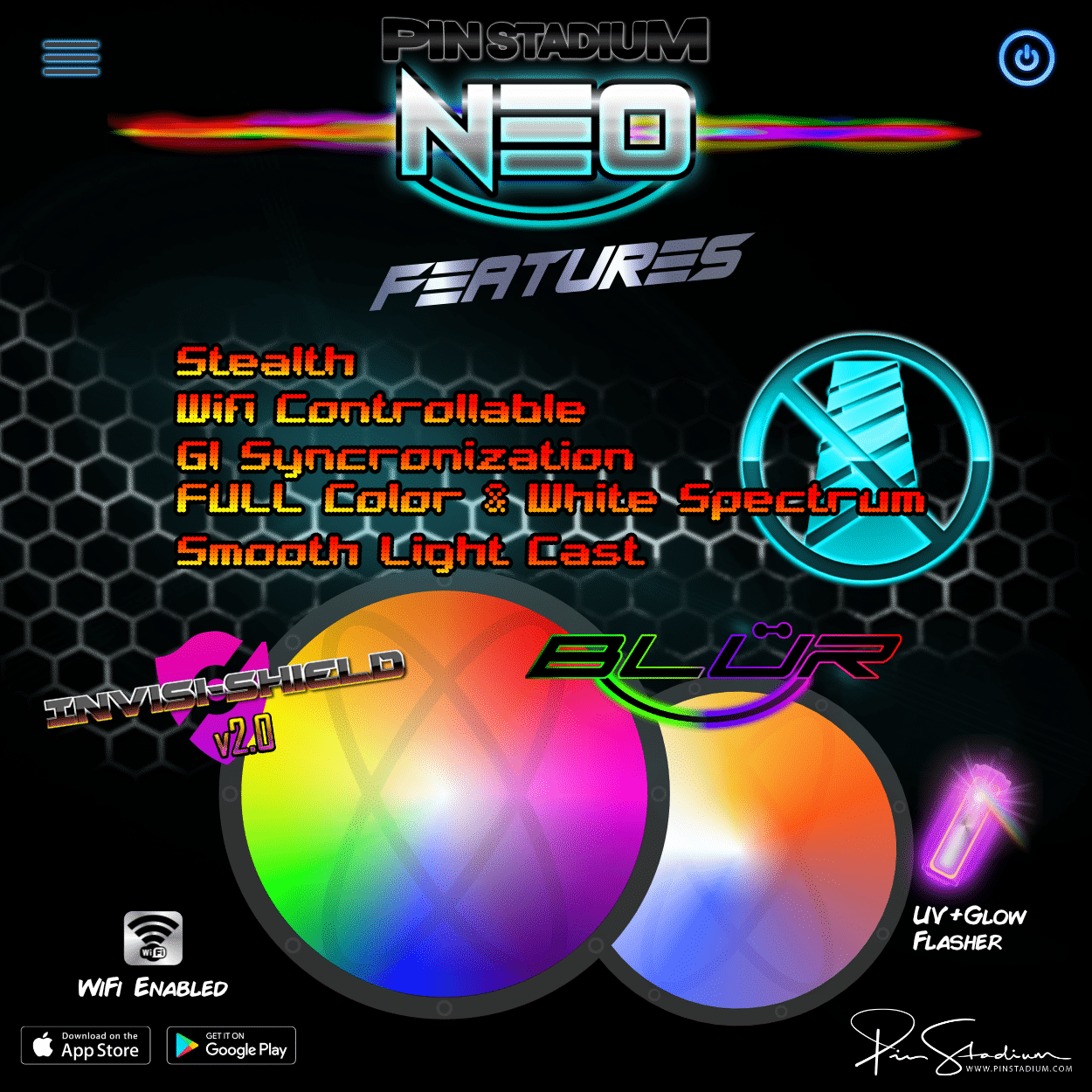 ---
---

Other Manufacturers
Disclaimer: Any articles, interviews, or mentions of pinball manufacturers or pinball products is NOT an endorsement.