Foo Fighters Gameplay Reveals | The Godfather Announcement | Galactic Tank Force Teaser 2 | Poll of the Week | Stern Insider Podcast - Foo Fighters Panel | Hoops Pinball Tutorial | No Good Gophers 2.0

Foo Fighters Gameplay Reveals!
Jack Danger, of Dead Flip, hosted both the LE and Pro reveal streams for Foo Fighters Pinball by Stern. We learned the following from both streams:
Tanio Klyce, Raymond Davidson, Mike Kyzivat on software; Tom Kyzivat, Phil Gullett on animations; Zombie Yeti on art; Eddy Hicks on mech engineer; Nick Waner(sp?) on play testing
No callouts from the band members. Instead there is a roadie as the announcer, several TV broadcasters, and the Overlord callouts. Jack explains on the Pro Stream that because Taylor passed during the build of the game that they wanted to give the band some space while they grieved.
Combotron is a visual representation of the combos you have made
There are multiple skill shots including a combo skill shot
Ray Gun Targets in the inlanes multiply your next shot
There is an adult callouts setting
Code is at version 0.80 and much of the modes and mini-wizard modes are done. More expression light coding, radio mode, and final battle to still be finished up.
Foobot explained
Animations have a TV cartoon feel; i.e. like Scooby-Dooish
Action button is for Booms like in Deadpool to spot shots
Zombie Yeti mentions that there are several easter eggs in the artwork including something hiding under the upper right flipper
CO-OP play will be added
Dave Grohl already has his game
DJ Mixer mode will be available
---
Jersey Jack Pinball Announces The Godfather Pinball Reveal – Tues 3/7
---
Galactic Tank Force Video Teaser 2 by American Pinball
American Pinball teases more animations about their upcoming title Galagtic Tank Force.
---
Stern Insider Podcast – Foo Fighters Panel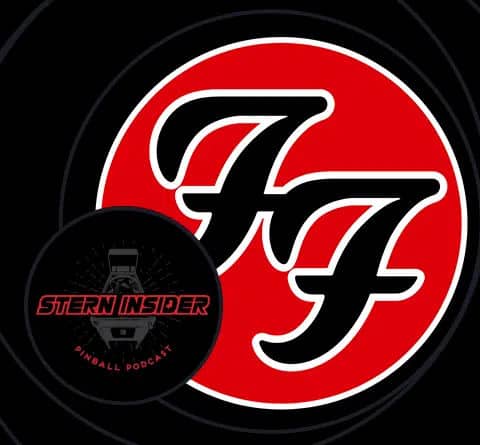 The Stern Insider Connected podcast had on a lot Stern folks to talk about Foo Fighters. We learned the following things:
Panel: Jack Danger, lead software engineer Tanio Klyce, lead mechanical engineer Eddy Hicks, artist extraordinaire Jeremy "Zombie Yeti" Packer, a plethora of lead artists and animators including Zac Stark, Phil Gullett, Tom and Mike Kyzivat, Marc Raneses, not to mention software engineer Raymond Davidson
The Foo Fighters were open to weird, cool things
Jack tried to put some weird design stuff in there and he was surprised he was allowed to keep it in
Jack describes the difficulty and challenges of moving from creating a homebrew to a cornerstone
Zombie Yeti talks about his work with Foo Fighters in the past
Zombie Yeti helped quite a bit with the concepts and storyline that he had dreamed up from his previous work with the Foo Fighters
Discussion around the Foobot in the game; where the band's van transforms into a robot
There is going to be a toy line along with the game that can be attached and interacts with the topper
Tanio Klyce discusses the backstory theme of the alien crashing on Earth and becoming the Overlord
Discussion of the storyboarding process for the game
A lot of references to Voltron and Scooby-Doo and other 80's style
Getting the Deadpost to work was a bit of a challenge
Jack designs in markers and magic and he learned a lot in the process
Raymond Davidson helped with rules and software and describes some of his work on the game
You can pick from 8 different songs when you start the game; then modes have their own songs integrated.
Expression lighting integrated with the songs; only available on Premium and LE models
They altered some of the Foo Fighters music and the band approved pretty much everything the design team wanted
Jack and Zombie Yeti discussed the death of the drummer, Taylor Hawkins
Jack talks about the differences in the Premium/LE vs Pro
NO pop-bumpers on the game
Discusses the kicker target and how it acts like a directed pop-bumper
Targets in the inlanes and similarity with Heavy Metal Meltdown
"Breaks through to the 5th Dimension" – Tanio Klyce
---
Last Week's Poll Results
---
Poll Results From 2020
---
Hoops Pinball Tutorial by PAPApinball
---
No Good Gophers 2.0 Available
Cardona Pinball announces No Good Gophers 2.0 for sale on Planetary Pinball.

Make sure to check out the Latest Games and Rumors page.
Contact will@thisweekinpinball.com for any questions or tips.
Disclaimer: Any articles, interviews, or mentions of pinball manufacturers or pinball products is NOT an endorsement.