Black Friday Deals | Stern Moving Factories | Poll of the Week | LoserKid Interview | TWIPYs Pre-Voting Now Open

Pinball Black Friday Deals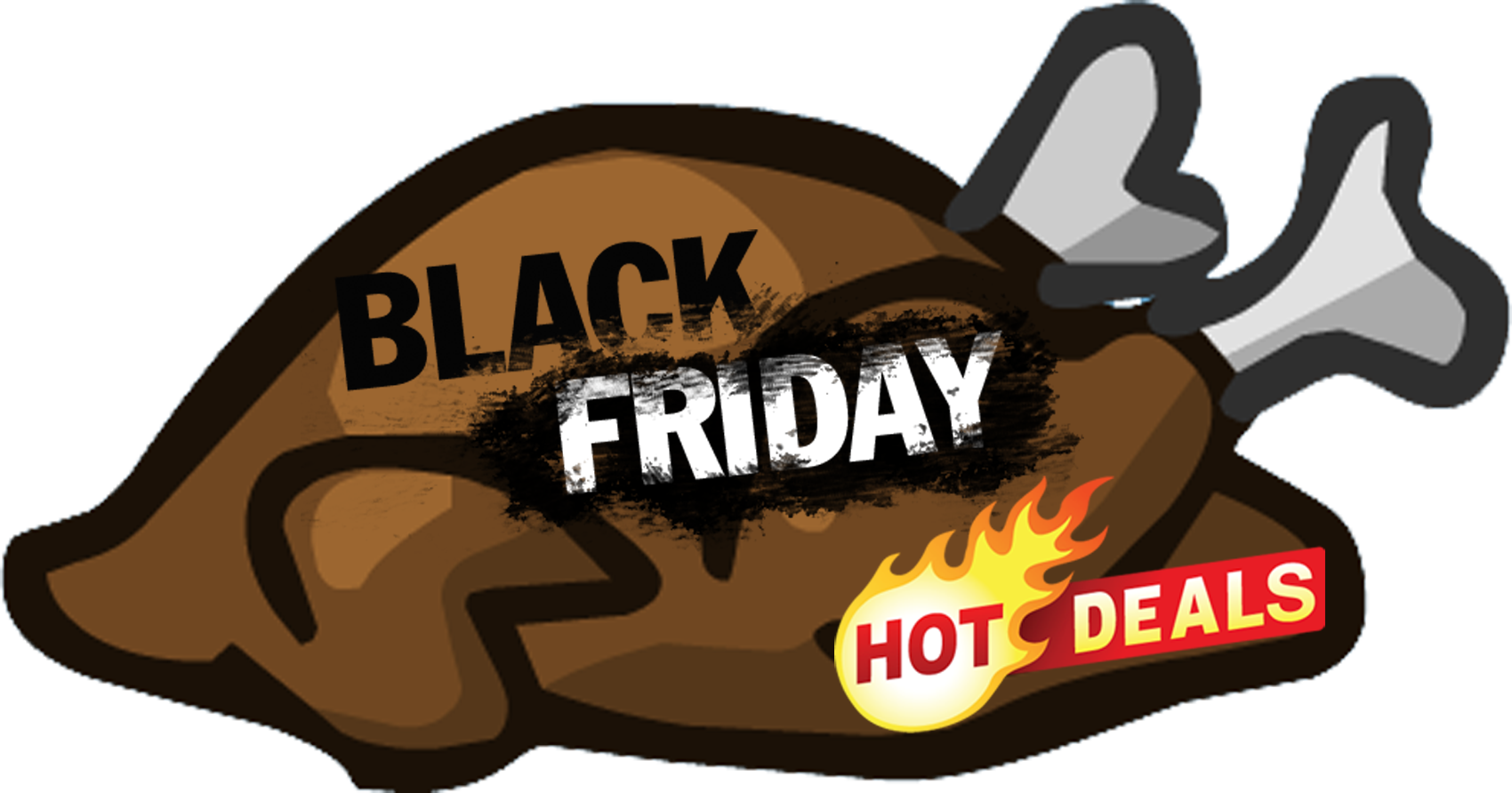 Here are some Black Friday deals from some pinball parts and merch suppliers. If you see any other deals out there please let me know at: will@thisweekinpinball.com.
Titan Pinball
Get this deal: https://www.titanpinball.com/
Comet Pinball
Save 15-30% off our most popular bulbs: 25 packs of 2SMDs, 25 packs of Retro SMDs (bullet and standard), 8smd flashers, 10 smd lighting strips, Choice of free gift if you spend $199+
Sale starts late Thursday night, as the clock strikes midnight Eastern Time, on November 25th. Sale ends late Monday night, as the clock strikes midnight Eastern Time, on November 29th.
Check on Nov 25th: https://www.cometpinball.com/
Silverball Swag
10% Off all orders from Nov 25 – 28. Use Code: BFCM_2022
Get the Deal: https://silverballswag.com/discount/BFCM_2022
Marco Specialties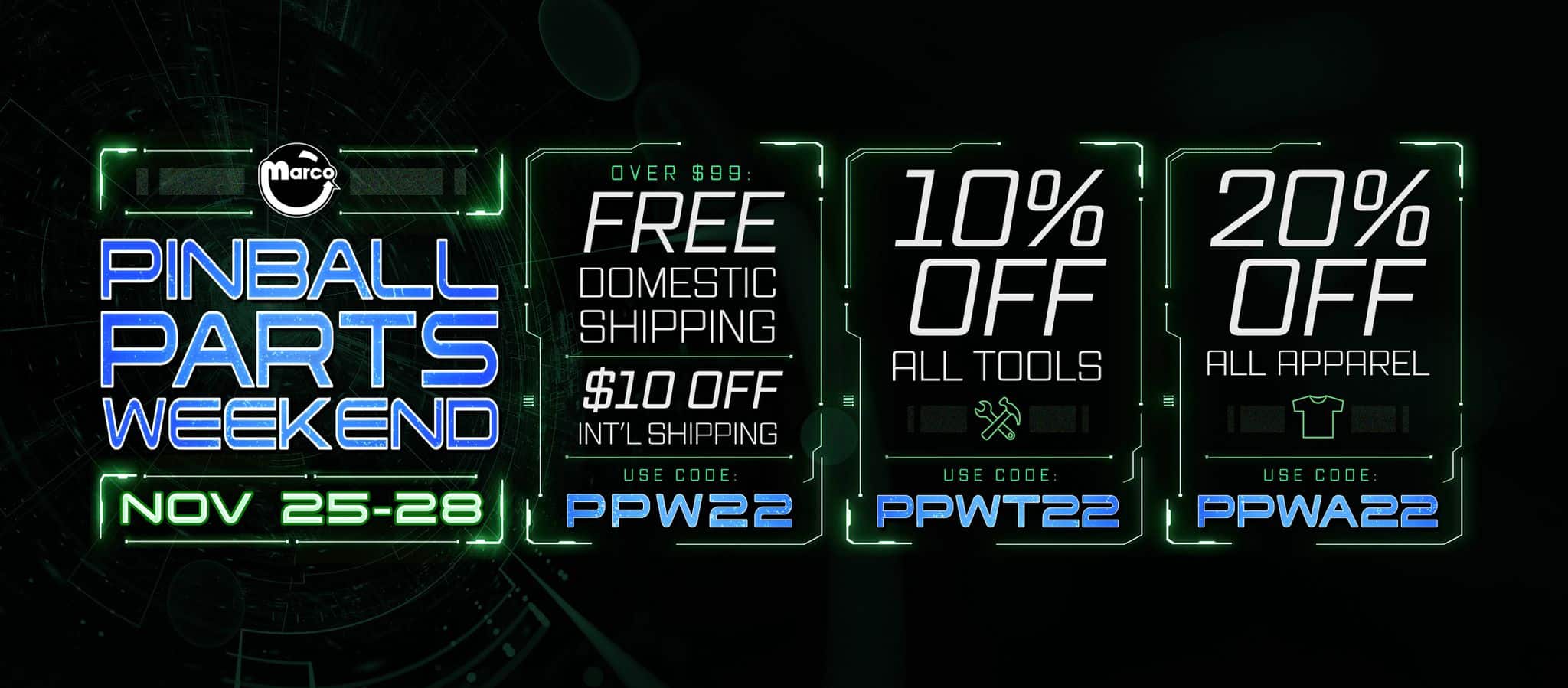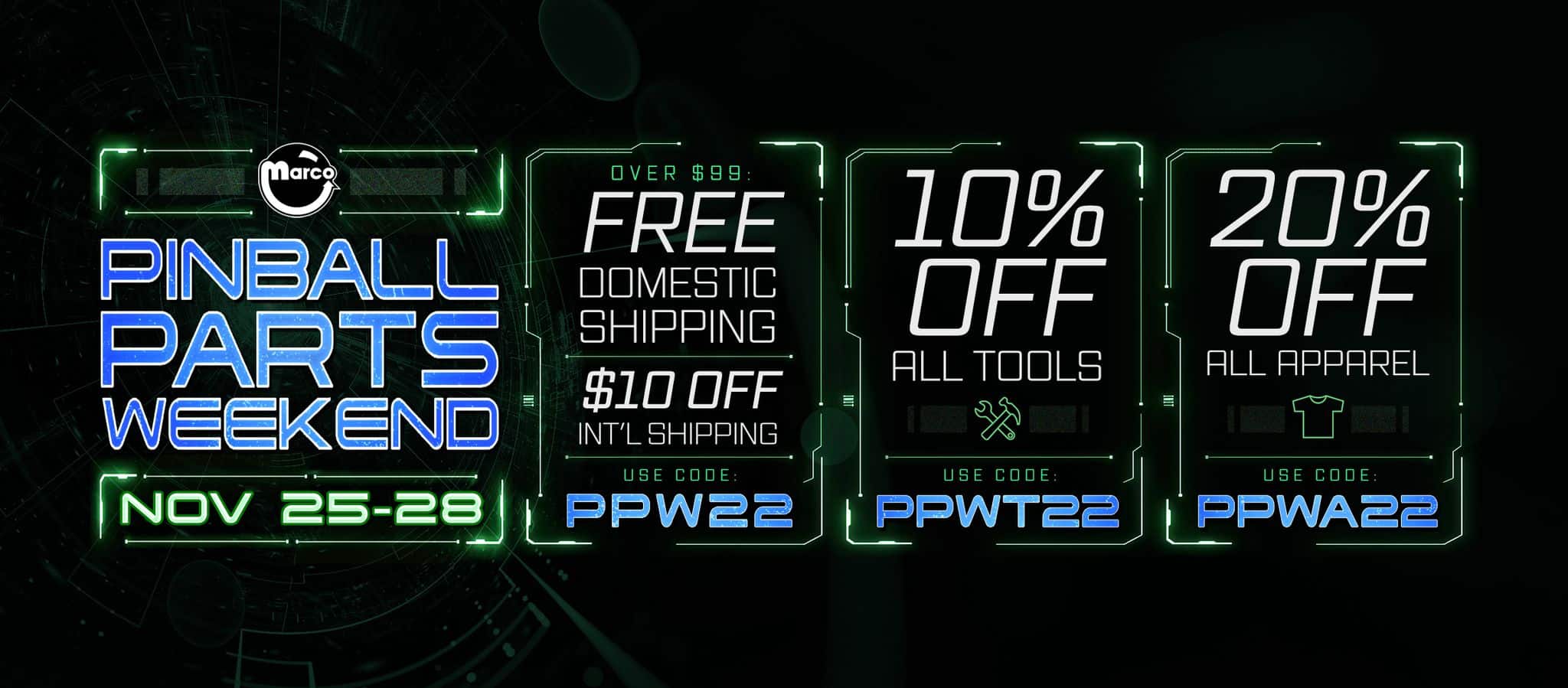 For Orders Over $99: Free Domestic Shipping & $10 Off International Shipping. Coupon Code: PPW22
10% Off Tools: Coupon Code: PPWT22
20% Off Apparel: Coupon Code: PPWA22
Get the Deails: https://www.marcospecialties.com/pinball-parts-blog/pinball-parts-weekend-deals-2022/
Little Shop of Games – Lior's Birthday Week
Celebrate Lior's Birthday week with 10% – 30% Off the first 50 Orders through the Nov 26th.
Get the Deals: https://littleshopofgames.com/product-category/the-art-of-pinball/black-friday-deals/
Pinnovators
10% off headphone kits use Discount Code BF2022PP10
Purchase two or more subwoofer kits and get 5% off. Use Discount Code is BF2022PS5
Sale runs Nov 25 – 28: https://pinnovators.myshopify.com/
The Pinball Resource
Deals on plastic sets, promo flyers, instruction cards, and more. Sale ends on 1/1/2023.
Check out the deals: http://www.pbresource.com/bf2022.html
ULEK Store
Save 20% on everything sitewide at www.ulekstore.com starting Thursday, November 24th – Saturday, November 26th, 2022 by using the following coupon code at checkout: BF2022
Check out the deals: https://www.ulekstore.com/
Pin Stadium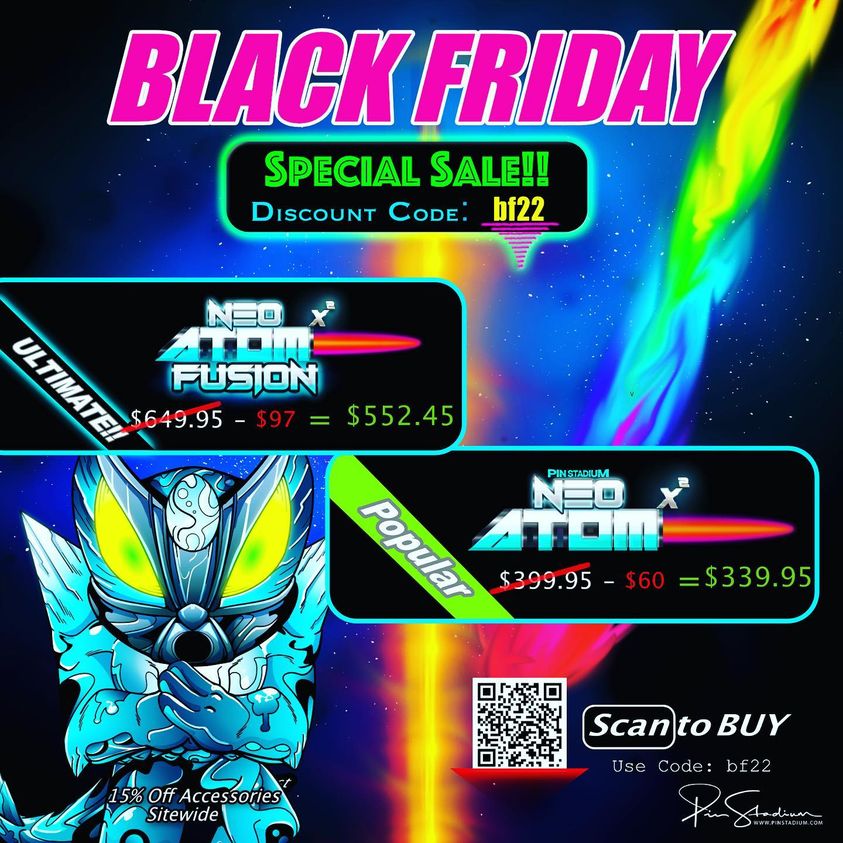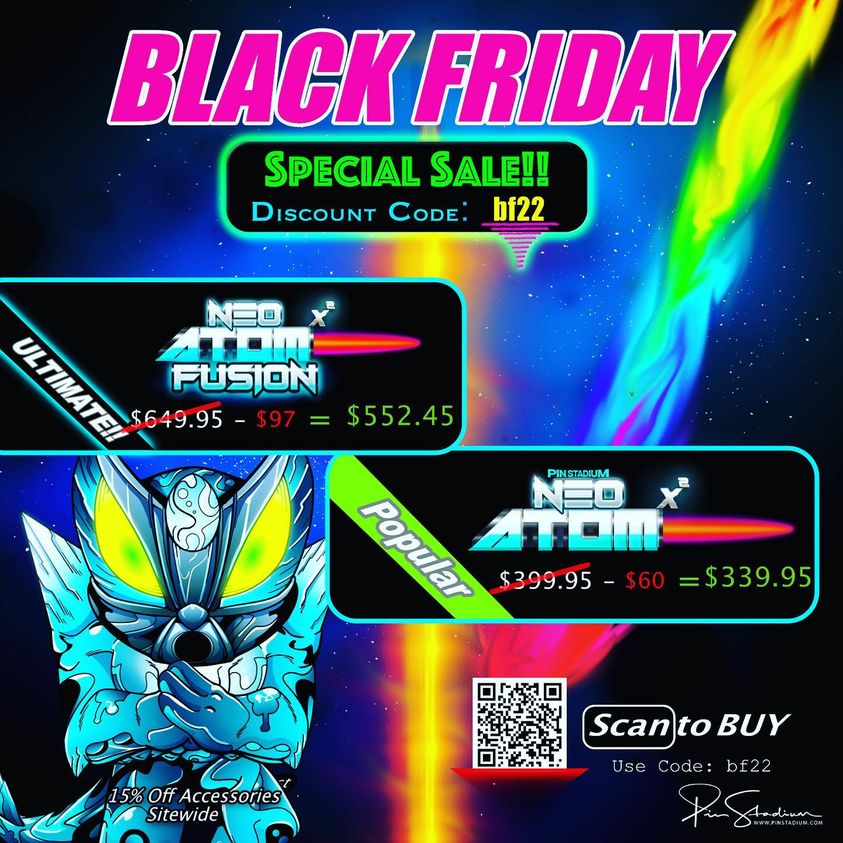 Get the Deals: https://pinstadium.com/product-category/pinball_mods/
PINBALLROM
Thinking about getting your classic pinball machines ready for Christmas?
Now's the time to order those repair list items.
Most products 15% off
Check us out: https://www.pinballrom.com/
Lit Frames
$25 OFF LCD-size Frame
$199 Psychedelic Rabbit w/ Frame
Get the Deal Now: https://www.litframes.com/shop/
Zombie Yeti Studios
Just did a restock of all autographed #pinball #translites just in time for the holidays. All this week order any 2 translites and use code MAGICGIRL to get $30 off your order.
Check it out: http://zombieyeti.bigcartel.com/
Scorbit
If you know what kind of pinball machines they have, you can purchase a Scorbitron to pair with their machine OR you can let them choose with a Scorbit Gift Card! And to make it even better this holiday season, we're offering 20% OFF with the coupon code: HOLIDAY22
Get the Deal: https://scorbit.io/scorbitron/
PinGraffix
Get 22% OFF All select items in stock through our web store
using the code 22IN22 upon checkout
Use the Code: https://www.pingraffix.com/
---
Stern Moving to Bigger Factory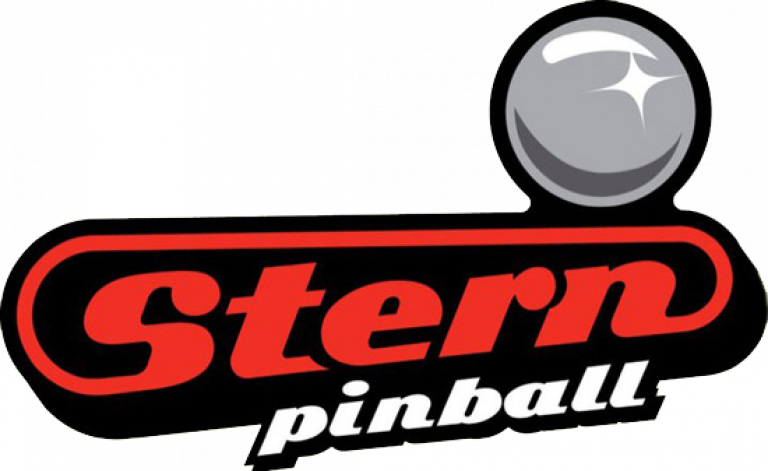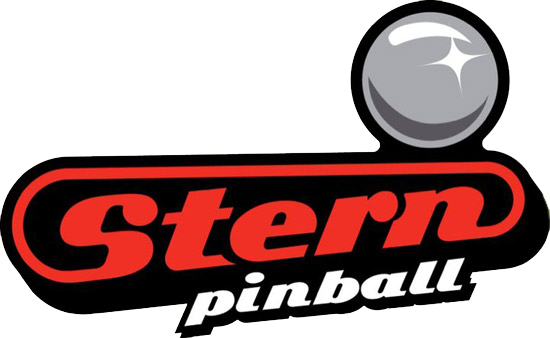 Stern Pinball is planning to move to a bigger factory just a few blocks away from where they are now in Elk Grove Village. Stern will receive TIF funds and other tax breaks to help finance the $6.5 Million move. They are planning to start the 10 year lease on the new building in October 2023.
Read the full article in the Daily Harald
---
Last Week's Poll Results
---
LoserKid Pinball Podcast: Interviews Will Oetting on TWIP and TWIPYs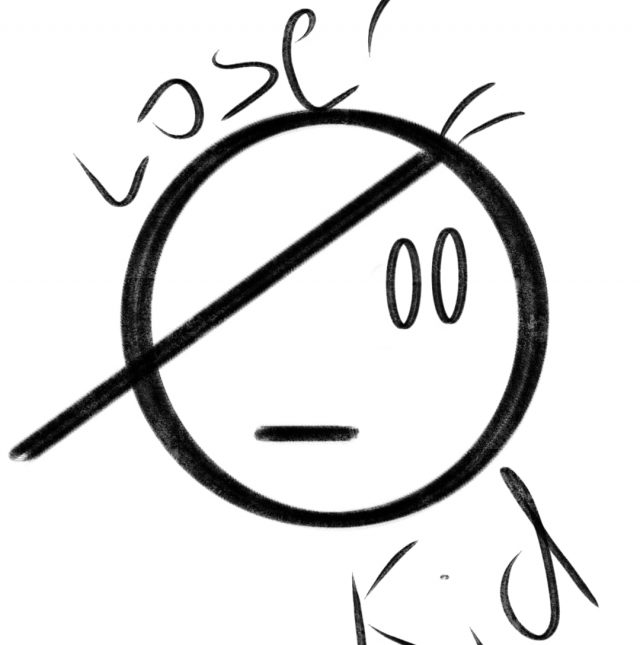 I had a wonderful time talking to Josh and Scott of the LoserKid Pinball Podcast. We talked about the transition of TWIP and the TWIPYs.
---
TWIPYs Pre-Voting is Now Open through Nov 30th
Pre-Vote Now: https://twipys.com/twipy-2022-pre-voting/

Make sure to check out the Latest Games and Rumors page.
Contact will@thisweekinpinball.com for any questions or tips.
Disclaimer: Any articles, interviews, or mentions of pinball manufacturers or pinball products is NOT an endorsement.