Tune in this Saturday March 28th at 8:30 PM Eastern/7:30 PM Central!
---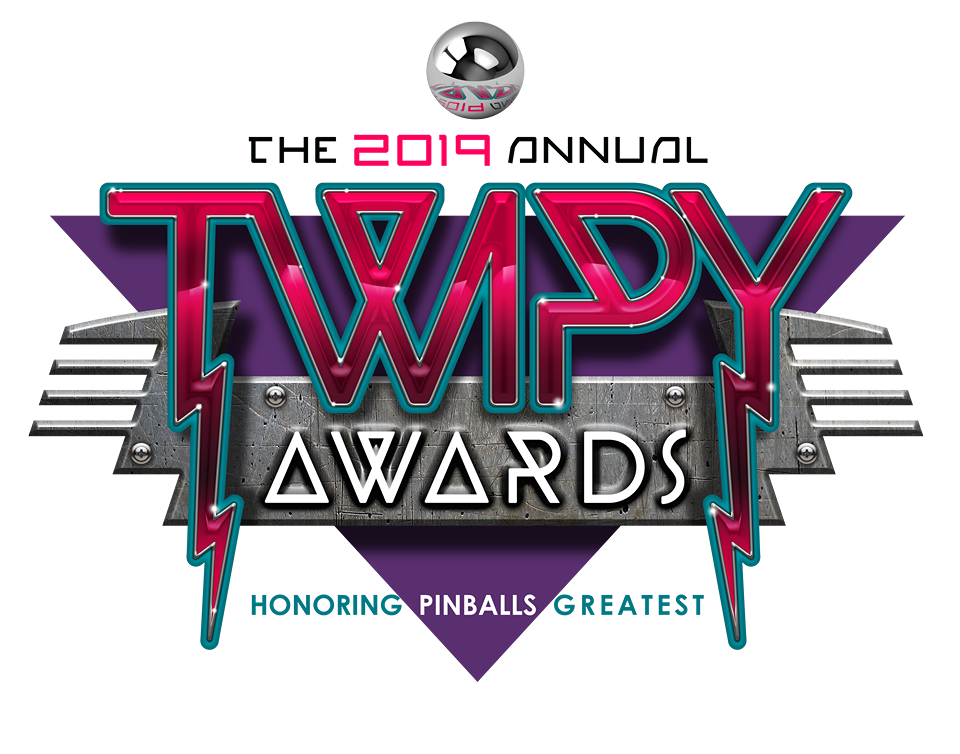 Incredible logo by Christopher Franchi
YOUR HOSTS: Imoto Arcade and Cary Hardy!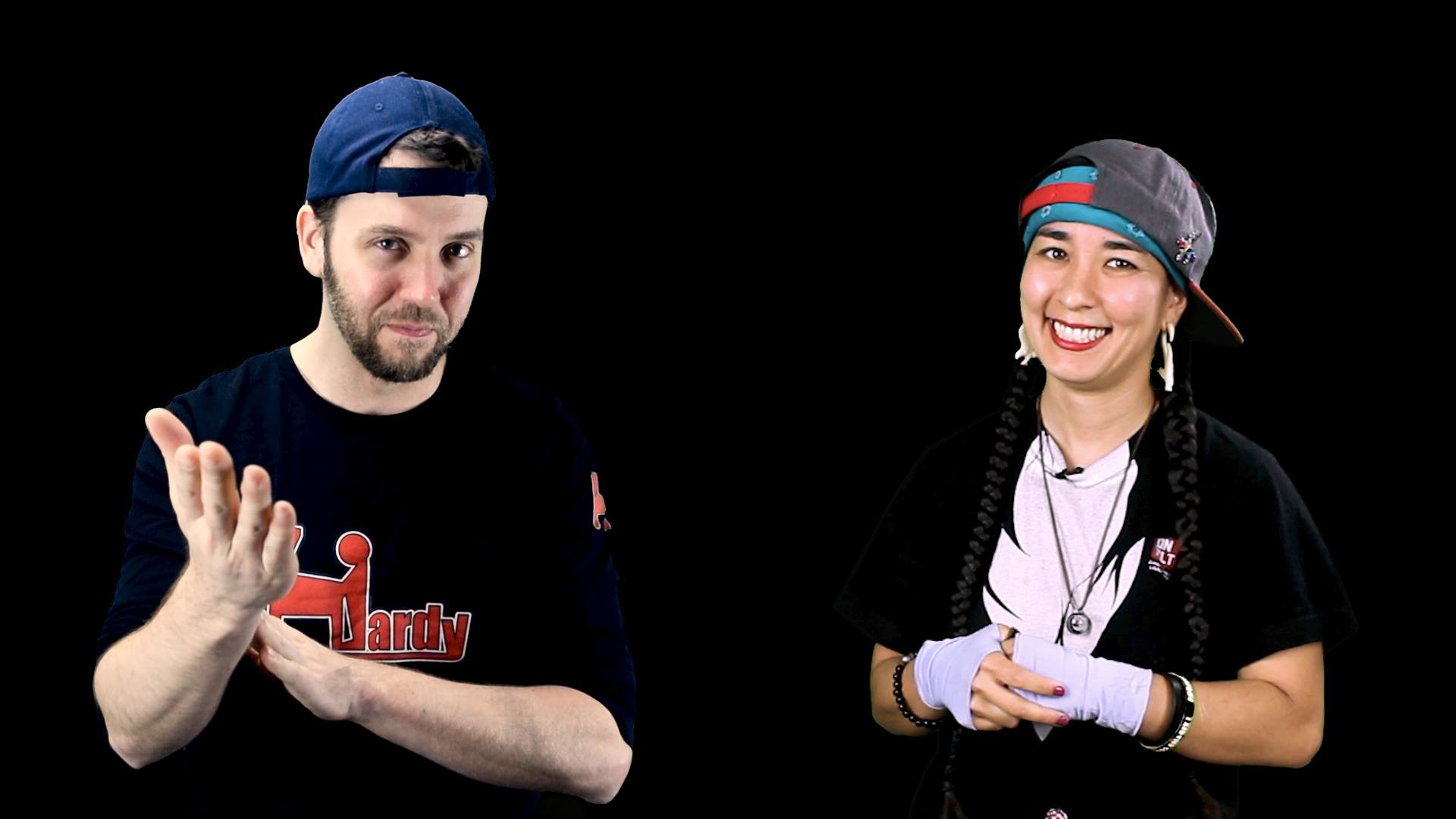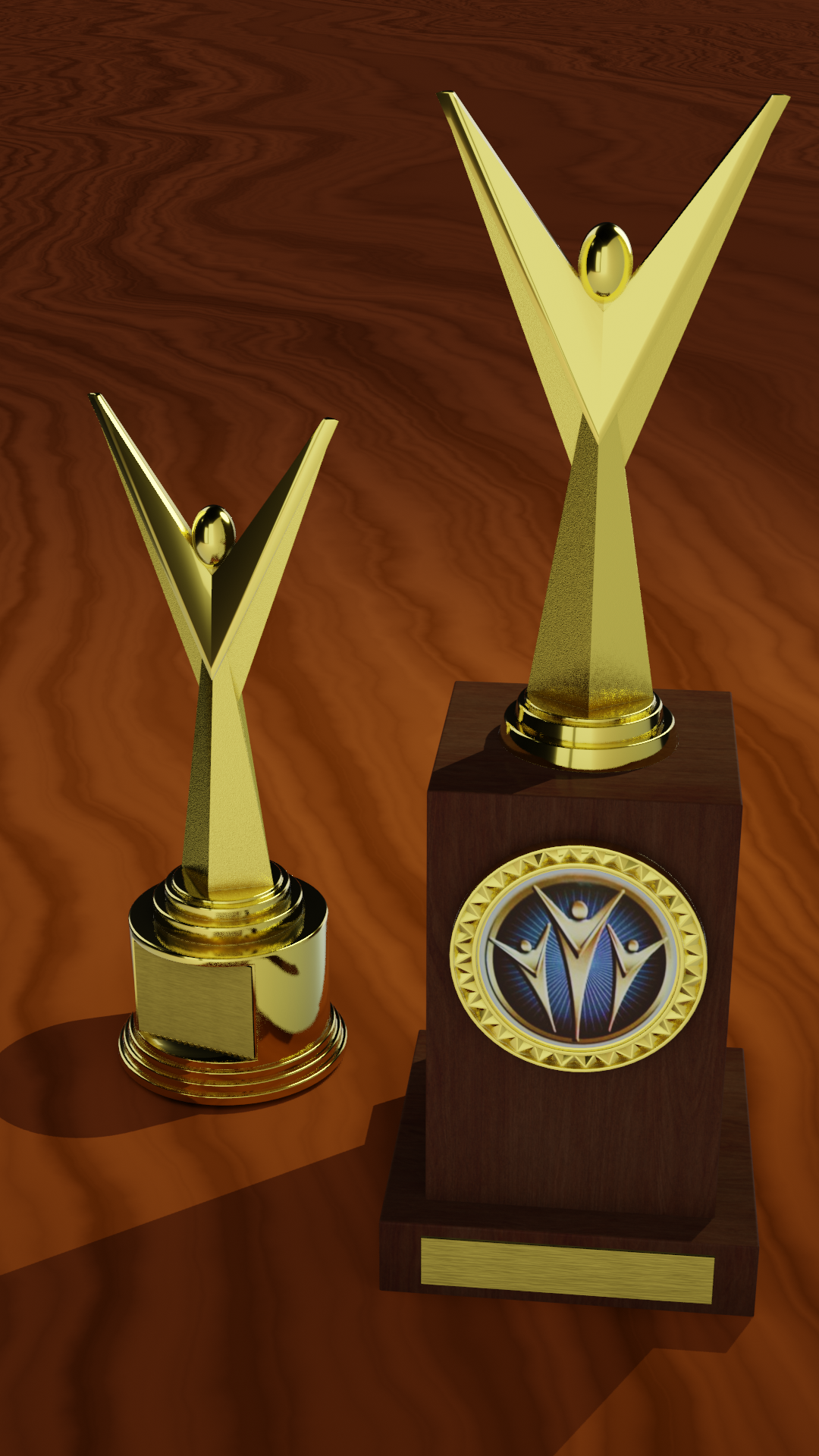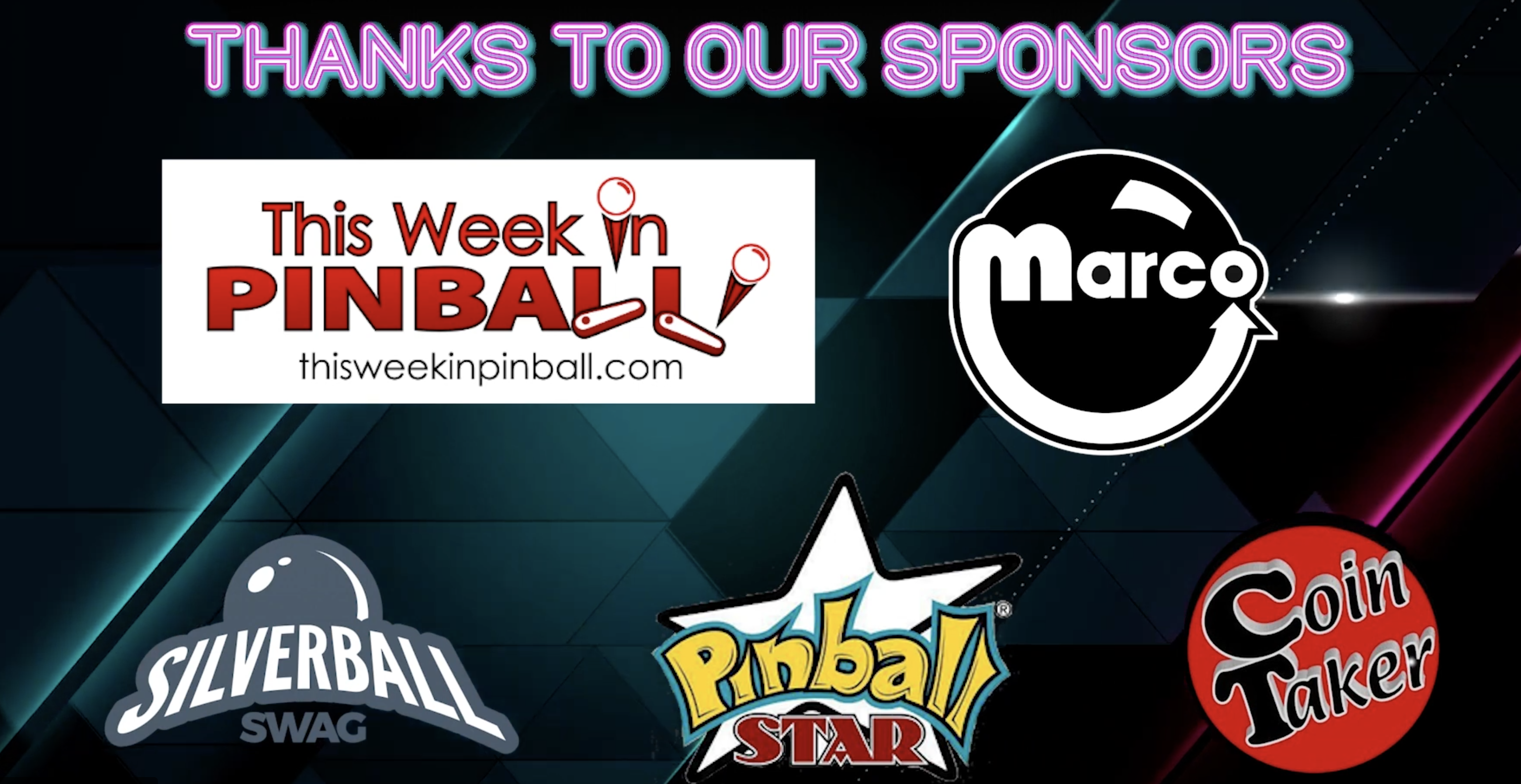 ---
The TWIPYs are a celebration of the pinball hobby and a "People's Choice" type awards, where the public votes for their favorites in the pinball world.
---
And the Categories Are:
(click on the category to see the nominees for that category)
Best Music and Sound Effects

Black Knight: Sword of Rage (Stern Pinball)

Cosmic Carnival (Suncoast Pinball)

Elvira's House of Horrors (Stern Pinball)

Jurassic Park (Stern Pinball)

Oktoberfest (American Pinball)

Star Wars Home Edition (Stern Pinball)

The Munsters (Stern Pinball)

Willy Wonka & The Chocolate Factory (Jersey Jack Pinball)
Favorite Home Brew Pinball Machine

Castlevania by Justin Kalinowski

Dead Flip by Dead Flip

Metroid by Arrrcade

Spaceballs: The Pin by WOLFMARSH

Undertale by Kelly Corcoran
Best Toys and Gimmicks

Black Knight: Sword of Rage (Stern Pinball)

Cosmic Carnival (Suncoast Pinball)

Elvira's House of Horrors (Stern Pinball)

Jurassic Park (Stern Pinball)

Oktoberfest (American Pinball)

Star Wars Home Edition (Stern Pinball)

The Munsters (Stern Pinball)

Willy Wonka & The Chocolate Factory (Jersey Jack Pinball)
Favorite Pinball Location

Einstein's Pub – Katy, TX

Logan Arcade – Chicago, IL

No Quarter – Nashville, TN

Pinball gallery, Malvern, PA

Pinball Lounge – Oviedo, FL

The Game Preserve – Webster, TX

The Pinball Asylum – Fort Myers, FL

The Pinball Palace – Brunswick, GA

Titletown Pinball – DePere, WI

What's Brewing – San Antonio, TX
Favorite Pinball Publication, Writer, or Article

A look at Seattle's exciting pinball present and sketchy past by Brendan Kiley

Coin Op Carnival

Dennis Kriesel

Pinball Magazine for Newsletters

Pingame Journal

Skill Shot (Seattle's Pinball Zine)
Best Theme

Black Knight: Sword of Rage (Stern Pinball)

Cosmic Carnival (Suncoast Pinball)

Elvira's House of Horrors (Stern Pinball)

Jurassic Park (Stern Pinball)

Oktoberfest (American Pinball)

Star Wars Home Edition (Stern Pinball)

The Munsters (Stern Pinball)

Willy Wonka & The Chocolate Factory (Jersey Jack Pinball)
Favorite Competitive Pinball Player

Aleksander Kaczmarczyk

Bowen Kerins

Eric Stone

Escher Lefkoff

Holly Koskinen

Jack Danger

Johannes Ostermeier

Keith Elwin

Robert Gagno

Steve Bowden
Favorite Pinball Convention

Chicago Pinball Expo

Free Play Florida

Grand Ole Game Room Expo

Houston Arcade and Pinball Expo

Midwest Gaming Classic

Pinfest aka Allentown

Pintastic New England

Replay FX

Southern Fried Gaming Expo

Texas Pinball Festival
Best Theme Integration

Black Knight: Sword of Rage (Stern Pinball)

Cosmic Carnival (Suncoast Pinball)

Elvira's House of Horrors (Stern Pinball)

Jurassic Park (Stern Pinball)

Oktoberfest (American Pinball)

Star Wars Home Edition (Stern Pinball)

The Munsters (Stern Pinball)

Willy Wonka & The Chocolate Factory (Jersey Jack Pinball)
Favorite Pinball Website

ifpapinball.com

ipdb.org

marcospecialties.com

matchplay.events

pinballinfo.com

pinballlife.com

pinballnews.com

pinside.com

sternpinball.com

thisweekinpinball.com

tiltforums.com
Best Animations and Display

Black Knight: Sword of Rage (Stern Pinball)

Cosmic Carnival (Suncoast Pinball)

Elvira's House of Horrors (Stern Pinball)

Jurassic Park (Stern Pinball)

Medieval Madness Remake – New edition (Chicago Gaming Company)

Oktoberfest (American Pinball)

Star Wars Home Edition (Stern Pinball)

The Munsters (Stern Pinball)

Willy Wonka & The Chocolate Factory (Jersey Jack Pinball)
Rookie of the Year

Brad Albright for Art Package (Led Zepplin Homebrew)

Chris Franchi for Podcasting (The Super Awesome Pinball Show)

Jack Danger for Homebrew Designer

Joel de Guzman for Logo Art (American Pinball)

Johnny Crap for Art Package (Jurassic Park)

Lauren Gray for Podcasting (Backbox Pinball Podcast)

Loserkid Pinball Podcast for Podcasting

Poor Man's Pinball Podcast for Podcasting

Randy Martinez for Art Package (Star Wars Comic Edition)

Tim Sexton for Lead Coder (Black Knight: Sword of Rage)

Zach and Nicole Meny for Distribution (Flip N Out)
Favorite Pinball Tournament/Competition

24 Hour Final Battle at The Sanctum

Bat City Open

City Champ SF

Grand Ogre – Grand Ole Game Expo Nashville

IFPA Pinball Olympics 2019 in Fulda, Germany

INDISC

New York City Pinball Championships

Pinball Asylum Annual Point Monsters

Pinburgh

Space City Open

Texas Wizards Tournament (TPF)
Best Callouts

Black Knight: Sword of Rage (Stern Pinball)

Cosmic Carnival (Suncoast Pinball)

Elvira's House of Horrors (Stern Pinball)

Jurassic Park (Stern Pinball)

Oktoberfest (American Pinball)

Star Wars Home Edition (Stern Pinball)

The Munsters (Stern Pinball)

Willy Wonka & The Chocolate Factory (Jersey Jack Pinball)
Favorite Pinball YouTube Channel

Cary Hardy

Chaz's Arcade Gameplay & Restorations

Flip N Out Pinball

Imoto Arcade

PAPApinball

Pinball Mayhem

Stern Pinball

Straight Down The Middle: a pinball show

TNT Amusements Inc
Favorite Pinball Mod of 2019

Amber Jurassic Park shooter rod by Stern

Barbasol can by flash on pinside

Chest Mod for JJP Pirates by Pinball Mod Co.

Deluxe Light Kit by Speakerlightkits

Pinstadium Hover

Pinstadium X-Stream

PinWoofer

Raptor pit by Mezel Mods

Wonka Factory Mod by Mod Couple

Wonkavator by Lermods
Best Lightshow

Black Knight: Sword of Rage (Stern Pinball)

Cosmic Carnival (Suncoast Pinball)

Elvira's House of Horrors (Stern Pinball)

Jurassic Park (Stern Pinball)

Medieval Madness Remake – New edition (Chicago Gaming Company)

Oktoberfest (American Pinball)

Star Wars Home Edition (Stern Pinball)

The Munsters (Stern Pinball)

Willy Wonka & The Chocolate Factory (Jersey Jack Pinball)
Favorite Pinball Streamer

BuffaloPinball

chuckwurt

DeadFlip

flipnoutpinball

iepinball

JDL_PINBALL

laser_los

melbournesilverball

PAPAtvPinball

PB_Undesirables
Favorite Pinball League

Belles and Chimes – San Antonio, TX

Cincy Pinball League – Cincinnati, OH

DFW Pinball League – Dallas/Fort Worth, TX

Kidforce Collectibles Pinball League – Berea, OH

Nashville Pinball League – Nashville, TN

New England Pinball League

San Francisco Pinball Department (SFPD) – San Francisco, CA

Space City Pinball League – Houston, TX

The Pinball Asylum – Fort Myers, FL

The Pinball League at The Pinball Lounge – Oviedo, FL

Tilt Studio Pinball League – Mesa/Tempe, AZ

Titletown Pinball – De Pere, WI
Best Rules

Black Knight: Sword of Rage (Stern Pinball)

Cosmic Carnival (Suncoast Pinball)

Elvira's House of Horrors (Stern Pinball)

Jurassic Park (Stern Pinball)

Oktoberfest (American Pinball)

Star Wars Home Edition (Stern Pinball)

The Munsters (Stern Pinball)

Willy Wonka & The Chocolate Factory (Jersey Jack Pinball)
Favorite Pinball Topper of 2019

3D Hologram Topper by Lighted Pinball Mods

Alice Cooper's Nightmare Castle Topper

Beatles Topper

Black Knight: Sword of Rage Topper

Jurassic Park Topper by Tilt Topper

Medieval Madness Remake Topper

Star Wars R2D2 Topper

The Munsters Topper
Favorite Pinball Podcast

Backbox Pinball Podcast

Bro, do you even talk pinball?

Head2Head Pinball Podcast

Kaneda's Pinball Podcast

LoserKid Pinball Podcast

Pinball Profile

Poor Man's Pinball Podcast

Special When Lit Pinball Podcast

The Slam Tilt Podcast

The Super Awesome Pinball Show Podcast

This Week in Pinball Podcast
Best Artwork

Black Knight: Sword of Rage (Stern Pinball)

Cosmic Carnival (Suncoast Pinball)

Elvira's House of Horrors (Stern Pinball)

Jurassic Park (Stern Pinball)

Oktoberfest (American Pinball)

Star Wars Comic Edition (Stern Pinball)

Star Wars Home Edition (Stern Pinball)

The Munsters (Stern Pinball)

Willy Wonka & The Chocolate Factory (Jersey Jack Pinball)
Best Playfield Gameplay and Layout

Black Knight: Sword of Rage (Stern Pinball)

Cosmic Carnival (Suncoast Pinball)

Elvira's House of Horrors (Stern Pinball)

Jurassic Park (Stern Pinball)

Oktoberfest (American Pinball)

Star Wars Home Edition (Stern Pinball)

The Munsters (Stern Pinball)

Willy Wonka & The Chocolate Factory (Jersey Jack Pinball)
GAME OF THE YEAR

Black Knight: Sword of Rage (Stern Pinball)

Cosmic Carnival (Suncoast Pinball)

Elvira's House of Horrors (Stern Pinball)

Jurassic Park (Stern Pinball)

Oktoberfest (American Pinball)

Star Wars Home Edition (Stern Pinball)

The Munsters (Stern Pinball)

Willy Wonka & The Chocolate Factory (Jersey Jack Pinball)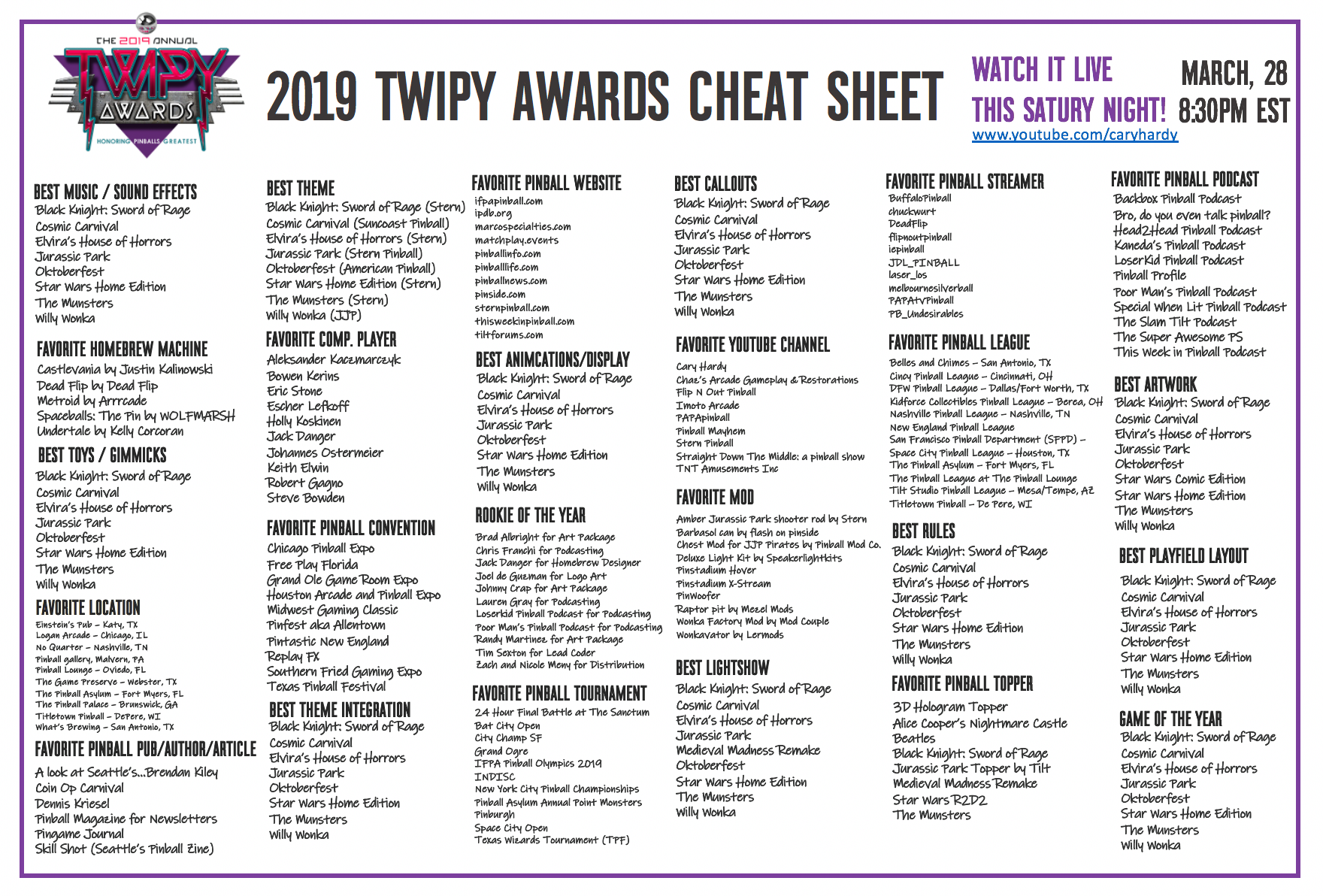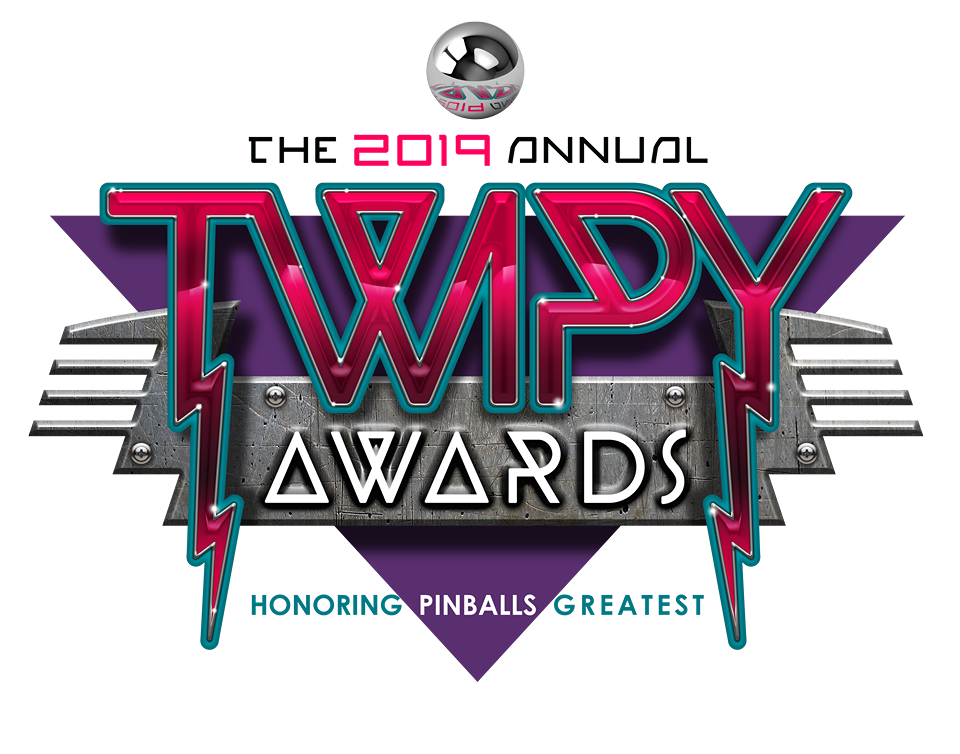 TWIPY, TWIPYs, TWIPYS, This Week in Pinball Yearly Awards
---