The Scoop
Star Wars Premium Gameplay
Dead Flip stopped by Stern on Friday for first stream of Star Wars Premium! Check out the entire stream here, and check out Dead Flip's twitch channel here. Here are five things we saw/heard/learned in the stream:
The Hyperdrive Accelerator: Check out when Keith Elwin got three balls going in it at the same time (you can get up to six).
The Death Star Destroyed: Check out Keith Elwin destroying the Death Star. (A light within the Death Star did not illuminate as it should have.)
Premiums will be shipping after the LEs are shipped.
Mode stacking can be turned off. By default, mode stacking is on. Also, new code showed new animations and scoring adjustments.
Steve Ritchie is good at slap saves: Check out a couple examples.

Alien Pinball Updates
Several announcements involving Heighway Pinball's Alien happened this past week:
Code update – An update for code v0.99 should be available later this month. For a list of the many changes, click here.
Brian Allen LE Artwork – Brian Allen added this post on Facebook showing the Alien illustration he created for the Alien LE backglass. Check out his website here or buy limited edition Alien artwork here or here.
Kaneda Interview with Brian Allen – For more on the backstory of what happened with the Alien LE artwork while Heighway Pinball was still under Andrew Heighway, check out this interview with Brian from the Kaneda Pinball Podcast. Early congrats to Chris Kooluris (AKA Kaneda) on his upcoming 150th episode of the Kaneda Pinball Podcast! For more on his podcast, check out his Soundcloud page here or or check it out on iTunes or your favorite podcast player.

The Future of Pinball – Seminar by Todd Tuckey
At Pintastic last month, Todd Tuckey from TNT Amusements gave a seminar on The Future of Pinball. Todd posted a YouTube video this week that shows most of the seminar – check it out here. You can also check out TNT Amusements here and their Facebook page here.

Saratoga Pinball Show – 8/12
New pinball show! If you're going to be near Saratoga Springs, New York (about 3 hours north of New York City) this coming Saturday, be sure to check out the Saratoga Pinball Show. The show will have pins on free play, an indoor flea market, and a raffle for anyone that brings a game to the show. Make sure to check out their website for information about the show, and here is a direct link to the show details. You can also find them on Facebook here.

The Big Lebowski Update
Dutch Pinball released an update: "This week we have been (and still are) working on the redesign of the boards that will replace the big Middle Main Board (MMB). The software will be backwards compatible with the old and new board system, so if you have a game with the MMB you don't need to worry about future updates." For the full update, click here.

ColorDMD Jurassic Park Video
ColorDMD, which increases your happiness in life by 12-15%, released the video preview of their newest title, Jurassic Park. Check out the video preview on their Facebook page here.

Billionaire Pinball Operator – Warren Buffett
Warren Buffett, a pinball operator? Check out this article from last week titled "What we can learn from Warren Buffett", which includes the following: "When Buffett was in high school, he and a friend bought a pinball machine. According to Biography, the pair put it in a barbershop and quickly earned enough to buy more machines and install them in other shops. The friends eventually sold all the machines for a profit of $1,200."

July Giveaway Winner!
Congrats to Dylan Bristowe who won a Pinball Life gift card for This Week in Pinball's July giveaway! To enter for the August giveaway, correctly answer the Name the Game (see below). Each additional correct answer each week is an additional entry. Congrats Dylan! (Wonder how the drawing is done? Click here.)

Get alerts for new posts from This Week in Pinball – follow us on Facebook, Twitter, or sign up by email:
Have a scoop for next week? Email us at thisweekinpinball@gmail.com
Pin of the Week
DR. DUDE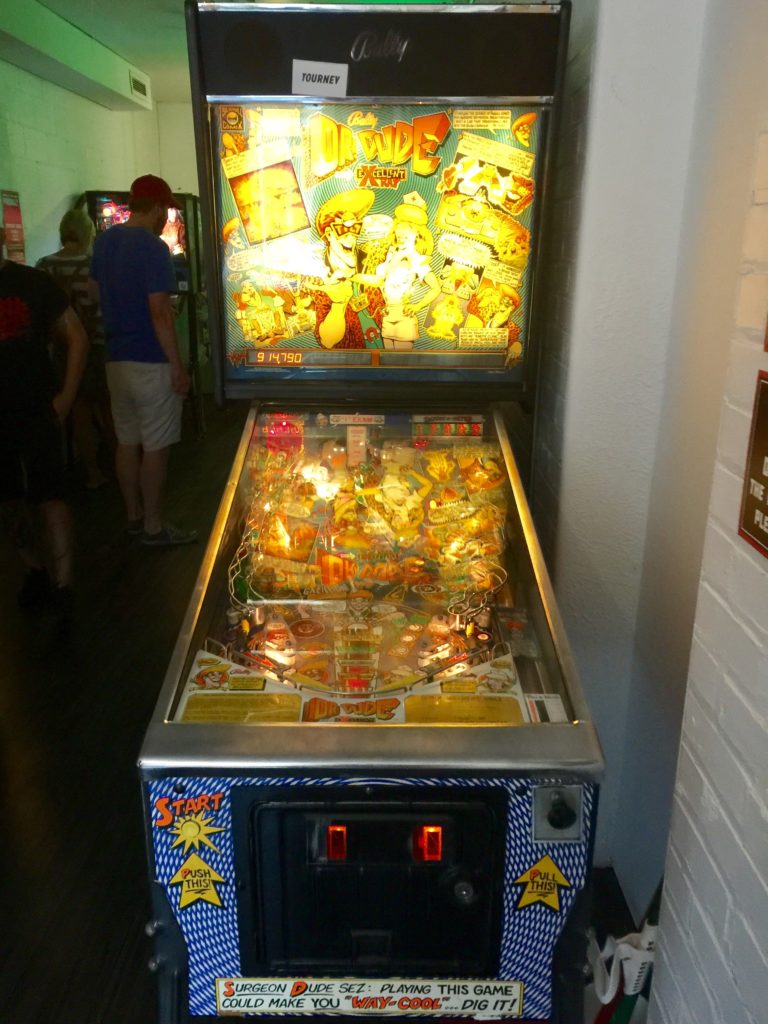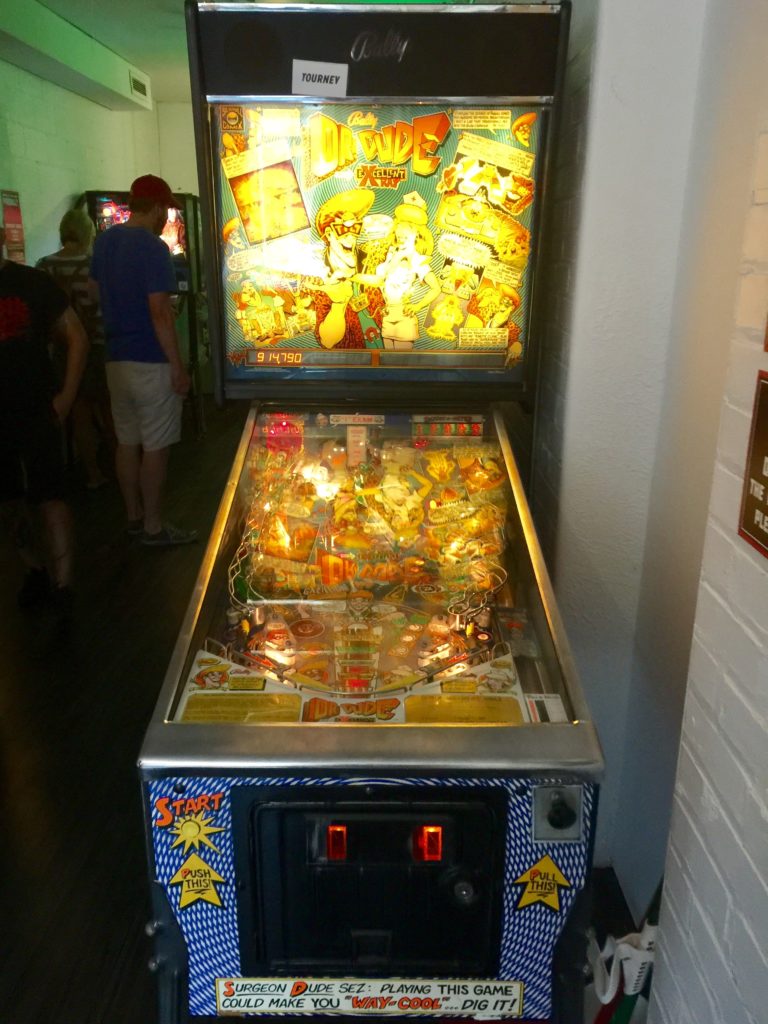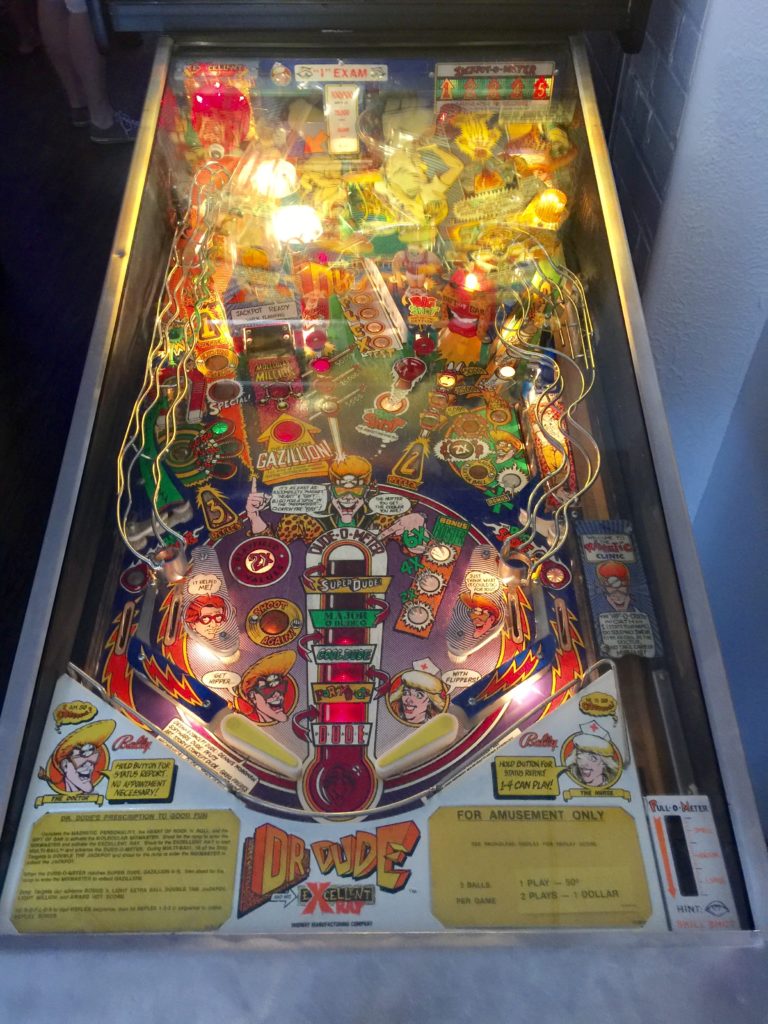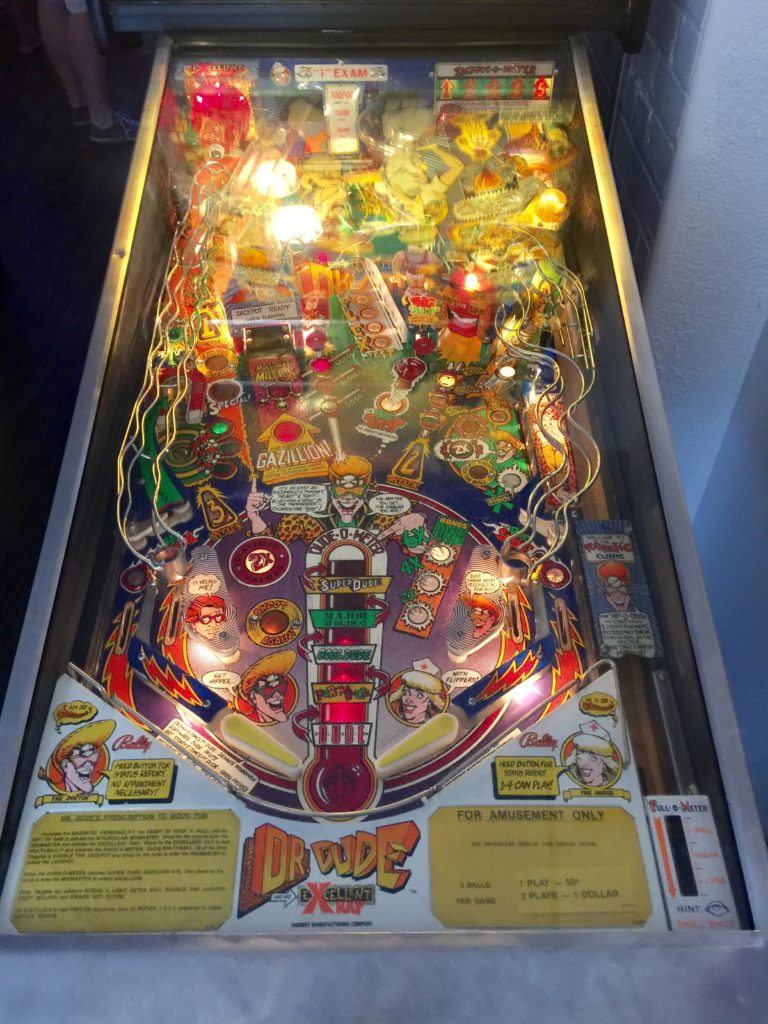 Interesting note about Dr. Dude:
"When you get a high score, enter your initials as one of the designers initials (PFZ, DEN, etc.) and the game will say hello to the designer and play you out with the Heart of Rock 'n Roll theme." – The pinball cows and easter eggs site
Manufacturer: Bally
Display: Alphanumeric
Players: 4
Flippers: 2
Ramps: 1
Release date: November 1990
System: Williams System 11
Design: Dennis Nordman
Programming: Bill Pfutzenreuter
Artwork: Greg Freres
Music/Sound: Chris Granner, Jon Hey
Production run: 4,000

Website of the Week
If you haven't been keeping up with this company, check them out, it is a new take on pinball that has been many years in the making and just started shipping in the last couple weeks!
Have a site we should check out or want your website featured? Send an email to thisweekinpinball@gmail.com with the URL and a short description and we'll include it.
Name the Games
Identify the six pinball machines pictured below for a chance to win a gift card to Pinball Life (subject to change)!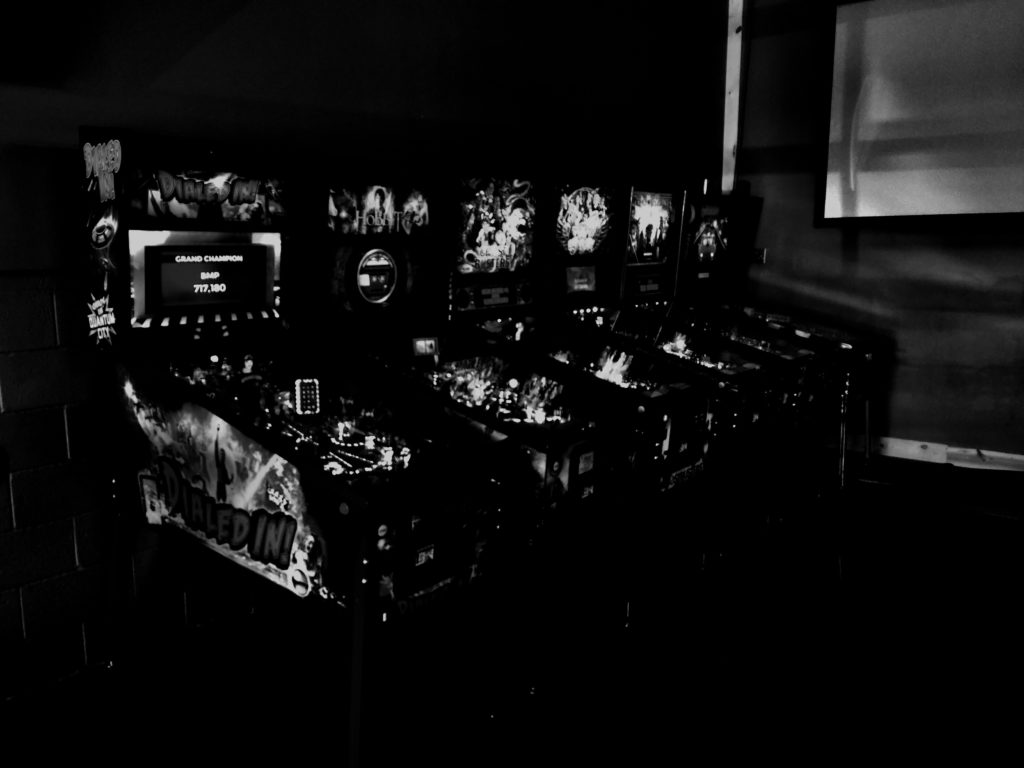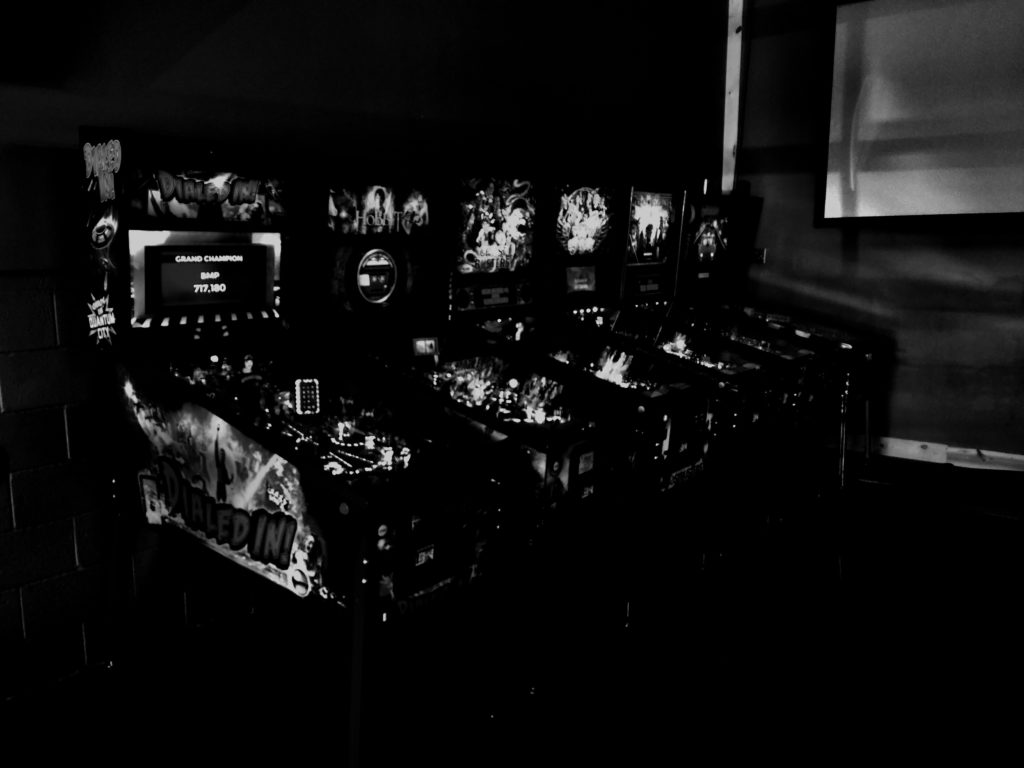 Hint: All pins are within the last three years except one

Last Week's answer: Captain Fantastic

Email guesses to thisweekinpinball@gmail.com, correct answers in August are entered into the drawing for a gift card to Pinball Life!
Upcoming Games and Rumors
Stern Pinball Most Recent Titles
Aerosmith
AC/DC Vault Edition
Star Wars
Announced/Confirmed
Rumors of Future Titles
Guardians of the Galaxy?
Iron Maiden?
Jurassic World?

Spooky Pinball Most Recent Titles
Rob Zombie's Spookshow International
Dominos (*contract game)
Jetsons (*contract game)
Total Nuclear Annihilation (*contract game)
Announced/Confirmed
Alice Cooper's Nightmare Castle
Ben Heck's game

American Pinball Most Recent Titles

Dutch Pinball Most Recent Titles
Bride of Pinbot 2.0
Bride of Pinbot 3.0 (on hold)
The Big Lebowski (production issues)

Silver Castle Pinball
Jersey Jack Pinball Most Recent Titles
Wizard of Oz
The Hobbit
Dialed In
Rumors of Future Titles
Pirates of the Caribbean?
Toy Story?

Chicago Gaming/Planetary Pinball Most Recent Titles
Medieval Madness Remake
Attack From Mars Remake
Rumors of Future Titles
Monster Bash Remake?
Big Bang Bar Remake?
Cactus Canyon Remake?

Heighway Pinball Most Recent Titles
Full Throttle
Alien (production issues)
Rumors of Future Titles

P3 (Multimorphic)
Lexy Lightspeed (coming soon)
Cannon Lagoon (coming soon)
Cosmic Cart Racing (coming soon)

Homepin
Thunderbirds (coming soon)
**TWIP dreams of the day Harry Potter Pinball will be added to these rumors. Ms. Rowling, I will wear a Harry Potter shirt for 3 months straight if you approve this!
Get alerts for new posts from This Week in Pinball – follow us on Facebook, Twitter, or sign up by email: