Overview | Game Trailer | Who's Who | Price and Production | Features and Rules | Official Press Release
Star Wars Comic Art Pin is the newest creation from Stern Pinball! Below is an in-depth overview of the machine, and a dive into the features and rules – check it out!
---
Check out the game trailer below!
---
Game Design: George Gomez
Rules Design: Dean Grover
Artwork: Randy Martinez
Lead Sound Designer: Jerry Thompson
Lead Mechanical Engineer: Tom Kopera
Computer Graphics Art Director: Chuck Ernst
---
MSRP: $4,499
Available for pre-order now
---
SKILL SHOTS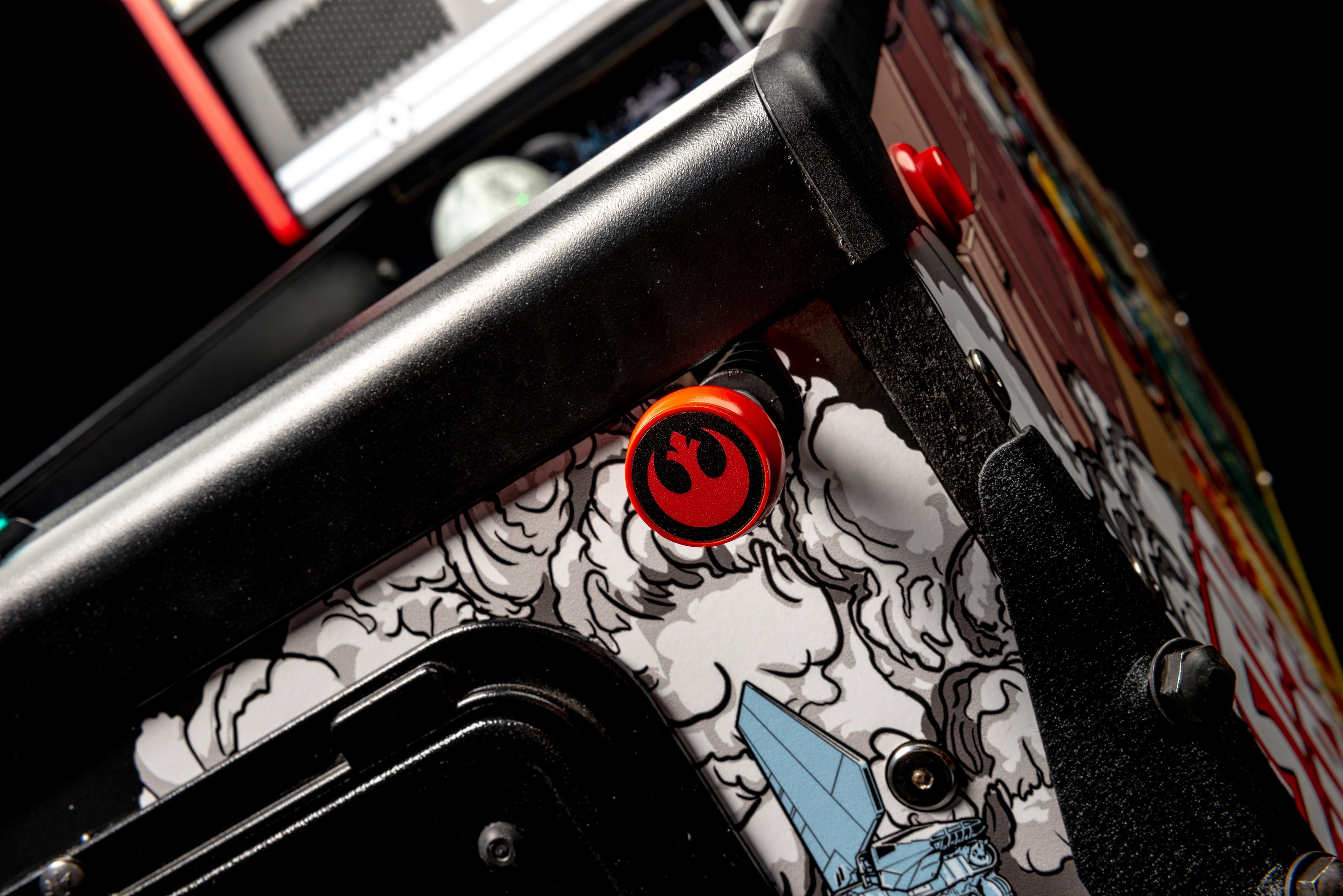 There are two main skill shots in the game:
Jedi skill shot: Plunge to the lit upper lane without switching lanes (if you miss this, you can move the light to complete a basic skill shot)
Tie Fighter skill shot: Hold the left flipper button in, then shoot the Tie Fighter
ASSEMBLE REBELS
Hitting the FORCE target on the left side of the playfield adds a letter to F-O-R-C-E. Spell F-O-R-C-E to light Rebel shots (Han Solo, Princess Leia, and Luke Skywalker).
Shoot Rebel shots when lit to assemble the Rebels:
LUKE SKYWALKER ORBITS – Hit the left and right orbits three times each to complete
HAN SOLO RAMP – Hit the left ramp (not Death Star ramp) three times to complete
PRINCESS LEIA – Hit the inner loop three times on each side to complete
Assembe all of the Rebels prior to attacking the Death Star to increase Death Star score value.
Each completed Rebel adds to the Death Star Super Jackpot value.
DEATH STAR MULTIBALL
Hit the set of drop targets down twice in single ball play to start Death Star Multiball.
During Death Star Multiball, hit flashing shots for jackpots. Each jackpot builds the Death Star Super Jackpot.
When the game is down to one ball, the Death Star is lit for a super jackpot.
There is a timer, so it must be hit before time runs out!
The Death Star Super Jackpot is increased for each character that has been completed.
R2-D2 MULTIBALL
Hitting a ball which is locked in the R2-D2 lane starts R2-D2 Multiball.
Hit the R2-D2 target when flashing to add a ball to the multiball.
Hit flashing arrow shots for jackpots. Collect all available jackpots to score a super jackpot and increases the jackpot value.
Shots will re-light after a certain number of switch hits.
TIE FIGHTER MULTIBALL
Shooting the right ramp destroys Tie Fighters and starts Tie Fighter Multiball.
During multiball, shoot the Tie Fighter drop targets.
After six targets have been hit, the Tie Fighter ramp lights up for super jackpot.
Pop bumper hits progress towards starting a Tie Fighter Hurry Up (right ramp shot) and increase the value for completing one of the characters (Han Solo, Princess Leia, and Luke Skywalker).
JEDI MULTIBALL
Once all four characters (R2-D2, Han Solo, Princess Leia, and Luke Skywalker) have been completed, Jedi Multiball begins.
In this timed wizard mode, the object is to rescue Luke, Princess Leia and Han Solo by shooting the lit shots before time runs out.
Completing F-O-R-C-E adds additional time to the timer.
BONUSES and DOUBLE SCORING
SUPER BONUS: Scoring a super jackpot in Tie Fighter Multiball, Death Star Multiball, and R2-D2 Multiball qualifies a Super Bonus awarded during bonus count.
DOUBLE SCORING: Complete the top three Empire rollover lanes for 30 seconds of double scoring
BONUS MULTIPLIER: Complete the bottom 4 Rebel alliance symbol rollover lanes to increase your bonus multiplier
---
Official Press Release
Stern Pinball Announces New Star Wars™ Comic Art Pin™
Affordable Pinball Machine for the Home
CHICAGO, IL – November 17, 2020 – Stern Pinball, Inc., a global lifestyle brand based on the iconic and outrageously fun modern American game of pinball, announced today the Star Wars™ Comic Art Pin™, a new stylish, affordable, and fun pinball machine designed and engineered for the home.
Based upon the highly successful Star Wars™ Original Consumer Pin™, Stern's new Star Wars™ Comic Art Pin™celebrates the iconic comic artwork from the Star Wars galaxy. Star Wars™ Comic Art Pin™ immerses players in the dynamic Star Wars™ universe. The Pin™ is packed with features that provide players with an irresistible game experience including select speech and footage from the original Star Wars™ trilogy, color-changing playfield inserts, a custom sculpted Death Star, and a custom sculpted and interactive TIE fighter.
Star Wars™ Comic Art Pin™ pinball machines feature the artwork of famed comic artist, Randy Martinez. Randy has been illustrating for over 30 years receiving countless accolades for his work. Randy has been creating cartoons, caricatures, illustrations, paintings, and 3D art for Lucasfilm since 1999.
The easy-to-setup Star Wars™Comic Art Pin™ is reliable, built to last, and engineered with genuine Stern commercial-quality parts. The playfield is housed in a stylish cabinet with dynamic, high definition artwork. The all-LED playfield lighting provides optimal color and brilliant light shows.
"The Star Wars™ Comic Art Pin™ is designed to provide quality family entertainment and bring pinball fun to homes everywhere," said Gary Stern, Chairman and CEO of Stern Pinball, Inc. "We are pleased to bring these pinball machines celebrating the Star Wars™ galaxy and adventures to our fans with beautiful new comic artwork."
Complementing the immersive theme and exciting gameplay experience, Stern Pinball's powerful SPIKE™ electronics hardware system enables high-definition graphics and innovative animations. SPIKE™ reduces system complexity and energy usage, resulting in enhanced reliability and simplified servicing.
Pricing and Availability:
Manufacturer's Suggested Retail Price ("MSRP")*: $US 4,499
*MSRP for sales to USA end-users, before any VAT, GST, Sales Tax, Duties, or other taxes.
The Star Wars™ Comic Art Pin™ is available to pre-order now through authorized Stern Pinball distributors and dealers around the world.
About Stern Pinball, Inc.
Stern Pinball, Inc. is a global lifestyle brand based on the iconic and outrageously fun modern American game of pinball. Headquartered minutes from Chicago's O'Hare International Airport in the heart of North America, the company creates, designs, engineers, manufactures, markets, and distributes a full line of technologically advanced terrestrial and digital pinball games, parts, accessories, and merchandise. Stern Pinball serves digital, consumer, commercial, and corporate markets around the globe.
Recent Stern Pinball titles include Avengers:Infinity Quest, Teenage Mutant Ninja Turtles, Stranger Things, Elvira's House of Horrors, Jurassic Park, Black Knight: Sword of Rage, The Munsters, The Beatles, Deadpool, Iron Maiden, Guardians of the Galaxy, Star Wars, Aerosmith, Ghostbusters, KISS, Metallica, Game of Thrones, The Walking Dead, Star Trek, AC/DC, Batman, and Spider-Man. A broad range of players enjoy Stern Pinball's games from professional pinball players who compete in high-stakes competitions around the globe to novice players who are discovering the allure of the silver ball for the first time. To join the fun and learn more, please visit www.sternpinball.com.
STAR WARS™ and related properties are trademarks and/or copyrights, in the United States and other countries, of Lucasfilm Ltd. and/or its affiliates. © & TM Lucasfilm Ltd.
###
All trademarks and product names are the property of their respective companies.
---