Overview | Who's Who | Price, Production, Availability | Features | Rules and Code | Videos
Ultraman: Kaiju Rumble is the newest creation from Spooky Pinball! Below is an in-depth overview of the machine, and a dive into the features and rules – check it out!
---
---
Game Design: Koris Barloff…?
Game Animations: David Fawzma, David Van Es, And Matt Frank
Game Code: David Fawzma
Licensing: Charlie Emery
Artwork: Matt Frank
Rules: Bug Emery and David Fawzma
Engineering: Spooky Luke
Wiring/Nasty Nuts and Bolts: AJ
Custom Music: Matt "Count D" Montgomery
Sculpts: Matt Reister
---
Collector's Edition:
$8,995
Built First
$2,000 Initial Payment
Blood Sucker Edition:
$7,995
Built Second
$1,500 Initial Payment
Standard Edition:
$6,995
Built Last
$1,000 Initial Payment
Production for all editions combined is limited to 500. There is no limit on the number of Collector's Editions, Blood Sucker Editions, or Standard Editions within that 500 limit – customers will decide the total number of each edition.
Production is scheduled to begin immediately and is planned to be completed within 18 months.
Note: to become a Fang Club member, click here!
---
ALL EDITIONS
Dual Inlane Lifters
Triple interactive Baltan Tokyo City Toy
Four Custom Stainless Ramps
Science Patrol Pin Drop Target Ball Lock
360 Degree LED Flashers
Sculpted Beta Capsule with 360 LED Flasher inside
Custom Metal Ball Drop Down Mech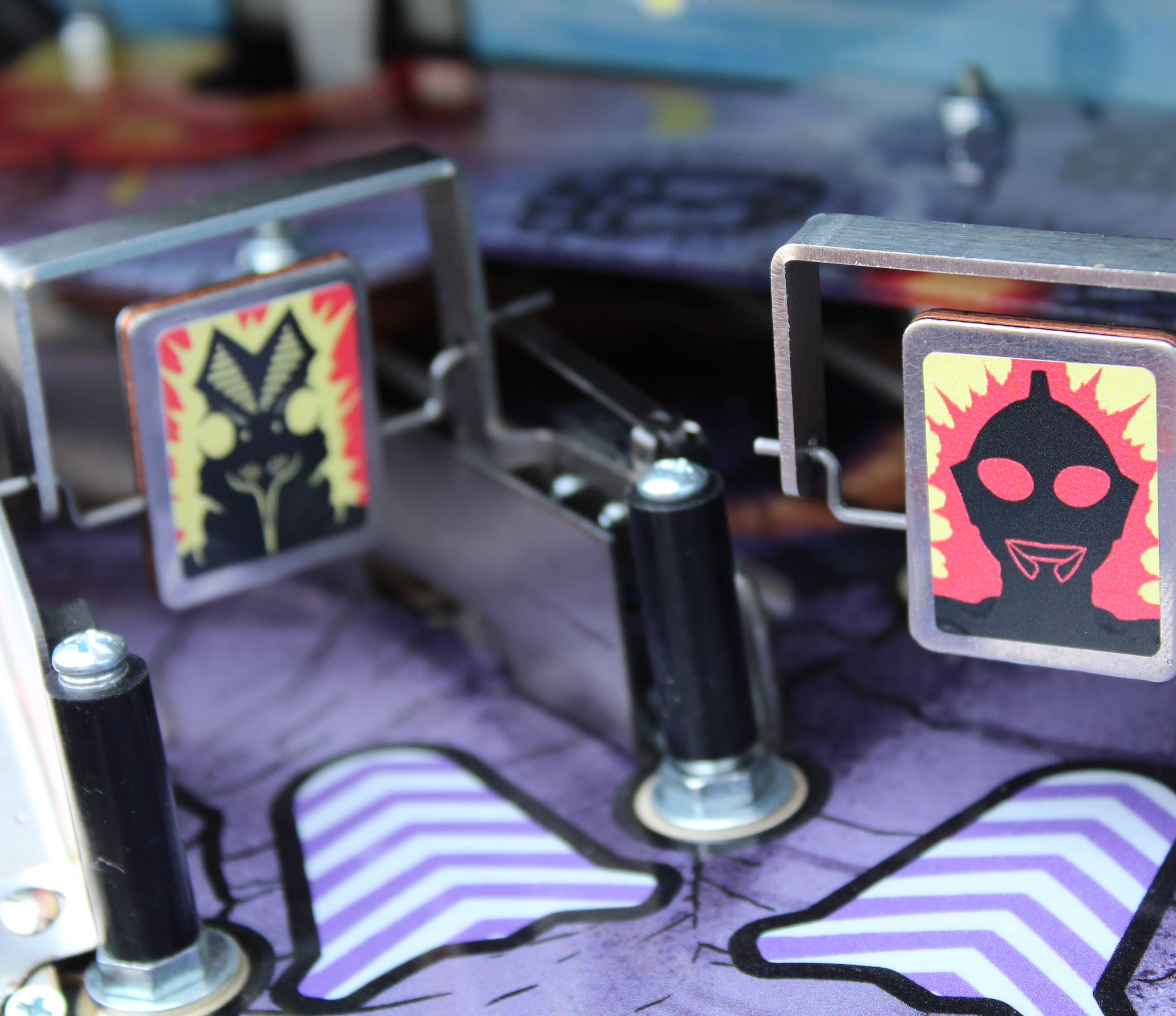 150 Interactive RGB Lighting
Upper Playfield RGB Strip Lighting
Seven Physical Ball Locks
BLOOD SUCKER EDITION
Clear plastic protectors
Interior graphics
Knocker kit installation
Shaker kit installation
Interactive RGB speaker kit and standard grill
Target decals
Coin box and lid
Powder coated to match bill acceptor ready door (bill acceptor not included)
Custom metallic flake powder coat
Blood Sucker Edition numbered plaque
Flipper button protective armor
COLLECTOR'S EDITION
Orange plastic protectors
Interior graphics
Knocker kit installation
Shaker kit installation
Coin box and lid
Target decals
Interactive RGB speaker kit and custom grills
Powder coated to match bill acceptor ready door (bill acceptor not included)
Custom gold vein powder coat
Custom laser cut side rails
Collector's Edition numbered plaque
Custom interactive lighted licensed topper
Custom sculpted shooter rod
Additional licensed decorative toy
---
NOTE: Subject to change.
Skill Shot
Use flippers to change location of skill shot. Then launch and shoot fast!
Baltan's Bash
Lock a ball behind each Building to start Baltan's Bash. Reveal Baltan behind each Building by shooting the left ramp, then hurry to shoot Baltan Jackpots!
Shoot the Baltan Super Jackpot to complete mode.
Bemular Battle
Shoot the right ramp to get to the Bemular Battle Playfield, then shoot the scoop to start Bemular Battle. Complete all red lit shots to defeat Bemular! Collect Super Jackpot to complete mode.
Jirahs Mode
Qualify Jirahs Mode when Baltan's Bash and Bemular's Battle have been visited, then shoot the center ramp twice to start Jirahs Mode.
Now get to that uppermost playfield! Complete orbits to battle Jirahs!
TIP: Hold the flipper on the upper playfield orbit for a wicked combo!
Pigmon Modes
Start Pigmon Modes by shooting either left or right orbit and clear the center drop target bank, then shoot the Beta Capsule to start mode.
Follow directions and shoot lit shots to help Ultraman defeat various monsters!
Play and fully complete all Pigmon Modes to light Pigmon Multiball.
Zetton Mini-Wizard Mode
After visiting Baltan's Bash, Bemular's Battle, Jirahs Attacks, and all Six Pigmon Modes, Zetton Mini-Wizard mode will begin. Lock all 7 balls in the order given to you to complete Zetton Wizard mode, the enjoy your victory lap multiball!
Ultra Brothers Wizard Mode
If you've played and fully completed all modes to their fullest extent, Ultra Brothers Wizard Mode will be lit!
---
GAME TRAILER
---