Review of Scorbit platform for connecting existing games to the internet allowing users to track high scores and compete against friends.
Written By Will Oetting
Scorbit graciously sent TWIP the Scorbitrons and free subscriptions in order for us to create this review.
---
The new Scorbit platform provides a combination of hardware and services that allows for connecting existing pinball machines to the internet. It is also built into some Jersey Jack Pinball machines (Guns N' Roses and Willy Wonka at the time of this writing). Players get the benefit of keeping track of their high scores and challenging their friends all through the Scorbit App. Pinball collectors can display leaderboards and live scores directly to streams or websites. Operators also get benefits from remote machine management services. We here at This Week in Pinball are players and collectors, so this review is mainly focused on the advantages Scorbit brings to us as hobbyists.
---
The Scorbitron is the hardware piece of Scorbit that physically connects to the boards and display of the pinball machine. It consists of the circuit board, an adapter designed specifically to interface with the processing board on the machine, and some cables to connect it all together. The Scorbit App provides step by step instructions to install the Scorbitron on your specific machine. During these steps is when you connect the Scorbitron to your WiFi. I actually had an issue at this point where I was getting an error when trying to connect to my WiFi. I sent a message to Scorbit support and got a response back quickly from Jay. He spent quite a bit of time messaging back and forth with me to work out that my phone had an older version of Android OS on it that was keeping it from connecting to my WiFi network. They are actively working to make sure that more Android versions are able to connect successfully. Had I not had any issues with connection the install would have only taken around 15 minutes to complete.
---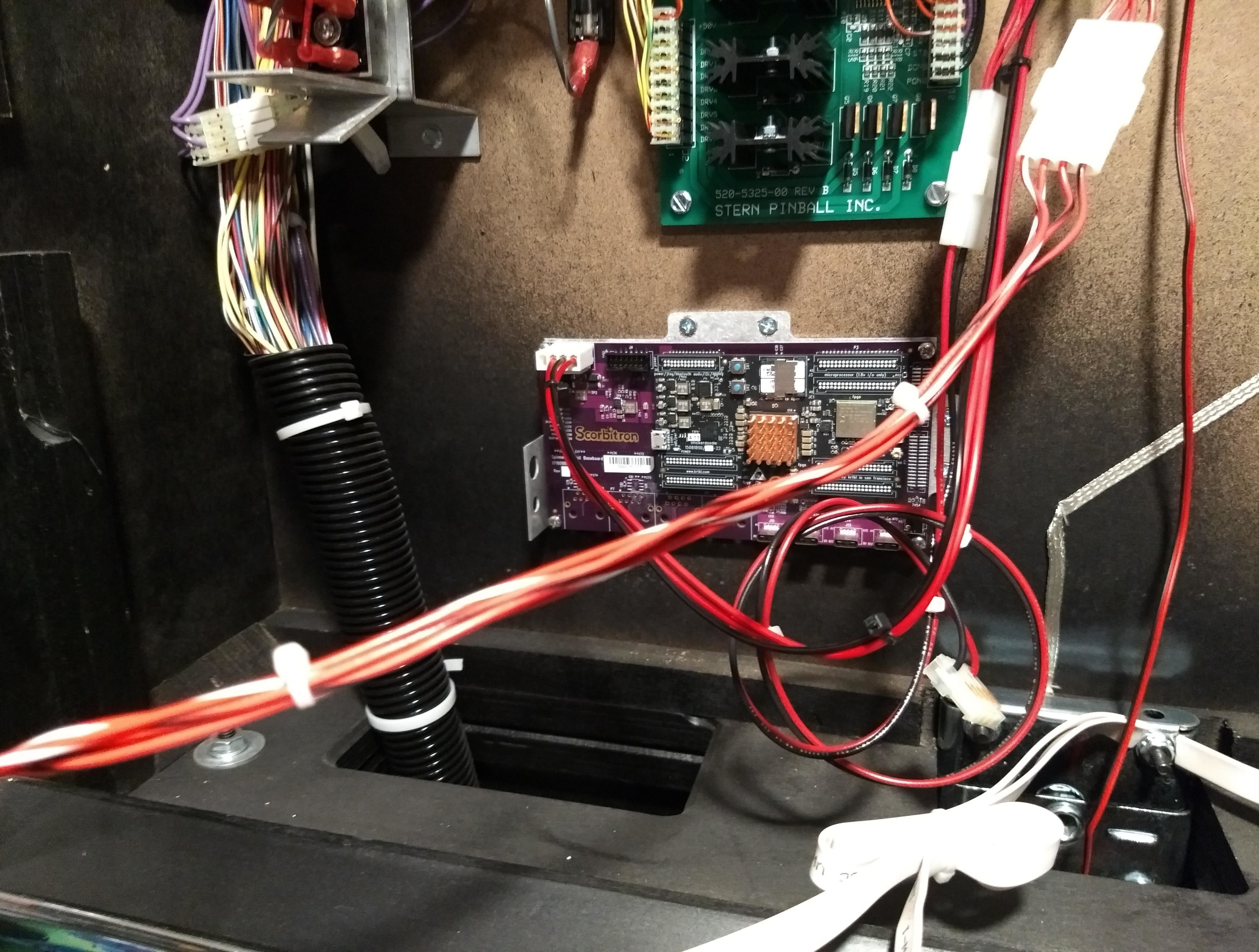 The Scorbit App also keeps track of your personal venues and machines as well as what you use to submit your scores for machines connected with a Scorbitron. The other nice part of the Scorbit App is that you are able to look up other pinball locations nearby even if they don't have a Scorbit connected machine at all. I haven't had a chance to see how well it keeps up with the specific games that are at each location, but I love that I am able to submit scores on those local machines even without the Scorbitron installed. I now have one app that I can keep track of all of my high scores anywhere I go.
---
Scorbit App Screenshots
After connecting, I started playing some AC/DC Premium while watching the score update on the Scorbit App. I was quite impressed with how quickly the score gets updated. I assumed that with the possible lag in my WiFi connection and then any lag across the internet, that it might take a little while to actually update on the app, but it didn't seem to take more than a second or two before I saw the correct score. The app is also able to keep track of which player and even what ball that player is on. This should be really helpful with tournament officials and players to keep track of where everyone is at in their games. After finishing a game, you can submit your score to be recorded.
With some decent scores in place I now wanted to check out what you can do with another piece of software available online called ScorbitVision. ScorbitVision is the tool that allows you to create scoreboards, leaderboards, slideshows, and streamboards that allow you to display scores for games in multiple combinations. ScorbitVision is still in beta at the moment but I've already seen some updates that have continued to add features. I was able to create a Scoreboard for displaying either the ongoing or last game information on particular machines. In my case I am displaying my AC/DC Premium machine.
I created a Leaderboard for all AC/DC Premium games out there so that Jeff and I can compare scores. We are looking forward to creating leaderboards with a group of TWIP readers which is currently an option in ScorbitVision
Scorbit Leaderboard for AC/DC
---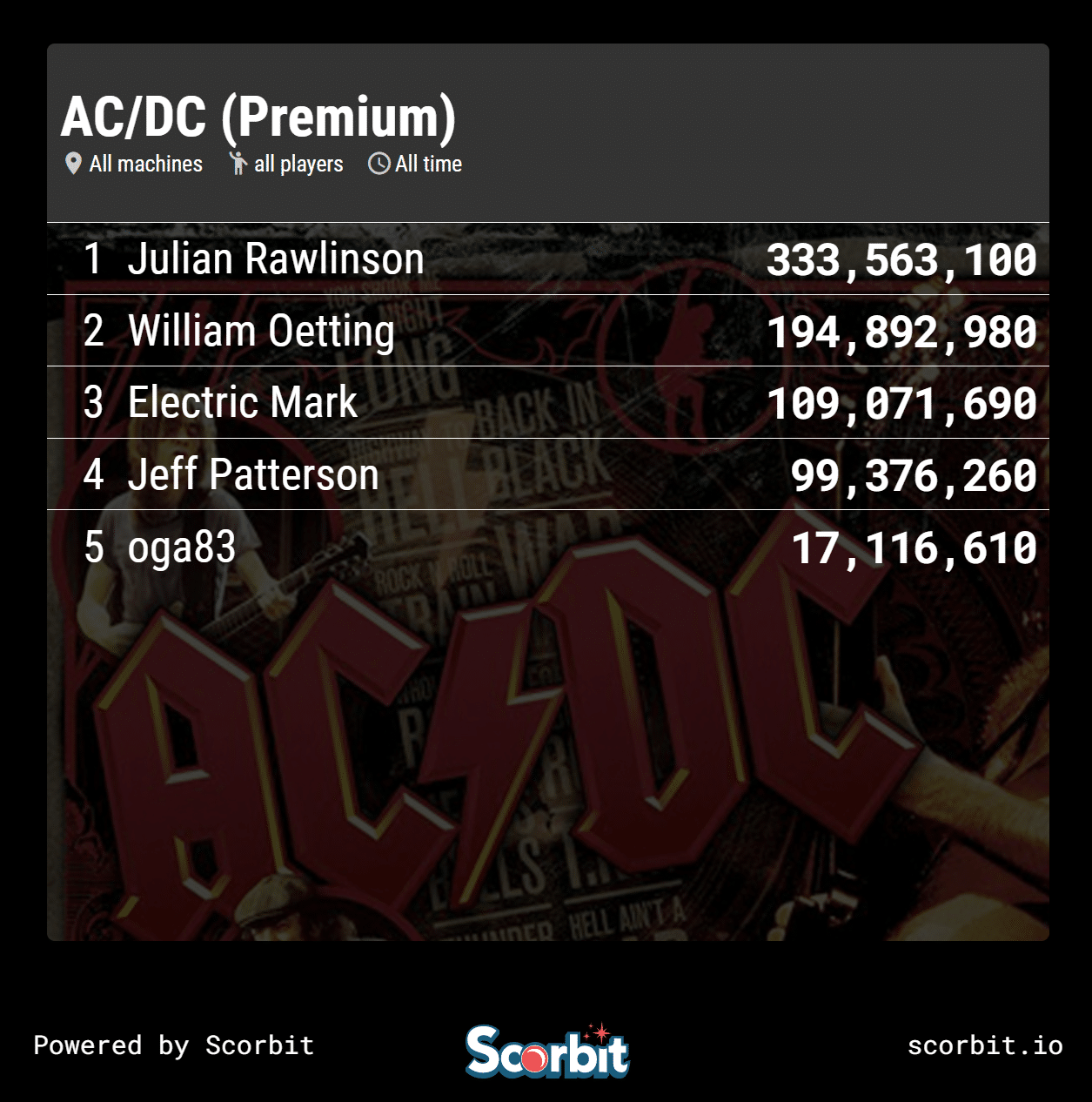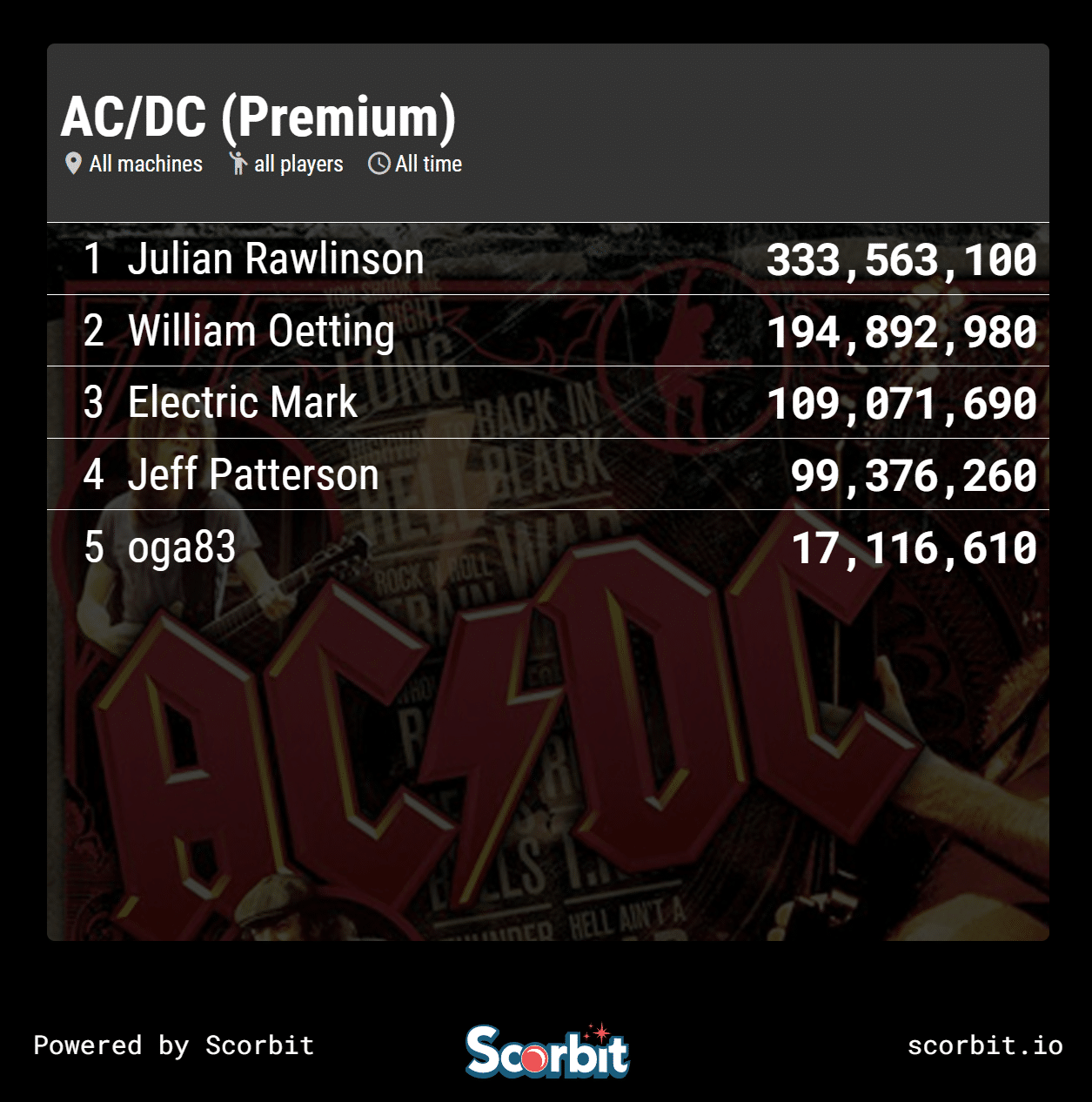 View the live TWIP AC/DC Leaderboard
If you have a Scorbit account and want to be added to TWIP Leaderboards then let us know…
You also have the ability to create Slideshows that allow you to combine multiple Scoreboard and Leaderboards together to be displayed in a slideshow format on one screen. You can currently adjust the timeframe that each screen is displayed for as well.
How To Buy
---
Scorbit is already built into some Jersey Jack Pinball machines without any need to add the Scorbitron board.
Set up an account and get a Scorbitron for your machine: https://scorbit.io/purchase/