Overview | Who's Who | Features | Rules and Code | Interviews with Brian Soares, Reby Hardy and Robert Mooney
Ferris Bueller's Day Off pinball machine is a creation from Brian Soares and Reby Hardy! Below is an in-depth overview of the machine, a dive into the features and rules, and interviews – check it out!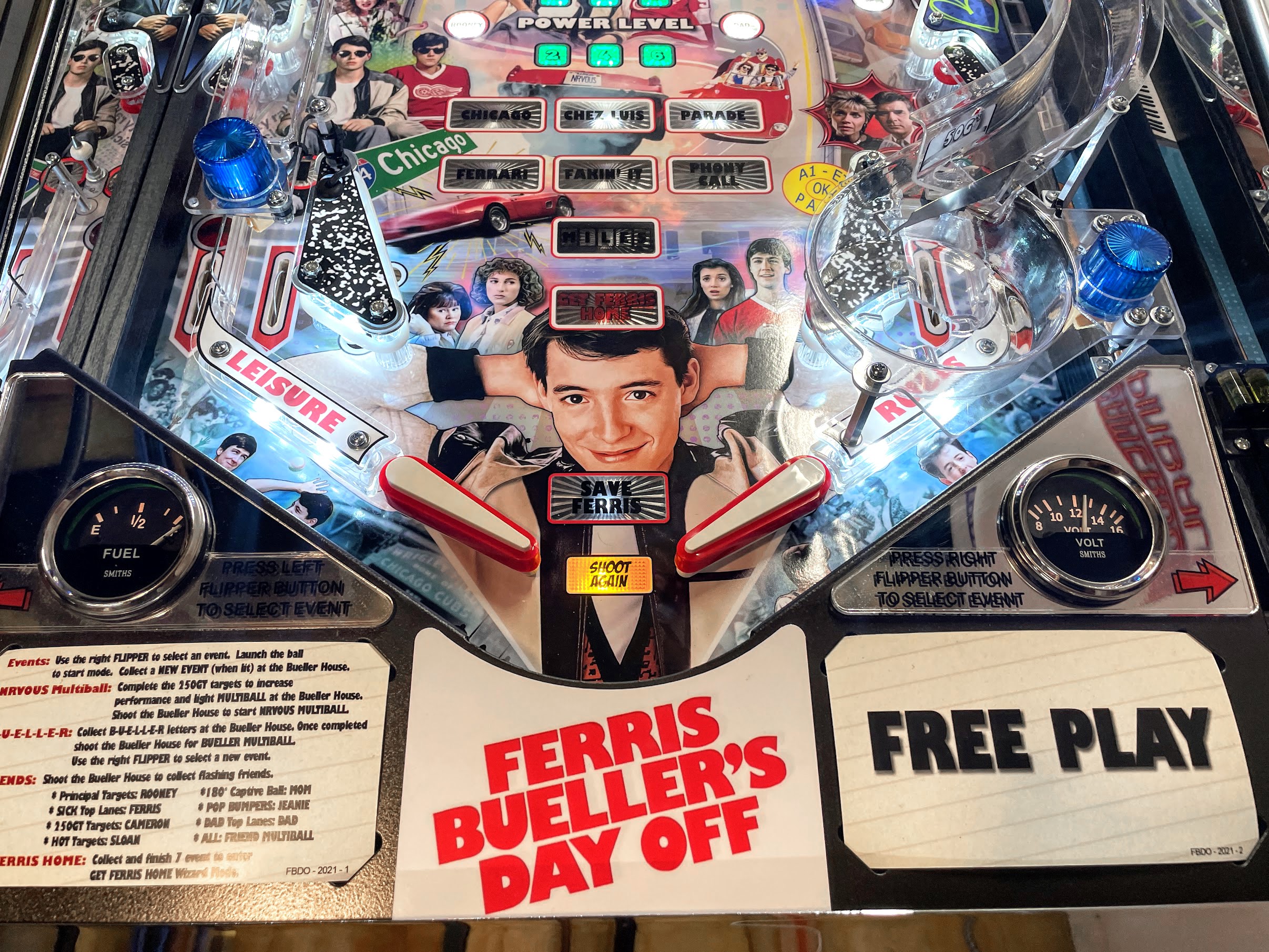 Brian Soares: Engineer
Reby Hardy: Digital Artist/Designer
Robert Mooney: Owner (and contributor)
Intercom start button designed to match the one outside Ferris' front door
Lucky rabbit's foot (Ferris and Cam rub it in the taxicab when they are hiding on the floor)
Microphone shooter handle (like the one in his parade scene)
Jeanie's car (Hot Wheels Ferris Bueller Collector's Edition)
Ferrari (Hot Wheels 250 GT California)
Old TV playing the Ferris Bueller movie (Sparky pinball)
3D printed Pepsi can – used to collect 50G's to get Ferris a new kidney
Working Smith's replica fuel and voltage gauges – like ones in the Ferrari
Doggie door spinner w/ Principal Rooney
Hidden garage valet targets behind 250GT drop targets
"Oh" & "Yeah" mirrored speaker inserts
Topper planned (to be constructed)

Maxell XLII 90, IEC Type II Epitaxial Cassette – same as the one used for the doorbell sounds
Red Western Electric touch tone phone – used in Ferris bedroom
SSK Dimple Baseball Glove 11″ Model DPG-640 – used in Ferris' bedroom
Matthew Broderick Autographed Official Baseball w/ COA
Smith's replica Odometer – yes it was opened and rolled to 301 and almost 7 tenths miles!
Illinois NRVOUS license plate
Vintage 1980's Pepsi coin bank – used for collection
Other specialty items

Mirror blades – Cointaker
Speaker Lights – Cointaker
Lighted Flipper Buttons – Cointaker
Voodoo Glass – Cointaker
Chrome parts (coin door, lock bar, side rails, hinges, legs, bolts) – Hot Rod Arcade
LED DMD – XPin
8-way power splitter – Pinball Life
Work your way through Ferris Bueller's Day Off!
Take Down the "2-5-0-G-T" Drop Targets to start NRVOUS MULTIBALL
Shoot Around the Playfield to collect friends: Principal Rooney, Cam, Ferris, Sloan, Mom, Dad, and Jeanie
Collect Leisure Awards at the Bueller House
Advance through the daily event modes to Get Ferris Home!
Event Modes
Fakin' It
Phony Call
Ferrari
Chicago
Chez Luis
Parade
Mini Wizard mode
Miles
Wizard Mode
Get Ferris Home
Multiballs
Fakin' It multiball
NRVOUS multiball
Joyride Multiball
BUELLER Multiball
This Week in Pinball: Who was this machine built for and who is going to own it?
Brian Soares: Initially my plan was to just build one machine for myself. While talking with longtime pinball friend Robert Mooney, who had purchased one of my early re-themed games (Ferrari) about my idea, he immediately said he wanted one. A few months later we reconnected again about the FBDO pin and then we were on the quest to make one for the both of us!
My plan was to build one prototype that I would keep and one nicer game for Robert. From the beginning I never wanted to make two games the same, so mine (#001) is finished with a red theme, while his game (#002) is primarily chrome. There are a few other minor differences as well that Robert will tell you about.
TWIP: How did you come up with the idea for the Ferris Bueller pinball machine?
Brian: After all these years making games, I knew I really wanted a game for myself. If I was going to keep it, I wanted it to be special and different from all the sports theme games I usually build. I had started a list of dream themes a few years prior and occasionally, I'd revisit it. Our family really loves this movie and I just thought it would be perfect because it checked all the boxes. Funny and recognizable quotes, family friendly, good music, nice car…just such a classic movie that almost everyone has seen.
TWIP: How long did it take to plan and create the machine?
Brian: The entire project took (2) years to complete, which for me is forever to complete a game, but this one needed to be special. I purchased the donor game in August 2019 and began drafting the gameplay / modes / etc. immediately after on our family vacation plane rides to and from Orlando.
Since I had previously spent so much time on Matt Hardy's Expedition of Gold, I knew I needed to make sure I could update the code before I started any game tear down or artwork for the project. Year 1 was mainly spent acquiring and editing all the soundbites, music, and changing text strings. Lot's of testing on the donor machine took place. Other projects were in process, so this took a little longer than expected.
As things were looking promising, I contacted Reby and asked if she was up for another project. We had such a good working relationship during the Expedition of Gold project I knew I wanted to work with her again but didn't know what style graphics I wanted to use for the game. I began contracting with various graphic artists for the character images to get initial samples. Robert really wanted the realistic style characters mixed with cartoon style graphics so that's the direction we headed. After much trial-and-error Reby and I found a way to get the character style we wanted, and she went to work on the full artwork package!
While Reby was busy with artwork, I focused on the mechanical design and manufacturing side of things. I got to work designing some parts that would later be 3D printed. I also wanted to try a new super thick gloss decal material for the cabinet so I spent time on that as well. We came up with the idea for a cool translight which also required development and a special service to print it! Once everything was sourced, it was just a matter of disassembling and reassembling the game.
TWIP: How much interest has there been in Ferris Bueller pinball since it has been teased?
Brian: The interest began after my 1st teaser video in late 2019. Mostly Bueller memes and one liners were sent my way. Things were quiet for a while, but then ramped up quite a bit this year as the project began to come together and I dropped a few more. We also had some eagle eyed fans following Reby on Instagram & Twitch notice the in-progress Ferris Bueller artwork on her computer screen as well as the playfield artwork hanging in her gaming studio!!! This definitely got people commenting as well.
TWIP: What were your favorite and least favorite parts of creating the game?
Brian: It is hard to pick a single favorite part of creating this game because I enjoyed so much of the process. Since I know the movie extremely well, being able to add all the little details that a Ferris fan will appreciate was fun for me. I also loved that my kids would often give me suggestions for things that needed to be in the game.
Working with Reby Hardy on the graphic design was definitely the biggest plus for me on this project. As much as I love the movie, I was completely lost on how I really wanted this game to look when it was completed. Going into the project she knew this game was special for me so she went above and beyond to meet my expectations! Without Reby's creativity this game would not look like it does now. We had so many texts and zoom calls to discuss the artwork, but I really do give her full credit for the game's overall graphic design. I remember the first time seeing what would later become the final cabinet design and being absolutely blown away as it exceeded my expectations. Reby knew the Ferrari was very important to Robert and myself. She began in that direction and then included all the little details which really pulled it together. For example, as much as Robert and I liked the valet, I really never expected him as just a supporting character to end up on the head side art. But that's what's so great about Reby!! She just linked what was important to us together and the end result was myself and Robert loving her idea for the character placement! It flowed so well with the cabinet and the iconic mileage shot of the odometer. She just really pulled it all together! We couldn't be any happier.
As a Ferris Bueller movie fan, Robert proved instrumental as a great sounding board for our design concepts. I would send things over and he provided great feedback to me. There were certainly many texts going back and forth with both Reby and Robert at all hours of the day! It was great to be able to work with him on another project after all these years.
My least favorite part of creating the game is without a doubt the software editing. Changing thousands of images, text strings and sounds is a TON of work. It's not difficult when you know what to do, it's just a TON of work. Did I mention already that it's a TON of work? I really don't recommend doing it unless you are prepared to spend hundreds of hours on that portion of the build alone.
TWIP: Are there any plans to publicly stream the gameplay?
Brian: I hope to have that done at some point. Reby and Robert are both well connected in that respect so I'm sure it will get done as I know at least 3-4 people have already asked about it. I just hide out in my shop building these games, so I know it won't be me streaming it 😊
Reby is also in the process of creating a website for this game. We'll have to follow-up when it's completed.
Connect with Brian:
Website: https://www.custompinballmachines.com
Instagram: https://www.instagram.com/gameroompinball/
Twitter: https://twitter.com/gameroompinball
Facebook: https://www.facebook.com/custompinballmachines/
Email: brian@custompinballmachines.com
This Week in Pinball: What were your favorite and least favorite parts of creating the game?
Reby Hardy: What I liked most about this project was getting to work within a specific style, given the time period of the movie. It was fun to be able to tap into the 80s teen movie aesthetic & really lean into that vibe when it came to designing the machine, the playfield in particular. It was also great to work with a title that had so many beloved characters & iconic lines built into it; there was never any point where I was struggling for content or lacking movie references. I'd even say I wasn't able to put everything I wanted in there!
Ironically, my least favorite part is also the fact that this was an 80s movie. Because of that, it was near impossible to find high resolution, uncropped images from the film to work with & almost every single design element was either composited from multiple sources or had to be replicated by digitally painting from scratch, even when it looks like a film still. Maintaining a standard of resolution throughout the playfield is tricky when working with internet sourced screenshots of a 35 year old movie.
The design process as a whole was a pretty enjoyable experience, though, since Brian & I have a good working relationship. I threw so many wacky ideas at him & we found a way to incorporate nearly all of them in the project; my favorite being the lenticular translite. That idea originally started as, "What if there were a holographic/lenticular spot on the playfield?" & evolved into a full sized translite with 50+ layers & 7 levels of dimension. It's one of those things that stop you in your tracks when you see it & definitely something that needs to be seen in person to be fully appreciated & experienced.
TWIP: Are there any plans to publicly stream the gameplay?
Reby: I would absolutely love to stream the game! I've been having a blast sharing our first game, Expedition of Gold on twitch (twitch.tv/househardy) which has gotten a lot of positive feedback. Pictures are one thing, but to see & hear these games in real time & be able to appreciate the painstaking, little details that go into them is to appreciate them on a whole other level. My plan was initially to fly to Massachusetts to film & photograph the machine for its website & reveal, but it turned out that I was 9 months pregnant in a pandemic by the time it was finally completed, so unfortunately, that didn't work out. A little bird tells me there may be a reveal party… that would certainly be the ideal place to bring my streaming equipment to share Ferris Bueller's Day Off with the world… stay tuned 😉
Connect with Reby:
Website: https://hardypinball.com
Twitch: https://www.twitch.tv/househardy
Instagram: https://www.instagram.com/rebysky/
Twitter: https://twitter.com/rebyhardy
This Week in Pinball: Who was this machine built for and who is going to own it?
Robert Mooney: There are 2 games. #001 is the prototype and is going to be Brian's personal FBDO. #002 is my (Robert Mooney) game for my home collection. There are some minor cosmetic and software differences. My game has the non-film callouts (Super Jackpot!, Mulitball!, etc) callouts done by my wife and daughters.
TWIP: How did you come up with the idea for the Ferris Bueller pinball machine?
Robert: It was in my top 4 of unmade themes. (Blues Brothers, Beastie Boys and, believe it or not, Ultraman are the others). It's such a perfect theme for a pin. The film has aged very well and all of the major scenes have almost become iconic. And so many lines have become iconic as well. The music is great. Even Ryan Reynolds did an entire after-credits scene riffing on Ferris Bueller at the end of Deadpool. FBDO was a 30 year old film at that point. And everyone who watched Deadpool immediately knew that he was riffing on Ferris Bueller. The one thing I always think is that I'd hate to be Ben Stein in real life. I can't imagine going thru life and 10 times a day people are going "Bueller? Bueller? Bueller?" when they see you. 😉
TWIP: How long did it take to plan and create the machine?
Robert: Brian had already been mulling over a FBDO pin in October 2019 when I reached out to him about doing another custom pin. Brain had previously done a fantastic Ferrari pin retheme based on an EM Gottlieb Skyjump. I'd been wanting to do a modern Stern and his work with the Hardy's was just so great it really got my wheels turning for doing another pin. We got talking about Ferris Bueller, and it was one of Brian's favorites, so we both had that passion for the theme and we both started just pumping out idea after idea. We must have 1000 texts back and forth saying things like "Yes! Then Ferris says "You're still here? It's over, go home!"
TWIP: What were your favorite and least favorite parts of creating the game?
Robert: Least favorite is the never ending choices! Artwork, modes, callouts, etc. You think of something great and then 2 weeks later Brian texts me and says "You know man….I was thinking" and then we're both rethinking something we decided on a month prior. 😉
My favorite part was probably among the most difficult. It was to always keep in mind that we weren't making a game for sale to the public. It doesn't have to appeal to everyone or be the choices that say Stern would make so that Operators like it or home collectors like it or whatever. For instance my game has artwork of the one car park valets on the backbox. He's a very minor character, barely has more than a line or two in the film, but he's one of my favorites and I wanted him featured prominently on my game. I don't think that's a choice that Stern or JJP or whomever would have made for such a prominent section of the artwork.
TWIP: Is there any chance that this becomes a game that is sold commercially?
Robert: No. When I retire from the hobby I'll probably donate this game to PHOF or Dutch Pinball Museum or someplace similar.
TWIP: Are there any plans to publicly stream the gameplay?
Robert: I'm pretty sure we're going to do that. I think people will enjoy it whether they are Ferris Bueller fans or not.