A Pinball Application that could help Grow the Hobby
On May 25th at the Rocky Mountain Pinball Show, a new pinball App is planned to be launched called PINQUEST. The creator of PINQUEST, Neil Shelton, reached out to This Week in Pinball and we got a preview of how it will work which you can check out below! For more information and feedback, contact Neil at neil@playpinquest.com or check out the PINQUEST website.
All of the following is subject to change and tweaking, but here is the basic premise:
You start by searching for a "Quest" – enter your address, city, or ZIP, or allow the app to find you using your location:

The App will then let you know if you have any Quests available near you.
This was the Quest that I chose – to go to the TWIP Arcade Bar and play Guardians of the Galaxy and Star Wars and attempt to exceed the scores below: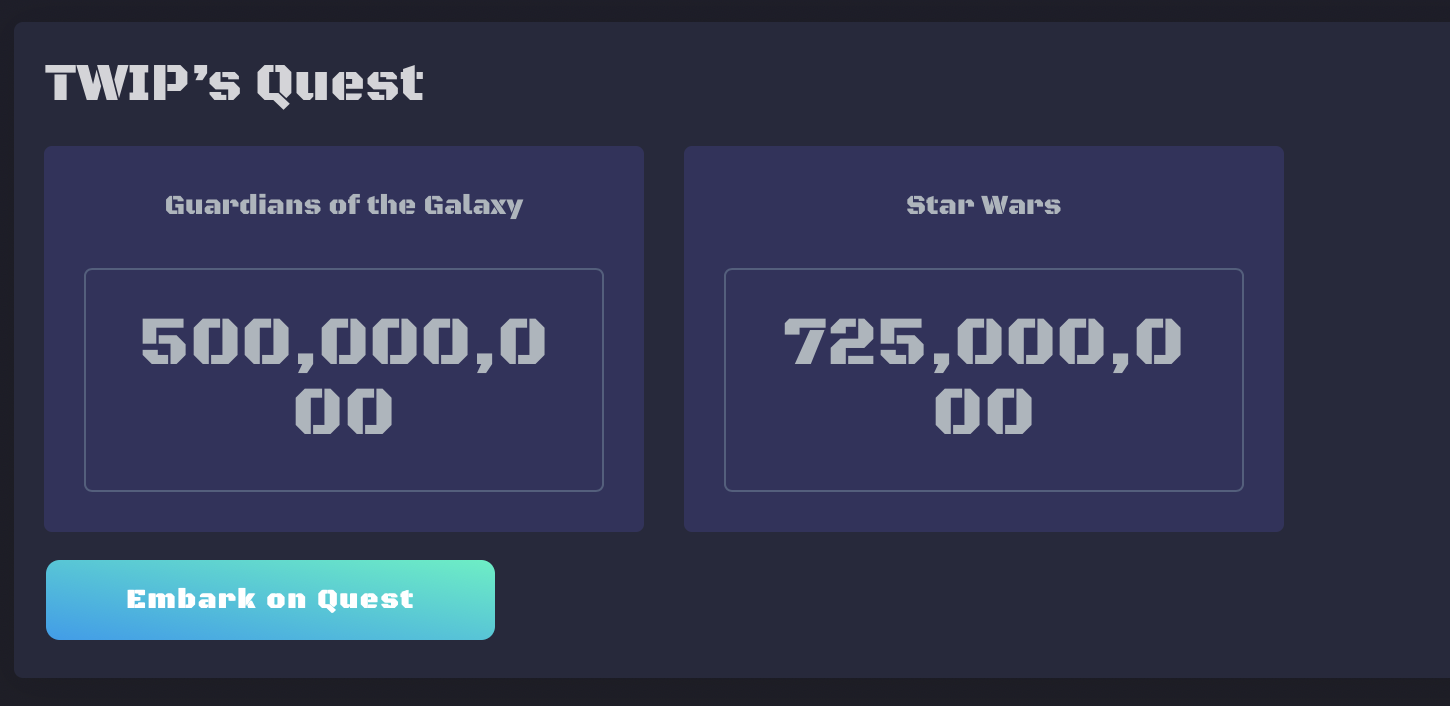 At this point it will ask you to Log In or sign up for a free PINQUEST account.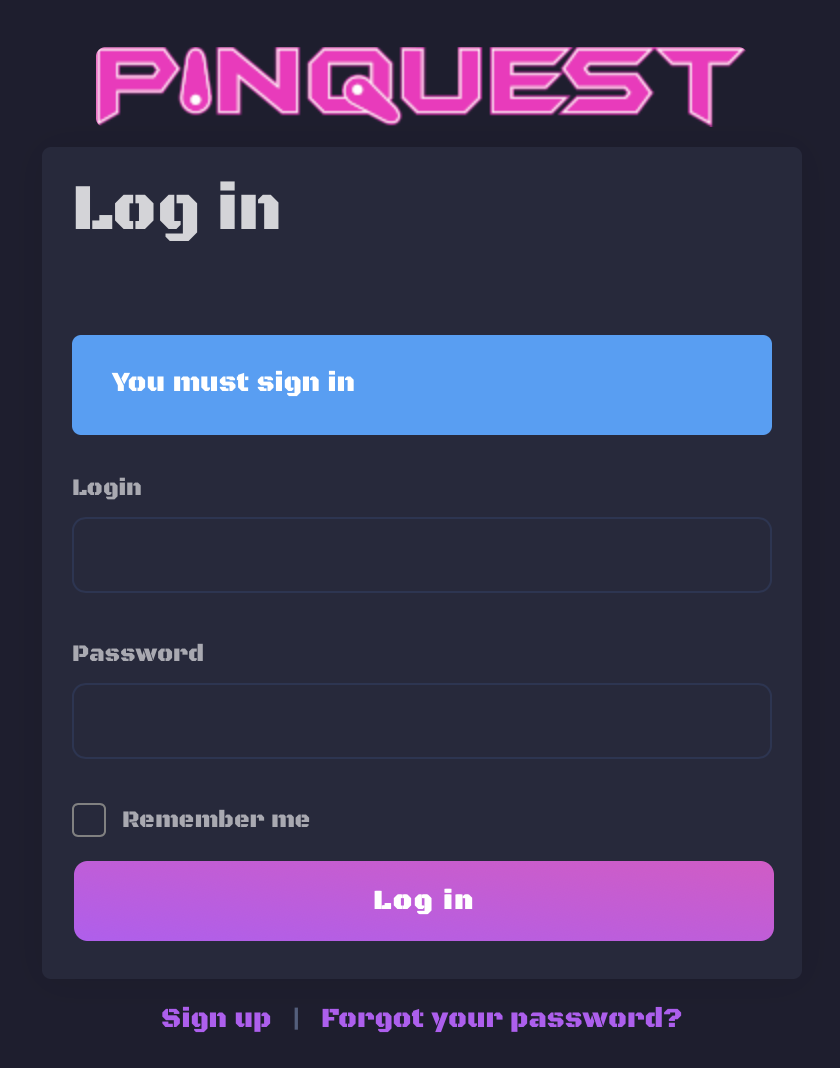 Now that I've embarked on the Quest, it will show the prize which in this case is a t-shirt. The prizes will be provided by and vary by location and can be anything from swag from the Arcade Bar/location, free food, free drinks, etc. It will also show the Missions involved with the task.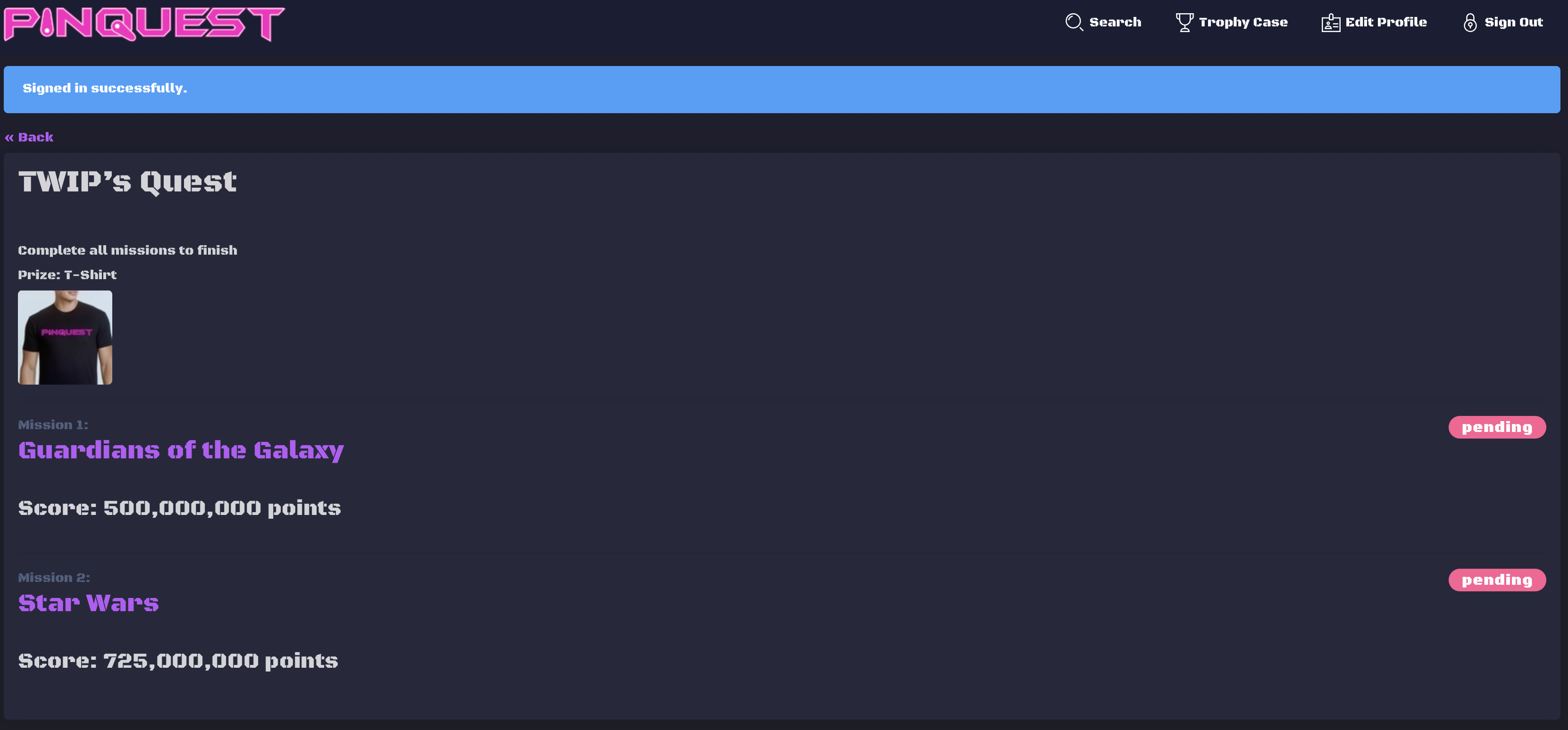 At this point I've played Guardians of the Galaxy, I got to Cherry Bomb Multiball, and crushed it! I take a picture of my score with my phone and log the score and the picture into the app as proof that I completed this Mission.

Now you can see I have one Mission completed and one left to go – score over 725,000,000 on Star Wars.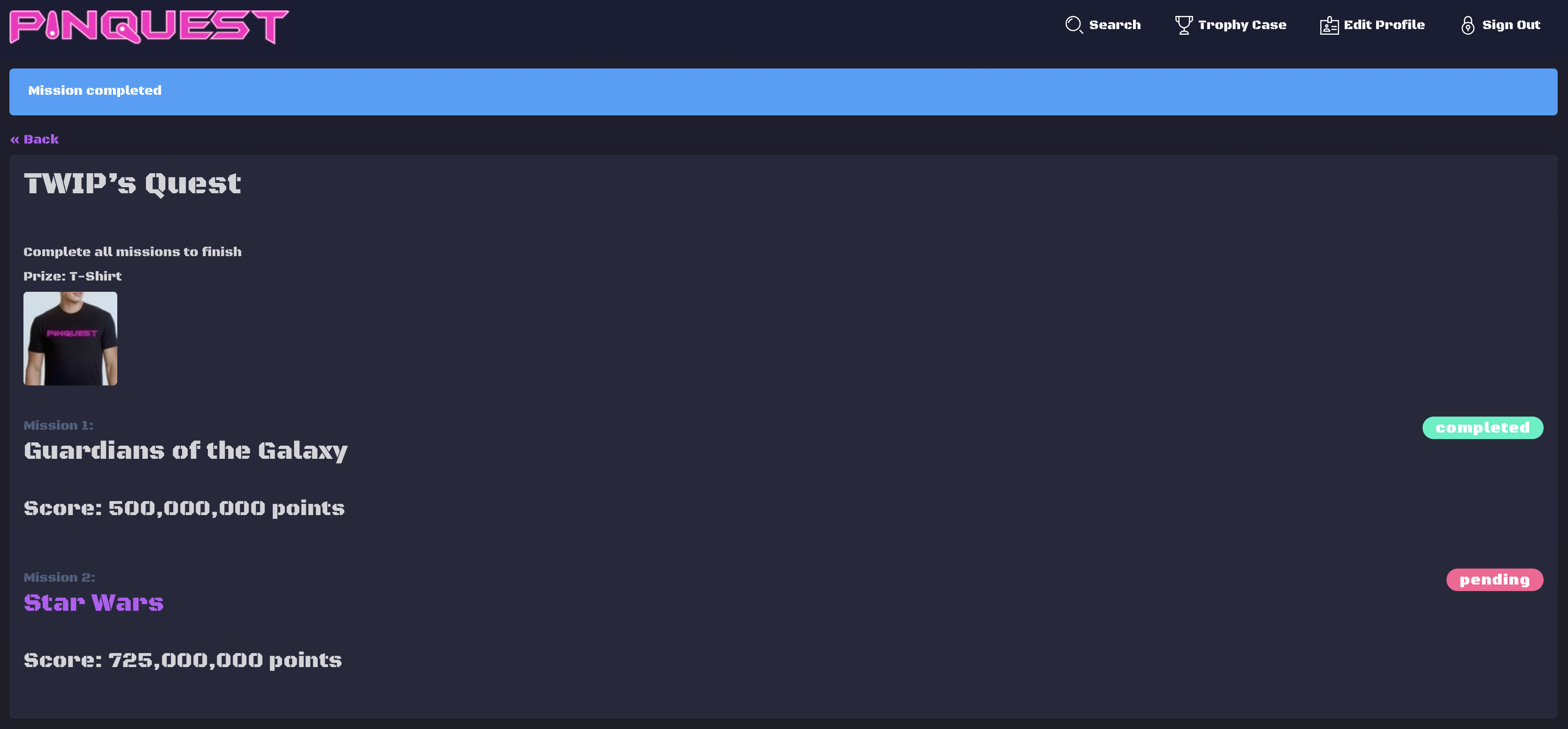 This one takes a while but I finally get that 40X multiplier in the right place and complete this Mission. So again I take a picture of the score at the machine I'm playing at the Arcade Bar or location, enter my score, and click "Complete Mission".

I have now completed both Missions in this Quest, and am ready to claim my prize!
NOTE: There are many measures put into place to eliminate cheating. Obviously we won't go into all of them, but just one example includes a GPS stamp on your image to make sure you were playing at the location you're at. There are several other "flags" that will be used to disqualify bogus scores.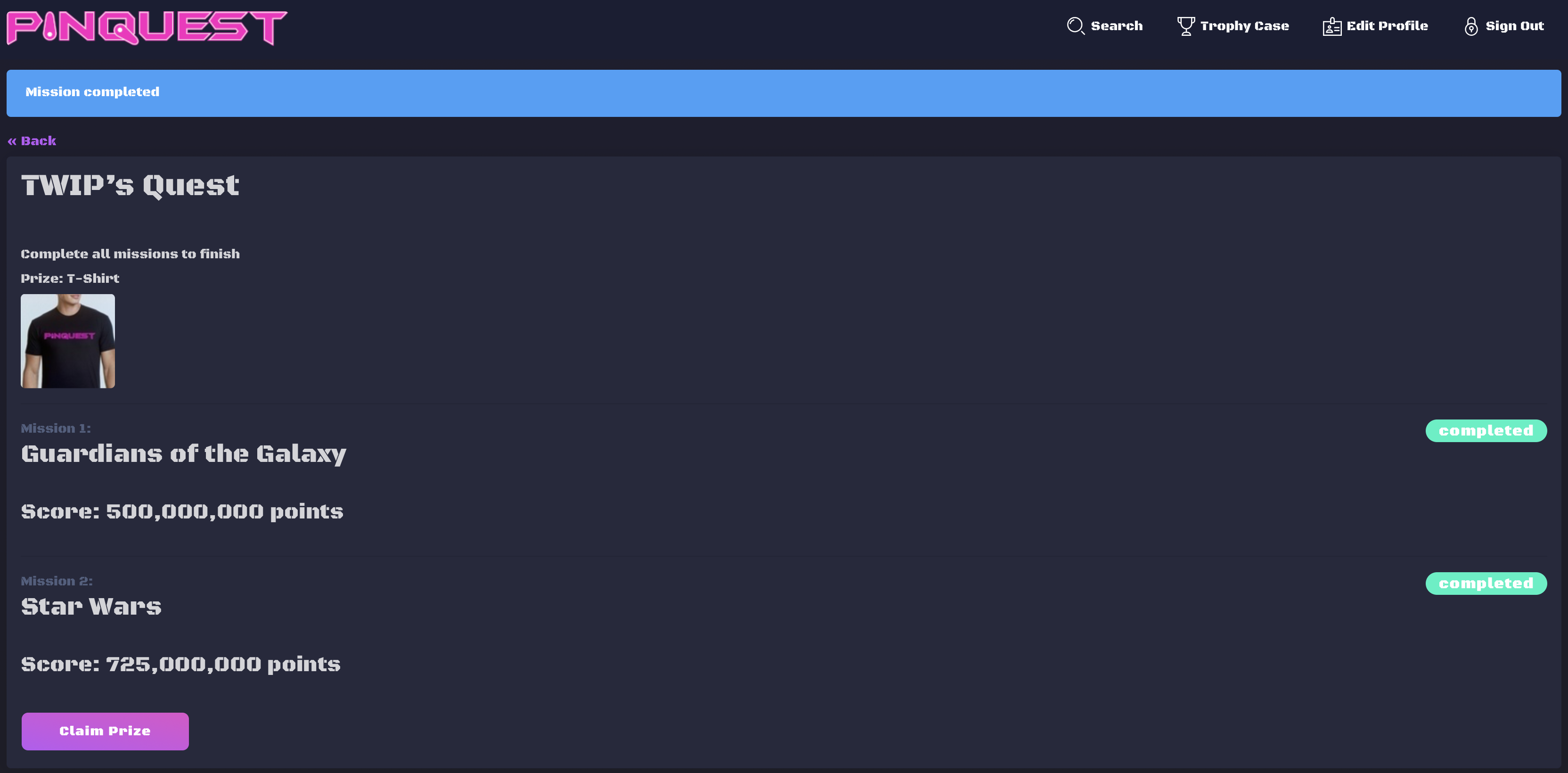 I take my phone up to the location staff and show them the proof. Now the location will verify the results and give you your prize.

The screen below is now what the Arcade Bar or location is seeing, with the black boxes below being the pictures of your score. They approve the scores and give you your prize.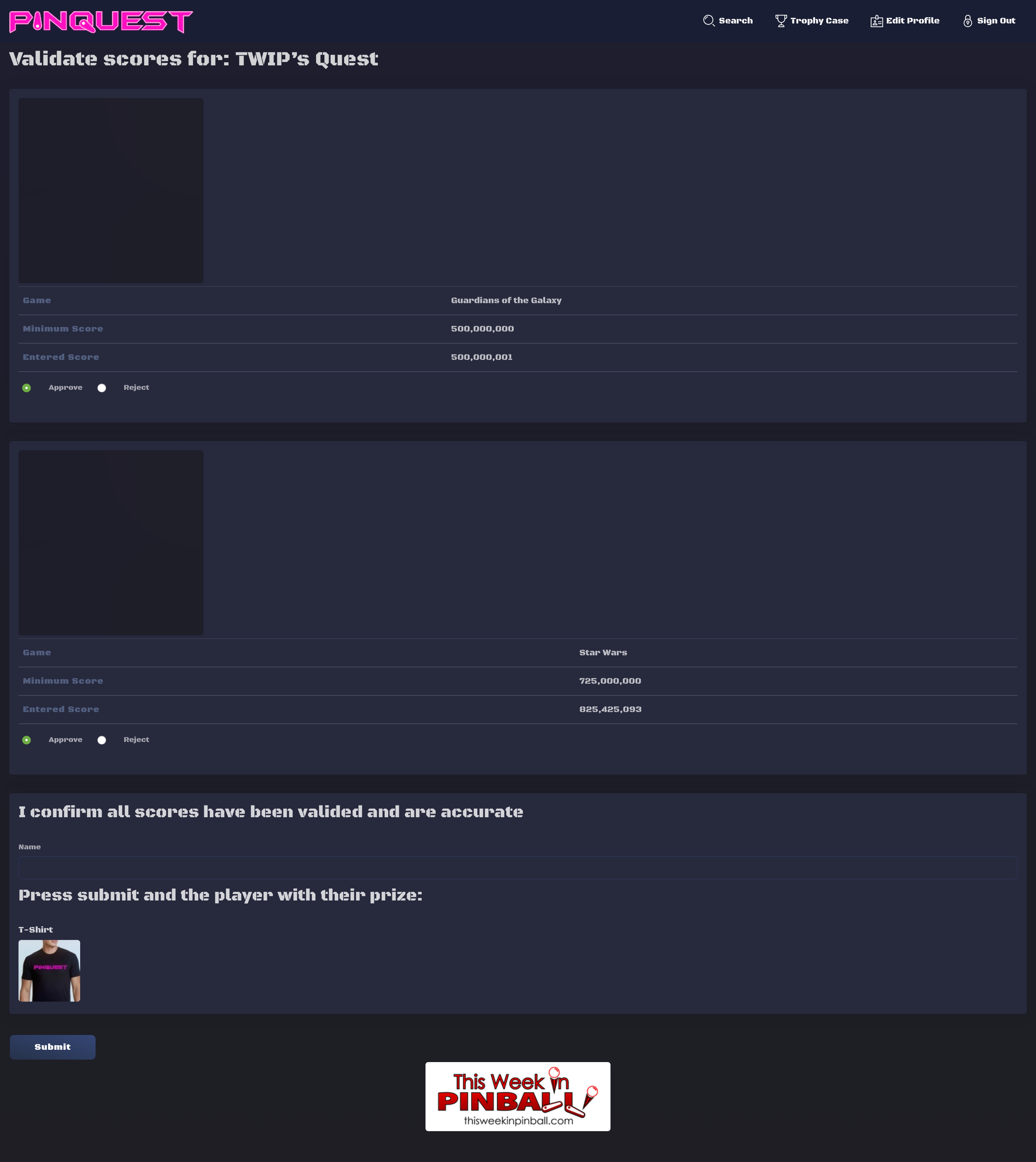 Now I can click on my Trophy Case and see that I have completed this Quest.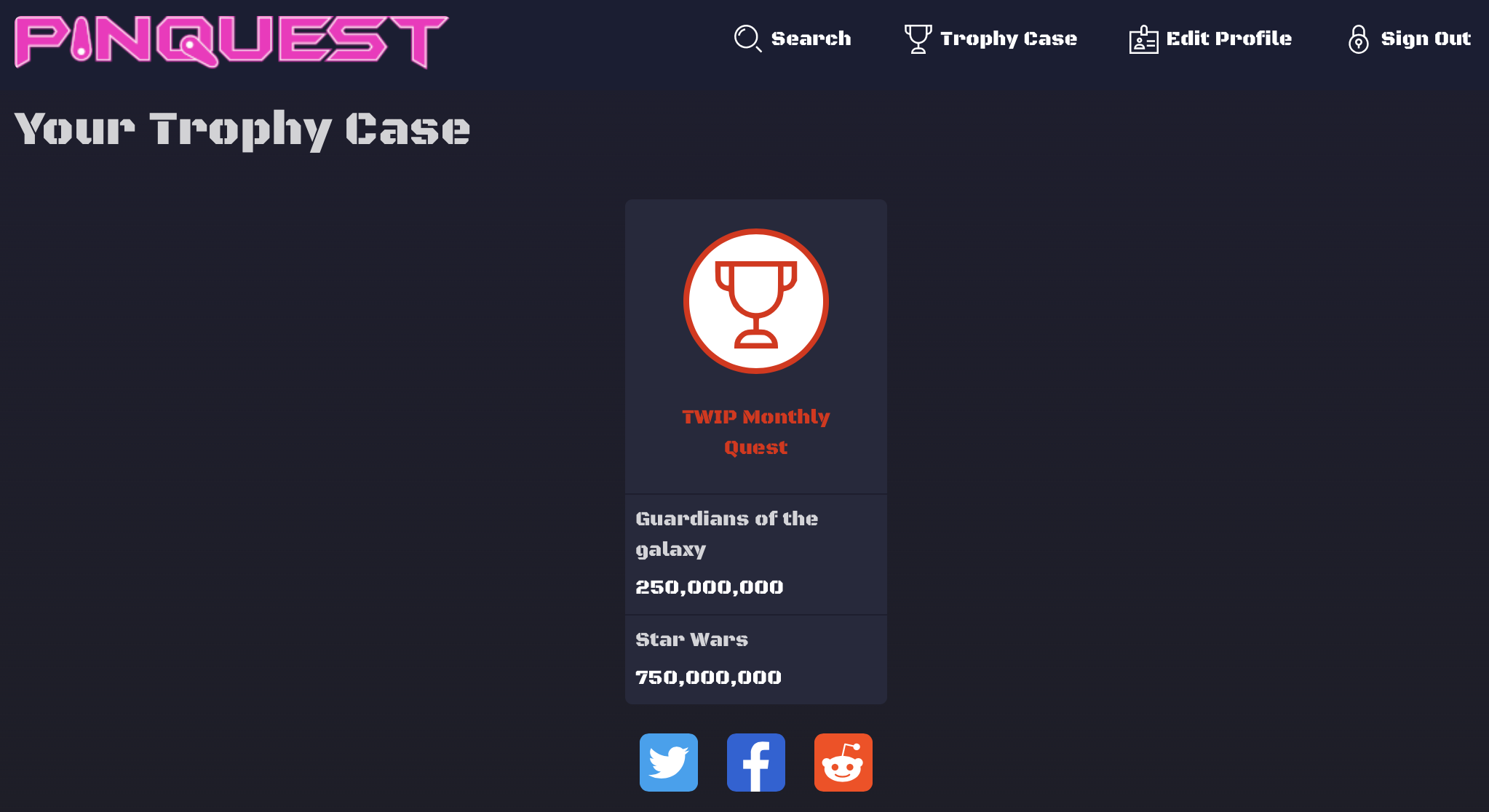 We normally don't do posts of this type on TWIP as they feel a bit "salesy". However, this is a product that we find very exciting here at TWIP, and it seems like a great way to get new people into the hobby and people out on location, supporting location pinball! This seems like a great way to support and help grow this great hobby. Through a few conversations with Neil, he's planning on back up Missions (to replace any machines that may be having issues), a universal leaderboard for tracking trophies – he has a lot planned for PINQUEST down the road as well including redeeming trophies for special prizes from PINQUEST. Stay tuned for more information on this application!
Disclaimer: Any articles, interviews, or mentions of pinball manufacturers or pinball products is NOT an endorsement.