Black Friday Preview - PS5 and ColorDMD Giveaway! | RAZA Gameplay Reveal | ReplayFX/PAPA/Pinburgh/WIPT Cancelled Permanently | The Good Old Days | Star Wars Comic Art Pin | GNR Code Update and Scorbit Integration | Pinball Brothers Tease Alien Pinball | Williams/Bally Software Upgrades | Søren Worre Interview | Raymond Davidson Interview | Spooky Pinball Tease | Crazy New Mods
We're going BIG on the Black Friday weekend giveaways this year!
We're GIVING AWAY the hard to find PLAYSTATION 5, and a COLORDMD!!
Both will be shipped immediately to the winners after the drawing. Click here for official rules.
Entries (and how to enter) will start on 11/25 at 7:30am Eastern and end 11/30 at 8pm Eastern, stay tuned for more details!!
We'll also have a ton of Black Friday/Cyber Monday pinball deals on TWIP as we do every year, including this one from Pin Stadium Lights that is active NOW!!
---

— QUICK HITS —
Retro Atomic Zombie Adventureland Gameplay
Last week deeproot Pinball shared on Facebook they would be putting Retro Atomic Zombie Adventureland on location at What's Brewing? in San Antonio over the weekend!
FlipTronic volunteered to stream the game on Saturday evening and were joined by Steve Bowden and Robert Mueller:
If you missed the stream, you can catch the Video on Demand here!
Robert Mueller also gives a brief walkthrough of the Pinbar, which you can watch by clicking here.
For more information on the rules of RAZA, make sure to check out Steve Bowden's website, Fun With Bonus!
If you missed it, check out the following article on TWIP from a couple months ago:
Here are some additional RAZA pics from What's Brewing? – check it out!
We'll keep you updated as we hear more about the happenings at deeproot Pinball!!
---
ReplayFX/PAPA/Pinburgh/WIPT Cancelled Permanently
In very sad news last week, ReplayFX announced that all future events (including Pinburgh and the Women's International Pinball Tournament) were cancelled and they are liquidating their assets:
Hello, fellow gamers and friends. We hope you continue to be safe and healthy in this difficult time.

The Replay Foundation was established in 2011 to promote the preservation, restoration, and enjoyment of pinball technology, with an emphasis on the player experience. Replay exists to continue the activities of the Professional & Amateur Pinball Association, and it has expanded those activities to encompass many forms of gaming, in particular by operating the world's largest arcade through the signature Replay FX event.

The Foundation relies on public events to further its mission and support its operations. Being able to play games competitively in person is a key element of both the mission and the events. Unfortunately, due to the current pandemic conditions, it has proven nearly impossible to safely and practically operate large public events.

Therefore it was with great sadness and regret that we must discontinue our public events and wind down most of our operations until further notice. We know this is very disappointing, but we have been unable to find any other way to proceed.

While the Foundation is not dissolving, we are liquidating most of our physical assets and cancelling all of our public events. Over the coming months, the Foundation will retire all of its debts, including the refund of prepaid tickets, and will exist solely as an online resource for the foreseeable future.

The tireless commitment and hard work put in by our employees and volunteers will always be immensely appreciated, as well as the support and enthusiasm of our fans and attendees. We hope to play some role in the future of gaming, and we encourage everyone to collect and play these beautiful games whenever possible.

With all our hearts, we thank you for having been on this journey with us, and for creating such wonderful memories together. It is, in fact, more fun to compete. We will see you all in the arcade someday.

Sincerely,

Kevin Martin & Mark Steinman
Cosigned by the Board of Directors
There will be a lot of coverage and interviews about this on podcasts and such in the coming week. Last week The Super Awesome Pinball Show were joined by Josh and Zach Sharpe (the President and Vice President respectively of International Flipper Pinball Association) as they discuss how they learned about this news and its impact and possible future – you can check that out here.
A HUGE THANK YOU to everyone that has been involved in these events and all your work to bring amazing events to the pinball community over all these years.
---
The Good Old Days
Pinball Community!! I don't want us to be talking about now being "The Good Old Days" in pinball – please make sure to support your favorite things in pinball, whether it be events like Pinburgh, your favorite location, content providers, websites, forums, streamers – please consider supporting these entities to help them continue!!
---
Last Week's Poll Results
---
Stern Pinball: Star Wars Comic Art Home Edition Announced
Last week Stern Pinball announced their newest creation – Star Wars Comic Art Pin (Home Edition)! Check out the TWIP Deep Dive here!
---
Jersey Jack Pinball: Guns N' Roses Code Update and Scorbit Integration
Last week Jersey Jack Pinball announced a code update for Guns N' Roses that includes Scorbit integration – check it out!
You can learn more about Scorbit in this recent article and interview on This Week in Pinball!
---
Pinball Brothers Tease Alien Pinball
Back on October 8th, the This Week in Pinball twitter feed got a new follower – Pinball Brothers – the group that took over Heighway Pinball years ago. Over the last month and a half, they have been putting out teasers on their social media platforms. They have admittedly been a little…hard to follow at times:
Coal on ice? pic.twitter.com/FTq5aHqtaZ

— Pinball Brothers (@PinballBros) October 14, 2020
However over the last week or so it became clear that it are teasing Alien Pinball:
A Polychaete's mouth? pic.twitter.com/nRq9oltMNm

— Pinball Brothers (@PinballBros) November 22, 2020
[NOTE: we're not even certain this is a real account, but they set up a website, Twitter account, Facebook account, Instagram account, and have been sharing things almost daily with almost no response since around October 10th…so if it is a spoof account they are persistent!]
TWIP has reached out to these Pinball Brothers for an interview but so far they are staying very tight lipped on what they're up to – stay tuned!!
---
Williams/Bally Official Software Upgrades
Last week Søren Worre announced his partnership with Planetary Pinball to bring software ROM updates to Williams/Bally pinball machines!! Check out the info on this Pinside thread. Check out the announcement below:
Planetary Pinball, the sole licensee for Williams Electronics Games, Inc is proud to announce that we will start to release software upgrades for Williams™ and Bally™ pinball machines.

Ever since WMS closed the pinball division in 1999, the games developed and manufactured by them have been in high regard with players and collectors of pinball machines. And games are continuously being restored to like-new condition. Thanks to a steady supply of new and improved parts, from small mechanical and electrical units, to circuit boards and playfields. Parts made available by Planetary Pinball and domestic and international collaborators. Recent years have also given us a number of new innovations. Bringing the games of yesteryears into a more contemporary look and feel.

Software is the heart and soul of a pinball machine. While a lot of effort went into making software for games, the framework, rules design and special effects, on some games the time has shown a few shortcomings. These might be bugs, like incorrect scoring, game progression being lost, modes being messed up etc. Or rooted in the fact that games were developed with coin drop play on locations in mind. In some cases making them less than ideal for the more contemporary use of home play and high level competition play.

The goal of software upgrades is not to make fundamental changes or redesigns. Neither to upgrade display graphics or sound. The goal is to make minor tweaks and fixes, while keeping the spirit of the game intact. And to strive for having rule changes under the users control via new and expanded feature adjustments.

The premier release is new software for the four games Red & Ted's Road Show™, Creature From The Black Lagoon™, Junk Yard™ and Radical™. Please see individual release notes for details. They are designed and implemented by Søren Worre. A professional software engineer and pinball enthusiast who has obtained the knowledge and the craft to make software upgrades to Williams and Bally pinball machines. They are now available for purchase from our authorized distributers.
The Slam Tilt Podcast: Søren Worre Interview
Ron and Bruce of The Slam Tilt Podcast were joined by Søren Worre last week to discuss this new announcement – check out the podcast here!!
---
LoserKid Pinball Podcast: Raymond Davidson Interview
The guys at the LoserKid Pinball Podcast were joined last week by Raymond Davidson! Ray talks about how he got into pinball and competitive pinball, talks about Avengers and the code on Avengers, talks about his job at Stern, talks about working with Keith Elwin, and much more.
Check out the full podcast here!!
---
Spooky Pinball Fang Club Tease and Suggestion Box
Last week Spooky Pinball teased a re-vamp for the Fang Club coming in 2021 – check it out!
Spooky also bravely opened a virtual suggestion box on Pinside about changes customers would like to see – you can take a look here!
---
Midwest Gaming Classic 2021 Show Dates Announced
---
Congrats to Buffalo Pinball on over 1,000,000 YouTube Views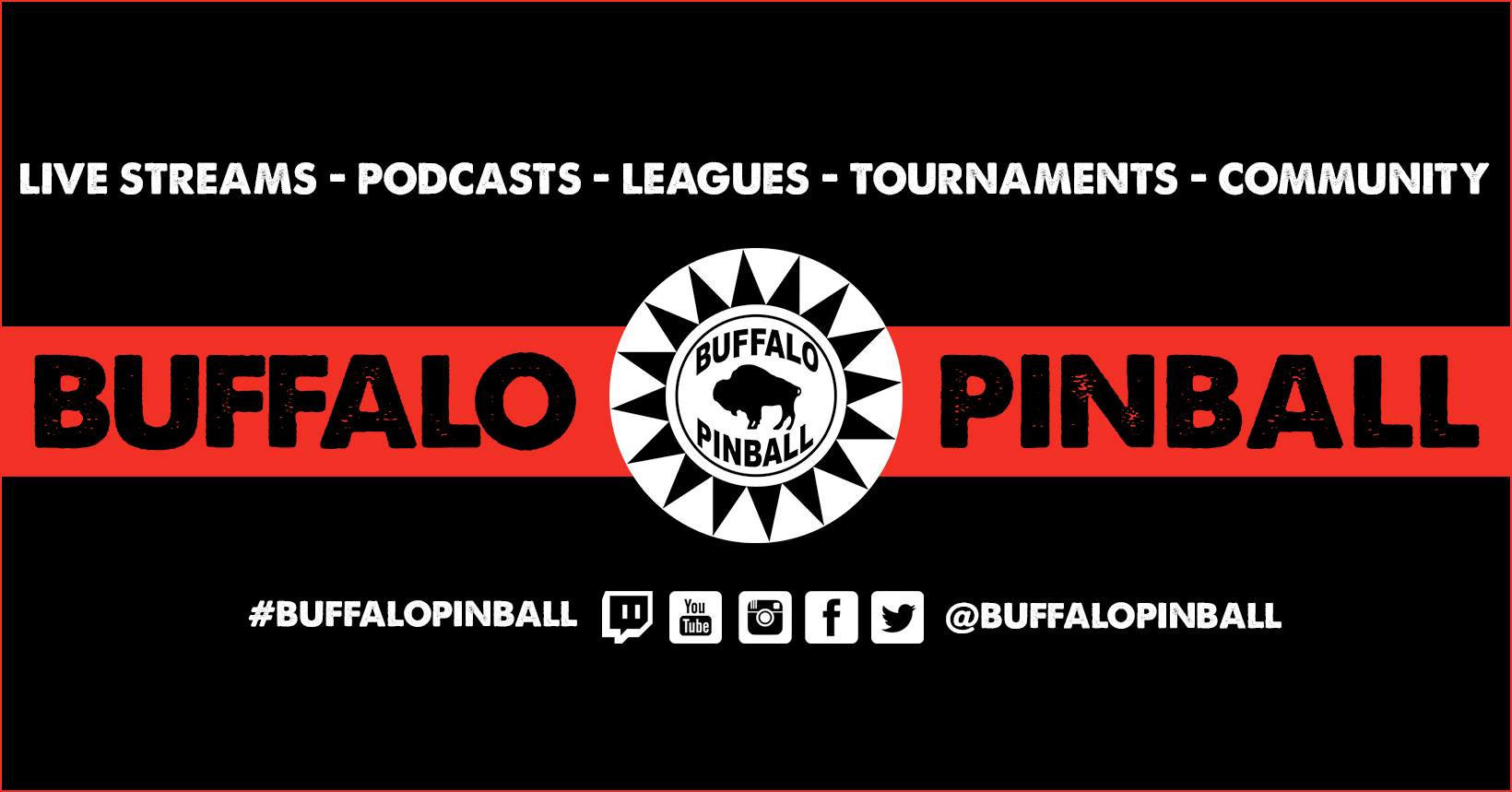 Huge congrats to the gang at Buffalo Pinball and thank you for all that you do for pinball!!
---
Happy 18th Birthday Pinside.com!
Happy 18th birthday to Pinside!! Pinside is one of the most important resources in all of pinball and a huge thank you to Robin and all the moderators and helpful folks in the forums!!
---

---

— Cool and Crazy Stuff —
Pinball Supernova: Installing PinVision Backboard from 86 Pixels
Check out this mod from Jimmy Lipham from 86 Pixels – file this under the file of mods that would make you want to buy a specific machine just for the mod!!
---
Don't Panic Flip Joined Live by DJ Roueche (LA Laker's DJ)
Pinball + Live DJ for the win!
---
Hot Nudge: Now That is a "Nudge"
Check this out maneuver by Jane Verwys!! – No tilt!!
---
Dead Flip Stream Raises over $2,000 for Gamers Outreach
A charity that makes video games and easy to manage in hospitals – a great cause!!
---
PinballSP: New Mod for Creature of the Black Lagoon
Check this out!
---
Other Quick Hits:
Happy birthday Lior Rajwan and Cary Hardy!!
---

Other Manufacturers
Disclaimer: Any articles, interviews, or mentions of pinball manufacturers or pinball products is NOT an endorsement.