Spider-Man Pinball – Quick Rules (3M's and Extra Ball)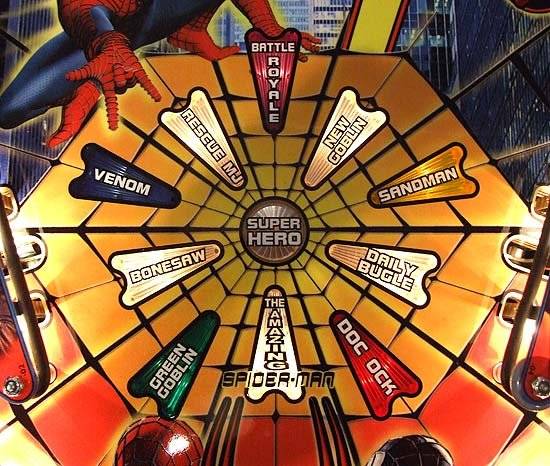 Learn the quick rules to Spider-Man Pinball by Stern. Get an idea of the 3M's (Modes, Multiballs, and Multipliers) as well as how to get extra balls.
Modes:
There are really two separate mode sets for Spider-Man. Each of the villains has three battles associated with them. Then there are the other modes associated with the white lit shots.
Villain Battles
Hit the villain shots enough times to start
Hit the villain again enough times to finish
Each villain has 3 levels to it
Modes
Hit all of the 6 lit white shots
The white inserts will start flashing
Hitting the next white flashing shot will multiply that shot 2X
Hitting one of the white lit orbits will start the mode
Every mode is timed and finishing the required shots will give you a 3X multiplier at your next white lit shot.
Multiballs:
Black Suit Multiball is the 3 ball multiball.
Hit the Lite Lock target
Hit either orbit to virtually lock a ball
Repeat hitting the Lite Lock target and orbit until 3 balls are locked
Jackpots are at the major shots
Completing two jackpots at each major shot lights super jackpots at left ramp and side ramp
The Doc Ock modes are all multiballs as well and are different per level.
Multiplier:
The shot multipliers are available after completing all of the white lit shots for modes. When flashing you can hit the shot you want to multiply 2X. After completing a mode then you can hit another flashing shot to multiply it 3X. The shot multipliers only last for the ball in play.
Extra Balls:
Collect an extra ball at the left orbit by doing the following
Complete all level 1 villain modes
---
Video and Detailed Rulesheet:
Tilt Forums Rulesheet: http://tiltforums.com/t/spider-man-rulesheet-wip/5622