Godzilla Pinball – Quick Rules (3M's and Extra Ball)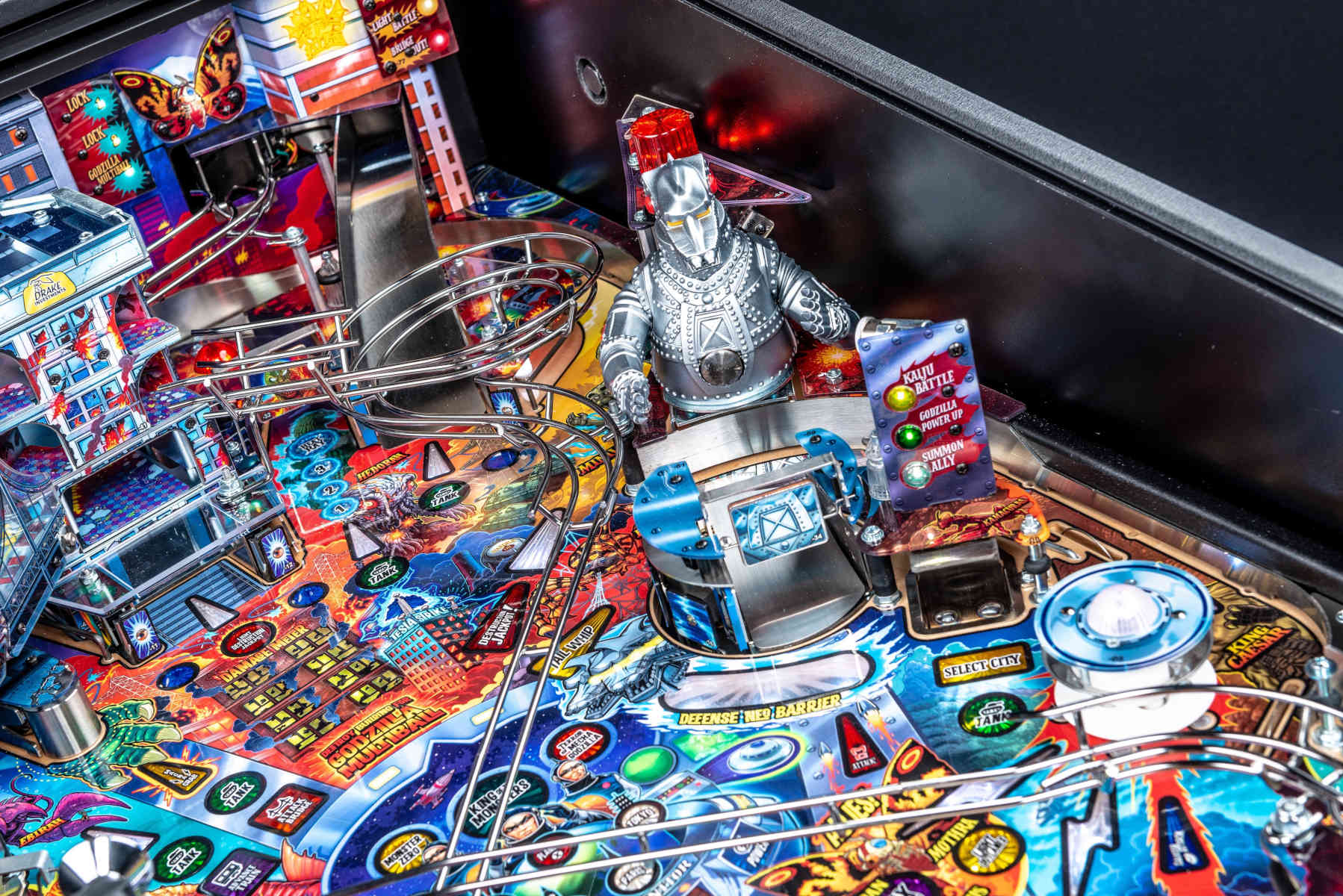 Learn the quick rules to Godzilla Pinball by Stern. Get an idea of the 3M's (Modes, Multiballs, and Multipliers) as well as how to get extra balls.
Modes:
Shoot either ramp two times
Get the ball in the scoop that should be lit for Kaiju Battle
Use the flippers to select which monster you want to battle
Winning battles allows you to switch cities to play tier 2 battles
Choosing Gigan as a starting battle is a popular choice because it requires hitting the ramps which gets you progress to destroying the building and getting Godzilla Multiball.
Multiballs:
Godzilla Multiball is the 3 ball multiball.
Hit the ramps to destroy the top/middle floors
Hit the building to reduce integrity to 0%; Use the window inserts in front of the building to determine integrity
On the Pro hit the building one more time to start multiball
On Premium/LE you have to lock three balls in the building to start multiball
Shot lit shoots for progressive jackpots
6 jackpots scored will light the super jackpot at the building
Mechagodzilla Multiball is another 3 ball multiball.
Shoot the right spinner enough times to bring Mechagodzilla online
On the Pro shoot the spinner again to light the flasher
On Premium/LE hit all 3 barrier targets to light the flasher
One more shot to the spinner starts the multiball
Jackpots are at the ramps and building, alternating with the barrier targets
Multiplier:
There isn't a playfield multiplier for Godzilla but there are ways to multiply the Destruction Jackpot. Winning a tier 1 battle as well as getting multiple trains, loops, jet fighters, and saucers all get you multipliers to the Destruction Jackpot.
Extra Balls:
Collect an extra ball for the following:
Get through a 2nd Tier 1 battle
Destroy 10 fighters during Jet Fighter Attack
Destroy 3 saucers in Saucer Attack
---
Video and Detailed Rulesheet:
Stern Rulesheet: https://sternpinball.com/wp-content/uploads/2022/06/Godzilla-Rulesheet.pdf