Overview | Price | Who's Who | Features | Rules and Code
Jurassic Park is the newest creation from Stern Pinball! Below is an in-depth overview of the machine, and a dive into the features and rules – check it out!
---
Overview of Jurassic Park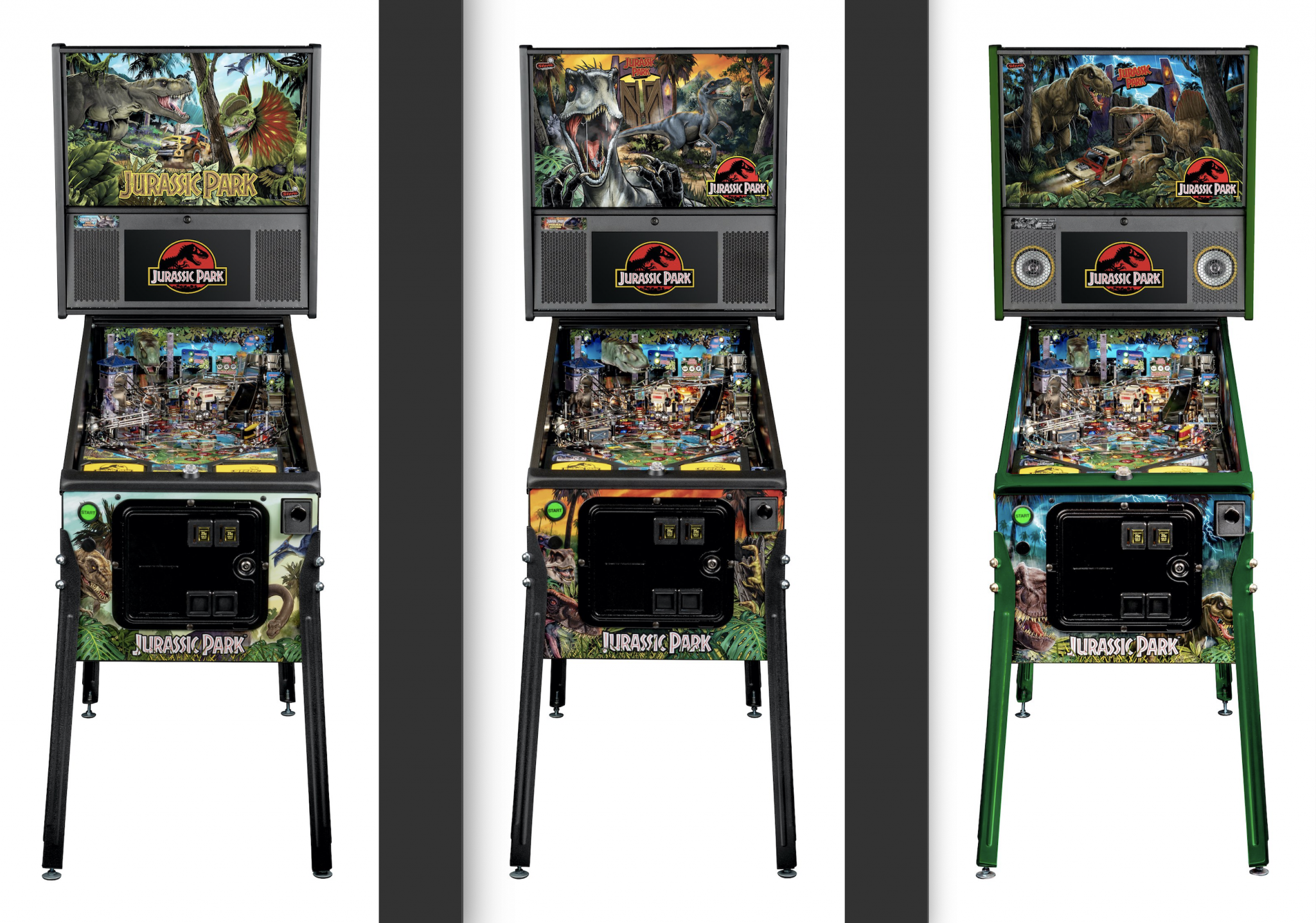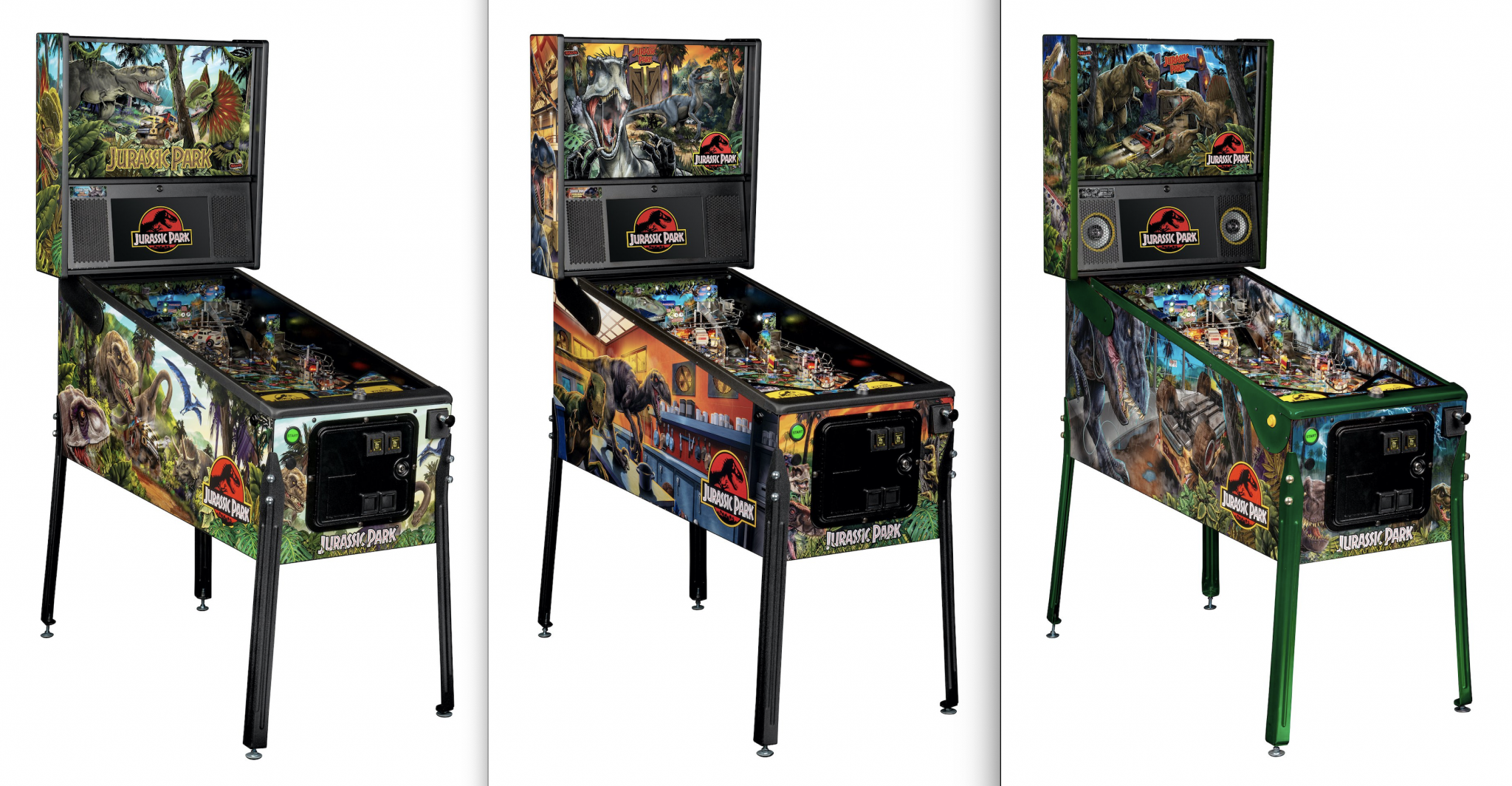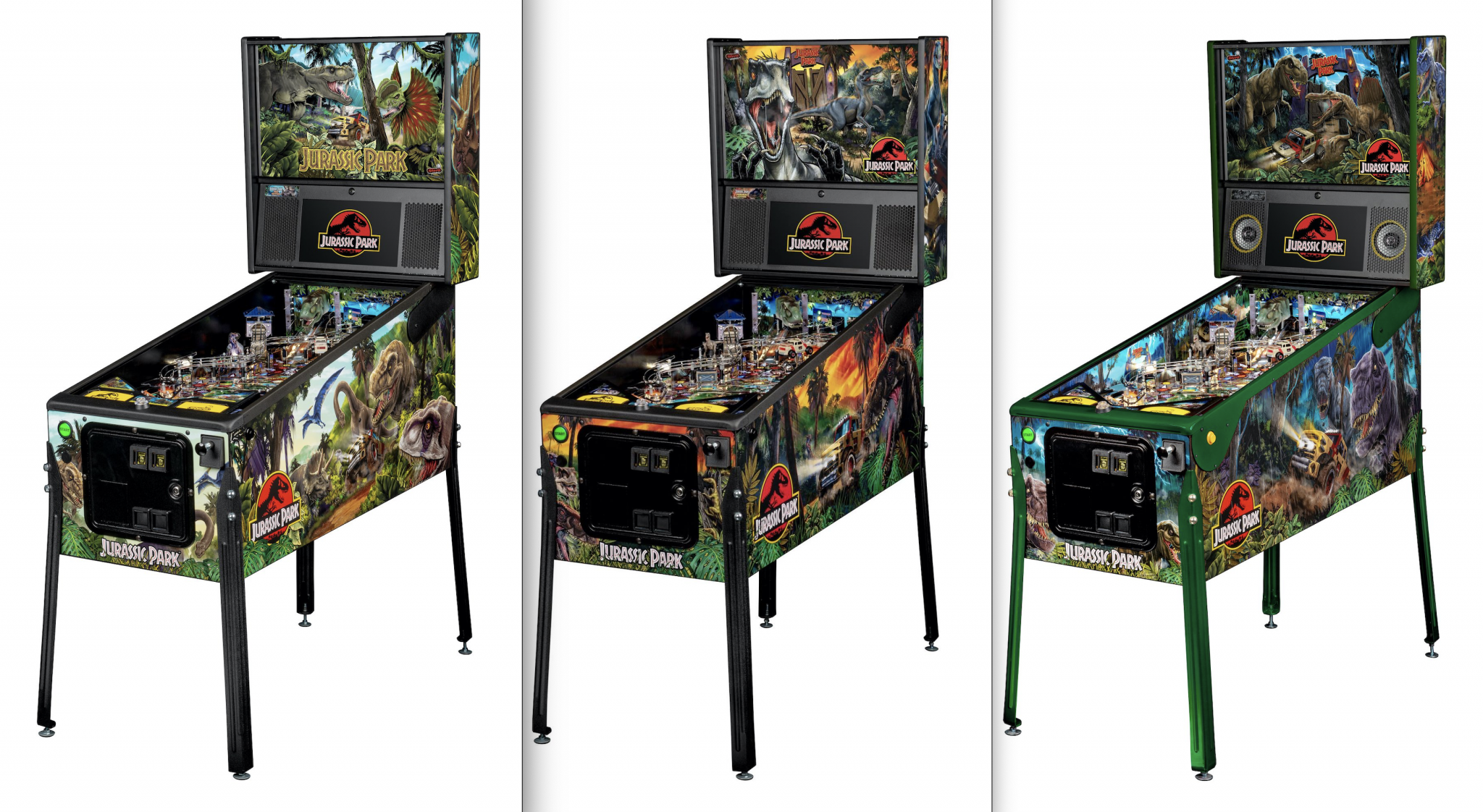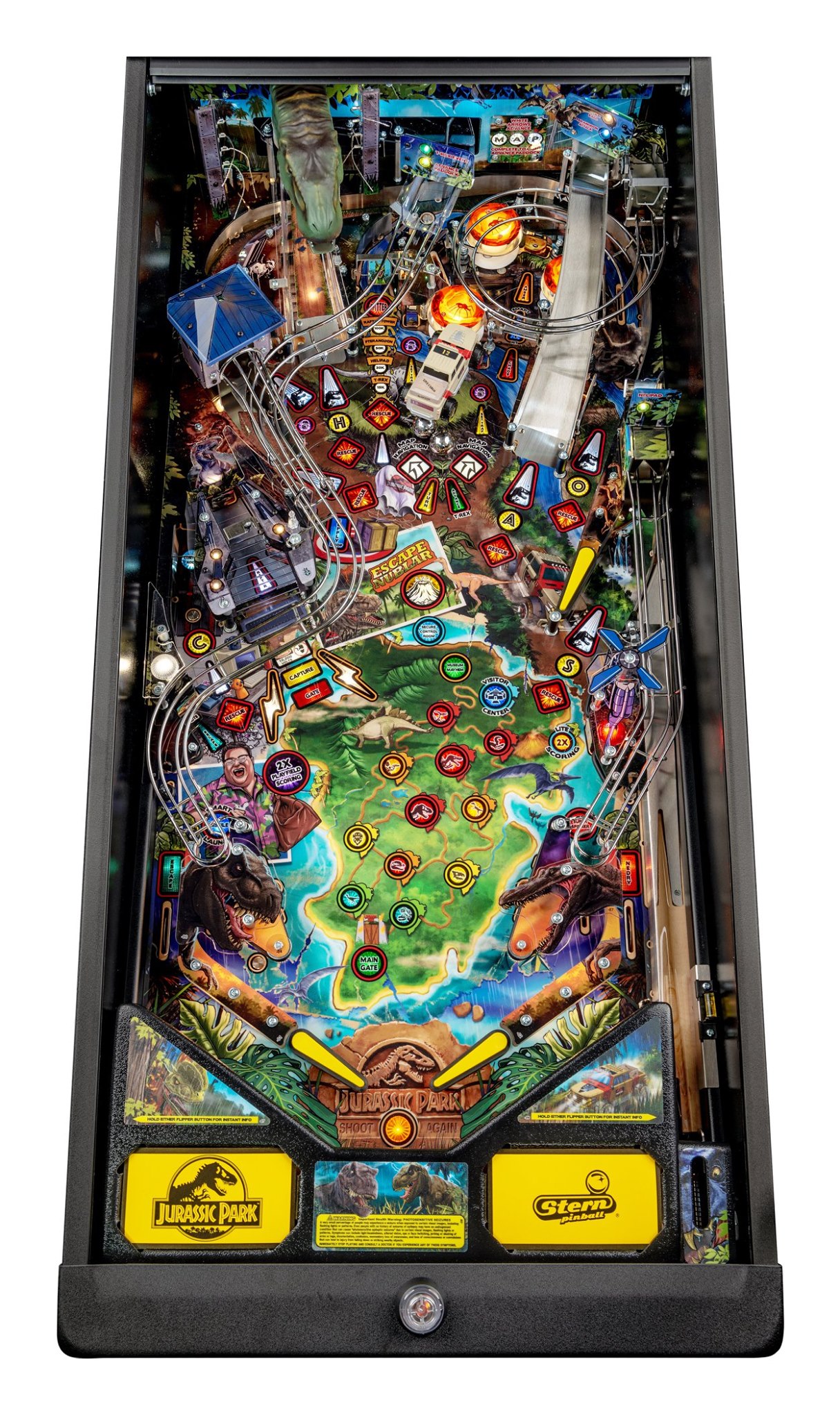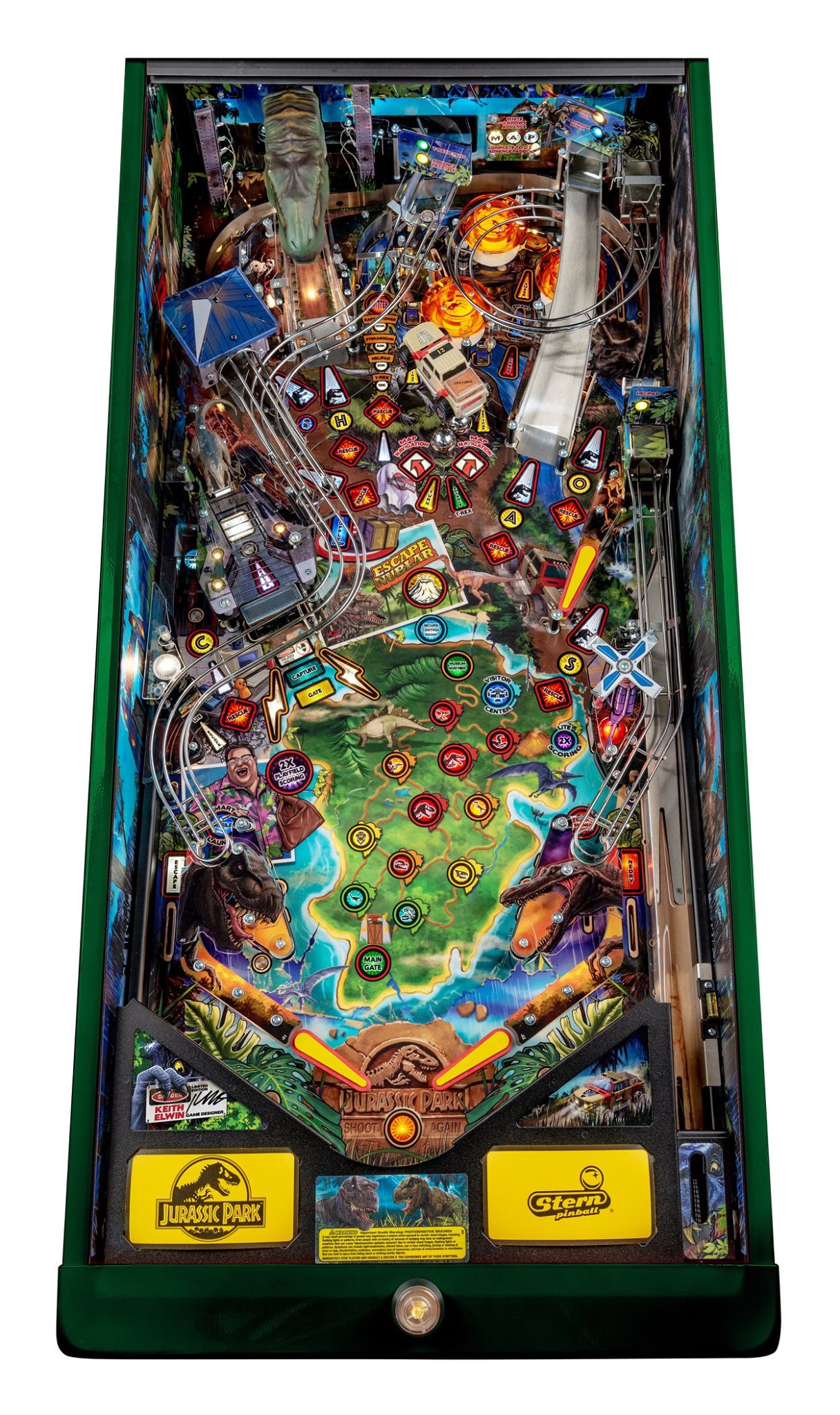 ---
Release Details
Jurassic Park was revealed in an article on Nerdist called Sink Your Dino-Teeth into this JURASSIC PARK Pinball Machine, and was followed with an article on IGN: First Images, Video, of Jurassic Park Pinball Machine from Stern.
Stern also released the following teaser video (love that follow through on the plunge):
---
Price
Pro

MSRP: $5,999
Street Price: ~ $5,600-$5,800

Premium

MSRP: $7,599
Street Price: ~ $7,300-$7,500

Limited Edition

MSRP: $8,999
Street Price: ~ $8,800
---
Who's Who
Design: Keith Elwin
Software: Rick Naegele
Artwork: Jonathan Bergeron (AKA Johnny Crap)
Lead Engineer: Harrison Drake
Lead Sound: Jerry Thompson
Lead Motion Graphics: Chuck Ernst
Regarding speech and callouts, per the IGN Article above, "Sounds [and] speech from Nedry's character are in the game (Wayne Knight)."
---
Features
All Models:
Six balls
Three flippers
Four ramps
Molded T-Rex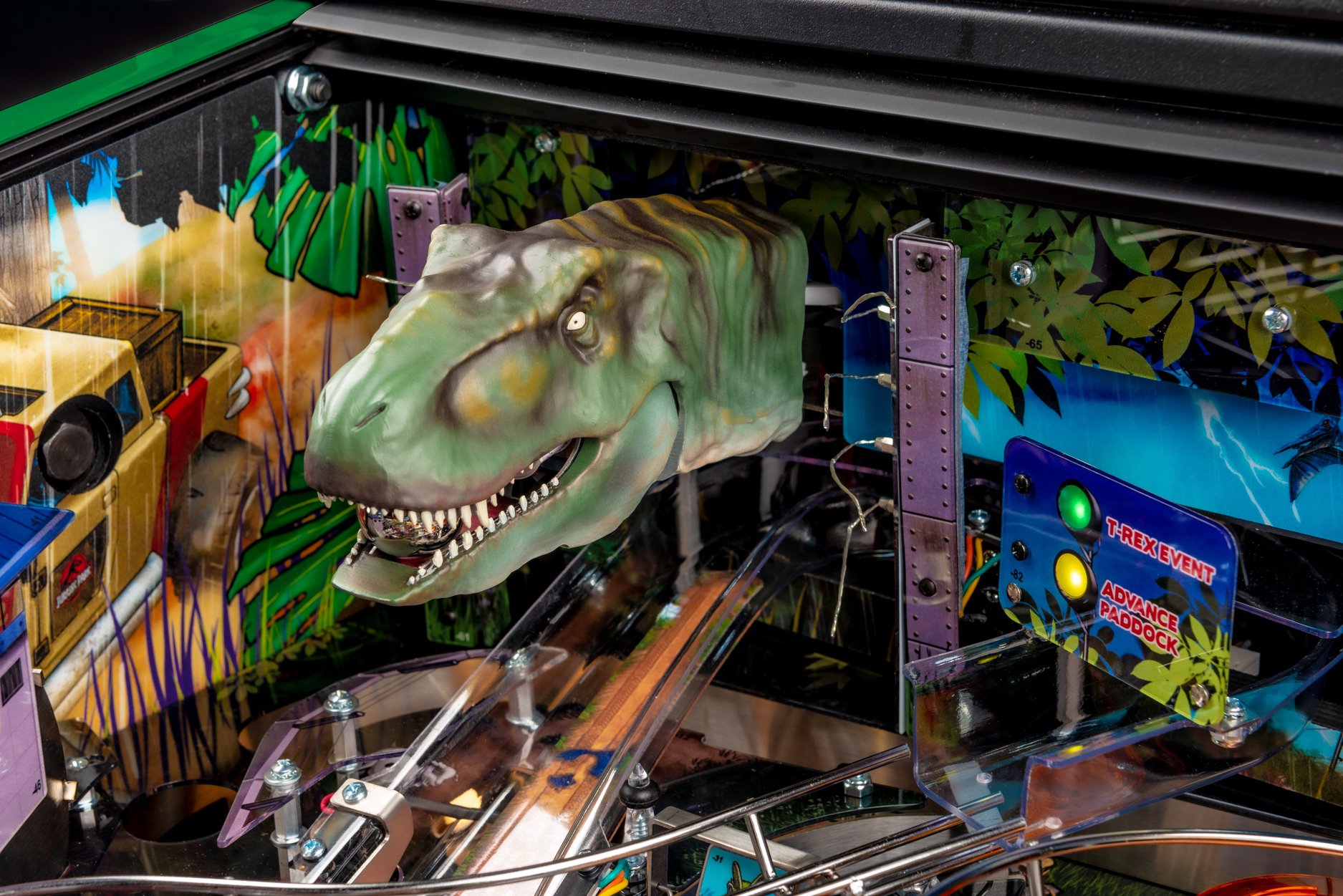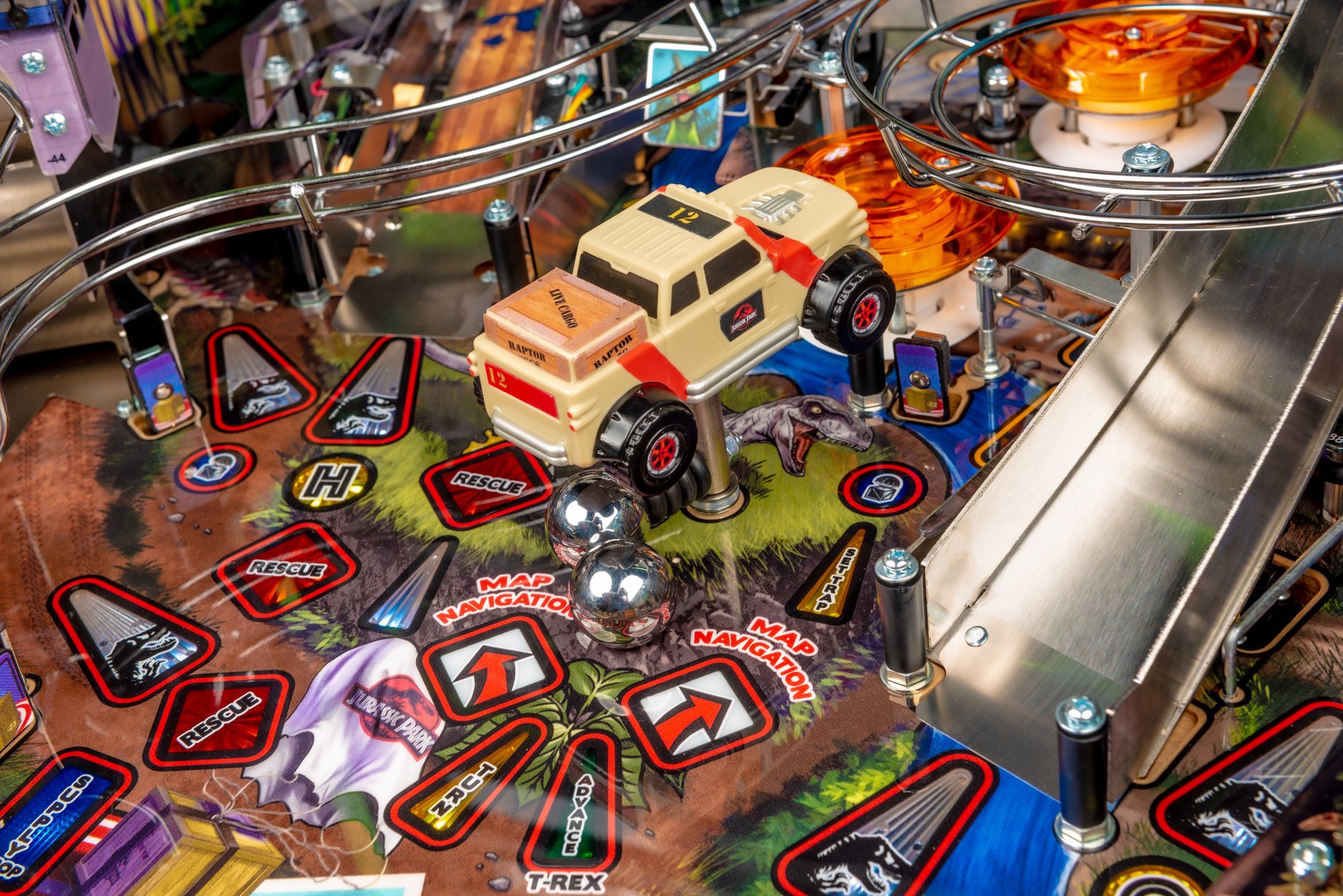 Four up-posts located at the left return lane, left control room, orbit that diverts to pop bumpers, and Raptor pen (Raptor pen on Premium/LE only)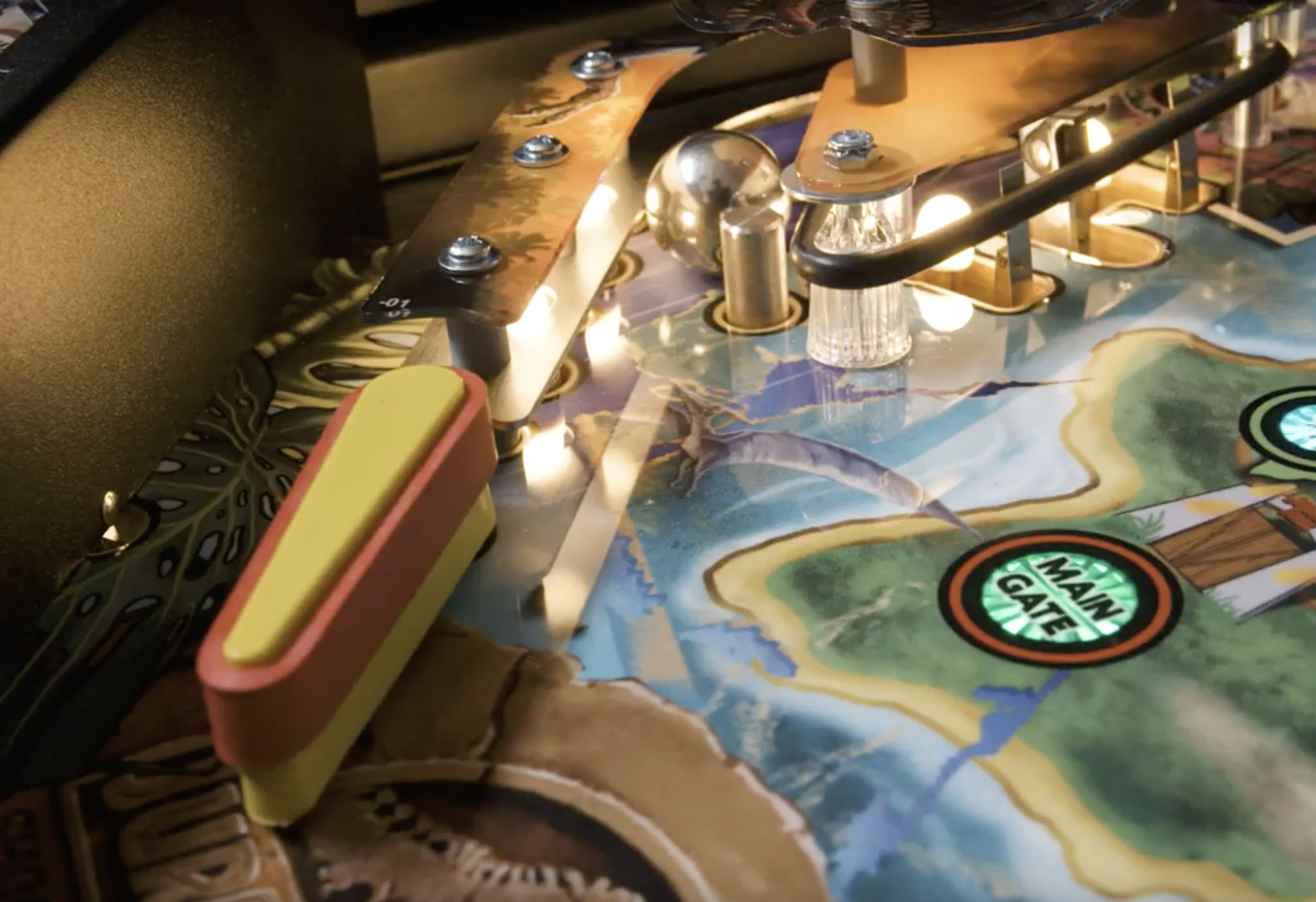 Butyrate and wire electric fence
Shooter lane half-pipe steel and wire ramp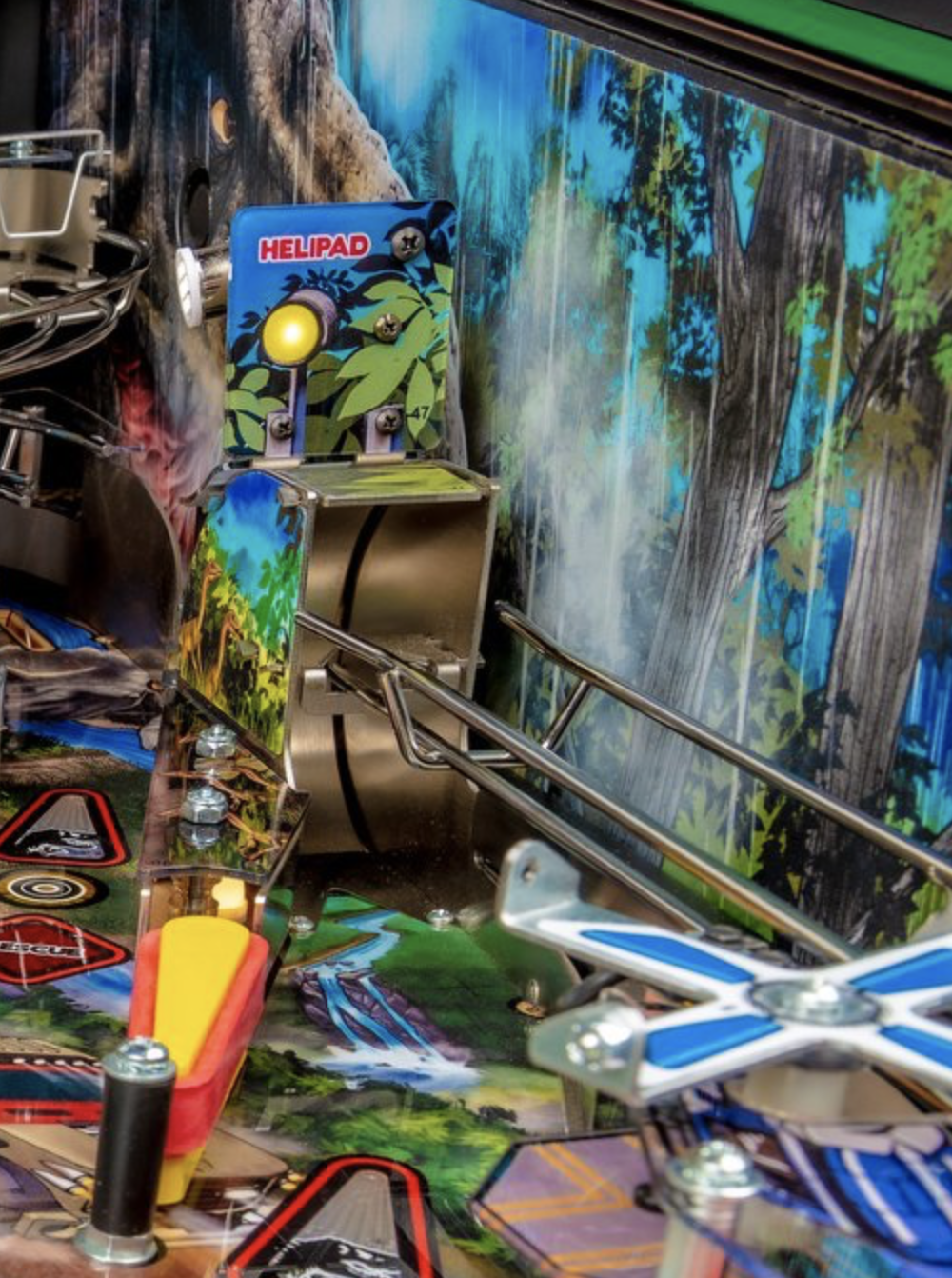 Right spiral steel and wire ramp feeding upper flipper (Pteranodon)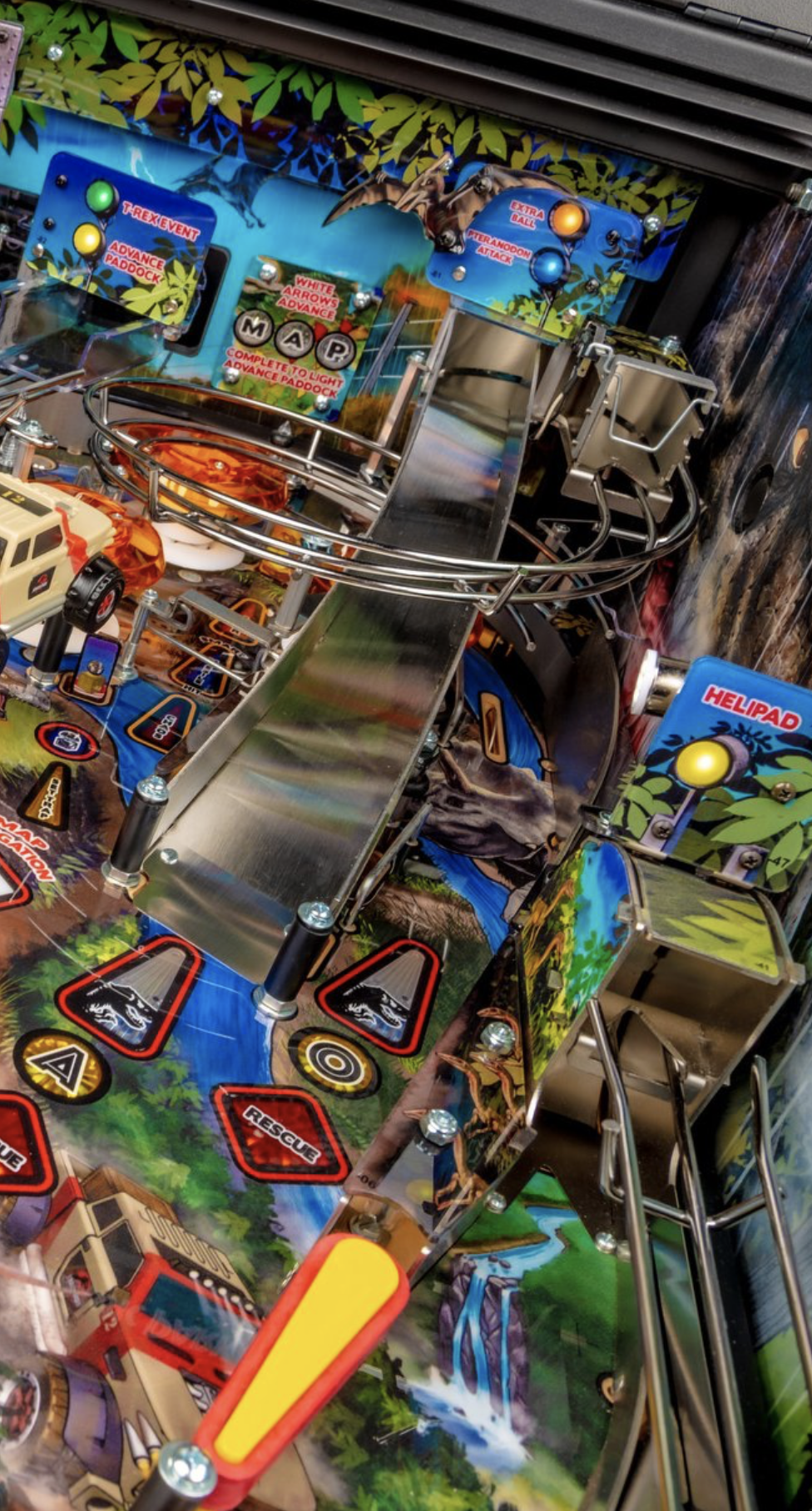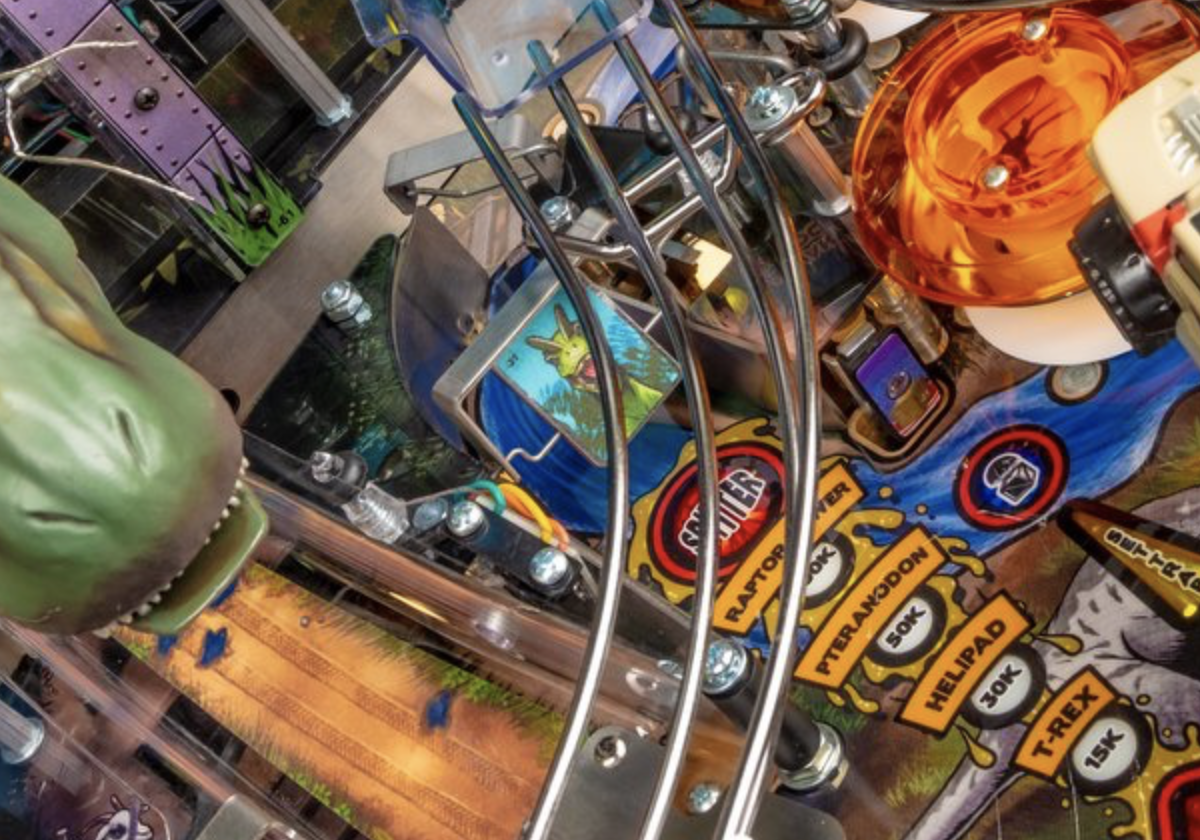 Premium/LE Models:
Animatronic T-Rex that eats and throws pinballs
Motorized up/down target that guards the Raptor cage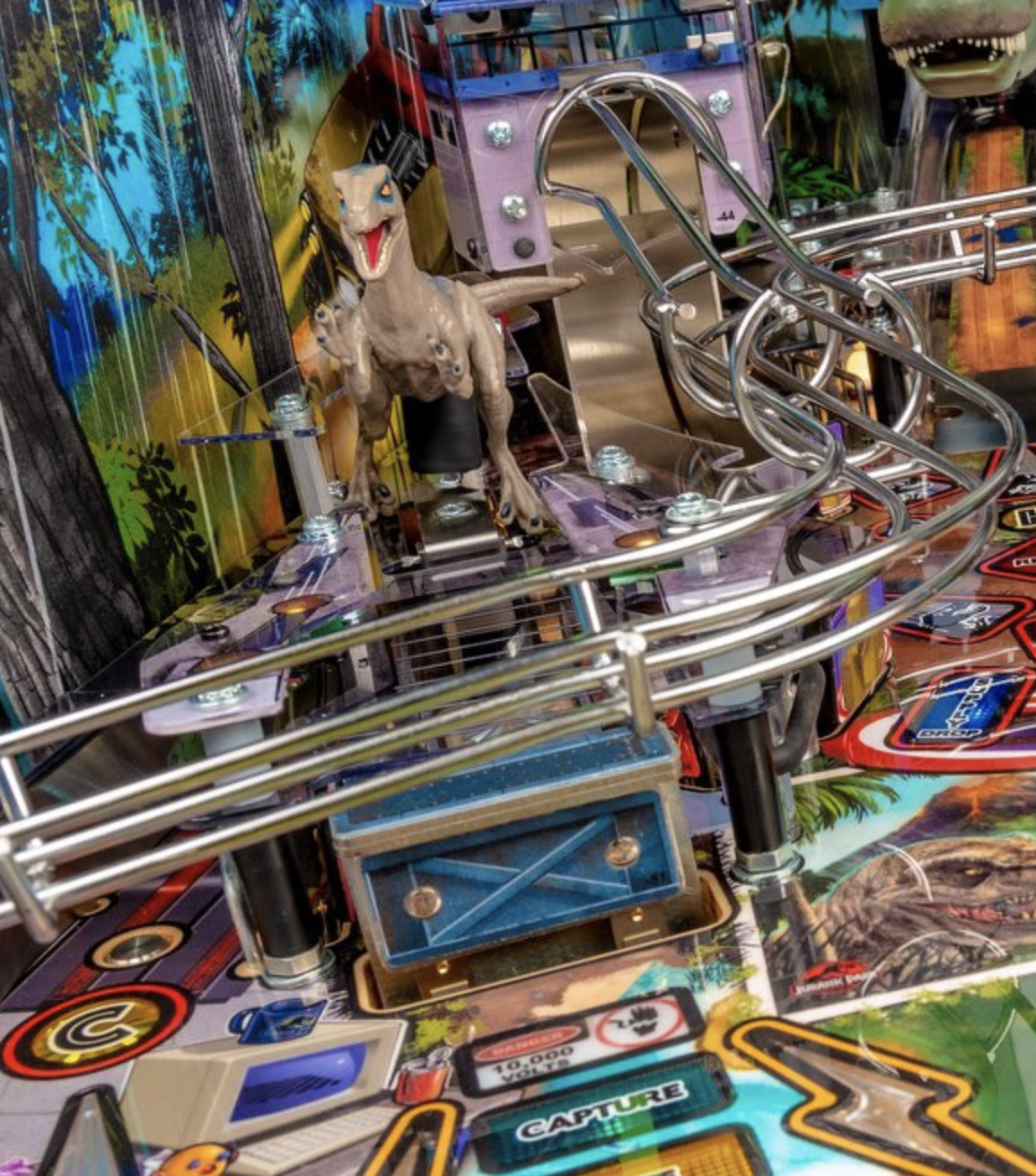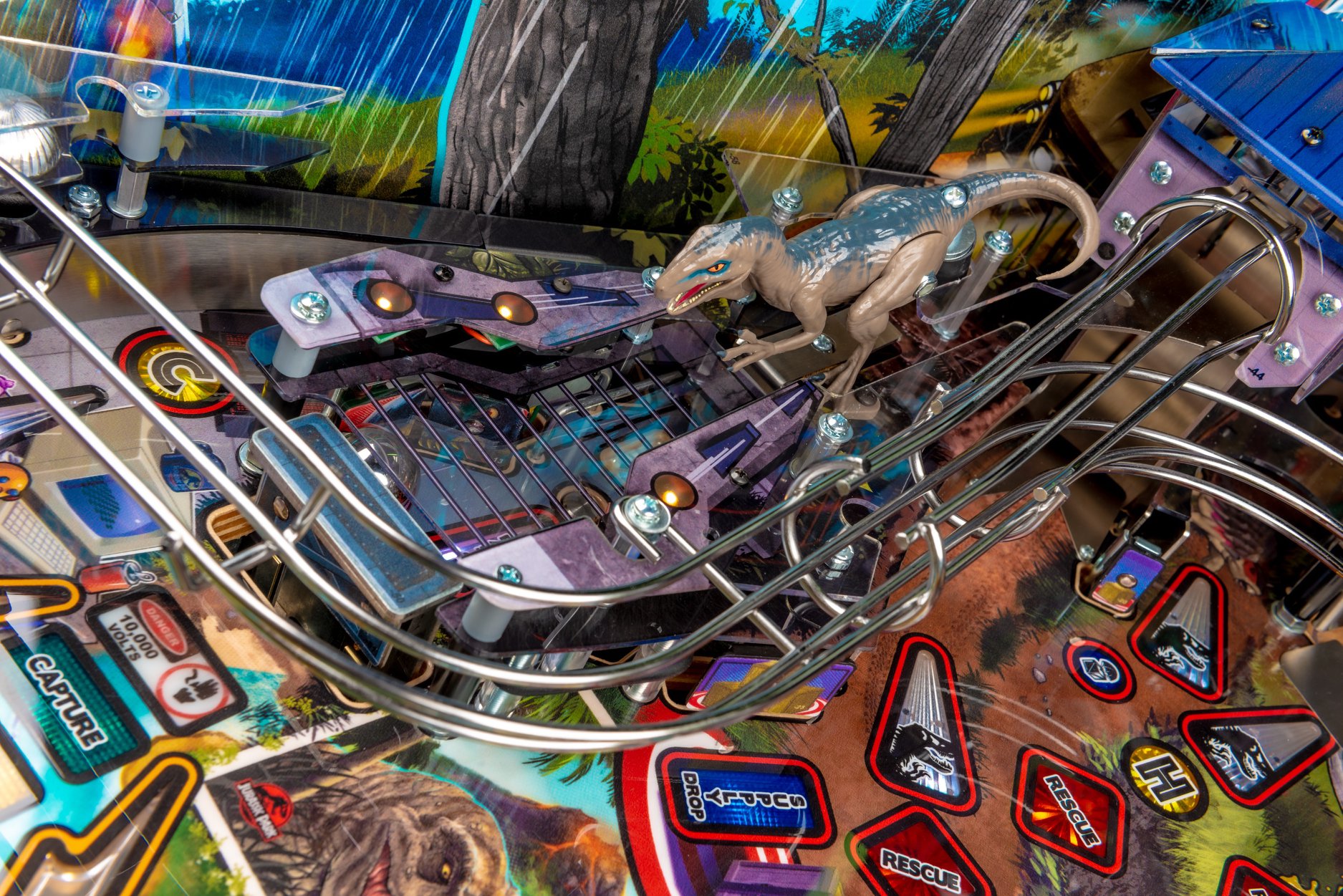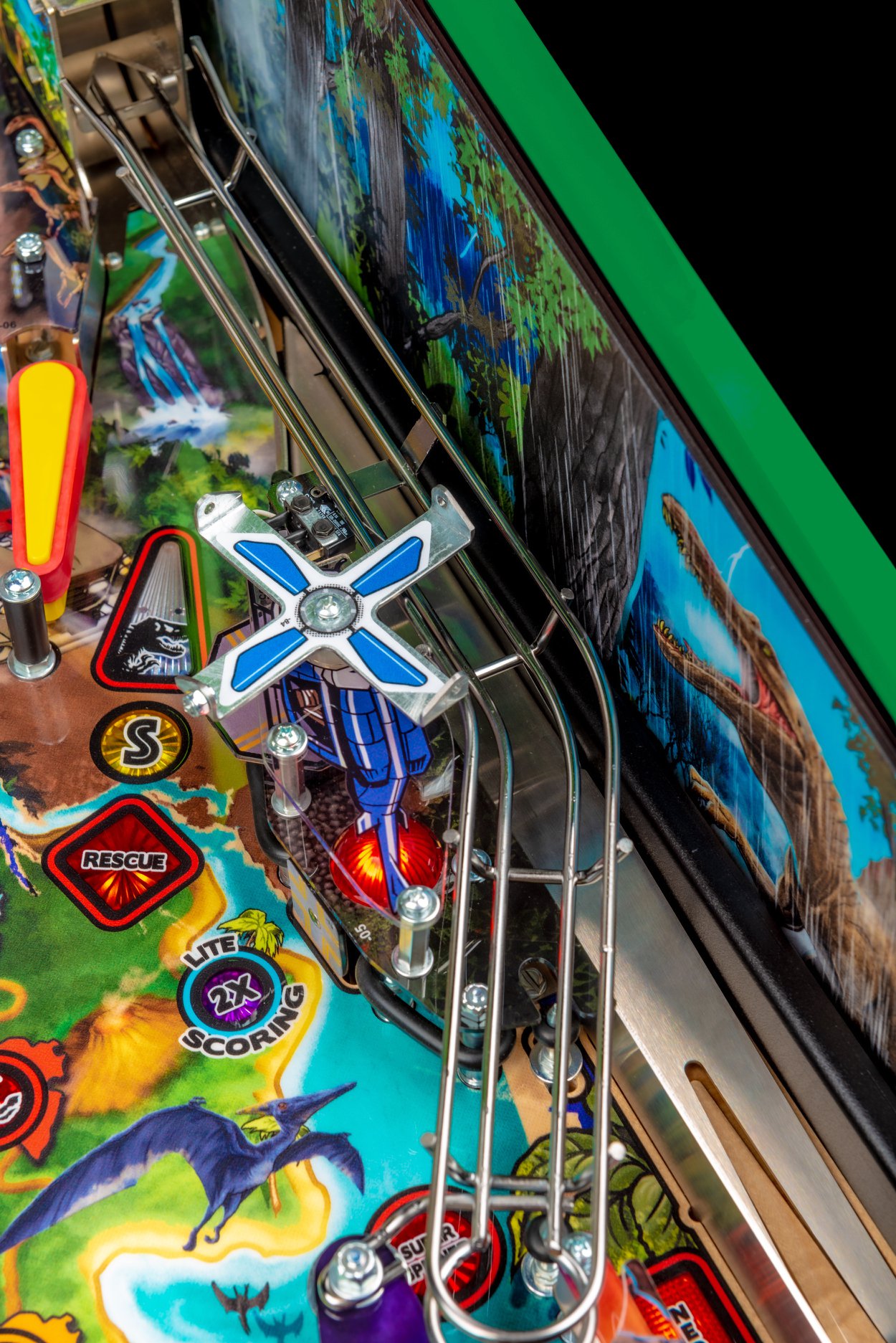 Limited Edition Model: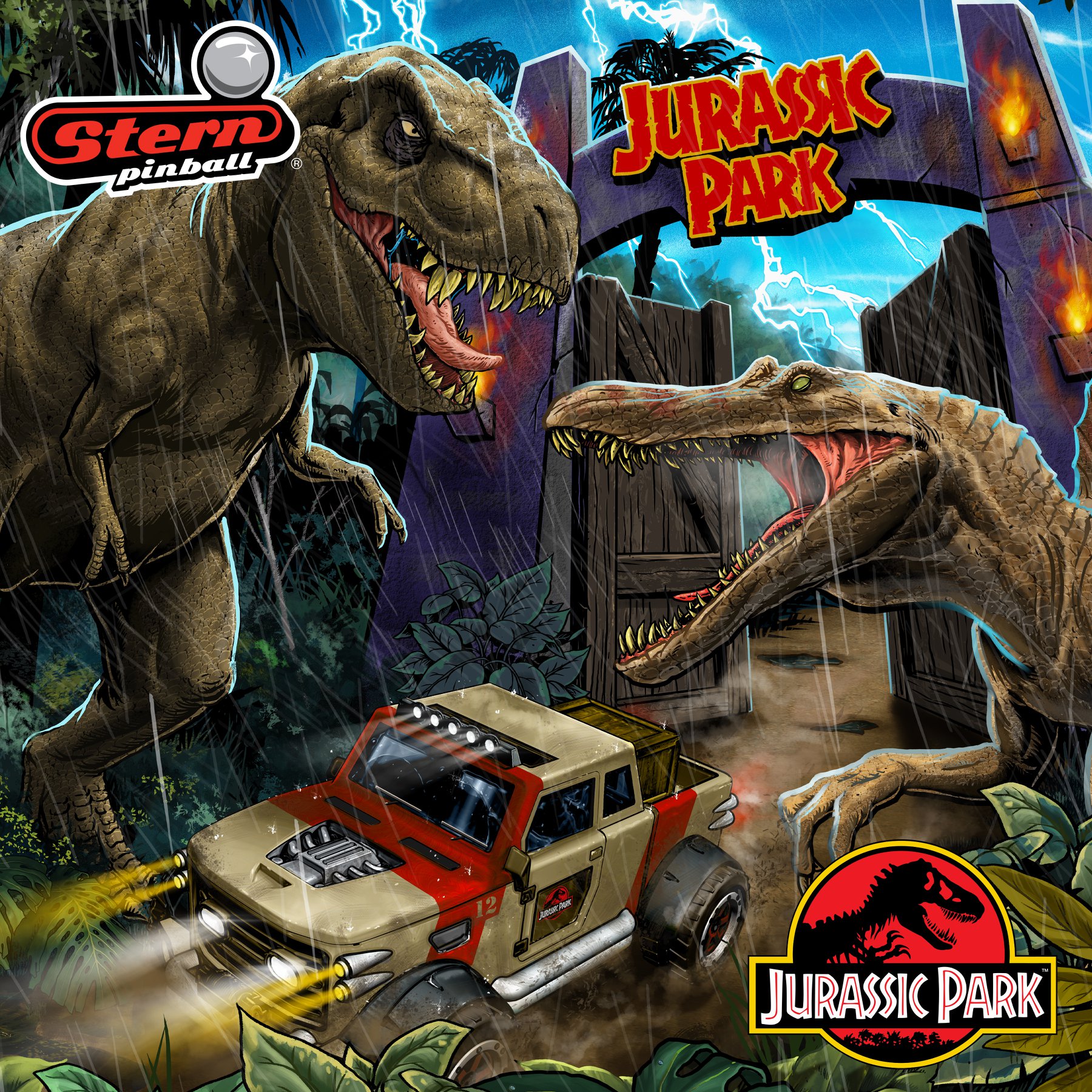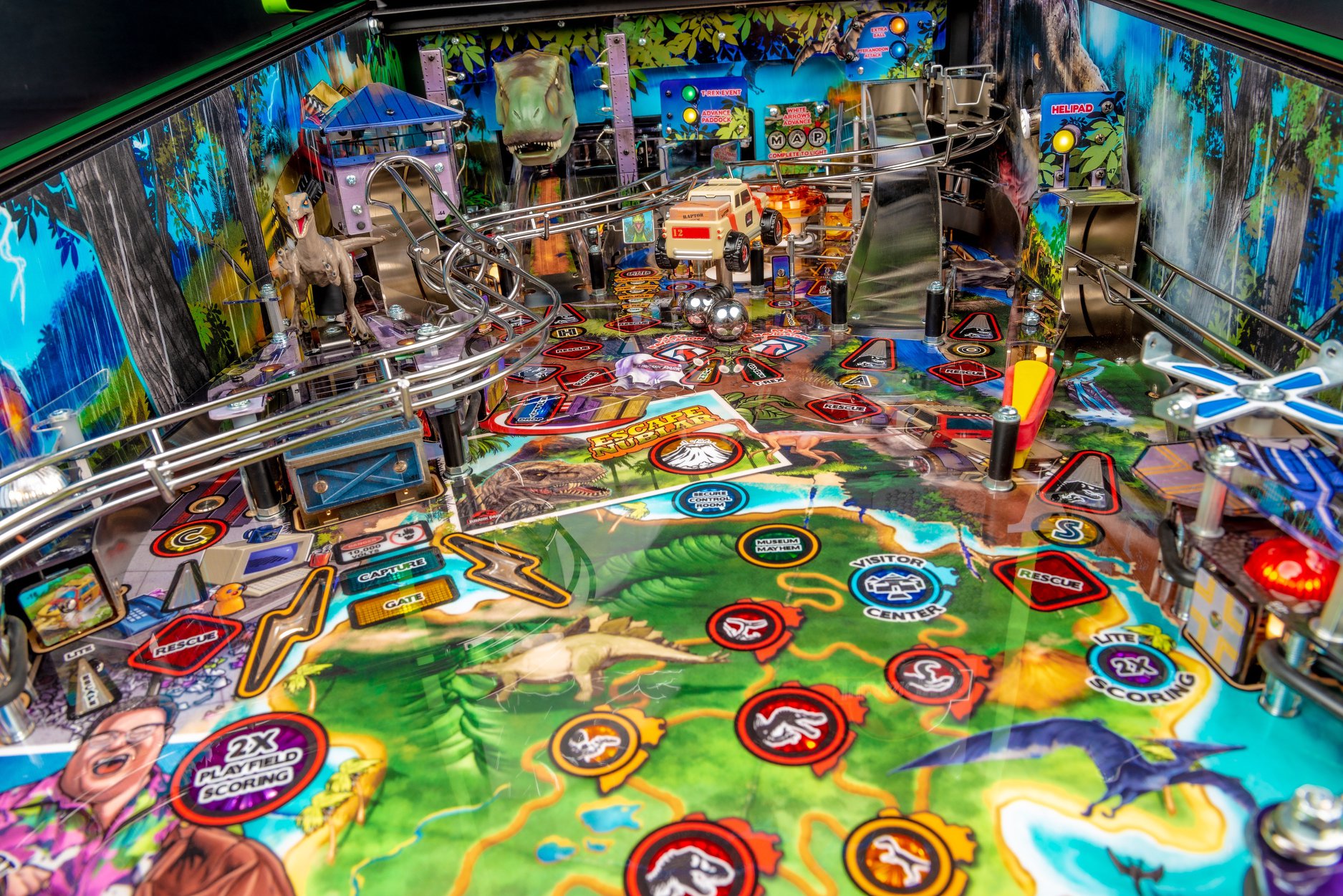 Upgraded HD speaker system
HD anti-reflection pinball glass
Shaker motor
Metallic hunter green powder coated armor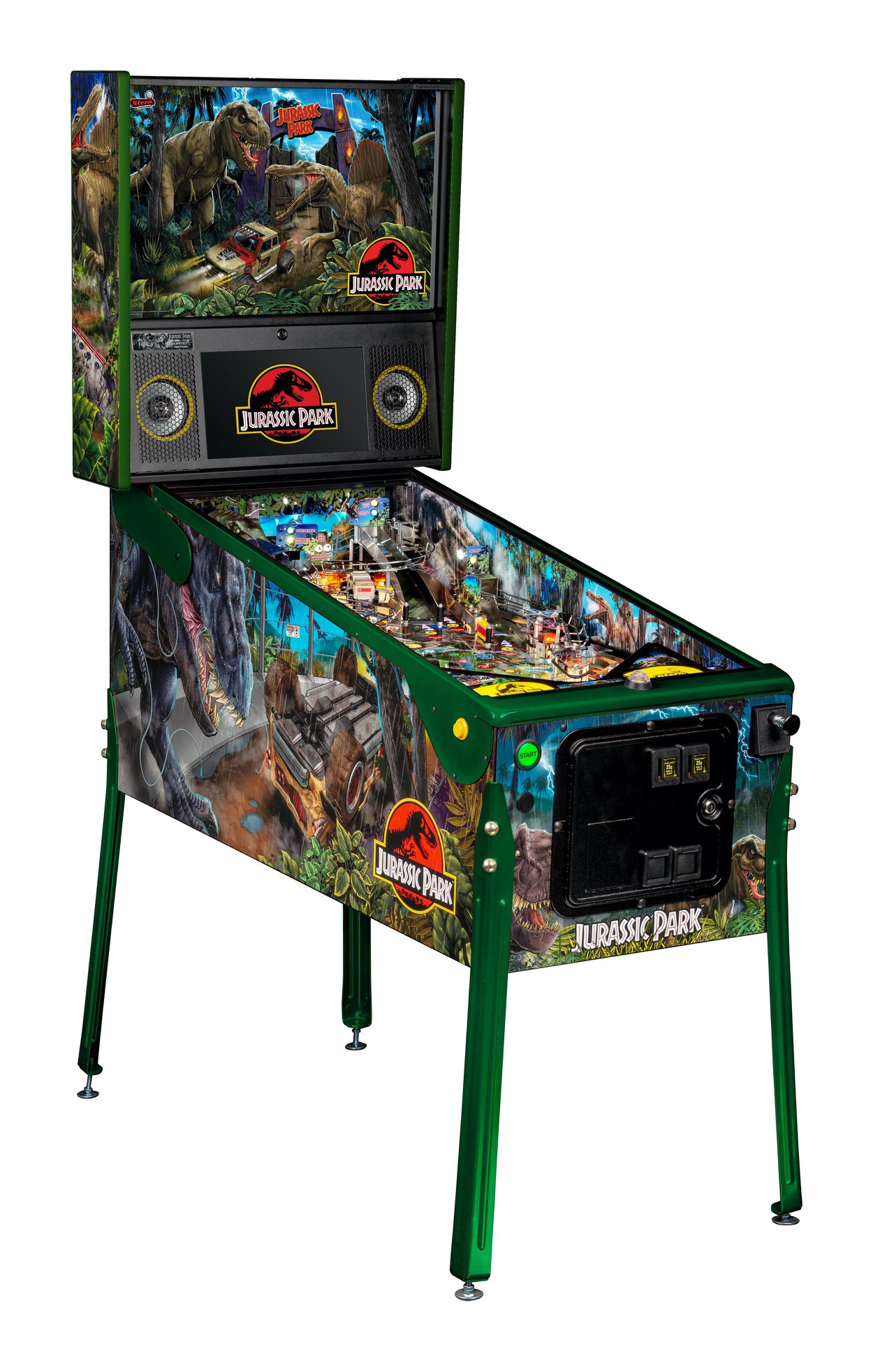 ---
Rules and Code
Main Objective
After Dennis Nedry's computer virus sends Jurassic Park into chaos by disabling many of the security fences, you traverse Isla Nublar to capture escaped dinosaurs and rescue park staff.
T-Rex Events
Shoot the truck to advance T-Rex. Spell T-R-E-X and feed the T-Rex to begin a T-Rex event.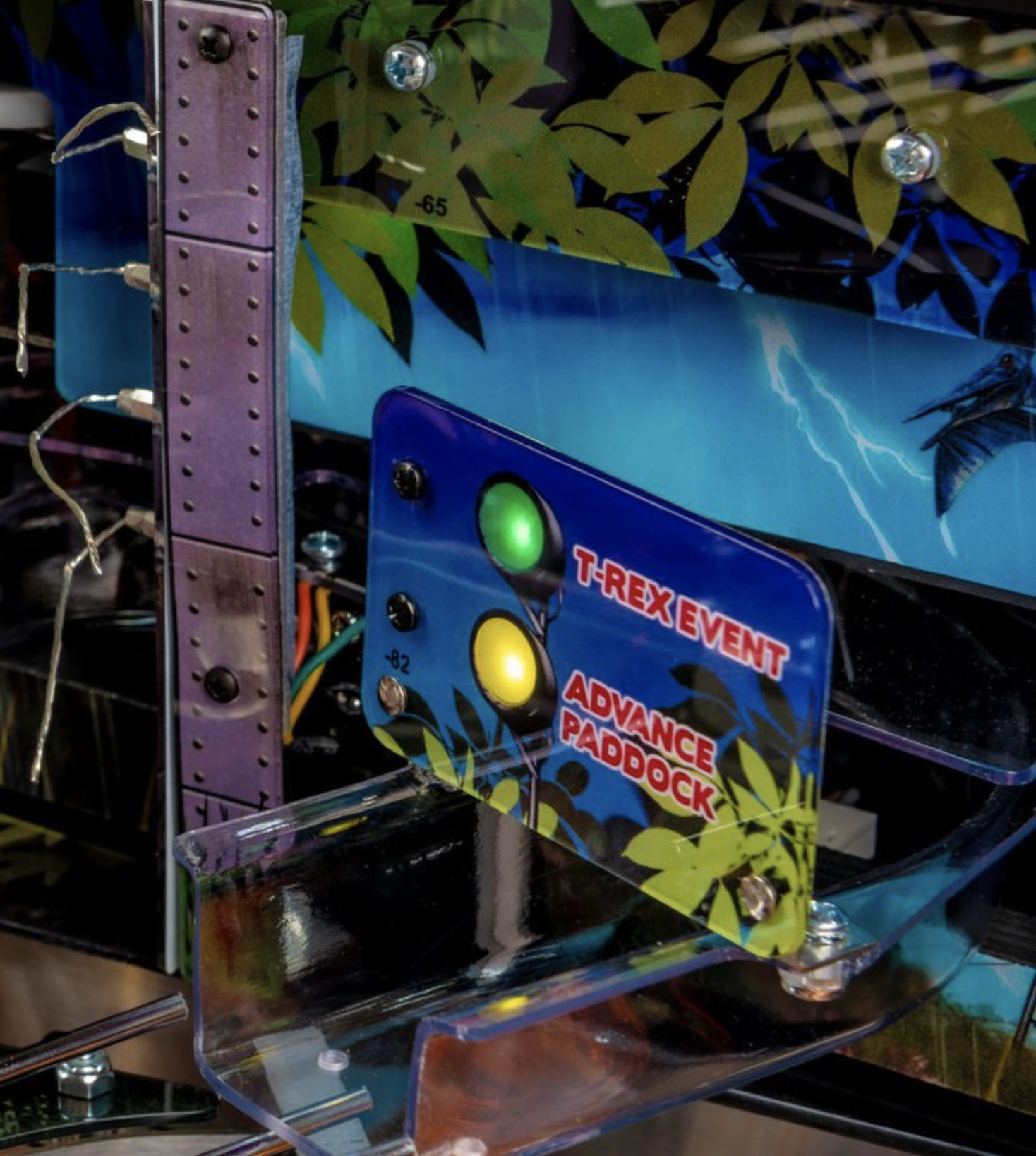 Control Room
Shoot control room to begin control room modes.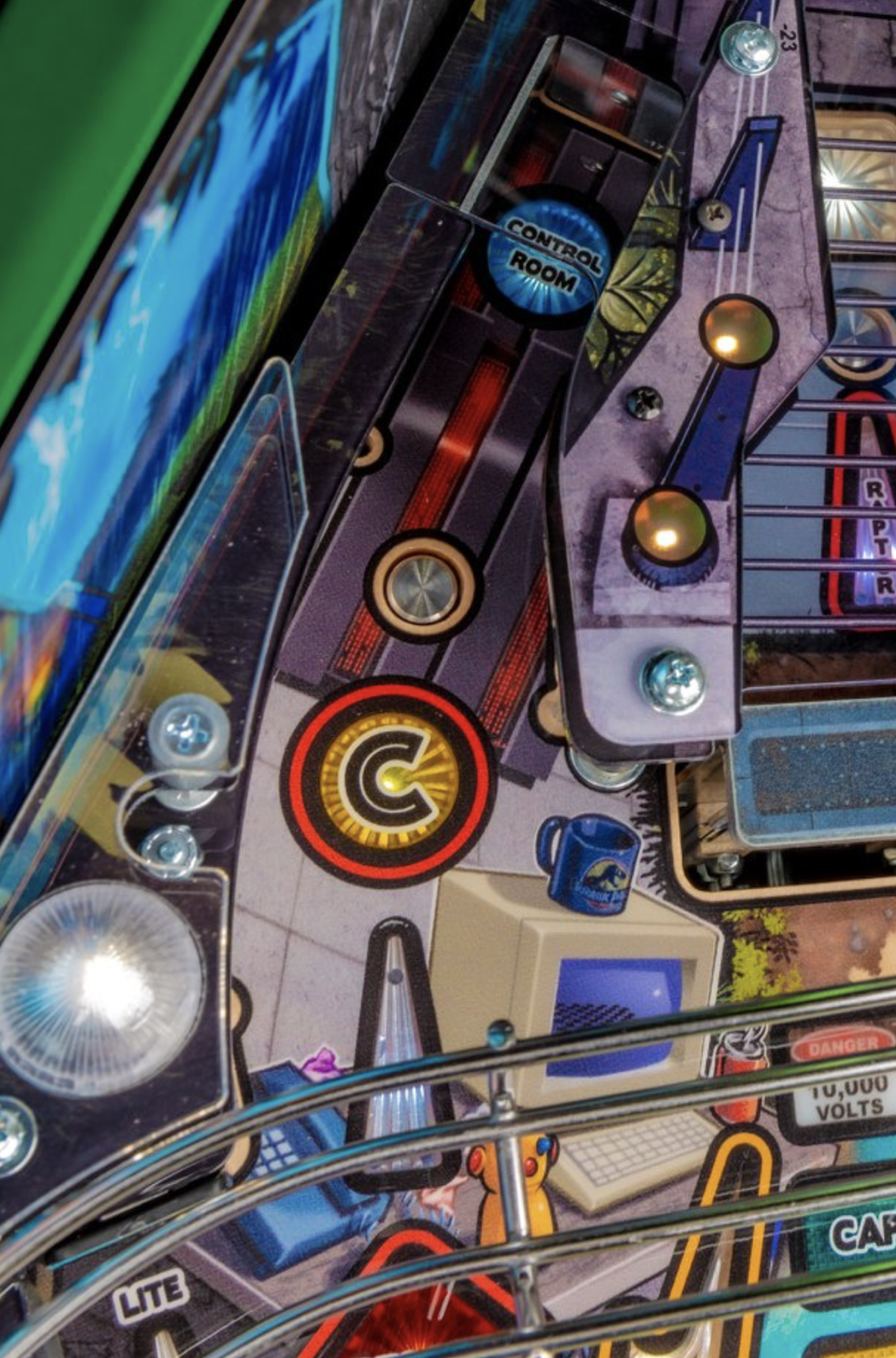 Paddocks
Shoot white arrows to spell M-A-P, and complete M-A-P to lite "advance paddock" on the left ramp. The direction of the truck determines the map path.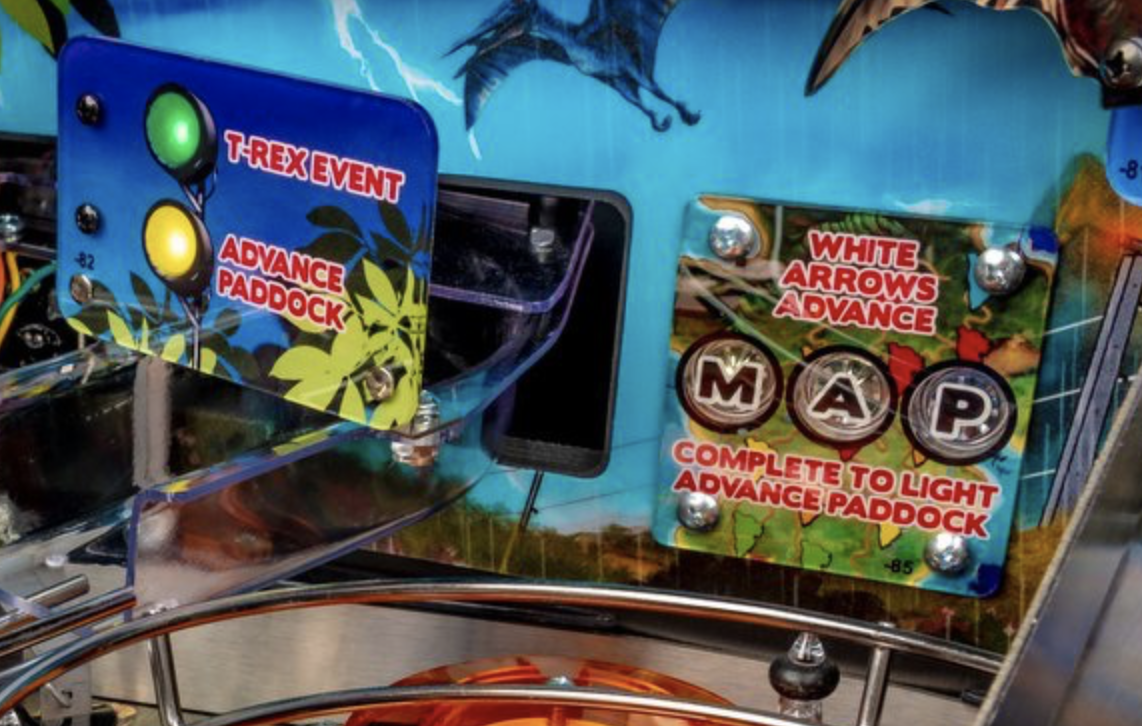 Capture Escaped Dinosaurs
While in a paddock, shoot the lite trap targets to set a Dinosaur trap. Shoot the helipad to begin the trap phase, and shoot the yellow arrow to capture the dinosaur.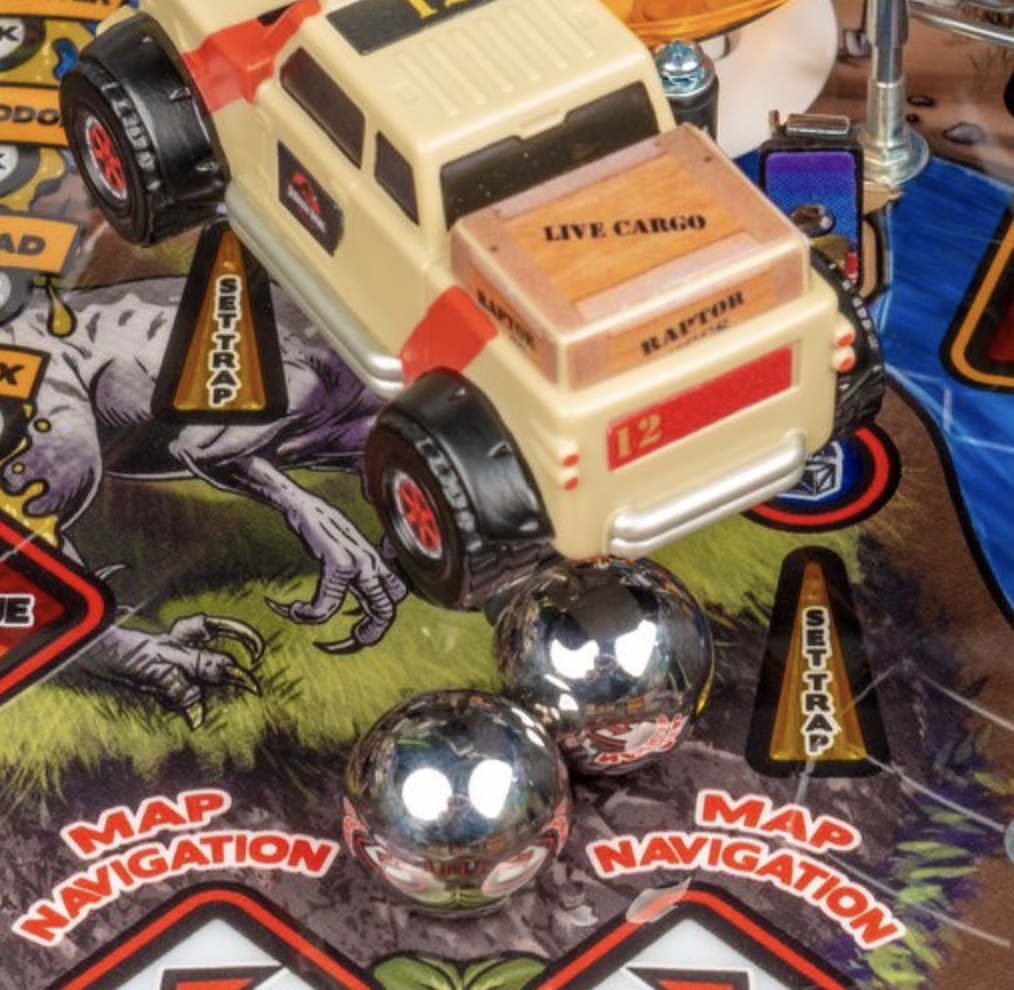 Jurassic Perks
Capture dinosaurs to collect a unique perk for each dinosaur, which will remain in effect until the end of the game. The more dangerous the dinosaur, the better the Perk.
Smart Missile
When lit, left in-lane launches a smart missile. Shoot the smart missile hit target in time to collect the reward.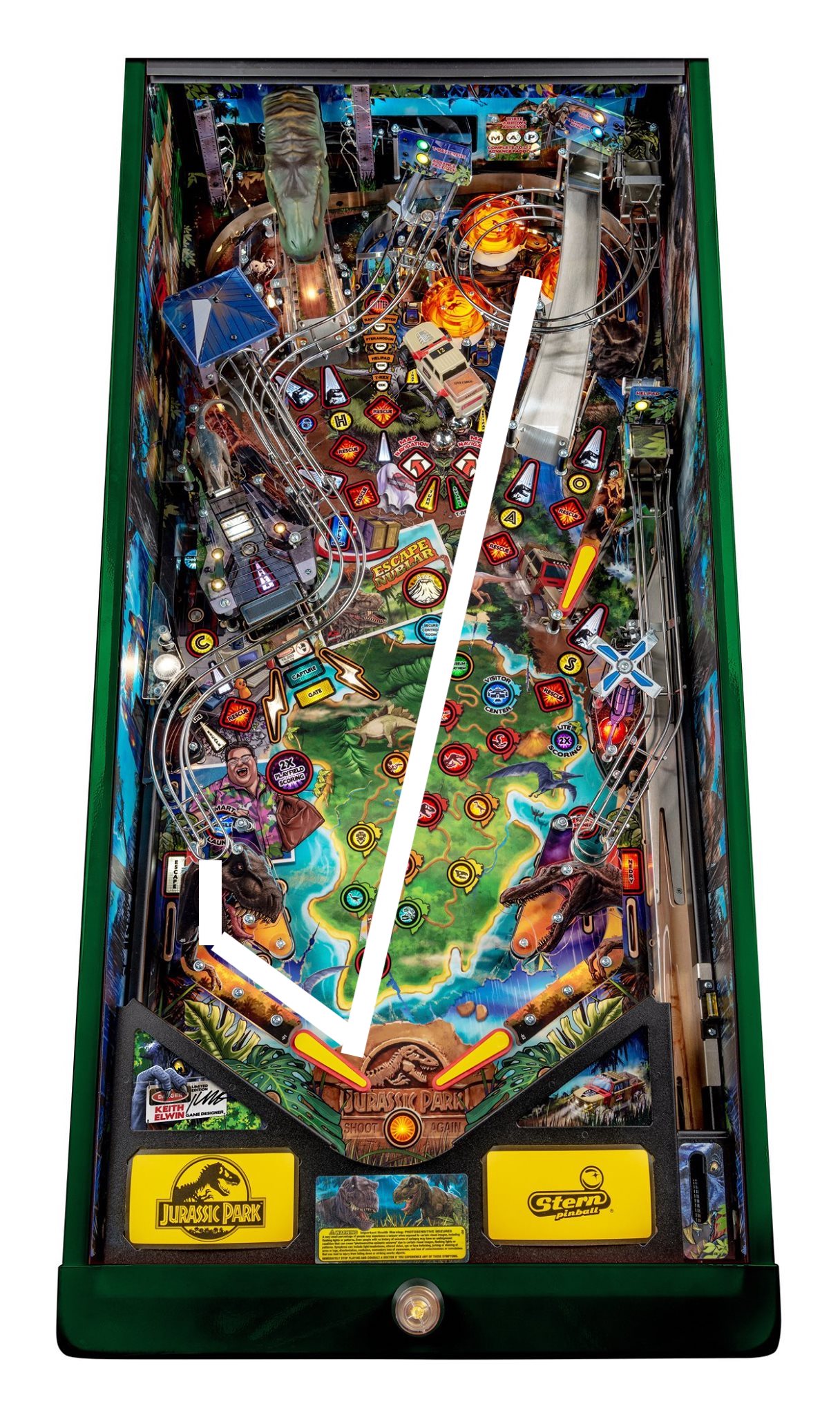 Rescues
Shoot rescue signs to rescue park staff from dinosaur paddocks.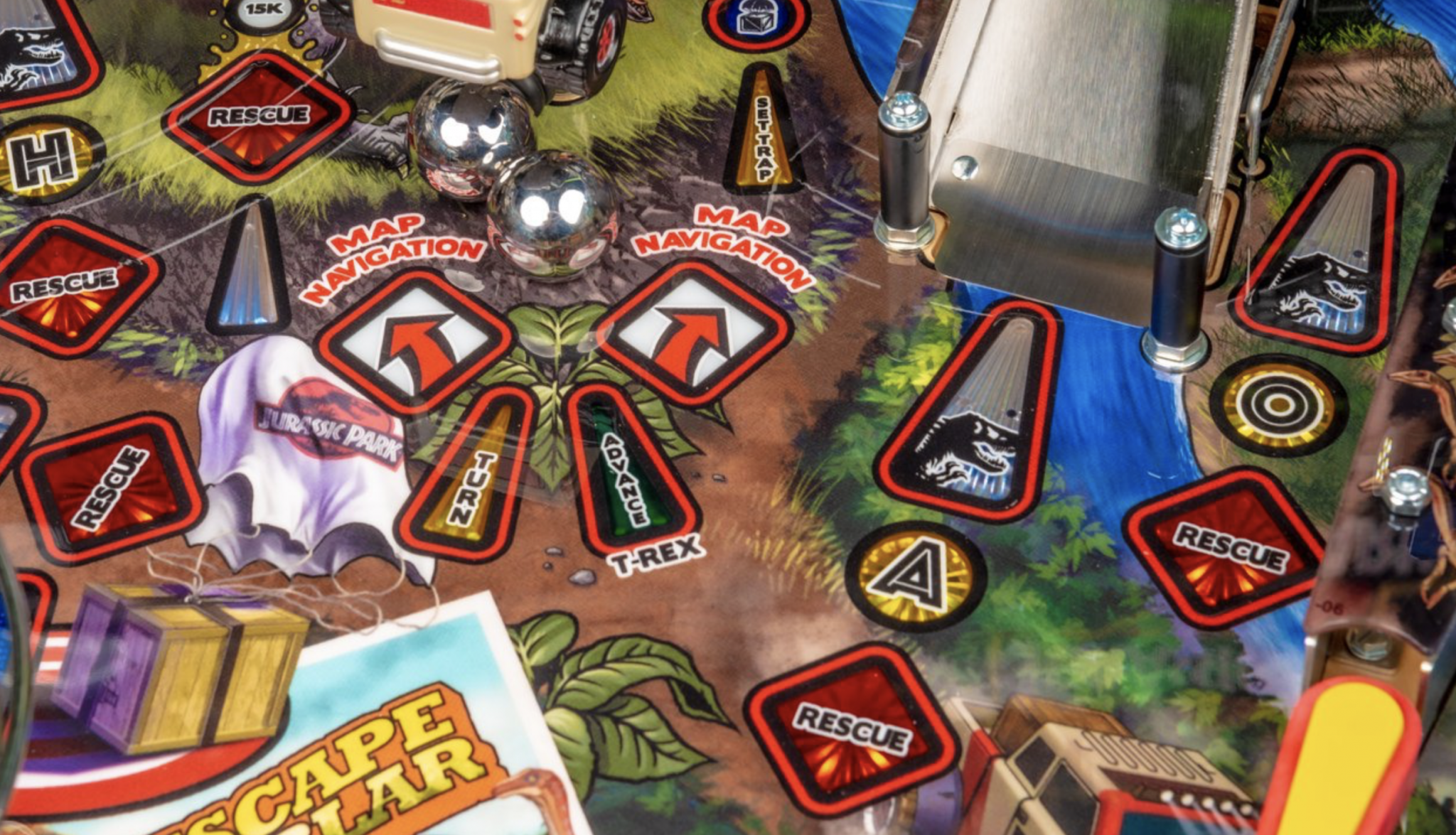 Pteranodon Attack
Shoot right ramp to start Pteranodon Attack frenzy, and collect switch hits to lite jackpot on right ramp.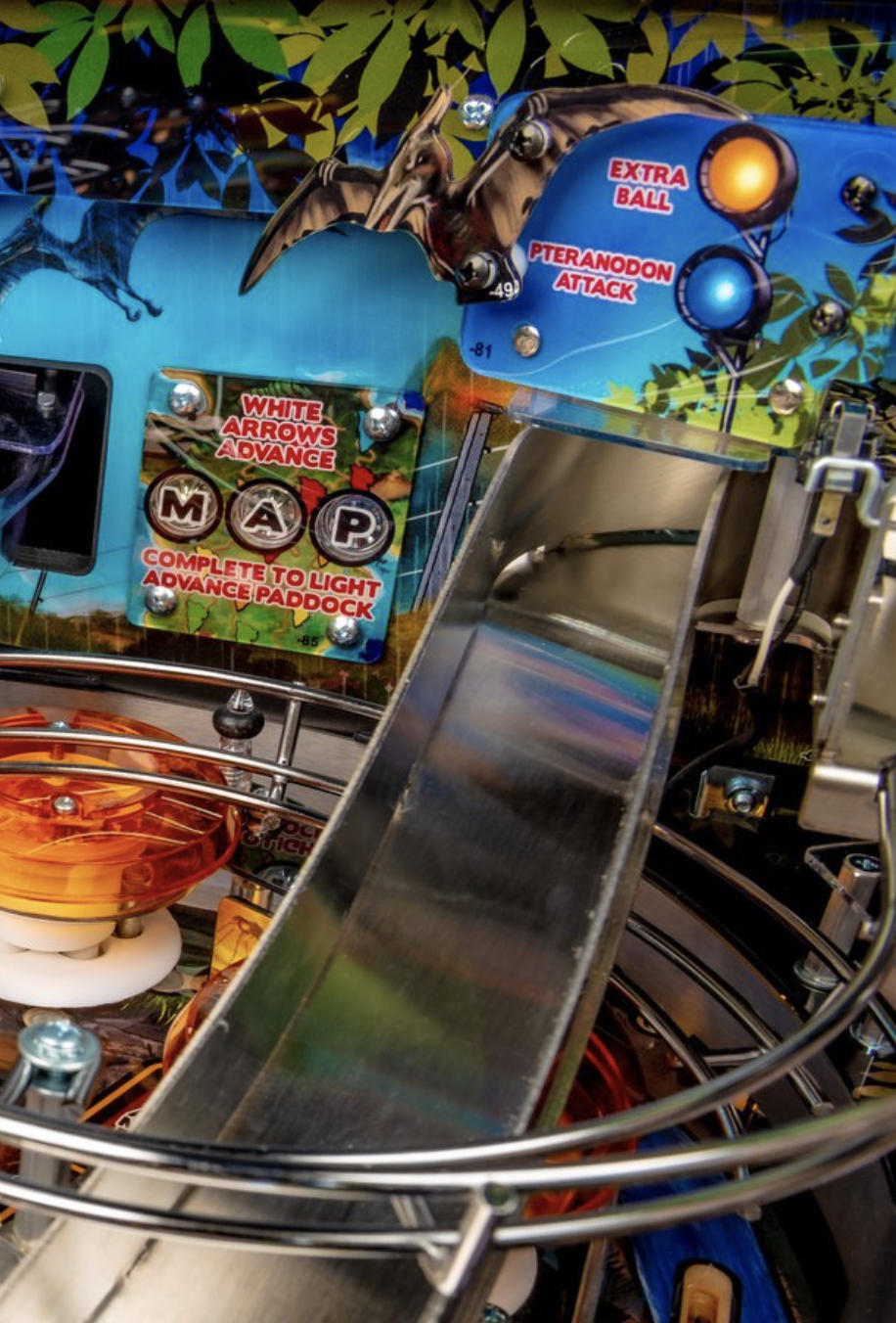 Four Multiballs
There are four multiballs in the game ranging from three to six balls:
Raptor Tri-Ball: Shoot the Raptor pen to capture Raptors, and Raptor Tri-ball will begin when the electric fence fails.
Chaos Multiball: Spell C-H-A-O-S to light Chaos multiball.
T-Rex Multiball: T-Rex Multiball is one of the T-Rex Events.
King of the Island Multiball: King of the Island MB is awarded for capturing the Spinosaurus.
Bonus Multiball – 'Invalid' (?) Multiball: Available from the control room for accomplishing…something
Three Mini Wizard Modes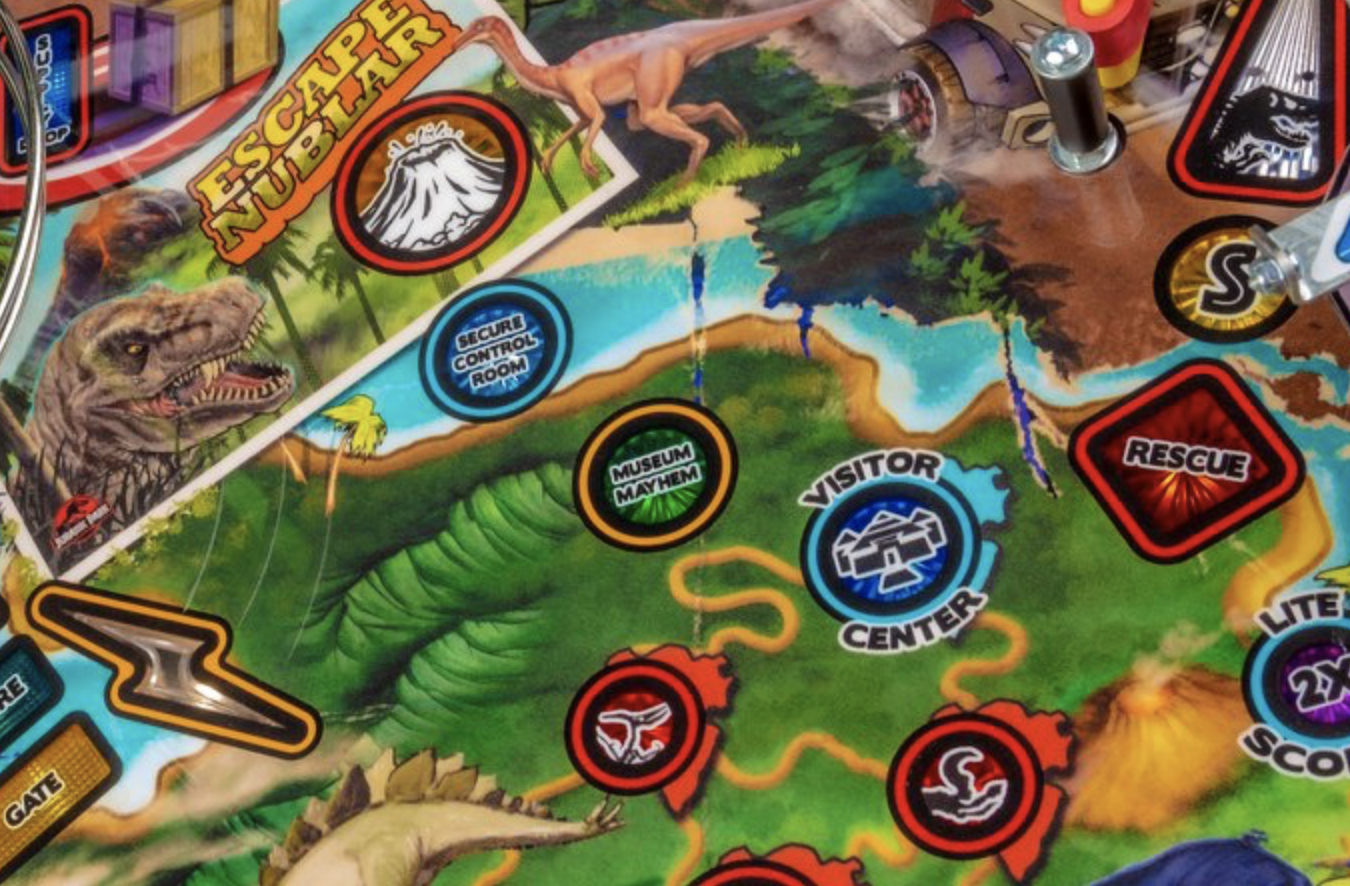 Raptors in the Kitchen Mini Wizard Mode: Navigate the truck to the Visitor's Center to start Raptors in the Kitchen Mini Wizard Mode!
Museum Mayhem Mini Wizard Mode: Starts upon completion of the T-Rex events!
Secure Control Room Mini Wizard Mode: Starts upon completion of the control room modes!
Escape Nublar Wizard Mode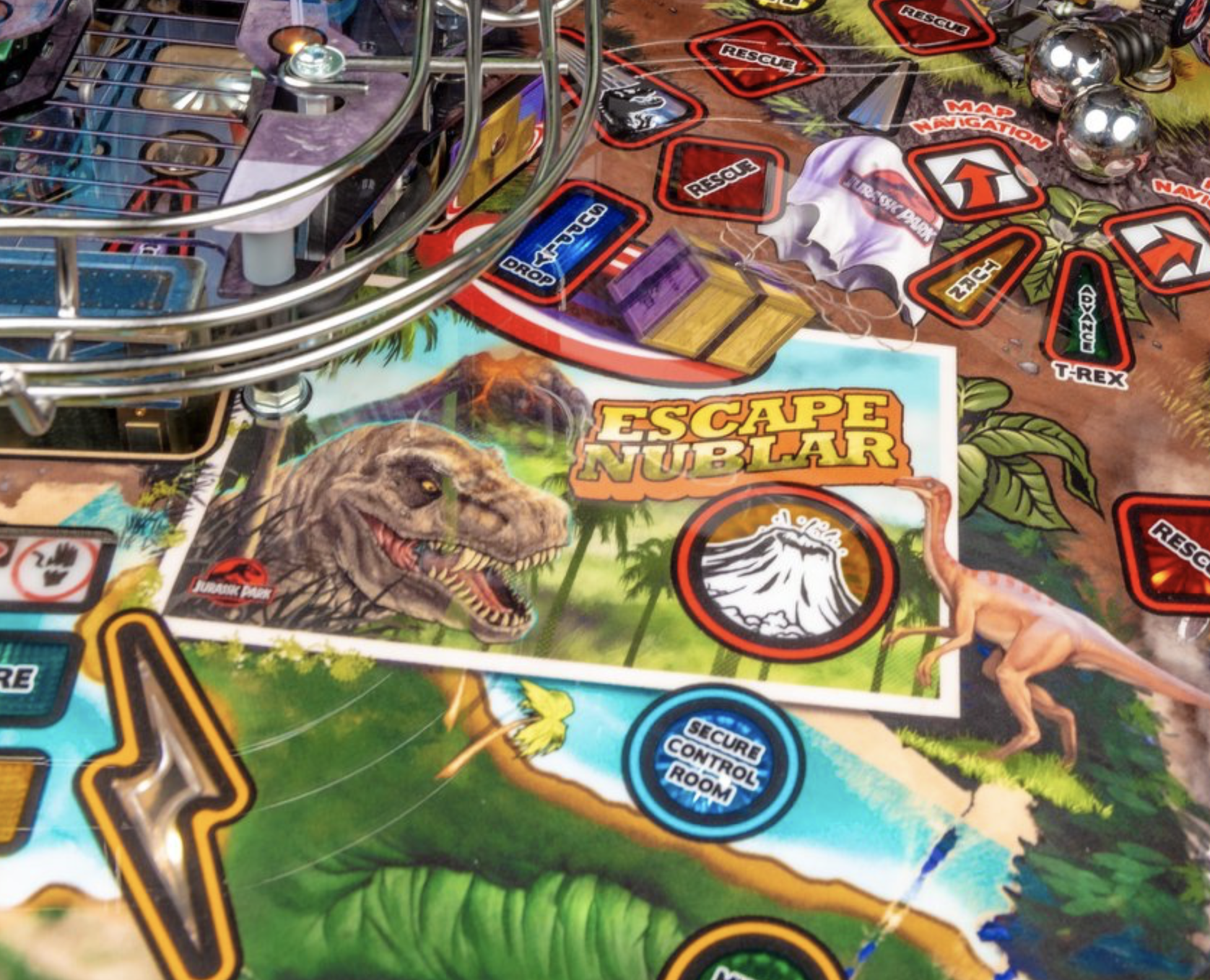 Complete all three mini-wizard modes to reach Escape Nublar Wizard Mode!
---