Overview | Who's Who | Price and Production | Features | Rules and Code | 2.0 Rules | Interview with Haggis Pinball
Fathom Revisted is the newest creation from Haggis Pinball! Below is an in-depth overview of the machine, and a dive into the features and rules – check it out!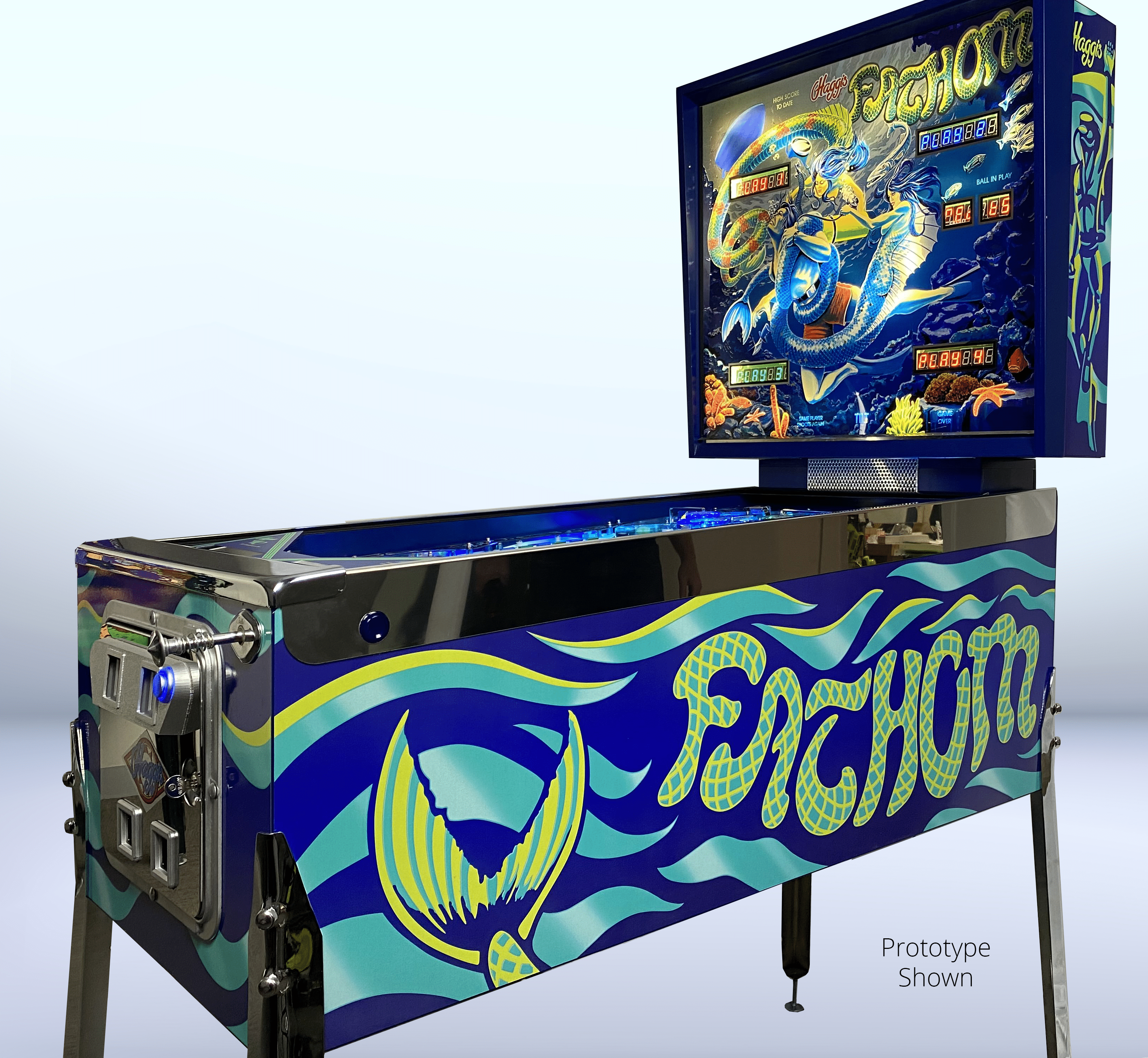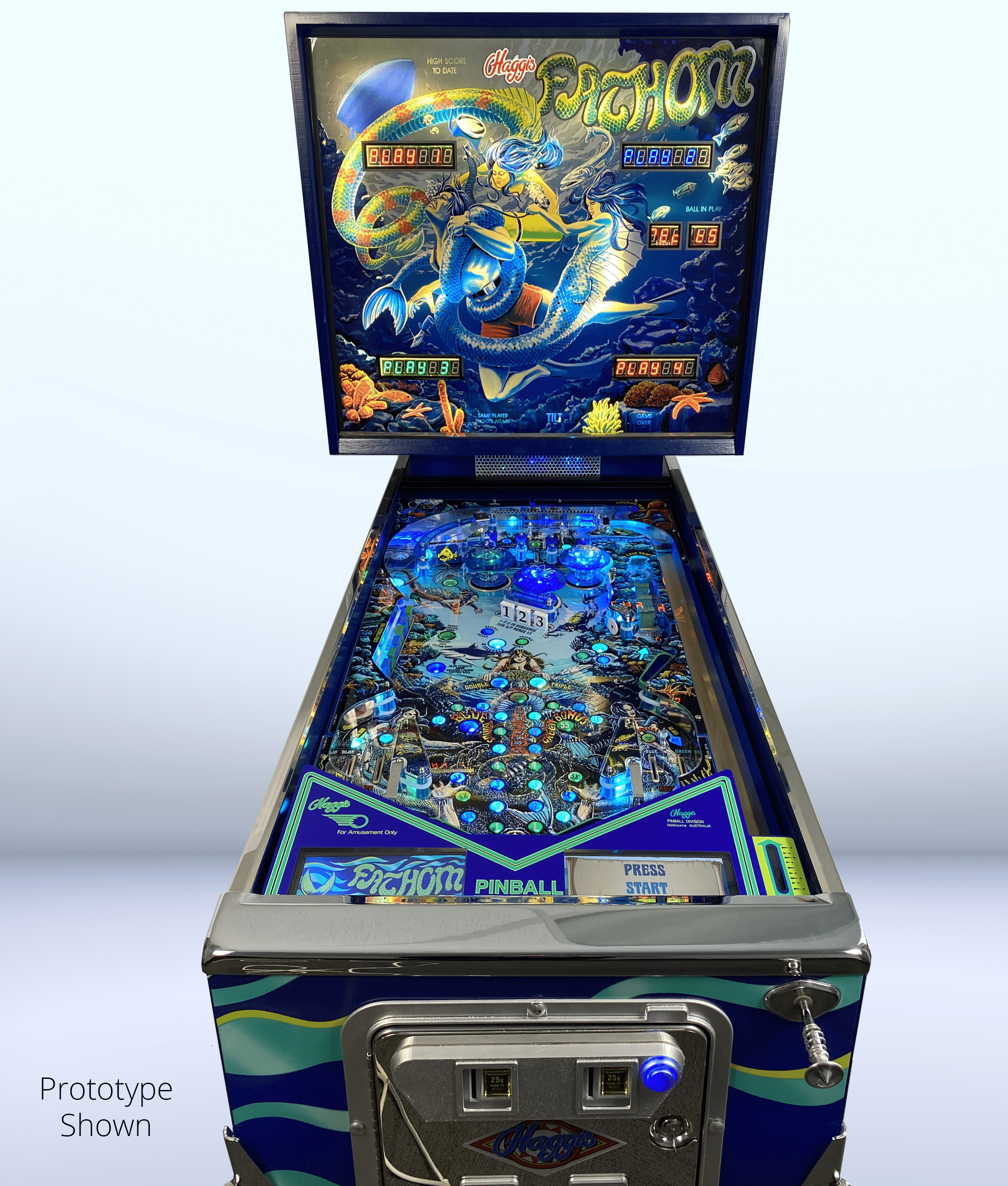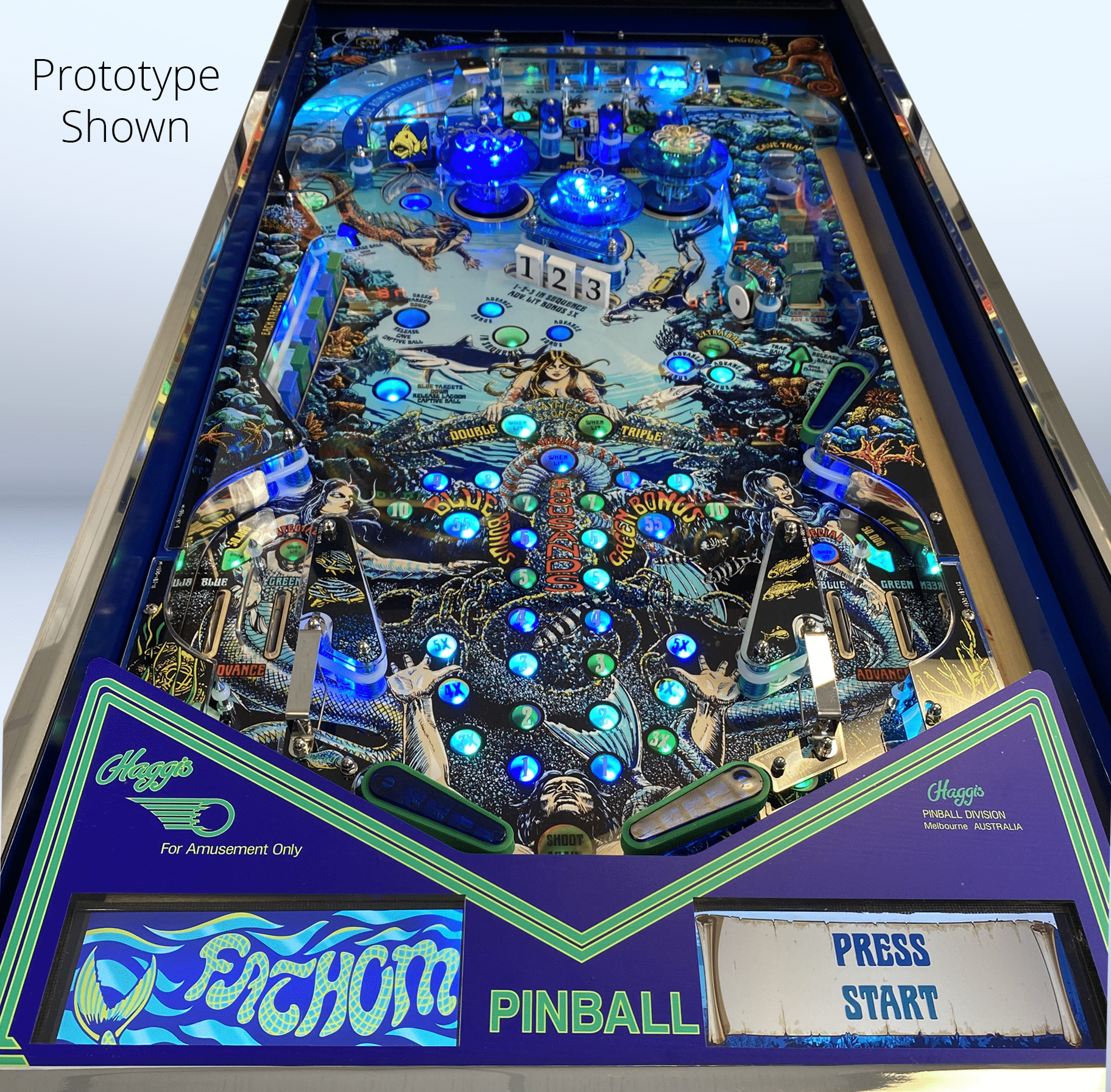 CEO: Damian Hartin
Game Developer: Greg Sealby
Creative Director: Scott Seedsman
Musical Director: Casey Dean
Mechanical Engineer: Lachlan Dowd
Game Designer (2.0 Rules): Martin Robbins
Original Designer (1981): Ward Pemberton
Original Artwork (1981): Greg Freres
Original Production (1981): 3,500 units

Classic Edition: ~$7,360 USD | $9,500 AUD
Mermaid Edition: ~$8,900 USD | $11,500 AUD
Manufacturing is scheduled to begin on July 1st, with the plan to build 50 per month at the new facility.
You can purchase direct from the Haggispinball.com store on April 28th. To reserve a game, you will need to put down a $1,500 AUD (~ $1,162 USD) non-refundable deposit. Haggis Clan Members can reserve now by emailing sales@haggis.com.
Please see the interview with Haggis Pinball below for more information on ordering and production.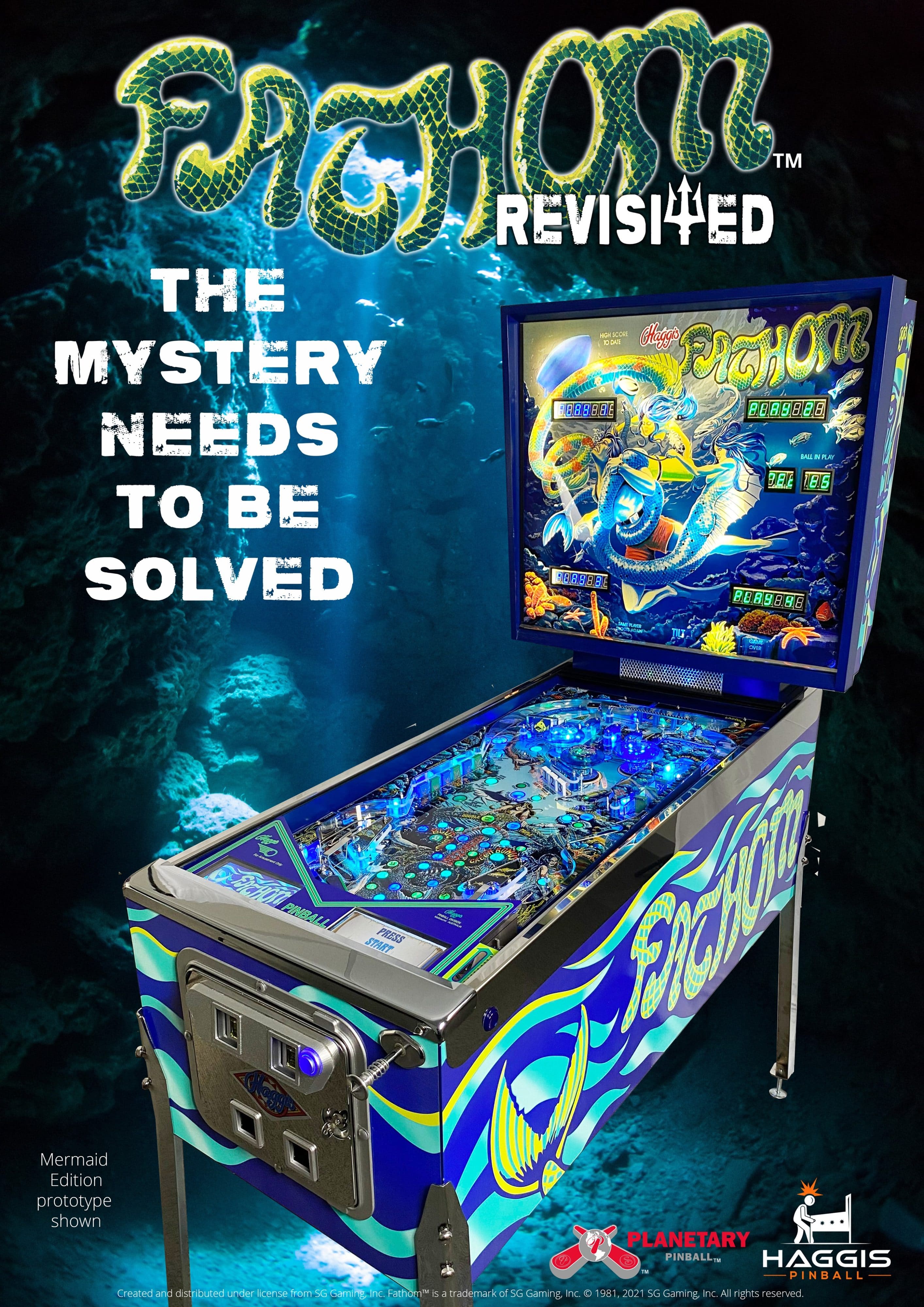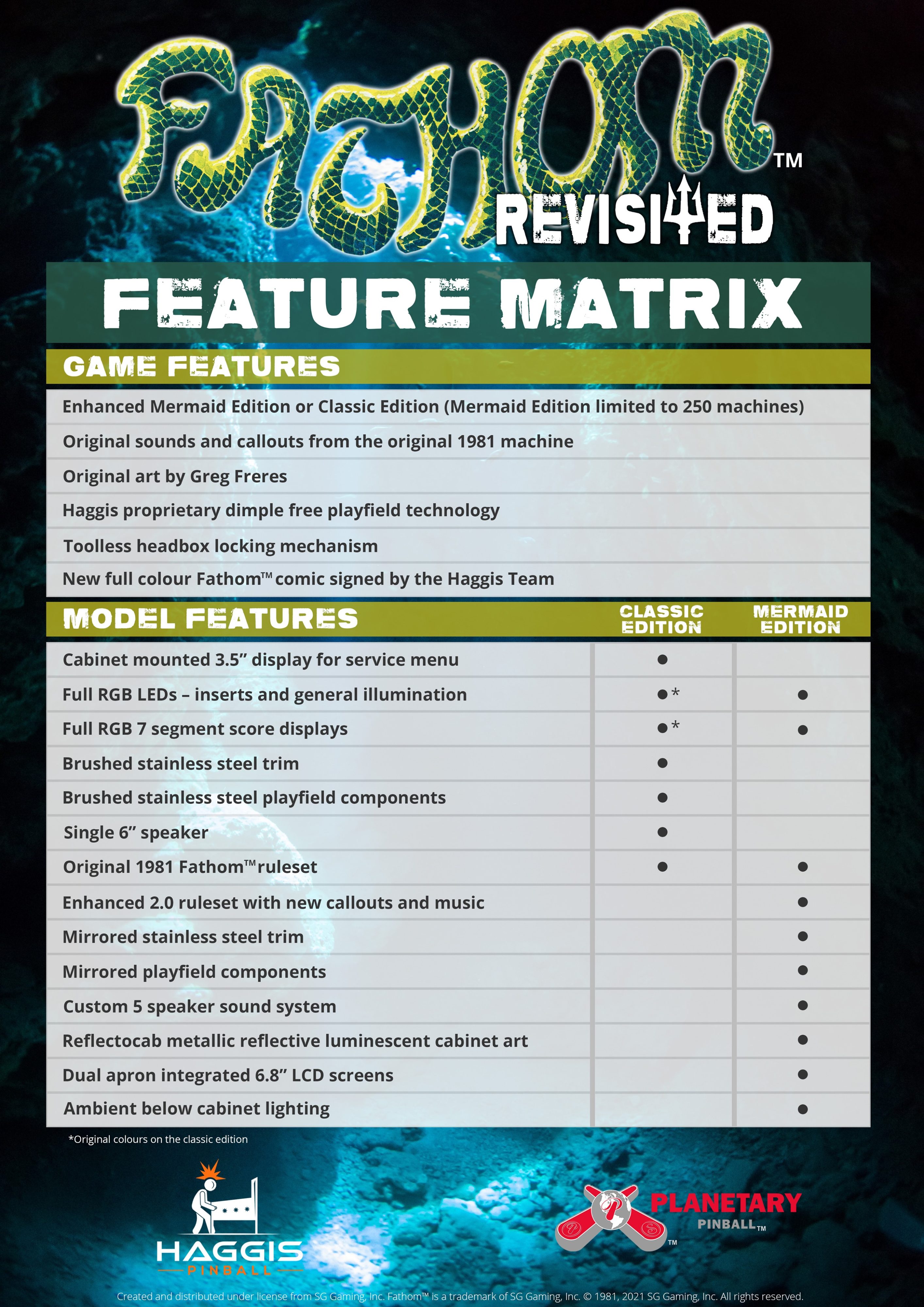 BOTH EDITIONS
Haggis proprietary dimple free playfield technology
Three pinballs
Three flippers
Three pop bumpers
15 drop targets

Six bank of drop targets
Three bank of targets
Two sets of three in-line drop targets

Two kick-out holes
Spinner
Crossover return lanes
Full RGB LEDs for both inserts and general illumination
Full RGB LEDs seven segment score displays
Toolless head box locking mechanism
Original artwork
Original sounds and callouts
Original ruleset
CLASSIC EDITION
Cabinet mounted 3.5" display for service menu
Brushed stainless steel trim
Brushed stainless steel playfield components
Single 6" speaker
MERMAID EDITION
Production limited to 250 machines
Enhanced 2.0 ruleset with new callouts and music
Mirrored stainless steel trim
Mirrored playfield components
Custom 5 speaker sound system
Reflectocab metallic reflective luminescent cabinet art
Dual apron integrated 6.8" LCD screens for game features and service menu
Ambient below cabinet lighting
ACCESSORIES
Topper with ambient above cabinet lighting – Pricing TBA


ORIGINAL 1981 RULES OVERVIEW
Blue and Green
The playfield, gameplay, and scoring is largely dependent on two different colors of the playfield, blue and green. Each color has its own multiball, its own drop targets, and its own bonus.
Lagoon Multiball (Blue Multiball)
Shoot a ball into the Lagoon kick-out hole to raise the three in-line drop targets in front of the kick-out hole. Knock down the in-line drops to release the captive ball to start Lagoon Multiball. Two balls in play doubles all playfield scoring.
Cave Multiball (Green Multiball)
Shoot a ball into the Cave kick-out hole to raise the three in-line drop targets in front of the kick-out hole. Knock down the in-line drops to release the captive ball to start Cave Multiball. Two balls in play doubles all playfield scoring.
Stacking Multiballs
Starting both Lagoon and Cave Multiball at the same time puts three balls in play, which triples all playfield scoring.
Extra Ball Target
Dropping the 1-2-3 targets in order lights extra ball at the yellow standup target. This target also also lites the spinner.
A-B-C Lanes
Completing the A-B-C lanes once lights the left ball return lane for 50k. The second time the A-B-C lanes are completed lights the right return late for 50k. The third time lites the outlane Special.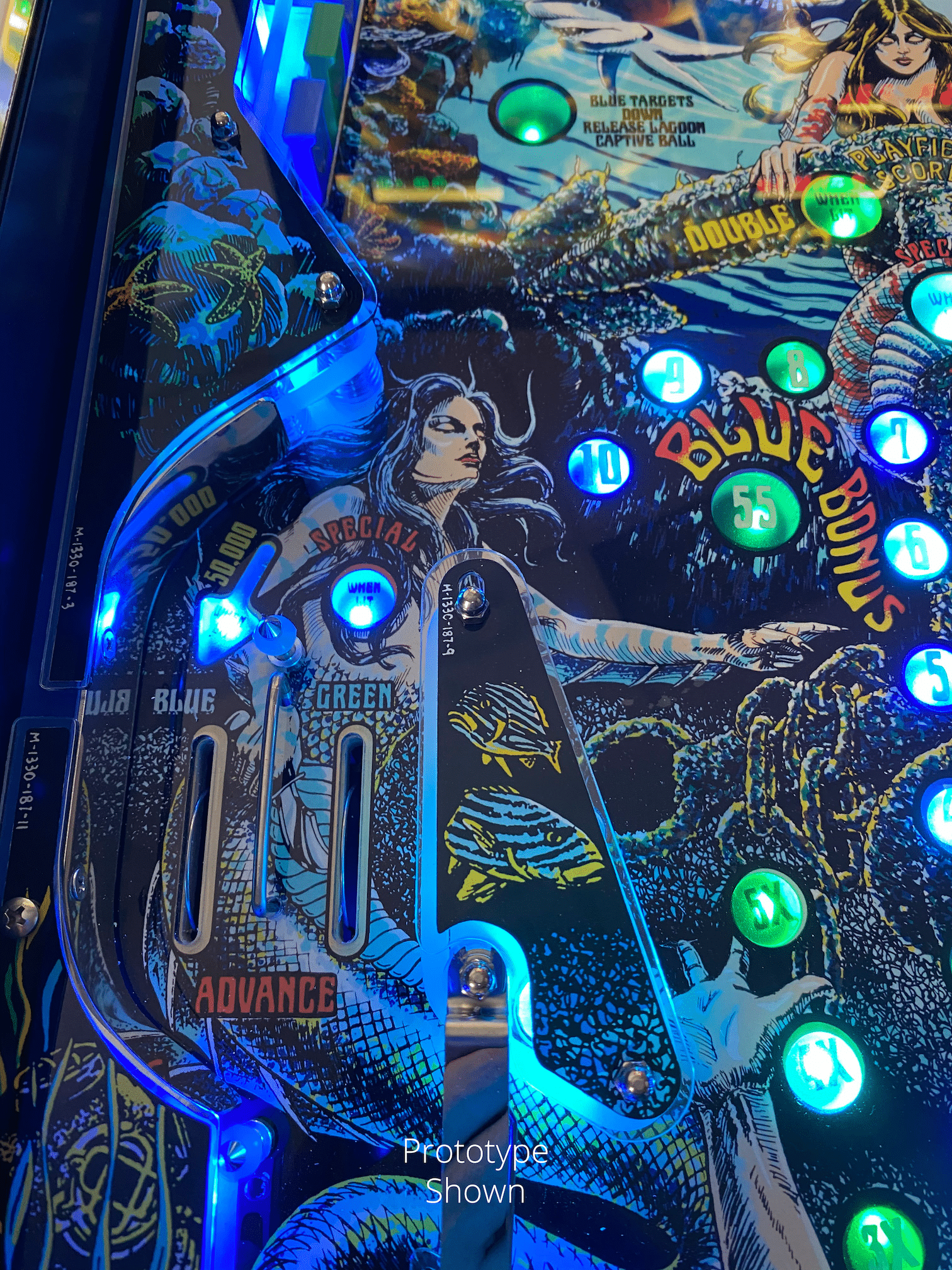 2.0 RULES OVERVIEW
The new ruleset is more story driven with players progressing through mermaid battle modes, lagoon and mermaid multiballs, a battle with the Queen Mermaid and her Mermaidens and a final Mermaid Treasure wizard mode. The adventure continues 40 years after the original story with the daughter of the diver from 1981 returning to the lagoon where her father went missing to find out what happened. We have repurposed many playfield elements with a ruleset that is now mode-based whilst keeping the spirit of the original machine. The new code enables us to create a longer gaming experience than people are used to with the original game while still being a challenge to achieve the final goal.
The main action in the game will be a choice between multiballs and progressive battles with 4 Mermaidens and the Mermaid Queen. Every time a mermaiden is defeated you will have to escape back to the boat via a series of cave Escape Hurry Up modes. Blue targets will qualify modes and multiballs starting at the lagoon scoop at the top right of the playfield and green targets will qualify Mermaid battles at the right cave trap scoop. The 1,2,3 targets in sequence qualify mermaid Multiball both also starting at the right cave scoop. We have new rules for the spinner, playfield multipliers and how the green and blue bonuses are now increased and now instrumental with mermaid battles and multiballs.
To qualify for the Mermaid Treasure wizard mode, you will need to obtain 4 mermaid artifacts achieved by defeating the Mermaid Queen, completing the Lagoon and Mermaid multiballs and by earning the Playfield Super Jackpot. The Mermaid Queen battle is one of the most challenging modes in the game however if you have defeated her Mermaidens before reaching her it will be easier.
There's a lot more to the new rules we are looking forward to showing everyone soon.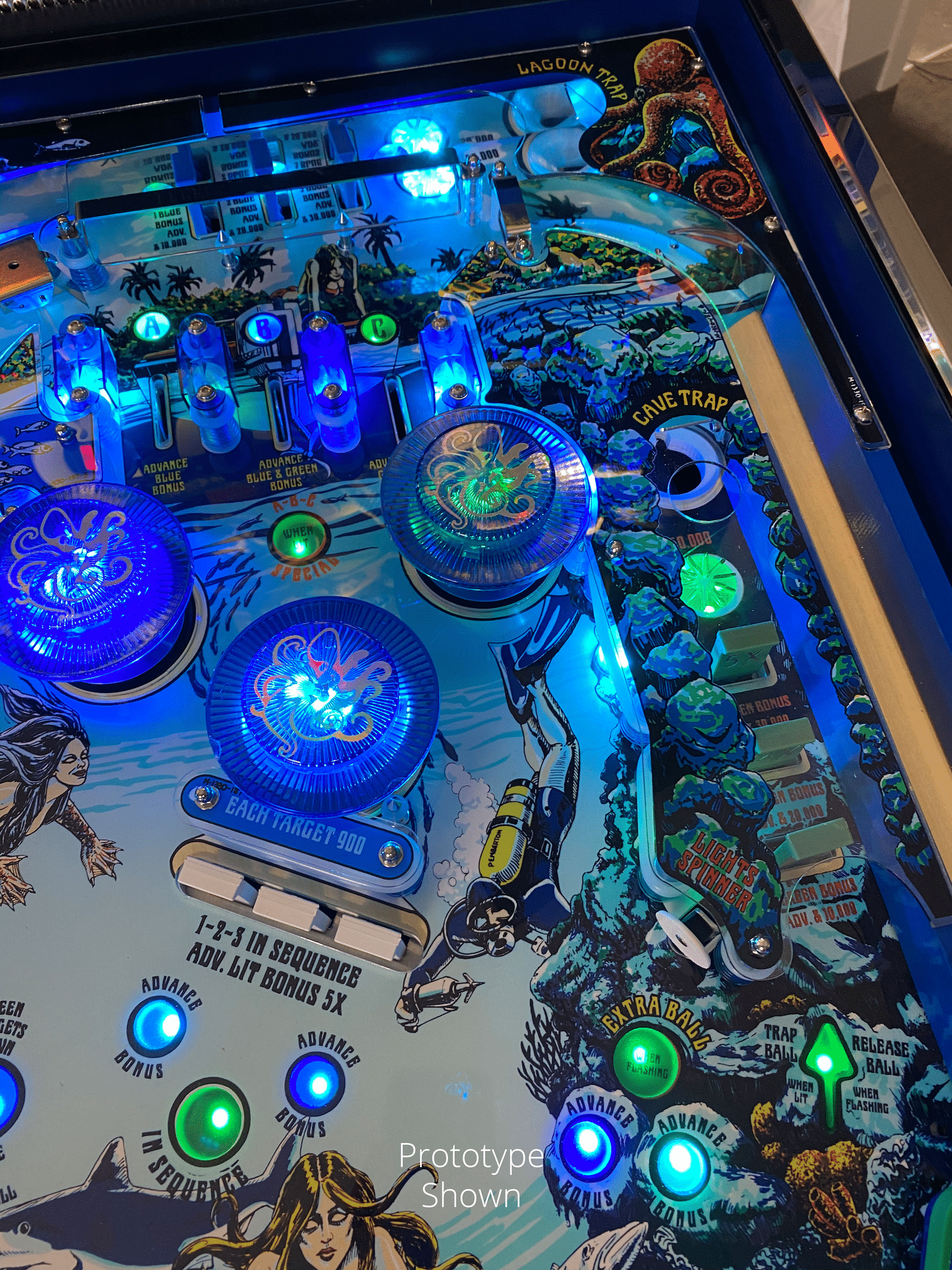 TWIP: How did you first get the idea about possibly doing a remake of an early solid state Bally machine?
Damian: I've always been a huge fan of games from this era, especially the Bally games of 1981 which you could say was partly the inspiration for making Celts in the first place. But it wasn't till last year when I heard a podcaster talk about the remakes that had come out in the past few years and wondered why no-one had gone back further to the solid state era. It was a real light bulb moment for me as I had the means to do it but hadn't thought about it till then. I spoke to my team and everyone was instantly excited about it.
TWIP: What all did you have to do to get the rights to remake Fathom?
Damian: I probably can't go into too much detail about everything that went into it, but I pretty much contacted Rick from Planetary Pinball Supply straight away and he made it all happen. Rick has been amazing to deal with and I actually think he's as excited as we are!
TWIP: What differences are there between the original and the remake regarding the cabinet and playfield mechanisms?
Damian: We have been careful to make sure it looks and plays like the original while utilising modern manufacturing methods to create a reliable machine. Both models will have improved audio, dimple free playfields, LED lighting, RGB score displays (classic will be set to the original colour) and LCD screens (1 near the coin door on the Classic Edition and 2 in the apron on the Mermaid Edition). Underneath the playfield we have designed and manufactured recreations of the original mechs, along with adding in some new components from our existing catalogue. We have once again custom designed the wiring loom to suit and partnered it with our standard power unit, and we have implemented a pinball control system from FAST.
The Mermaid Edition has some noticeable differences all in keeping with the spirit of the original game. The cabinet, which we have called Reflectocab, is incredible to look at in person as it uses a highly reflective paint that stands out even in darker rooms. We've implemented RGB seven segment score displays in the back box, which I believe might be a first for a commercial machine, and they will make a big difference with the Mermaid Edition. It also has a custom 1000-watt 5 speaker system and under cabinet ambient lighting for the full underwater experience. It really looks amazing, and I can't wait for people to see it in person.
TWIP: Will new code be available for the remake? Can you share more about what the new code will include?
Damian: Yes!! For the Mermaid Edition you will be able to select the original game code or a new 2.0 ruleset. Martin and Greg have done an amazing job with the new rules which continues the story 40 years later. It is more story driven with new modes, multiballs and even a wizard mode. Casey has composed new music and we have professional voice actors providing new callouts, but you might just hear some old references too. The new code also utilizes the 2 LCD screens in the apron for scoring and guiding players through the new rules.
TWIP: What was the most difficult challenge in remaking Fathom?
Damian: We have all been so excited about making this game nothing has really seemed too challenging. It certainly hasn't been easy or straight forward at all but having such a great team around me it has meant that any foreseeable problems have been handled before they became major headaches. Due to the age of original game, we didn't have access to any detailed CAD drawings or similar assets, so we effectively needed to build the game from the ground up. Challenging, but rewarding.
TWIP: Do you have plans to remake other early solid state Bally machines?
Damian: Absolutely. At this stage we are looking to revisit 5 Bally machines from this era and we are in the early stages of development for the next game. I'm pretty sure everyone will be as excited as we are with which one we have chosen but we would also love to hear from people what they would like us to make. Clan Haggis members will also have the opportunity to lock in the game number for the series so it's definitely worth becoming a member if not one already.
TWIP: Will Haggis still plan to do their own original games in addition to remakes?
Damian: Yes! The next original game has been in development for some time but we are focussing right now on delivering Celts to our current customers, then delivering Fathom Revisited. We are moving into a much bigger factory next week so we will be able to get machines out a lot faster and work on multiple titles.
TWIP: With this being a significant increase in the number of machines Haggis has produced, are there any concerns regarding manufacturing?
Damian: Not a concern at all. We are about to move into a much larger factory and are in the process of expanding our workforce. We already have an incredibly talented core design, development and manufacturing team working on getting the remainder of our Celts games out to our customers and are in a great position to commence production of Fathom Revisited early July 2021 in much larger quantities. All our machines will be supported directly by us in the first instance, and we will always carry a full range of replacement parts. Also, any of our 3D printed components are available for customers to download if they want to print their own parts. In the US, Planetary Pinball Supply is the official replacement parts supplier and are experienced in the maintenance and repair of these games. Our pinball control system is created by FAST Pinball in the US and they will provide specialised support (via Haggis Pinball) in ensuring the games continue to work as expected.
TWIP: How will people be able to purchase a Fathom Revisited machine?
Damian: They will be able to purchase direct from the Haggispinball.com store. We are asking for a $1,500 AUD non-refundable deposit to lock away their machine. As I am sure people can understand, we are not a large company, and all our games are made to order. This deposit lets us know how many games we will be making in total and therefore how many parts, components and resources will be required.
In Australia, machines will be delivered directly by us and for the North American market we will be shipping the games to Planetary Pinball Supply for local delivery.
You can purchase direct from the Haggispinball.com store on April 28th. To reserve a game, you will need to put down a $1,500 AUD (~ $1,162 USD) non-refundable deposit. Haggis Clan Members can reserve now by emailing sales@haggis.com.

Disclaimer: Any articles, interviews, or mentions of pinball manufacturers or pinball products is NOT an endorsement.