We got a chance to ask some questions of the creators of the Daikaiju Homebrew pinball machine; Rob Anderson and Steven Kowal.
---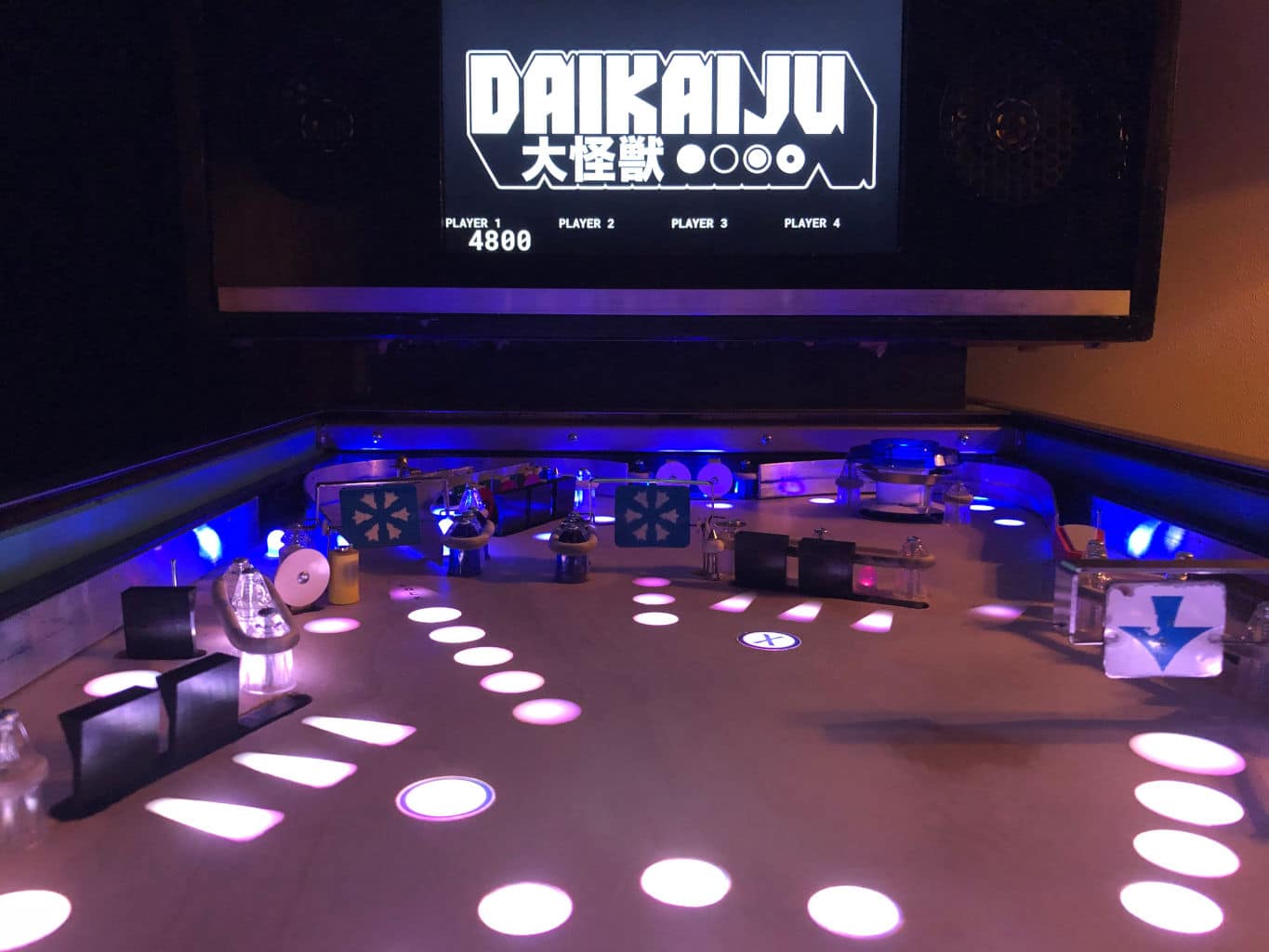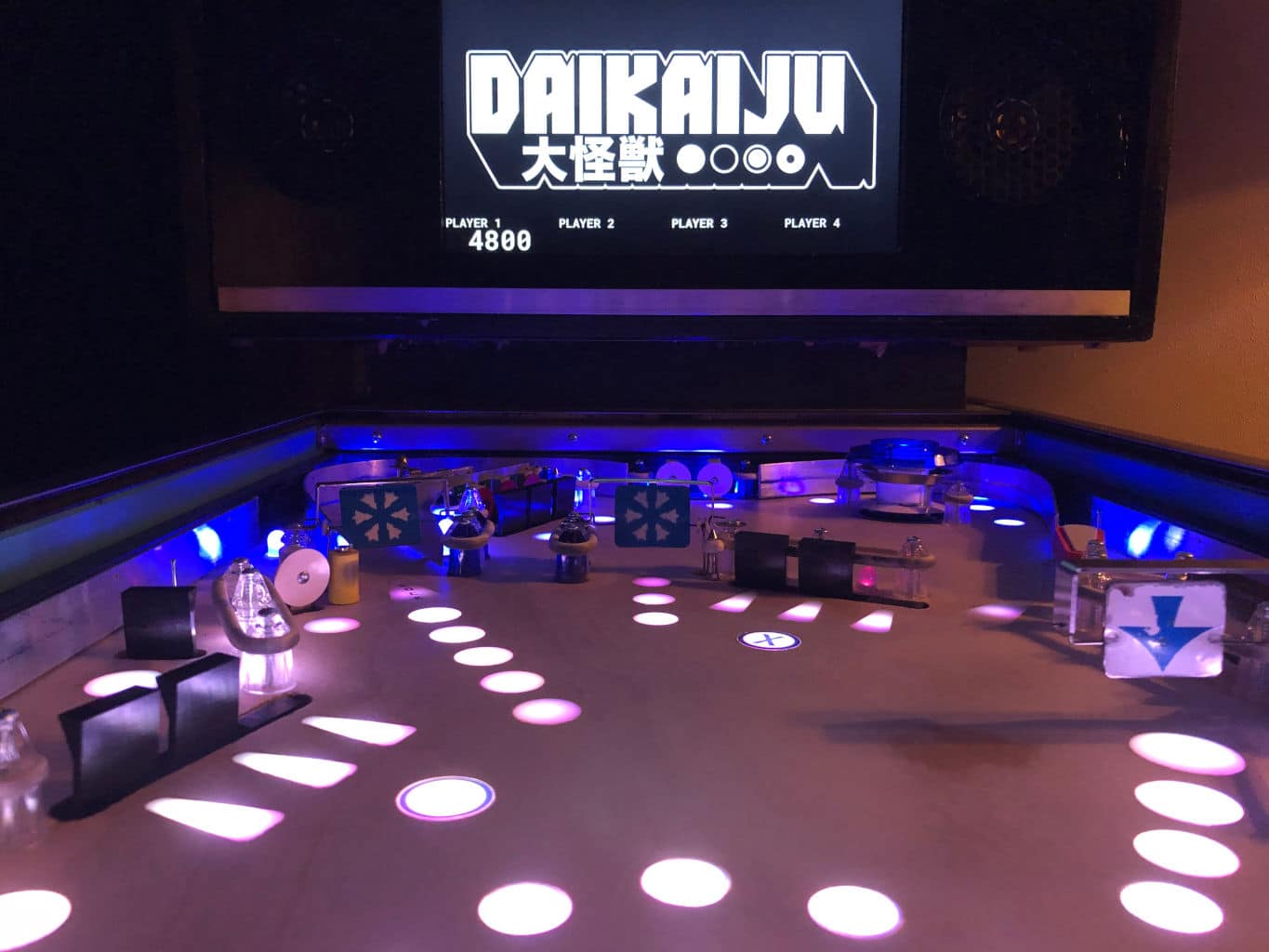 ---
We got a chance to ask some questions of the creators of the Daikaiju Homebrew pinball machine; Rob Anderson and Steven Kowal.
---
TWIP: Rob and Steven, can you give me a short intro of what got you into pinball, how the two of you met, and what made you decide to build a homebrew machine?
[Rob]: My high school friends and I would go to a friend's house to play pool but we would always end up playing his Data East Simpsons instead. Steven has been a friend of my wife since high school. Shortly after my wife and I got married we acquired our first pinball machine, Champion Pub. To a new pinball owner it seemed as though the boxer on Champion Pub would break every other week. At the time Steven had already been in the pinball hobby for awhile so he came over to help. Eventually we started going to local pinball tournaments and started to get drawn deeper into the hobby. I was lucky enough to attend a number of Pinburgh tournaments. Sitting in the car or plane on the ride home I would think about the diverse collection at Pinburgh and what aspects of playfield design and rules made certain games more enjoyable for me than other ones. I filed all that info away for the "one day" I make a pinball machine of my own.
In 2020 I had scheduled a trip to Sequoia National Park but there were large fires nearby and the parks were closed due poor air quality. Covid had severely limited other vacation options so I took the money that I had earmarked for my vacation and made a large order for parts from Pinball Life during their Pinball Expo sale.
[Steven]: Growing up in the 80s and 90s I became a big fan of arcade games but never touched pinball. Then in 2011 I started going to a local bar that had three pinball machines. Around that same time I took trips to Portland, Seattle, and LA where I sought out location pinball at places like Ground Control, Shorties, and Pins & Needles. After that I was hooked. By early 2012 I bought a broken Meteor off Craigslist which I learned how to fix reading posts from RGP and Pinside. Ever since I've been hooked and it's become my primary hobby.
I knew Rob's wife Jess and she introduced us. Rob's interest in pinball was building around the same time I got into it. It was great to meet someone who was new to pinball. I don't even know how many times we've helped each other move or fix games. One of the great things about the hobby is that it's so social. You can share it with anyone which just gives you more opportunities to meet people.
Rob and I had been talking about building a homebrew for some time. At one point I bought a piece of plywood and cut it to the size of a playfield and gave it to Rob to encourage him to start designing a layout. It's intimidating to get started making a game since there are so many things to know and do. I wanted to see what he could come up with and be a part of the project.
TWIP: What is Daikaiju and why did you decide to create a pinball machine around it?
[Rob]: Daikaiju is an amazing modern surf rock band that I discovered through my Pandora station many years ago. I have seen them live a couple times and their live show is fantastic. I knew I wanted to make an early solid state style game and Daikaiju's music matches perfectly to the fast paced and brutal nature of a game with a middle pop bumper. Daikaiju's live shows are very energetic and chaotic and it just seemed like a perfect pairing.
Daikaiju still tours relentlessly and I highly recommend checking out their live show if possible. They can be found online at daikaiju.bandcamp.com.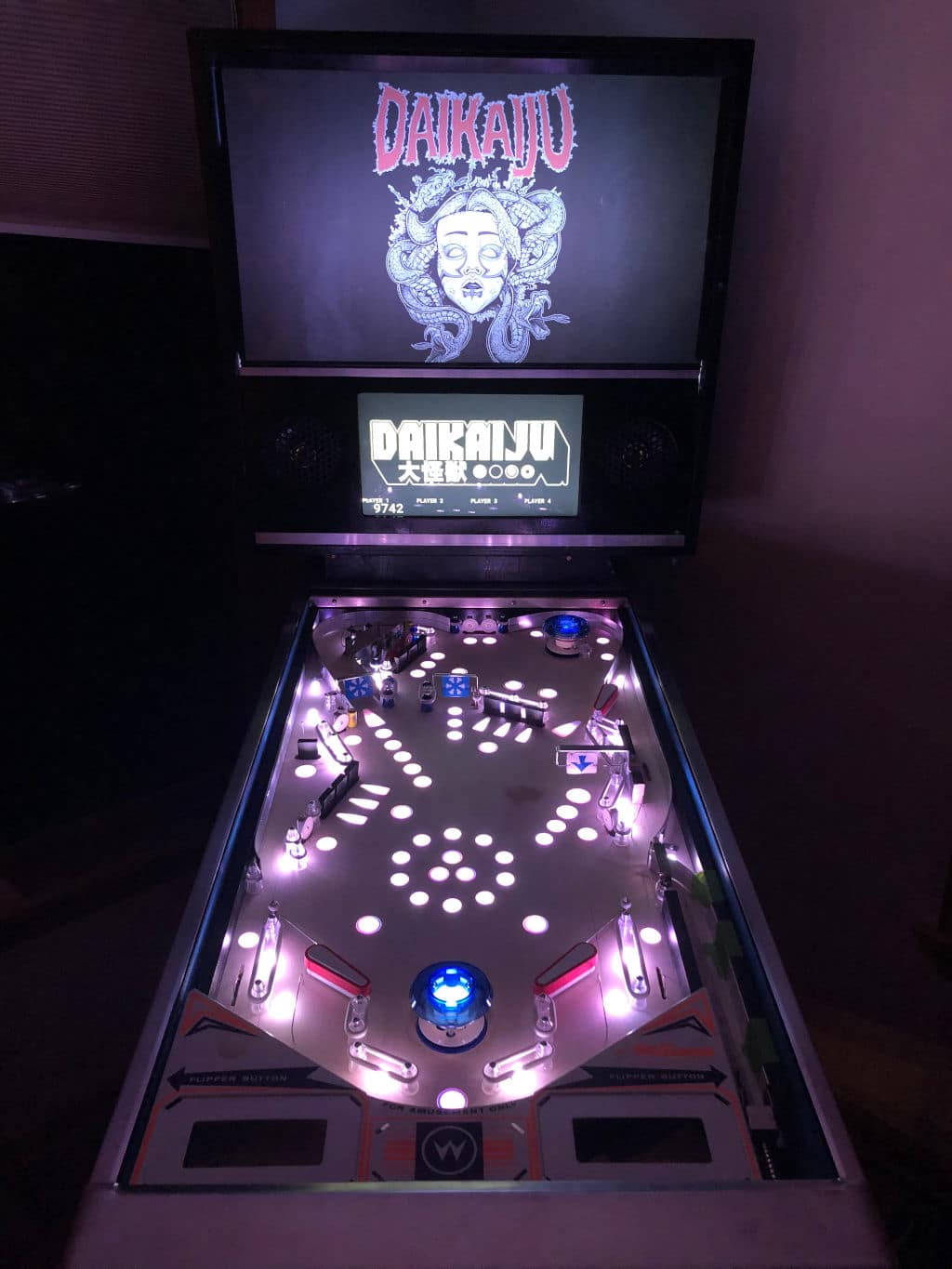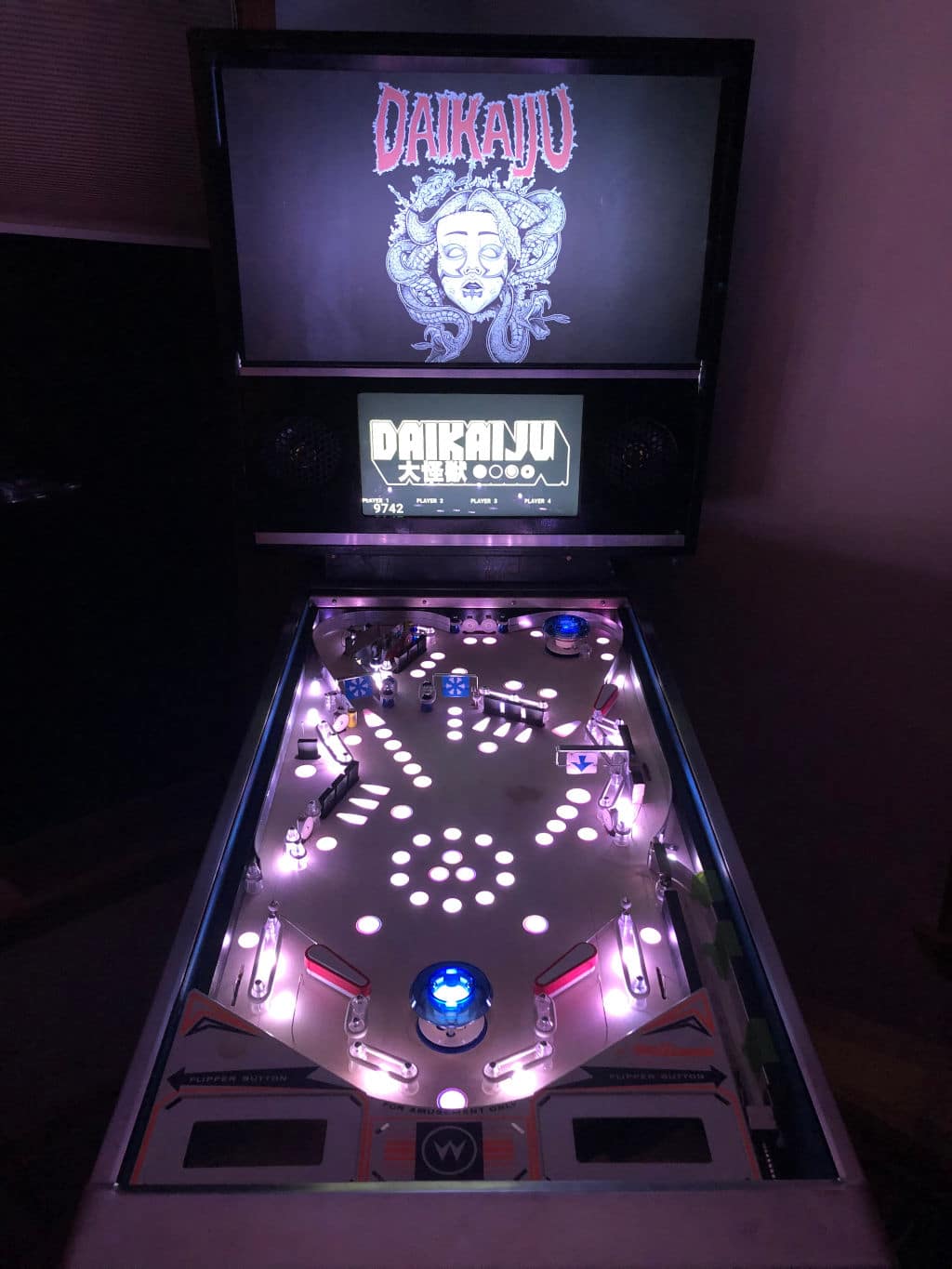 TWIP: It looks like you took inspiration from Spanish Eyes, one of my favorite EMs, for that center pop in the bottom between the flippers. What were your thoughts behind that decision and did you use inspiration from any other games?
[Rob]: Spanish Eyes was definitely an inspiration for the design but even more so was the Freedom prototype with the middle pop that Steven owns. Spanish Eyes is a great game but I think it is hampered by a lack of shots on the playfield and it's only a single player game. Playing Freedom made me realize that a center pop game is even more fun in a multiplayer game and when there are more things to shoot for. With a few exceptions the lower 1/3 of pinball machines have been pretty much the same for the last 40 years. I thought a game with a middle pop could be really fun if there were more available shots, and modern refinements like a ball save and multiball. I also drew inspiration from a number of early solid state games. My goal was to try build a machine that could have been built by Stern Electronics in the early 80's while taking advantage of current technology such as RGB lighting, great audio and an LCD screen.
[Steven]: I've been a fan of the middle pop layout for a while. At some point I became interested in finding an early Freedom since its layout was more open than games like Spanish Eyes and it allowed for four players. It's also the last middle pop game from Norm Clarke. Norm really seemed to perfect this layout. I like how the lower playfield promotes a lot of horizontal movement of the ball. You need to develop new skills to play this layout well.
An Early Freedom with the middle pop isn't easy to locate. I started to think I'd never play one let alone own one. Then a week or two later I saw an ad pop up in my area on Craigslist. It ended up being an engineering sample with damaged wiring. I bought it and brought it back to life. Of course Rob helped me move it and we've played countless games. It's not the kind of game you'd want to play in a tournament but it's great to play a few quick games with friends. I love modern games but sometimes I like games that are brutal yet rewarding. Where you can play an entire game with three other people in a few minutes rather than an hour. I think Rob really captured this in the design of the layout and I hope I enhanced it with the software.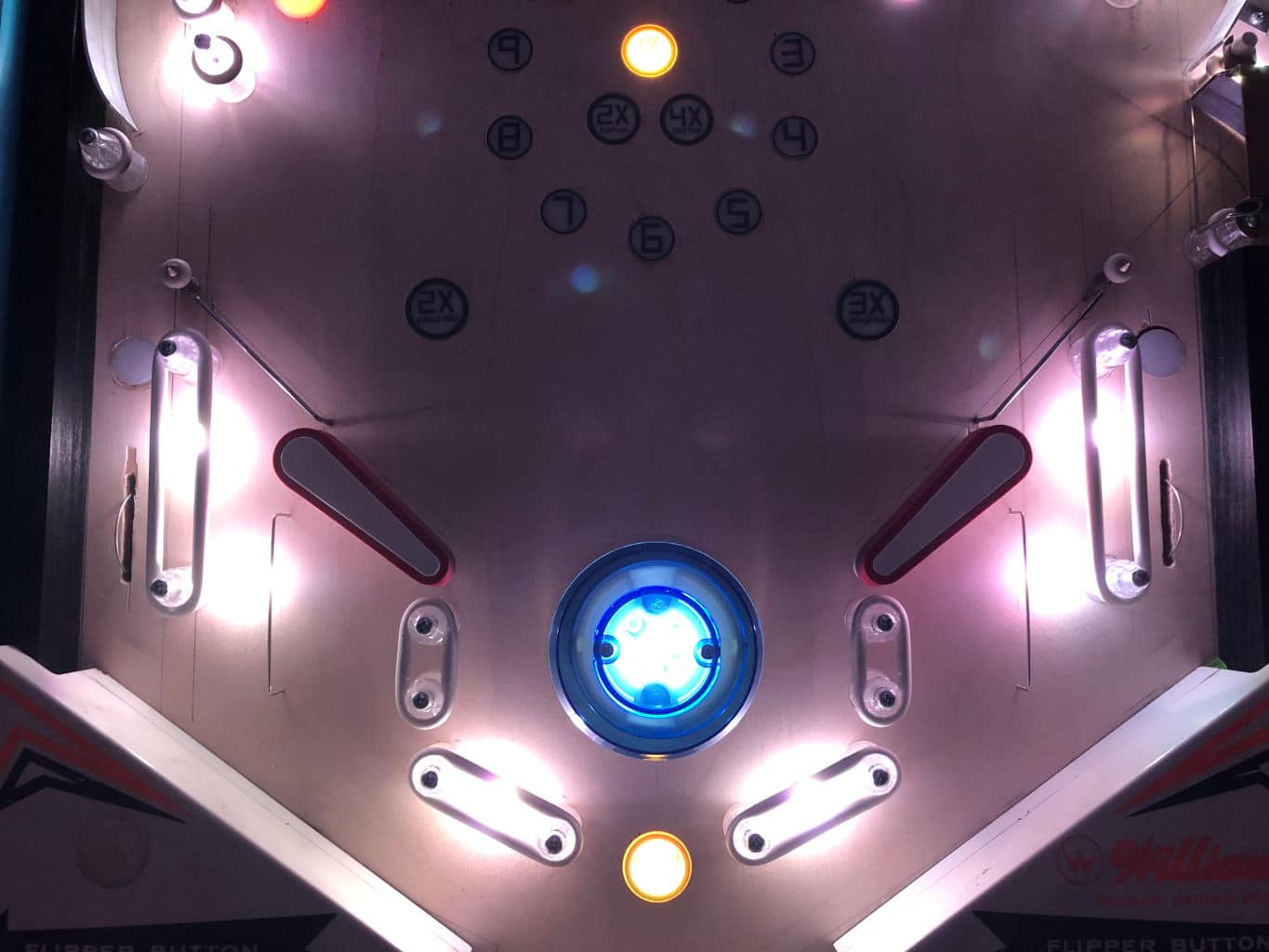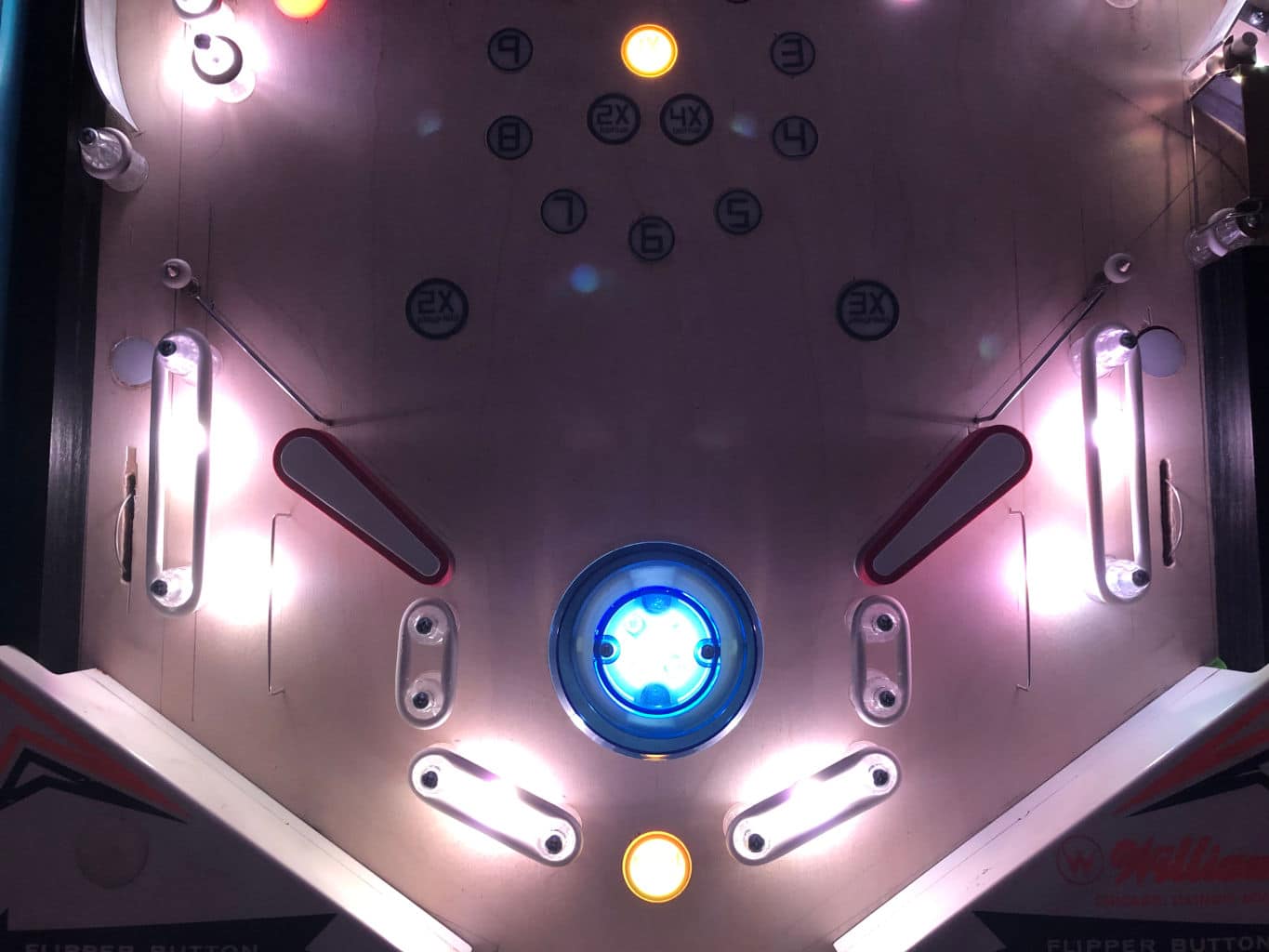 TWIP: Explain what the main objectives are of playing a game of Daikaiju. Is there a multiball? Where are the big points to be had?
Skill shots: hit the lower left standup to qualify the lock or hit a roving drop target for increased ball save

Hit down all the drop targets by the lit "X" to increase your bonus multiplier

Hit the center drop targets to increase the center spinner value. Hit all three roving drop target shots to lock in a spinner value otherwise the spinner value decreases with each rip until it's built up again.

Upper drops and lower left drops increase the right spinner value. Value decreases with each spinner rip until value is built up again

Hit stand-up targets to increase the value of the spinner on the left orbit. If all 5 standups are hit a roving jackpot shot will light at a standup. Pop bumper hits make the shot move around the playfield

Shoot under the upper right flipper to double your spinner values for a limited time

Hit all of the left drop targets in a row and the drop behind it will award an outlane save

If the lock is not qualified on the skill shot, shoot one of the red standups behind the upper drop targets to qualify. Once lock is lit it stays lit and a three ball multiball starts once two balls are locked. Shoot the left orbit to lock the balls. There is a playfield multiplier for every ball in play. There is no lock stealing between players.
TWIP: How do you hit that drop that is all the way to the left up that lane above the left outlane?
[Rob]: The drop target behind the lower left drops can be hit if one or two of the three banks of drops is down. If all three lower drops are hit in a row the bank will stay down for a certain number of seconds to allow a cleaner shot.
TWIP: Was Pinball Expo 2022 your first show? Did watching others play Daikaiju give you ideas for changes and improvements?
[Rob]: Pinball Expo was the first show for Daikaiju, the game was not fully functional until the night before! Steven was updating the code during the show to fine tune coil strength and add additional features to the code that didn't make it before the game was packed up for the show. Watching people play the game identified a few areas where scoring could be more balanced. The code will have many tweaks as more people get a chance to play the game. I also plan to make some adjustments to the playfield to narrow the outlanes a bit and work on the sensitivity of the pop bumper to really get that dialed in.
[Steven]: I had a great time at Pinball Expo 2022. It was inspiring to be part of the homebrew group and everyone there was supportive and encouraging. There's such a stark contrast between production and homebrew games. It's hard for me to compare them. There's so much invention going into the homebrews. They have drawn me deeper into this hobby. I remember the first time I saw Ben Heck's Bill Paxton, Scott Gullic's Wrath of Olympus, and Scott Danesi's earliest iteration of TNA. Granted all of them have now made a production machine but the heart of what they were doing was to build something that came from their desire to create a single game rather than something that's mass produced. That idea can free you to do whatever crazy theme, layout or mech that comes to mind.
It's hard to describe what it's like watching people enjoy a game you helped create. At one point I started taking notes so that I could make a few software tweaks before the show was over. It's great to see how other people connected with the game and appreciated it for what it was. Seeing that just gives me energy to make the game even better.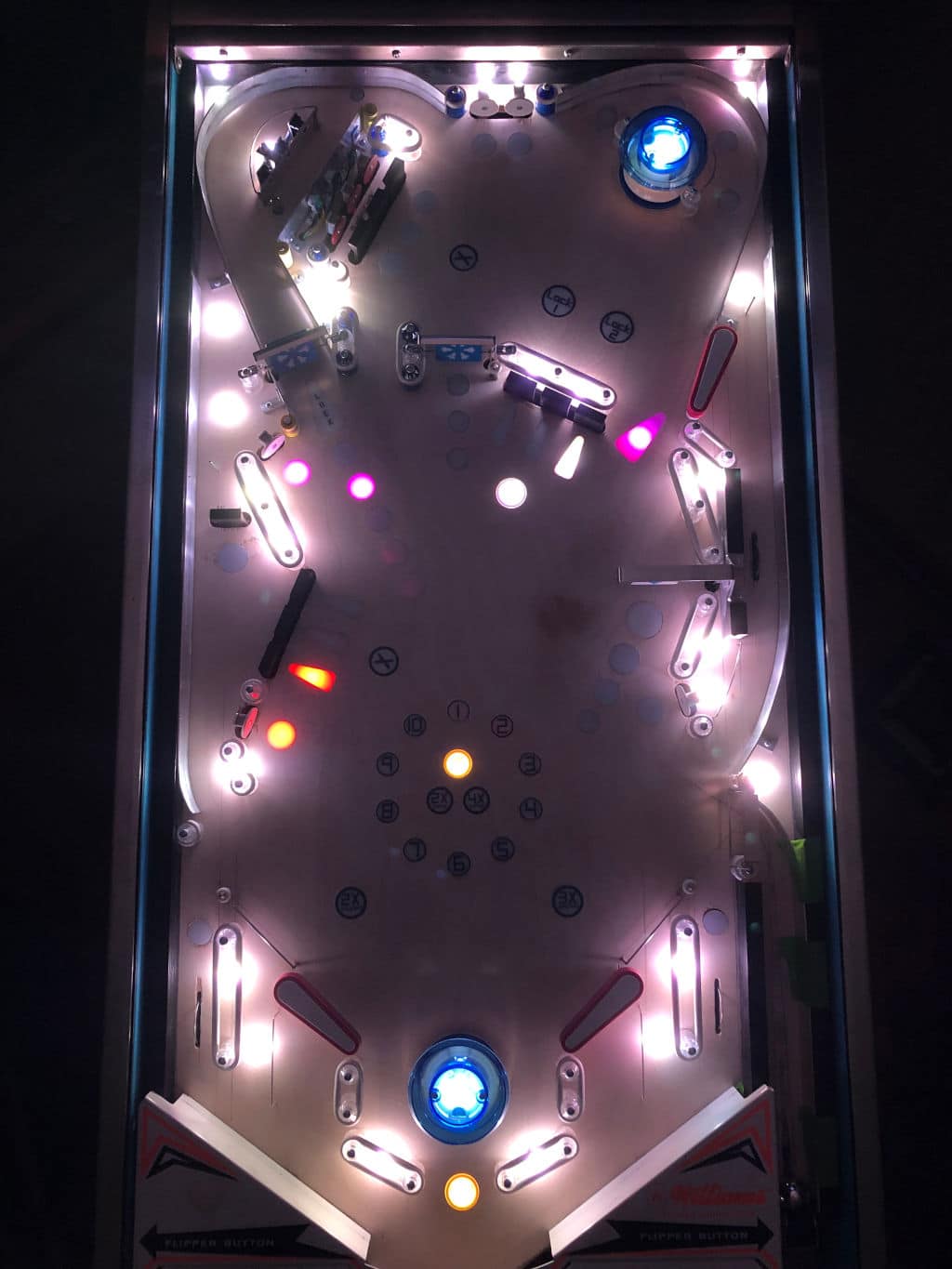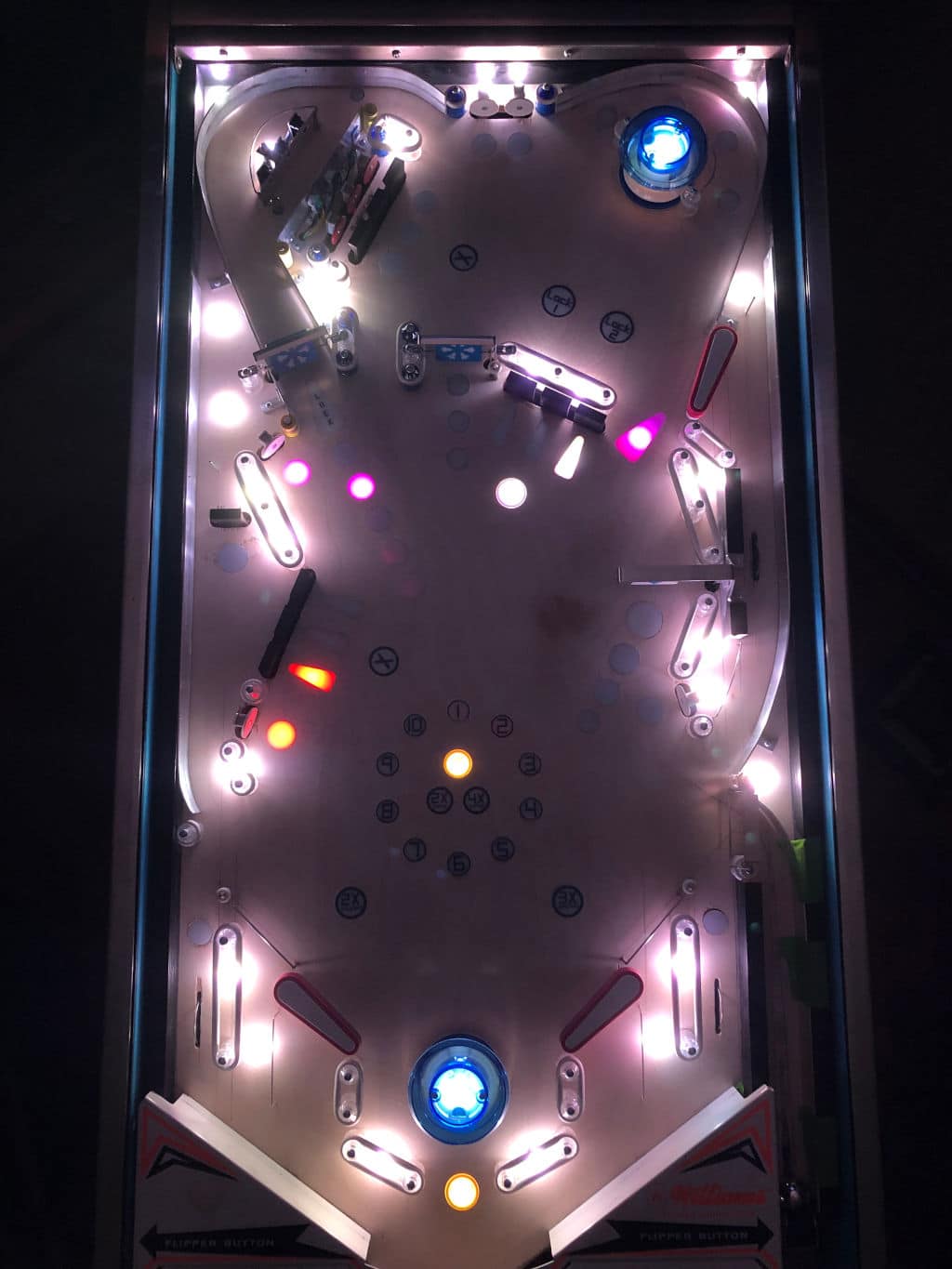 TWIP: What is next for you guys on Daikaiju? Are you looking at adding artwork, display animations, or further game rules?
[Rob]: There is a lot of work yet to do to get the game to where it could be called complete. The game needs cabinet and playfield art as well as plastics. I am not sure how in-depth we will get with animations but there are plans to track and record additional stats like spinner and drop target champs. We would like to add additional songs and allow the player to choose their song of choice at the start of the game We would also like to add in a two ball multiball and additional light shows.
[Steven]: Part of the fun of doing the software was to try and develop the sound effects. I appreciate the sound effects from the early Stern Electronics games. I tried to use those as inspiration for this game. Since we have more storage than early solid state games I'd like to layer in more sound effects as you build more scoring during gameplay. I'd also like to add more information to the display to give players and spectators a better idea of where the points are coming from and how quickly they're increasing their score. Since three spinners are a focal point to the layout we've thought of tracking the spinner count to the game.
---