Interview with Jon Weaver of SunCoast Pinball
Jon Weaver is the owner of SunCoast Pinball, the company that is currently developing the upcoming Cosmic Carnival pinball machine.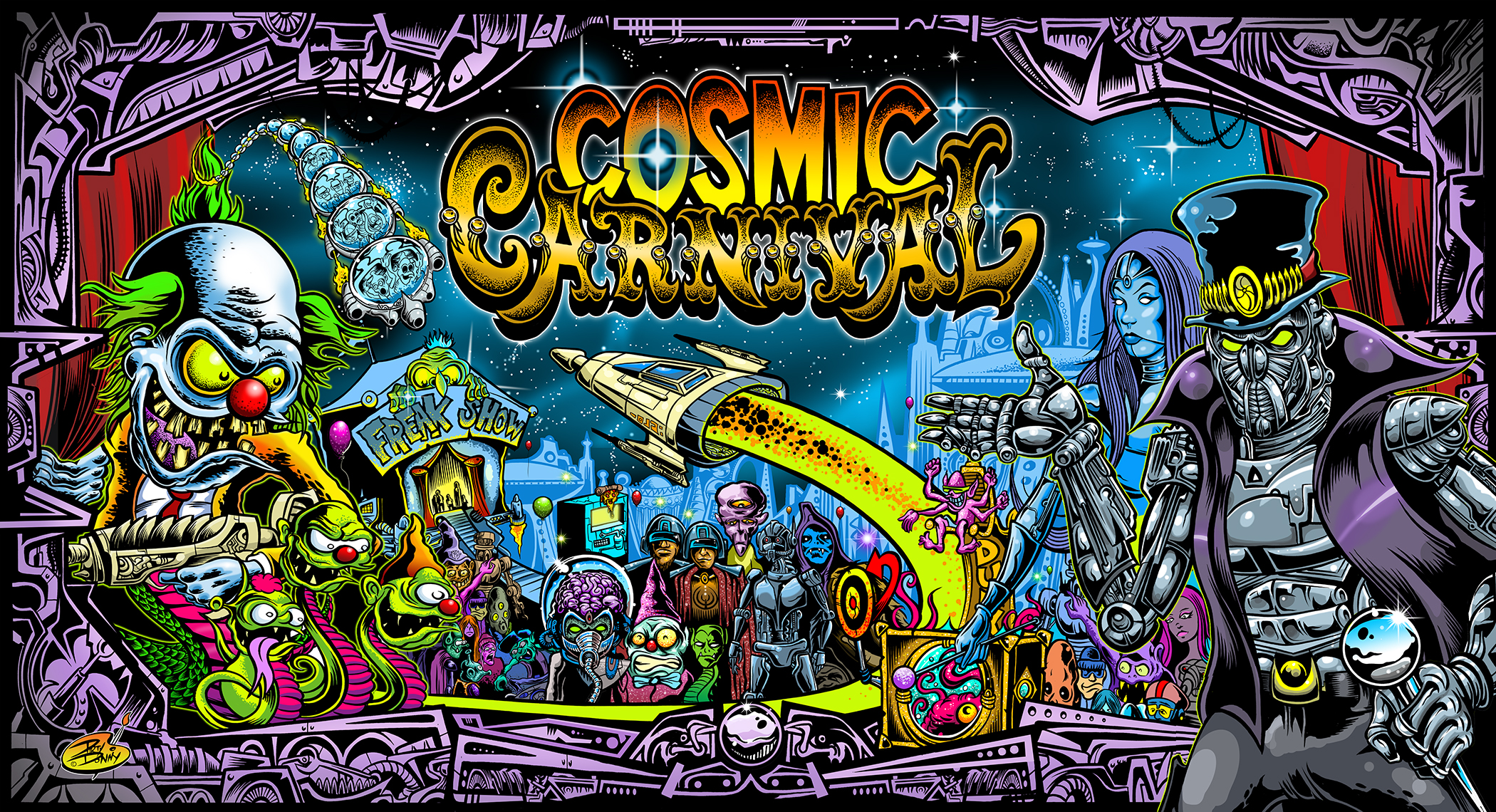 This Week in Pinball: How is the Cosmic Carnival pinball machine progressing?
Jon Weaver: We have been working on Cosmic Carnival for some time now. Everything is falling into place and the final product should be just a few weeks out.
TWIP: What changes to the hardware and software have taken place since the Texas Pinball Festival?
Jon: Texas was a great show for us! We were able to bring Cosmic Carnival out and really show it off with its current art package for the first time. It got a lot of play with lines on both prototypes almost the entire time. We also were able to talk to a lot of people and there were two points that continued to come up. First there were some questions about our completely proprietary hardware and software system. Building a pinball system from scratch is NOT an easy thing to accomplish. While we are continuing to work on and develop a completely proprietary system, we did make the move to the P3 and SkeletonGame system. Making this move did two things. First it is allowing us to stay on track for our original deadline of shipping Cosmic Carnival by the beginning of June and second it allows for buyer confidence. This system has been used in the marketplace on multiple pinball machines and companies and has a proven track record.
TWIP: Have any designs of the playfield or cabinet been tweaked or changed since the Texas Pinball Festival?
Jon: This brings us to second point we heard repeatedly, people were not in love with our ramps. While most people thought the ramps themselves were fun, they obstructed the view of a lot of the playfield hiding the awesome Dirty Donny artwork. We agreed and made a change. The left ramp starts as PETG, goes behind the playfield and back in through the Freakshow tent. There is transition to a wireform ramp. Both the right and the left ramps were also redirected more to the outside of the playfield opening up the field of view. We also went to powder coated legs, side rails, hinges, lockdown bar and apron.
TWIP: Will you be manufacturing these in-house?
Jon: We are, in fact we have already started. We are building cabinets daily and have started production on our playfield. We have also ordered and paid for almost everything we need for the first 5 production Cosmic Carnival Machines.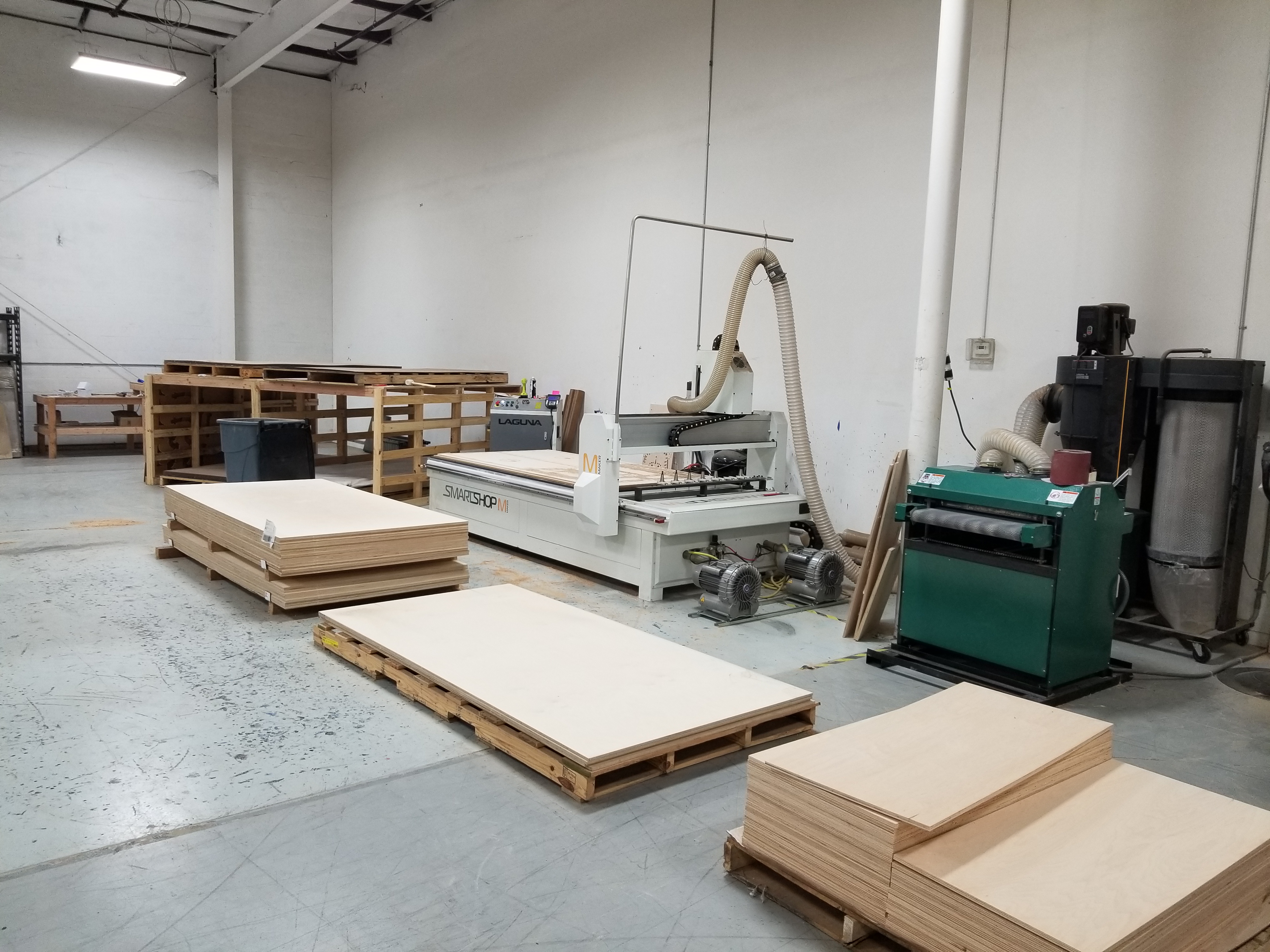 TWIP: Do you have a time frame as far as when we can expect to see full manufacturing begin?
Jon: While production on a small scale has already started we anticipate full production to begin within the next 2-3 weeks.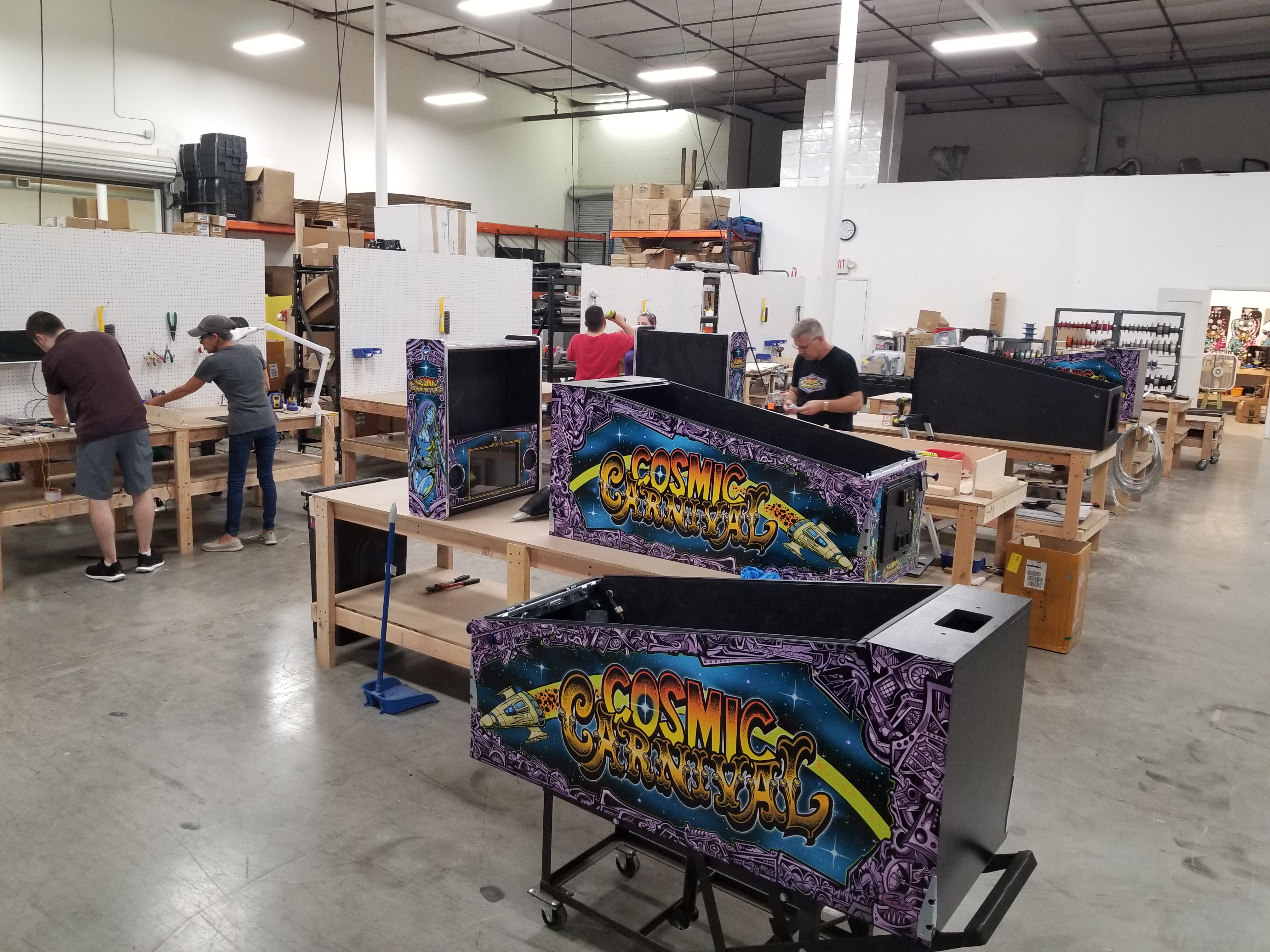 TWIP: How do you plan to avoid some of the pitfalls and delays that other first time manufacturers have dealt with in the past?
Jon: We have been quietly working on Cosmic Carnival for some time now. We wanted to make sure we were able to manufacture pinball machines before we went public with the fact that we were going to. On top of that we have a manufacturing facility in place already. We already have most of the machinery, infrastructure and relationships with companies necessary to manufacture something as complex as a pinball machine. I think this gives us a huge leg up from the majority of companies who either have or are trying to come to market.
TWIP: Will you be taking pre-order money to help fund the manufacturing?
Jon: The best answer for this is, kind of. While we just started to accept deposits quietly, we have already funded the first 5 production line machines. At the end of the day we are a business, we need orders to stay in business, however we do have the ability to fund production without preorders.
TWIP: As you know, many people in the past have been burned by the pre-order model from multiple different companies in this hobby. Why are you choosing to accept pre-orders and how to you expect the pinball community to react?
Jon: Since we are at the end of the development phase for Cosmic Carnival and heading into the production phase we feel we have been very responsible by not asking for orders too soon. We knew the history and decided early on to keep relatively quiet and figure out what we are doing first. We have not been pushing for orders too soon because we wanted people to be able to order with confidence. We believe we are at that point now. We will take the next few weeks to continue to test and fine tune the code on Cosmic Carnival, but the physical pinball machine is done. Every time we have needed to make a change to the playfield or cabinet, we would build an entire machine from the ground up and take apart and scrap the old one. We did this so we could gain experience and could better hone our manufacturing process. To date we have built over a dozen pinball machines. Right now, there are only 3 prototypes that still exist.
TWIP: Will there be a warranty on Cosmic Carnival?
Jon: There is a 30 day bumper to bumper warranty, a 6 month mechanical warranty and a 1 year electronics warranty.
TWIP: How far along is the code in Cosmic Carnival?
Jon: The code is very far along. Right now we have a full 3 ball game with LED lights and light shows, sounds, music, animations, bonuses and 4 of the 10 modes completely coded. On top of that the settings menu and code allowing for easy updates is also done. We should have all of the modes coded and complete in the next couple weeks. We will be working on testing and debugging the entire completed system for a few weeks before we start shipping.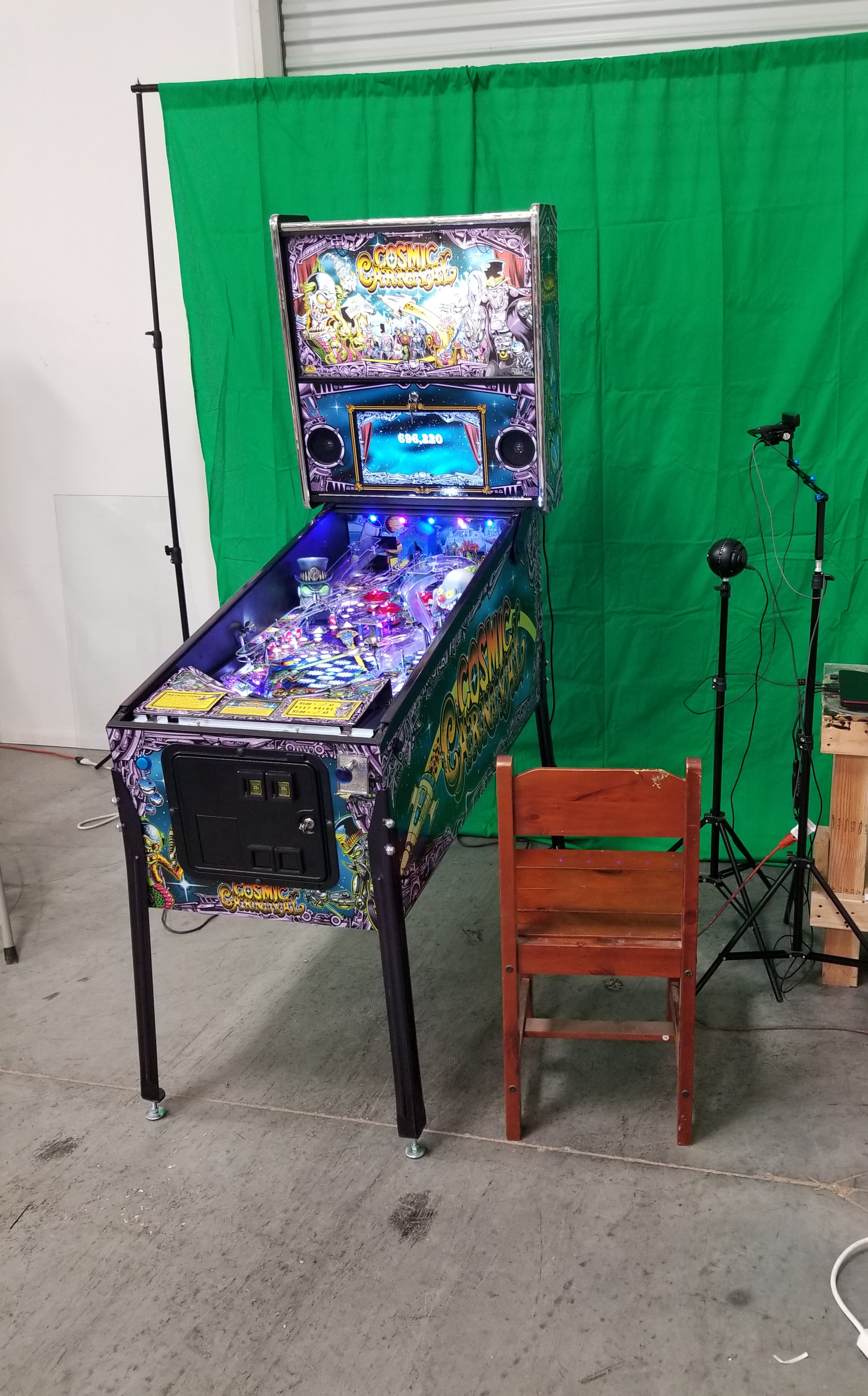 TWIP: Do you plan to create more pinball machines in the future?
Jon: We do! We are already working on the concept for the next 1-2 machines.
TWIP: You have several well known and talented creators working for your company. Do you expect the same people to work on your next project?
Jon: We have been very lucky to work with some of the top people in their respective fields to collaborate on Cosmic Carnival. We have great relationships will all of them and hope to continue to work with them for years to come. I learned years ago, by working for my father in the restaurant business, that you need to treat people well, so they want to be a part of your company. We are always honest and upfront with everyone and we try to create an environment where people want to come to work and be a part of something fun and cool.
TWIP: Do you plan to stick with unlicensed themes?
Jon: I really like original themed pinball machines. That is what pinball used to be. I like to build something completely new and unique. That being said, we will start to look at licensed themes, but we hope to be able to make as many original themes as the market will allow us to make. As long as we are able to come up with something great and new that people want to buy, we will continue to dream them up!
---

Disclaimer: Any articles, interviews, or mentions of pinball manufacturers or pinball products is NOT an endorsement.