Overview | Price and Availability | Who's Who | Features | Rules and Code
Alice Cooper's Nightmare Castle is the newest creation from Spooky Pinball! Below is an in-depth overview of the machine, and a dive into the features and rules – check it out!
---
Alice Cooper's Nightmare Castle Overview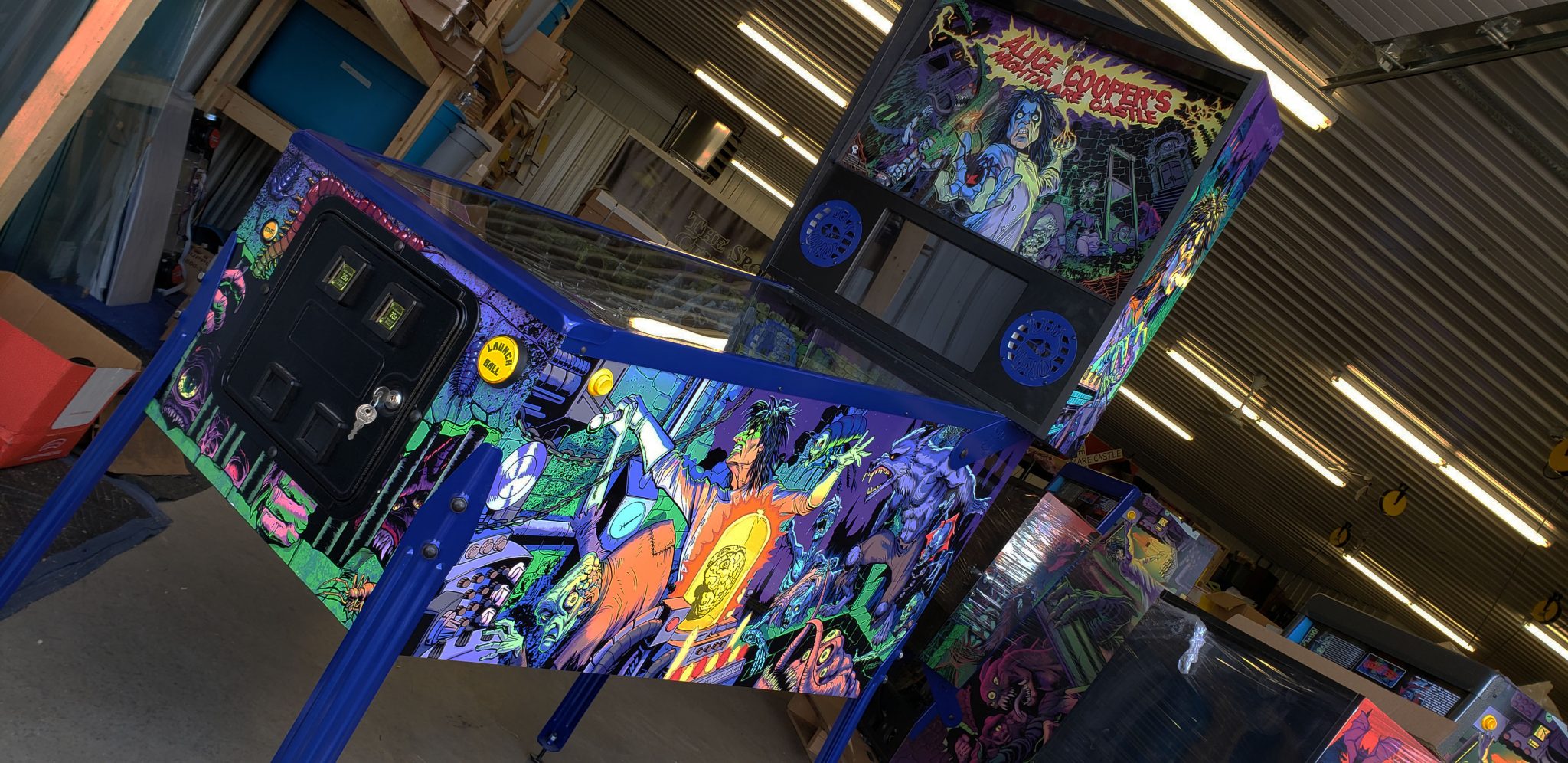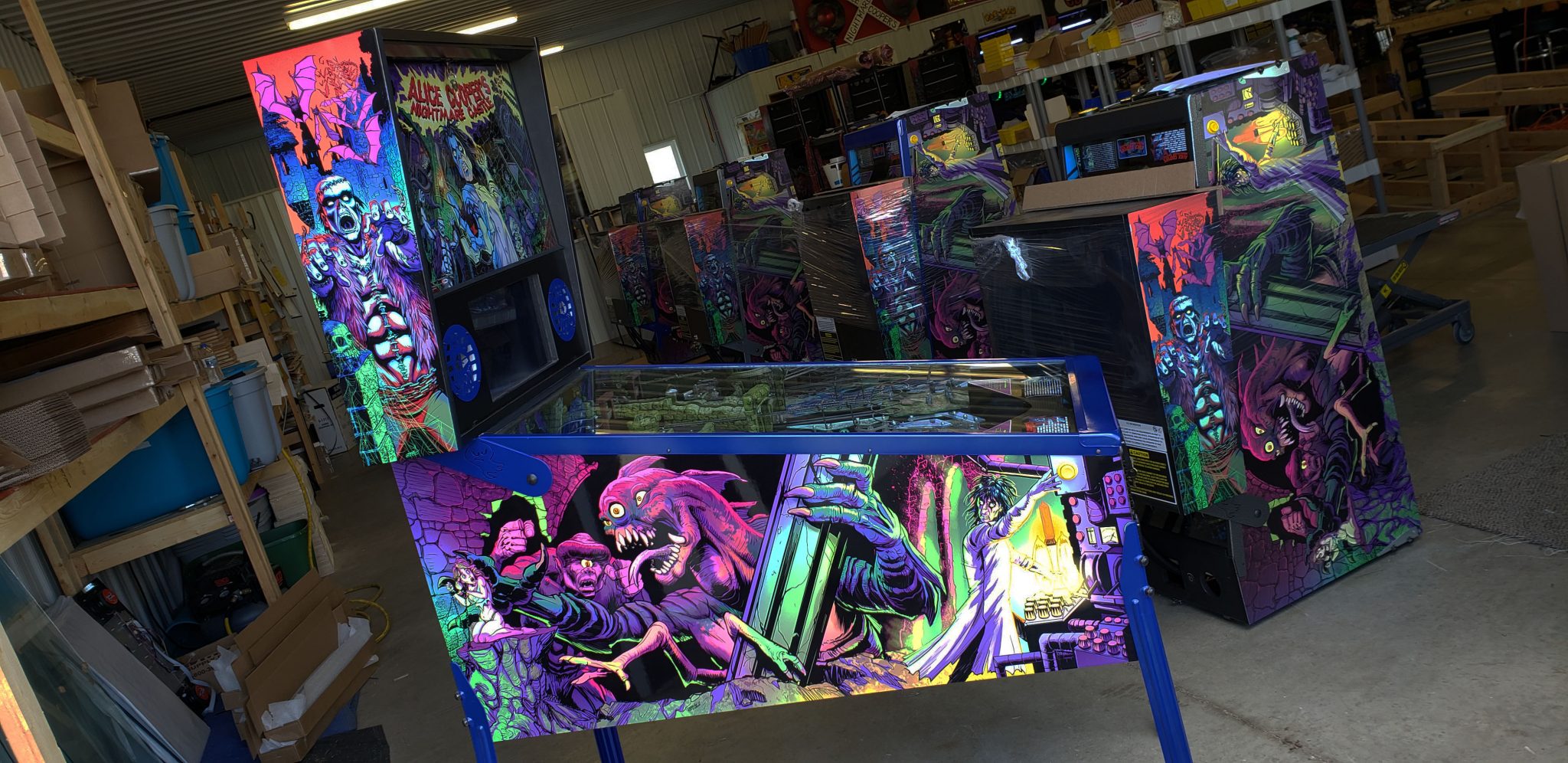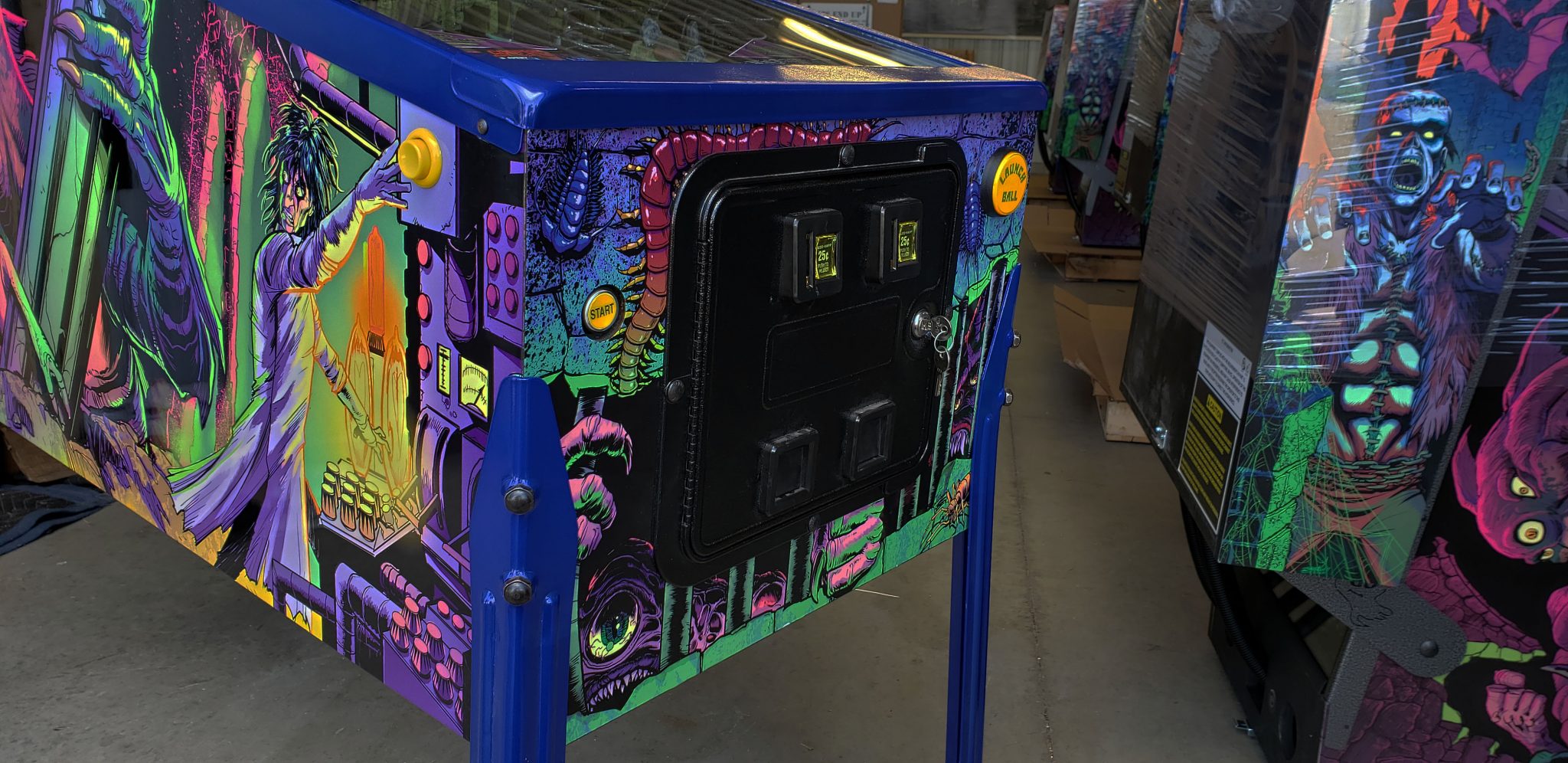 ---
Price and Production
ACNC is $6450 and is limited to 500 units. Game is in full production and all games are expected to ship by years end of 2019. All games are identical in play. Optional items include interior graphics or mirrors, lighted speaker kits with powdercoated grills, "scary blue" powdercoat, knocker, shaker, plastic protectors, target decals, and the "butter cabinet" which is a direct print cabinet with automotive clear coat.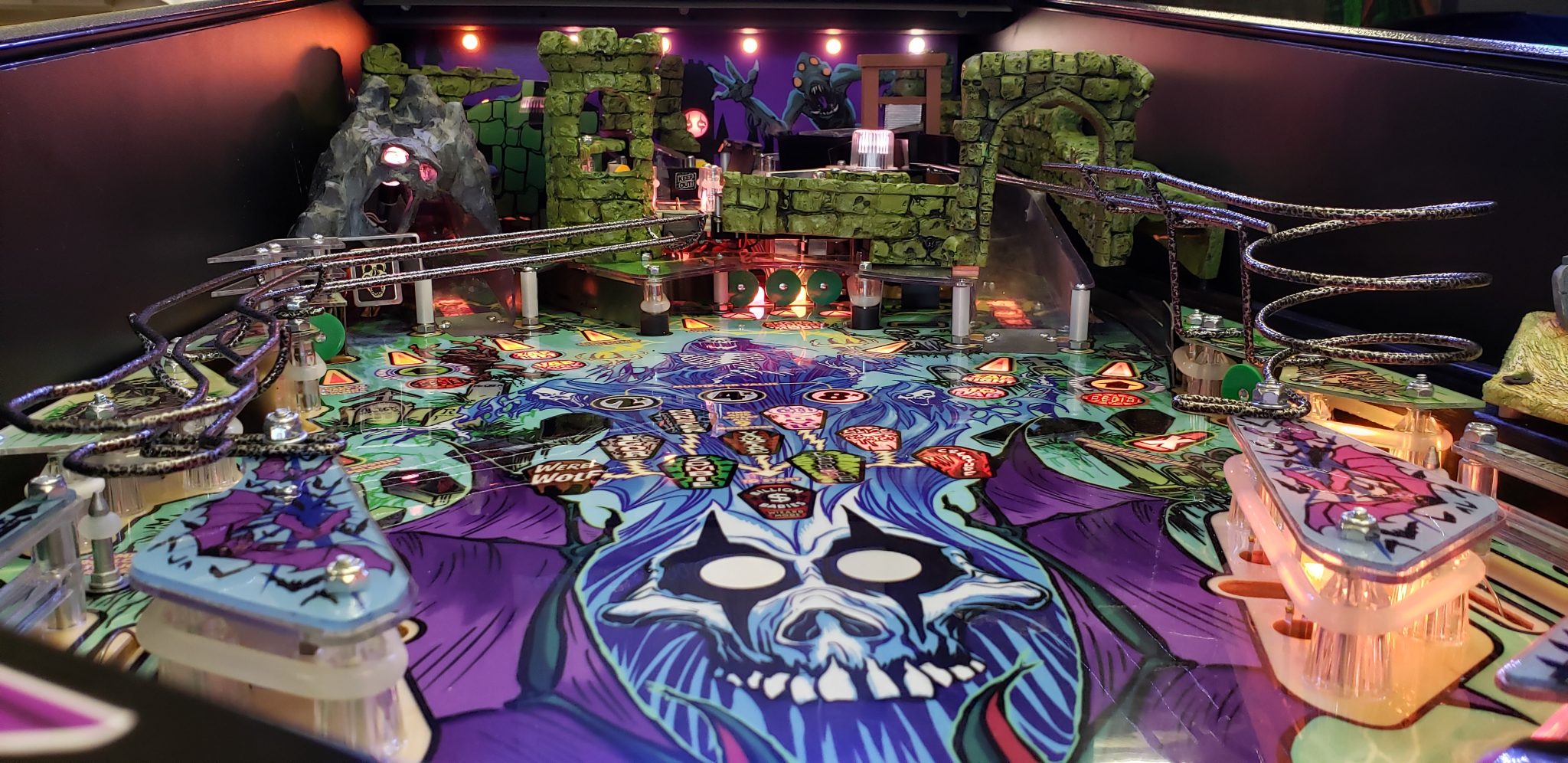 ---
Who's Who

Game Design: Charlie Emery
Programmer: Fawzma
Rules Direction: Bowen Kerins
Animations: David "Bunyip" van Es
Music: Matt "Piggy D" Montgomery
Soundtrack: Alice Cooper
Sounds: Scott Danesi
Artwork: Jeff Zornow
Toy Sculpts: Matt / Back Alley Creations
---
Features
2 ball locking Frankenstein castle mech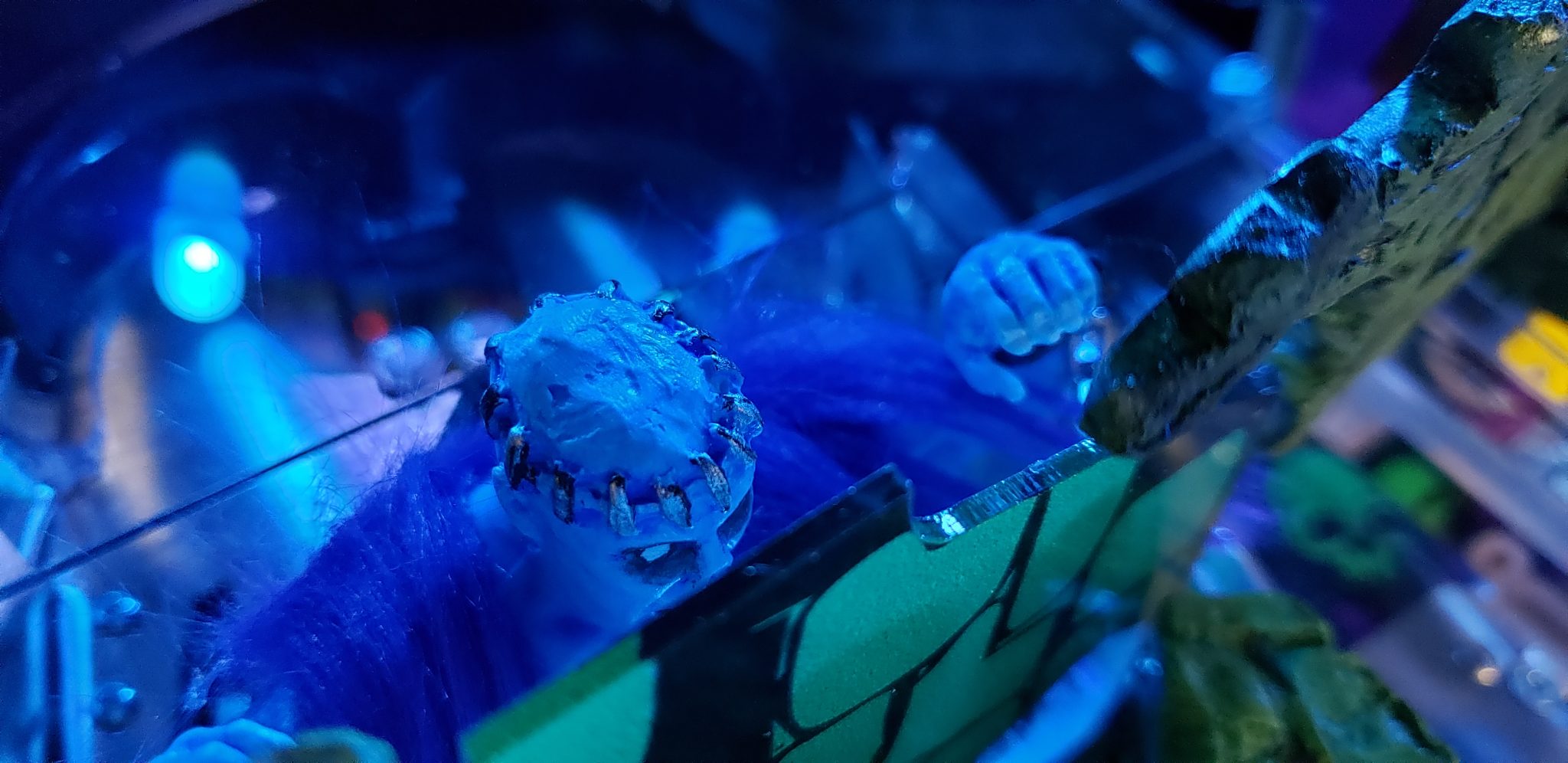 Left ramp accessible from two directions with a lock diverter
Working "ball chopping" guillotine ramp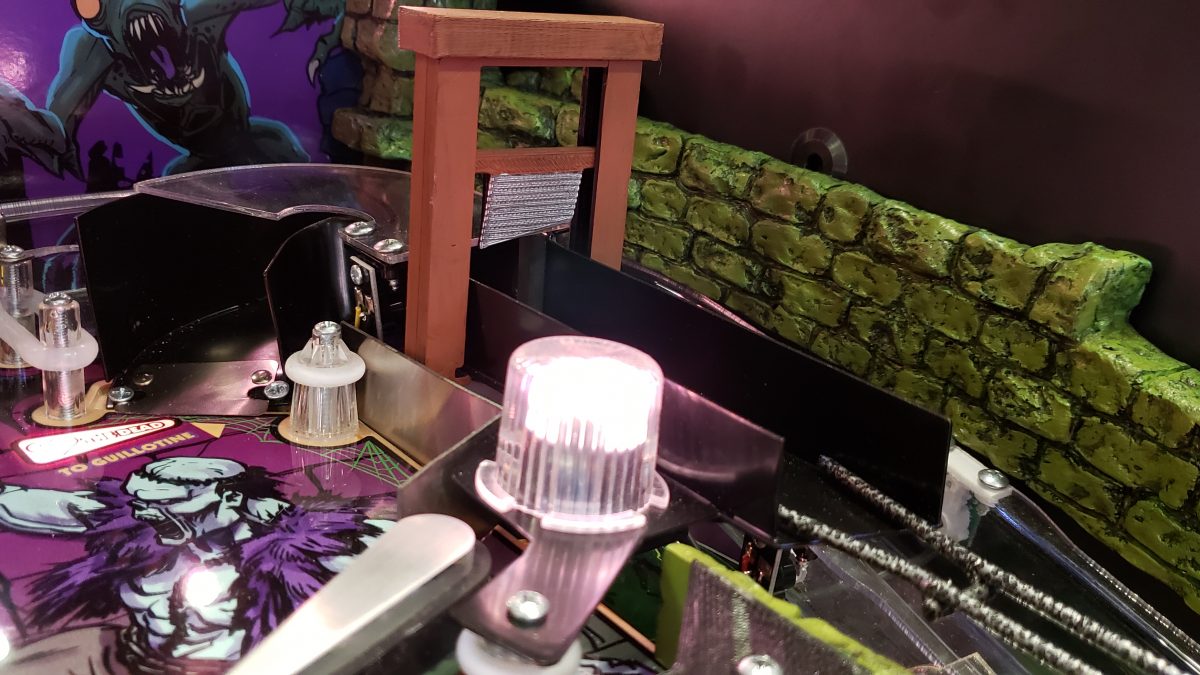 Danesi style "Cold Ethyl" drop target lock system, in line style with subway access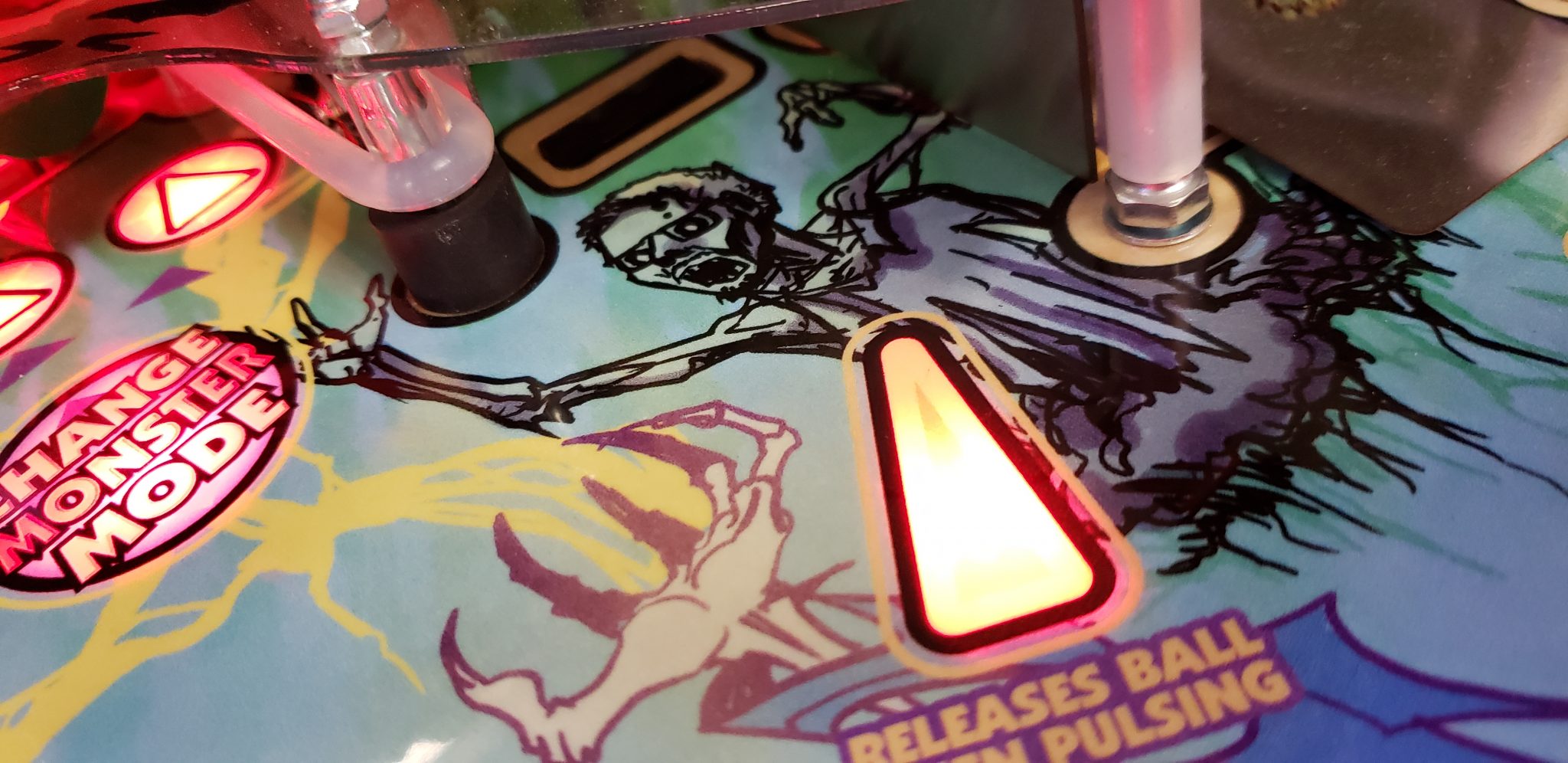 Four subway access points, including a castle turret from the upper playfield to the subway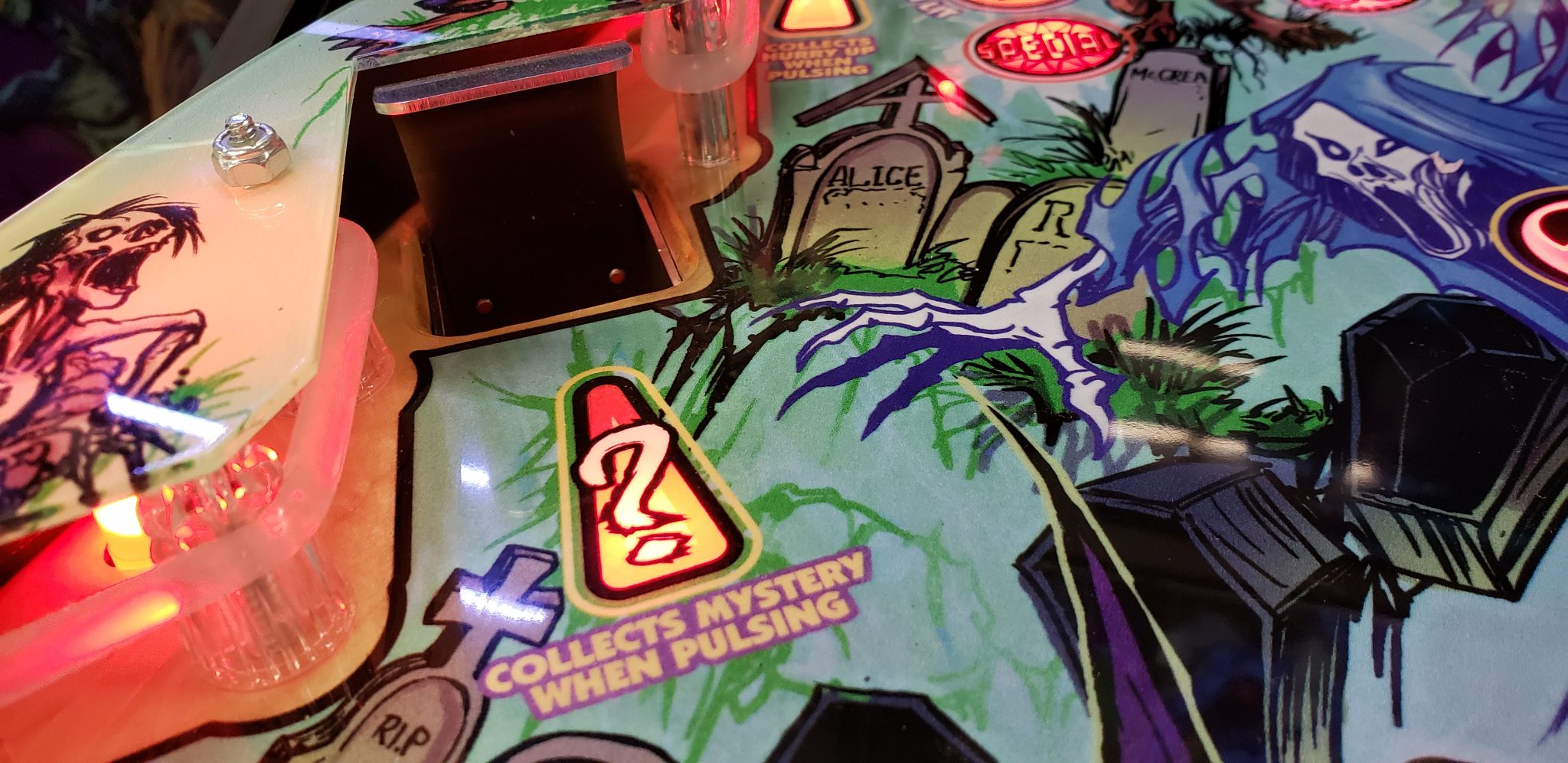 Three drop targets
4 ball multiball
Three flippers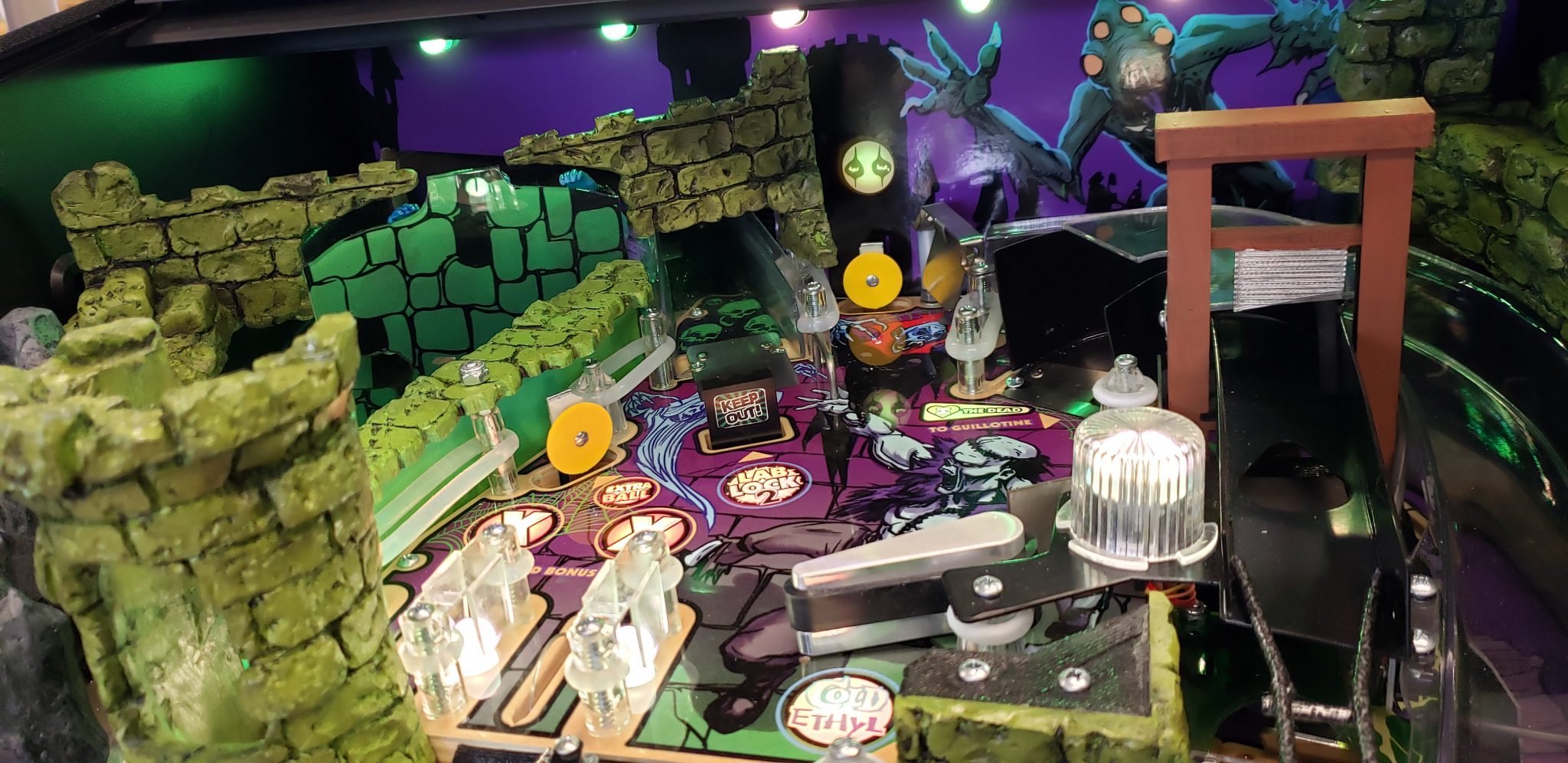 Balcony drop lock
Magneat-O Save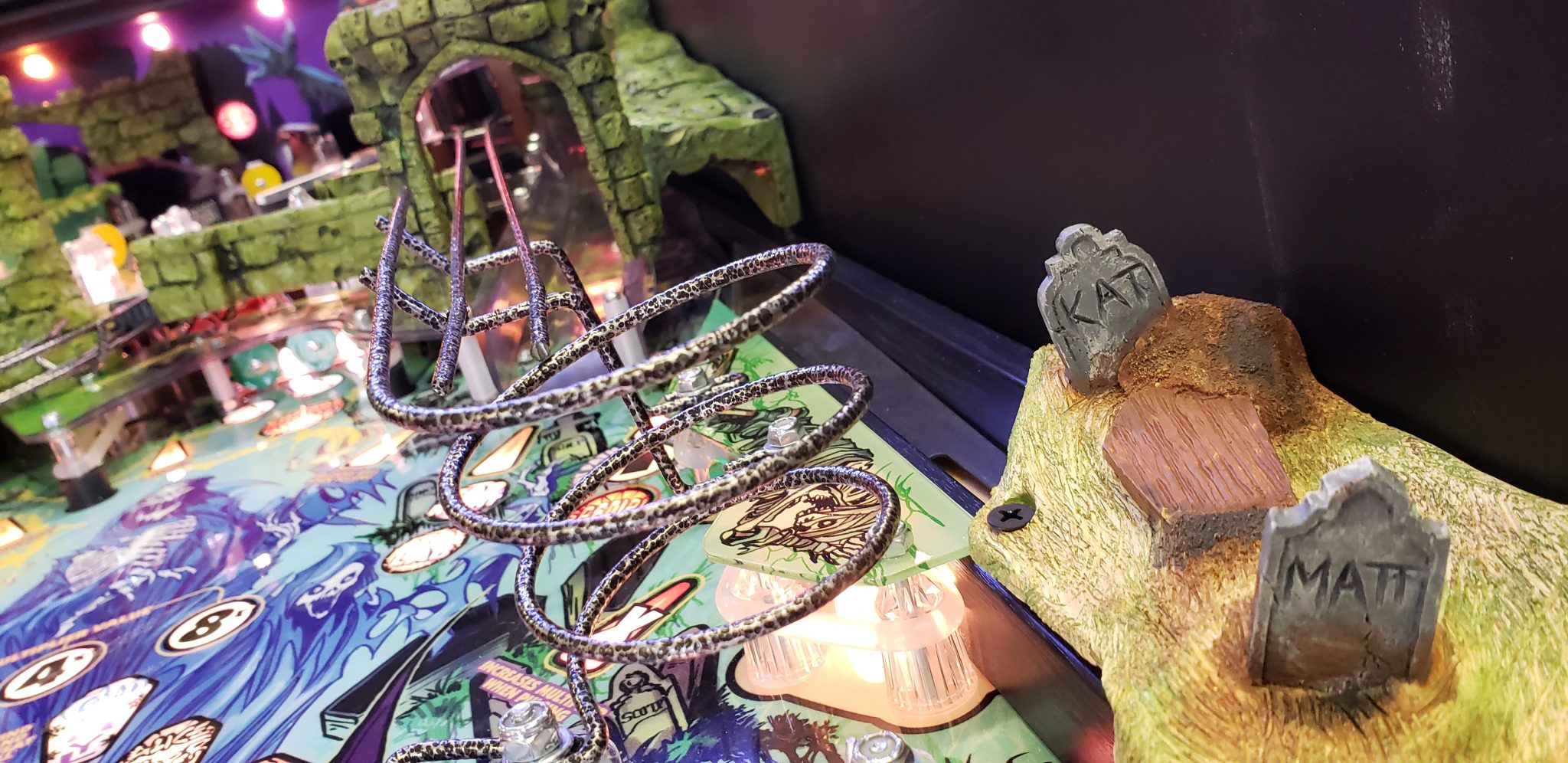 Comic book style animations
Over 700 speech calls from Alice Cooper himself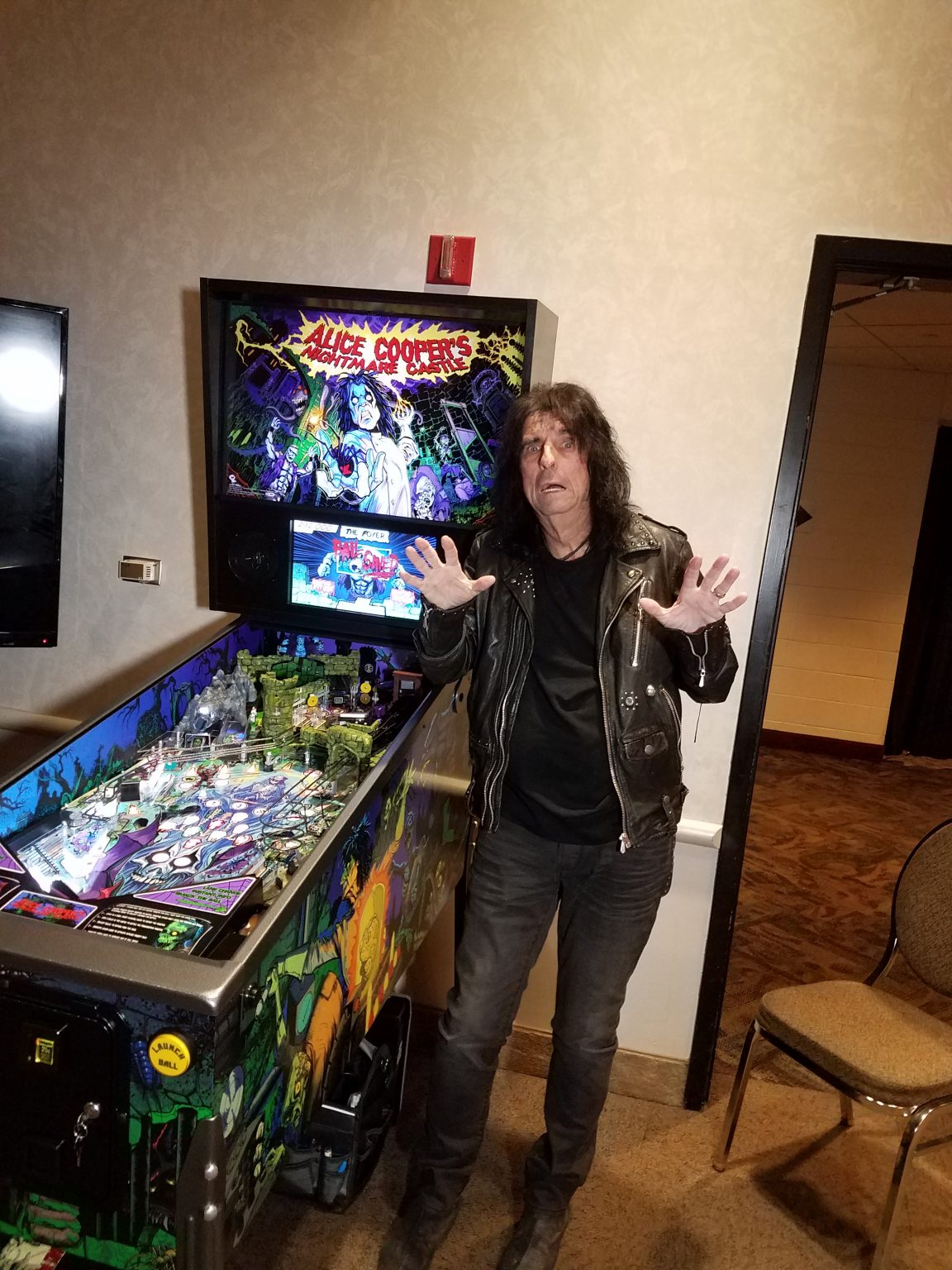 ---
Rules and Code
A HUGE thank you to Bowen Kerins and the folks at Spooky for providing the rules and code information below!!
Main Objective

At the heart, Alice Cooper's Nightmare Castle is about tracking down and killing monsters, you know, the usual. The end goal is to survive your encounters with all nine monsters, reaching a finale where you can escape from the castle with a billion dollar treasure.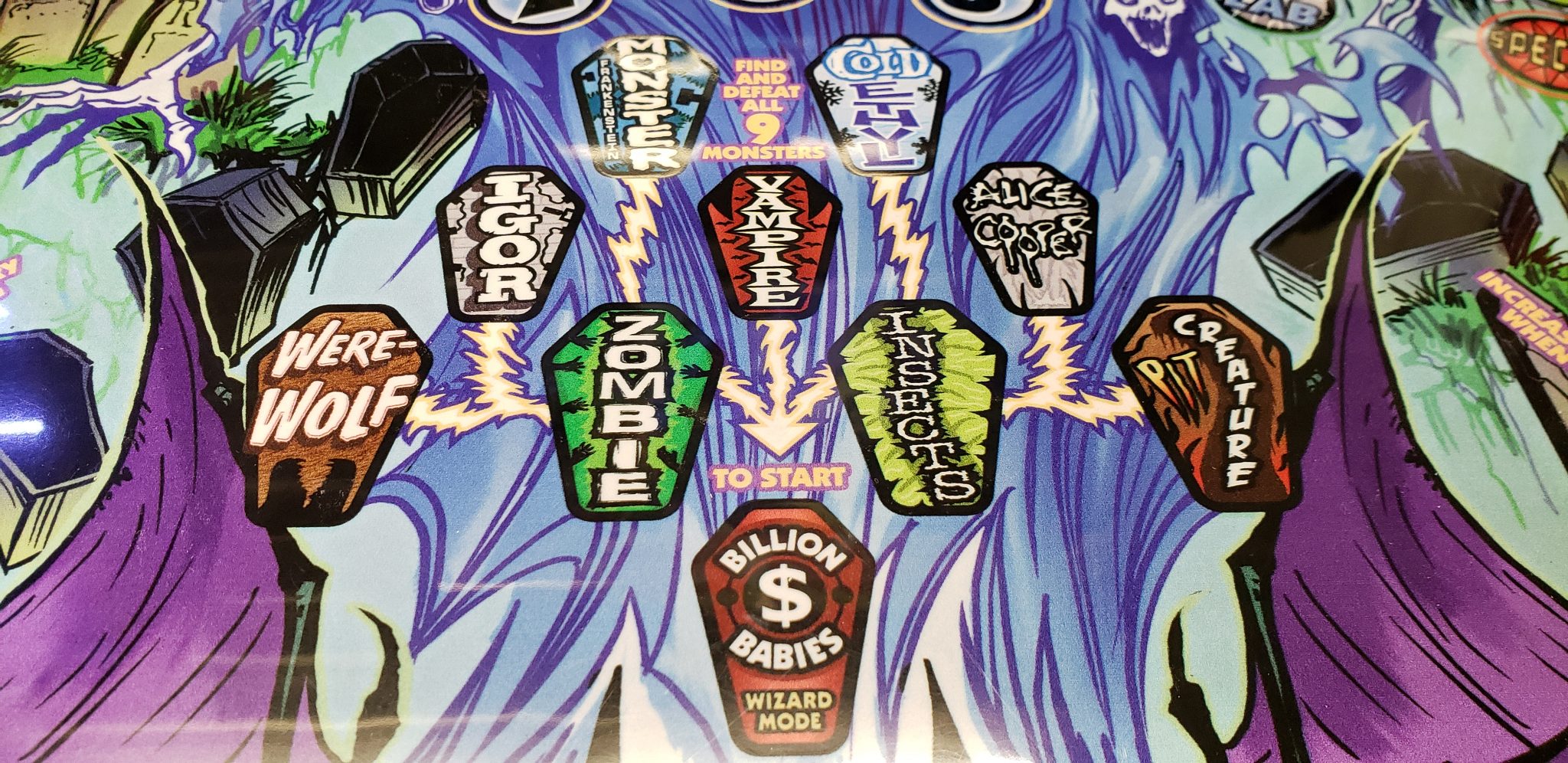 Rules Summary
Tracking down monsters starts in the foyer, where you can hit the center bank to change the target monster. Shooting left and right orbits advance you through the castle's rooms, and you can see your position on the map at the bottom of the screen. The "X" shows your location, and the "M" shows the location of the monster. You can also advance directly to the monster through a mystery award or by opening the secret passage.
Once you've reached a monster, you play an untimed battle, and each monster's battle is different. For example, in the Werewolf battle you must hit a lit shot to load your gun, then hit the center targets to fire. If you defeat the monster you earn a frenzy bonus, a timed round with unlimited ball save and extra scoring opportunities, followed by a chance to cash in again with a final hurry-up. All of this is meant to celebrate your victory.
Each monster you battle, win or lose, raises the value of all other monsters by 20%. This means you should plan ahead: do you want to play your favorite battle first, or save it for later when it will be worth even more?
Multiballs
The game has three multiballs. The first is Crypt Multiball, which locks and releases like a two-ball version of Total Nuclear Annihilation's multiball. This multiball is not worth a lot of points but can be used to advance to or complete other monster battles. The second is Ethyl Multiball, a two-ball multiball played during the Cold Ethyl battle. And the third is Frankenstein Multiball, a two-ball multiball started by hitting the left ramp from each side, once from the lower right flipper and once from the upper flipper. Frankenstein can become a three-ball multiball by bringing in Crypt.
Extra Balls
Extra balls can be earned by battling three monsters, or by shooting the Guillotine 10 times.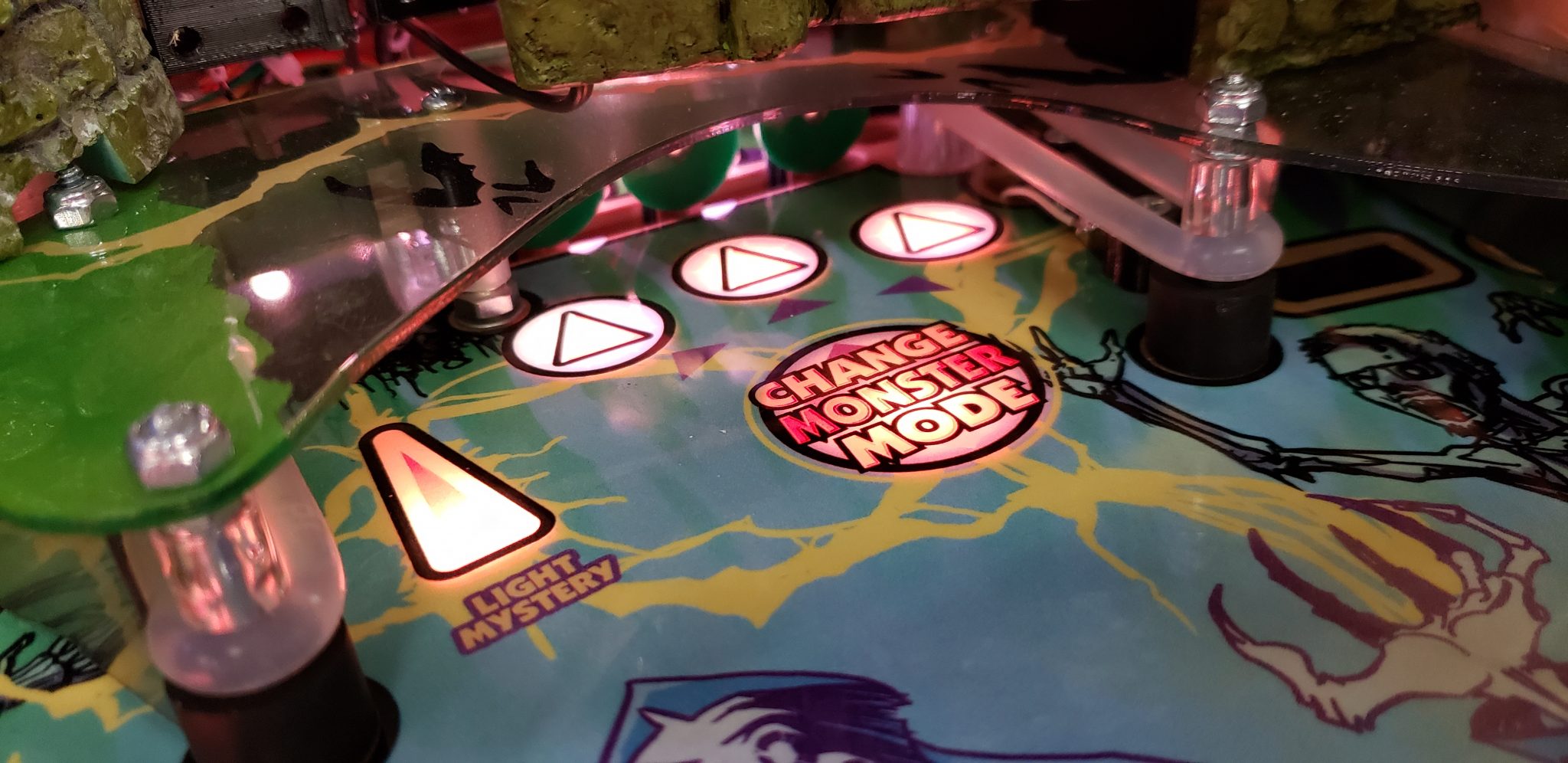 Contact Kayte Emery at kt@spookypinball.com for details on how to get your very own Alice Cooper's Nightmare Castle!
Disclaimer: Any articles, interviews, or mentions of pinball manufacturers or pinball products is NOT an endorsement.