The 2022 TWIPY Pinball Award Nominees
---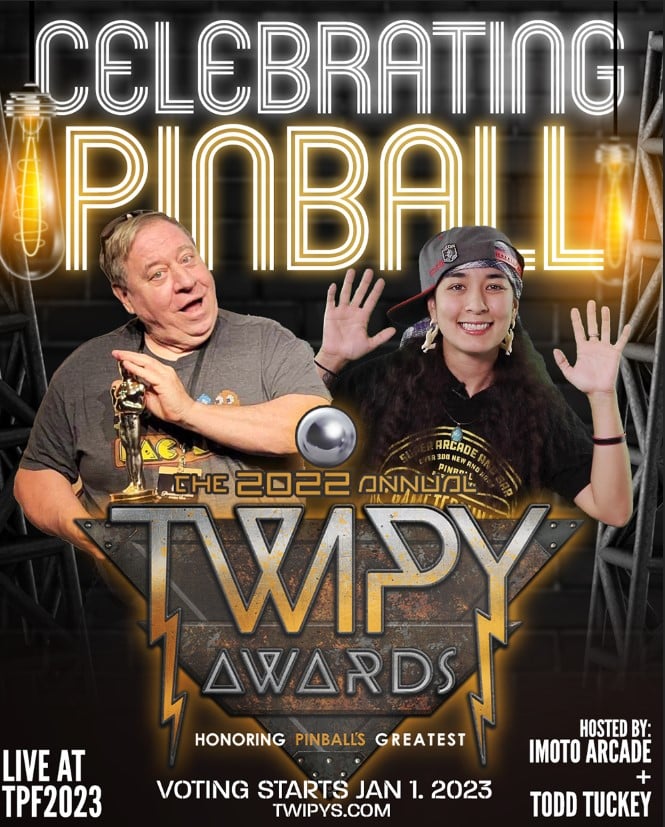 The TWIPY Pinball Awards: A CELEBRATION OF THE HOBBY
Official Voting Starts 1/1/23
Voting ends at 1/16/23 at midnight!
The final voting for the TWIPYs will start on 1/1/2023 and end at midnight on1/16/2023 at www.twipys.com. We are very excited to have Imoto Arcade and Todd Tuckey as hosts for the live awards ceremony at the Texas Pinball Festival on March 25th 2023. The ceremony will be live streamed on the TWIP YouTube Channel.
For any questions regarding nominees, please contact me directly at will@thisweekinpinball.com.
---
Favorite Streamer Nominees
JDL Pinball
Buffalo Pinball
Wormhole Pinball
IE Pinball
Kaneda's Facebook Live
MarcoTV
Fox Cities Pinball
Loose Flip
Flip N Out Pinball
Dead Flip
Mystery Pinball Theater 3000
---
Favorite Podcast Nominees
Triple Drain Pinball Podcast
The Pinball Show
Bro, do you even talk pinball?
Kaneda's Pinball Podcast
Final Round Pinball
LoserKid Pinball Podcast
The Slam Tilt Podcast
Silverball Chronicles
Pinball Profile
The Super Awesome Pinball Show
---
Favorite YouTube Channel Nominees
pinballpalacetv
Pinball Shenanigans
Cary Hardy
The Pinball Room
TNT Amusements
Abe Flips
Straight Down the Middle: a pinball show
Joe's Classic Video Games
MarcoTV
---
Favorite Website Nominees
Nudge Magazine
Tilt Forums
Knapp Arcade
Pinside
Fun With Bonus
This Week In Pinball
Pinball News
Pinball Magazine
Internet Pinball Database
Pinball Map
---
Favorite Mod Nominees
Godzilla – Neon Tokyo Sign – Stumblor
Iron Maiden – Gus Mummy Mod – gouveia
Precision-Flip Flipper System – Precision Pinball
Iron Maiden – Sculpted Backboard – Art of Pinball
Godzilla – Naegele Oil Building – Diddy's Mods
Halloween – House Mod – Vimtoman
Alien – Apron & Lighting Mod – Evolution Mods LLC
Stranger Things – Lab Set – Medisinyl Mods
Godzilla – Skillshot Fix – Abe Flips/Lermods
Rush – TPU Scoop Protector – NinjaCamp
---
Favorite Home Brew Nominees
Daikaiju by Rob Anderson and Steven Kowal
Fight Club by Mbecker
Elf by Bob Nies
League of Legends by Octomodz
The Dukes of Hazzard by Jake Danzig
Haunted Cruise by Linolium
Pokemon by PinsanityPins
---
Favorite Location Nominees
Einstein's Pub, Katy TX
Next Level Pinball Museum, Hillsboro, Oregon
District 82, De Pere, WI
Logan Arcade, Chicago, IL
Pinball Lounge, Oviedo FL
Wizard's World, Fort Wayne, Indiana
Wormhole, Houston, TX
Pinball Palace, Brunswick, GA
Old School Pinball Experience – Sao Paulo, Brazil
Ayce Gogi Korean BBQ and Pinball, Van Nuys California
---
Favorite Convention/Event Nominees
WOW 2 Women of Wizard's World
Chicago Pinball Expo
Texas Pinball Festival
Midwest Gaming Classic
Free Play Florida
It Never Drains in Southern California
Fort Wayne Pinball Wizard's World War
Houston Arcade & Pinball Expo
Pincinnati
Southern Fried Gaming Expo
---
Favorite Topper Nominees
Sparky Pinball Godzilla topper
Weird Al's Museum of Natural Hilarity by Multimorphic
Toy Story 4 by JJP
Cactus Canyon Remake by Chicago Gaming Company
Mandalorian by Stern
Elite JJP POTC Topper
---
Eligibility Requirements
The 2022 Eligibility Document which will cover the Eligibility requirements for each category. This will be tweaked and improved year to year.
Please click here for the 2022 Eligibility Document.
Voting Format
During the January voting, voters can choose their top three for each category if they wish. Those will count as three "points" for 1st pick, two points for 2nd pick, and one point for third pick for January voting, and will determine the winners of the categories.
Please click here to read more about the benefits of ranked voting.
---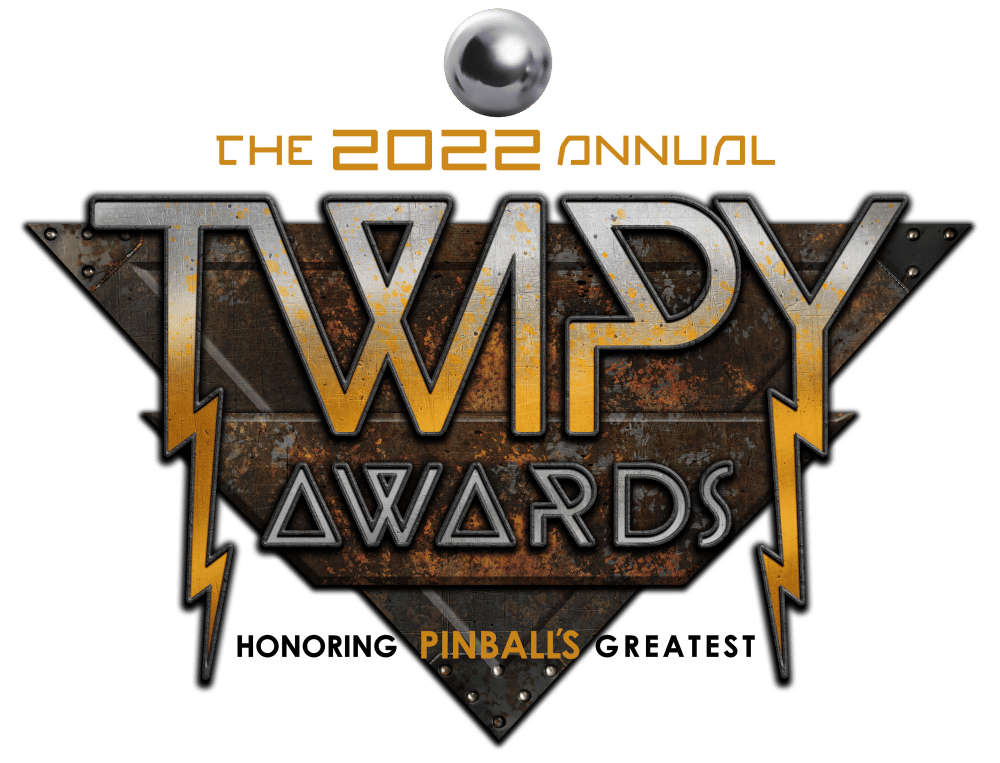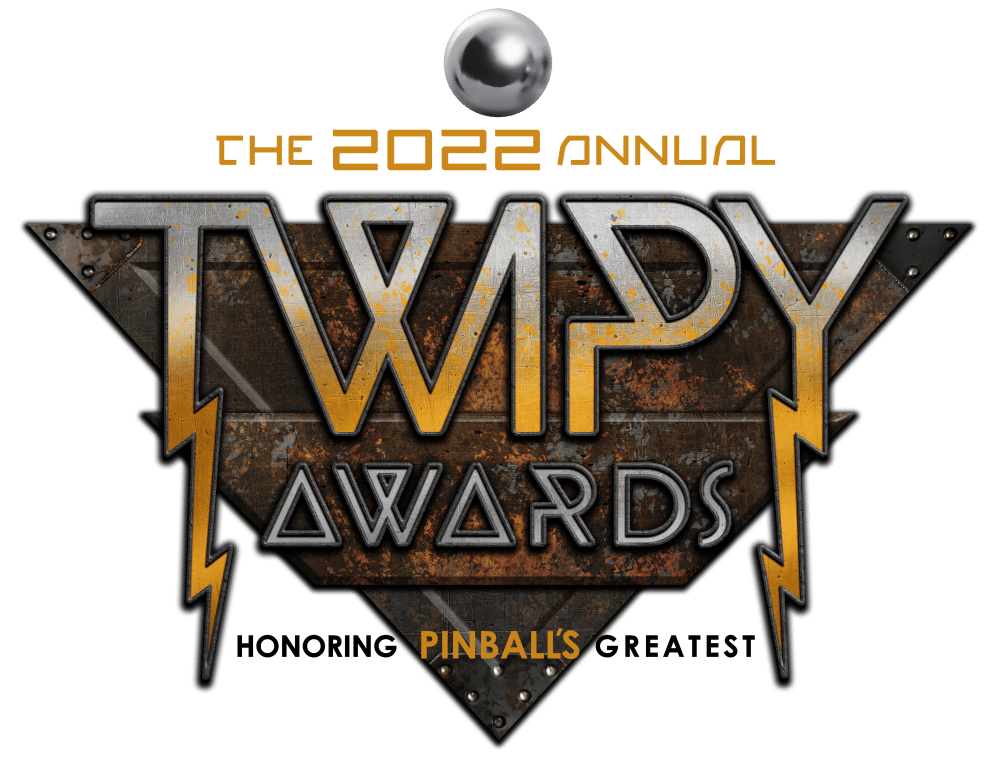 ---